The Sephora Savings Event starts Friday 10/27 for Rouge Members and I'm rounding up my best-of favorites and recommendations. This is Part 1 focusing on my skin care, body care and fragrance favorites within the last year – so for those asking for an updated list, this is for you! Here are my favorites by category.
Use code TIMETOSAVE during these dates (exclusions apply):
Rouge Members – save 20% off 10/27 thru 11/6
VIB Members – save 15% off 10/31 thru 11/6
Insiders – save 10% off 10/31 thru 11/6
Sephora Collection is 30% off for all members
Cleanser/Makeup Remover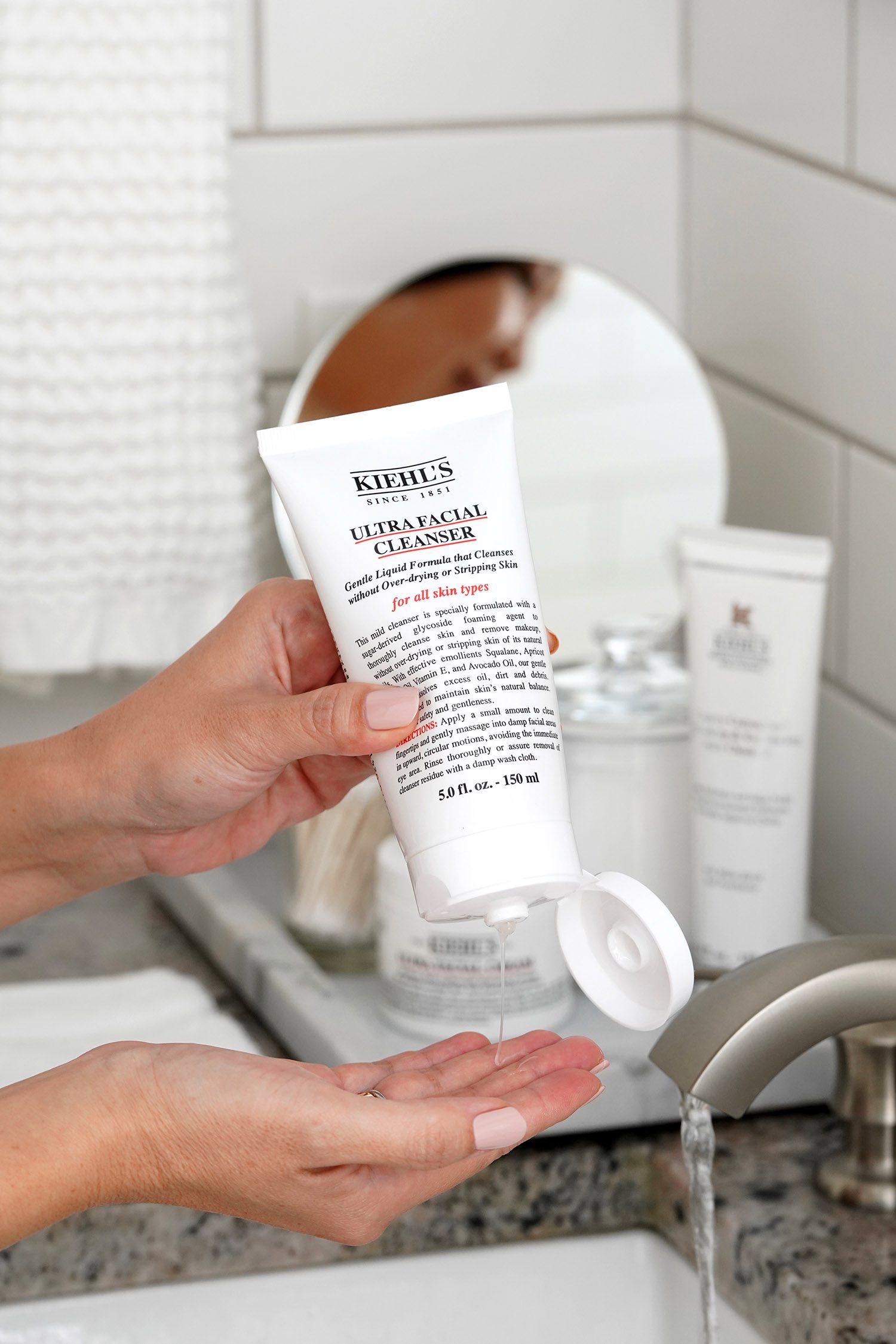 Farmacy Green Clean Makeup Removing Balm – This is my all time favorite makeup removing balm. It's a solid cleanser you apply on dry skin, massage and then rinse off with warm water and a wash cloth. I've really liked their limited-edition scented ones which surprisingly do not irritate my skin. I loved the Strawberry Shortcake Clean. I plan on ordering their Tea Harvest Green Clean Trio.
Dermalogica Daily Microfoliant Exfoliator – This is the one of the best rice-based powder cleansers I've used. It's a classic and great for clearing out pores and exfoliates gently. Add water to activate and turn it into a paste and massage + rinse. I do believe they have a few different variations of this but I've only tried the classic version.
First Aid Beauty Pure Skin Face Cleanser – This is my favorite gentle everyday cleanser. It's one I've repurchased the most in the last year. I like that it's not drying but gets the skin squeaky clean. Anytime one of my nieces or friend's kids ask for a recommendation for cleanser, this is the one I gift them.
Kiehl's Ultra Facial Cleanser – Another favorite I keep stocked at all times. It's a thicker liquid but lathers up well with warm water. Keeps skin clean but also soft.
Jack Black Acne Remedy Balancing Foam Cleanser – This is Andrew's favorite but he only uses it 2x per week (he alternates with Kiehl's or Turbo Wash which is technically for the body, but he uses it on the face too). It has 0.5% Salicylic Acid and keeps his skin clear and free of blackheads and pimples from sweat/sunscreen/etc.
Toner/Treatments/Masks
La Mer The Tonic is one of my top 2 favorite toners. I've tried a lot of different formulas and this is the one I keep repurchasing. My other favorite is the Sisley Floral Toning Lotion but it's not available at Sephora.
Laneige Cream Skin Toner & Moisturizer is a new to me toner I just started trying and I really like it. It's the first hydrating toner I've actually liked. It's a milky cream formula but doesn't leave a sticky film on the skin.
Drunk Elephant T.L.C. Sukari Baby Facial is the best at-home AHA + BHA resurfacing treatment. I've kept my skin pretty clear the past year with proper face cleansing and I keep my brushes super clean so I haven't had many issues with clogged pores. This is one I'll use once every other week.
Sunday Riley Good Genes is hands down THE best lactic acid treatment. Anytime I feel like my skin is getting a little bumpy from clogged pores or feeling a little dull this brings clear glowing skin back to life within a few days.
La Mer Sheet Treatment Lotion Hydrating Mask is my holy grail sheet mask for hydration.
Moisturizers/Serums
I rotate moisturizers depending on season. The La Mer Moisturizing Soft Cream is my go-to this year. They reformulated it earlier this year and it's even better than before. For a luxury moisturizer Augustinus Bader is also very good.
La Mer Concentrate Serum is my current go-to serum. I pair it with the Moisturizing Soft Cream.
La Mer Eye Concentrate Cream is what I've been using most of the year. I love the little ball applicator which has a nice cooling effect on the eyes. A little goes a long way, I feel like this little jar could last me a VERY long time.
Drunk Elephant Protini Polypeptide Cream is another long-time favorite. It's a great versatile everyday moisturizer – it's the most-loved among family and friends. If you have dry skin I recommend the Lala Retro Nourishing Whipped Moisturizer.
Kiehl's Ultra Facial Cream is the best lightweight moisturizing cream. I think it's great for both men and women. If you're looking for a great starter moisturizer this is the one I recommend. Kiehl's has a lot of great starter sets – I highly recommend them!
Biossance Squalane+ Vitamin C Rose Firming Oil is my go-to face oil. I'm typically a cream kind of person for moisturizers. This one is soothing, hydrating and firming. It feels like it really sinks into the skin. I use this at night.
Sunscreen
I have a full sunscreen roundup from summer, but my top 3 go-tos are the Supergoop! Glowscreen, Shiseido Clear Sunscreen Stick and Shiseido Ultimate Sun Protector Lotion. Andrew's go-to is the Jack Black Sunguard and it really does have exceptionally good lasting power.
Misc
I don't have a lot of skin care tools that I've used consistently in the past few months. I'm looking to step up my game again but the one tool I really love is the BeautyBio Cryo Skin Icing Dual-Ended Roller. The stainless steel chills skin and really helps for depuffing and tension. I like that it has two sizes in one. A few weeks ago I had the worst tension headaches and swelling and this tool helped a lot.
Body Care
I love splurging on body care! I haven't done a lot of roundups on this category but here are my favorites.
Ouai Cleansing Scalp Body Sugar Scrub is my favorite body scrub of all time. If I didn't go through it so fast I'd keep it stocked all the time.
Ouai Dean Street Gentle Body Wash is my current favorite shower gel. I love the way it smells. It's gentle and very soothing.
Sol de Janeiro Brazilian 4 Play Shower Cream-Gel is the best for hydration. It smells delicious – like vacation in a bottle.
Kosas Good Body Skin AHA + Enzyme Body Wash is a great AHA exfoliating body wash. If you have any body acne this one is great to help with unclogging pores.
Jack Black Turbo Wash is Andrew's favorite and I use this one too. It's the best effective body cleanser to remove sweat, sunscreen and excess oil but doesn't strip the skin. They have several different scents in the body wash but the Turbo Wash is the most effective.
Herbivore Botanicals Hot Coco Coconut Oil Body Scrub is something I bought recently and I LOVE IT. It's on the small side but super fun. It's very hydrating and I think I might order a couple more during the sale.
Herbivore Botanicals Cloud Milk Coconut Firming Cream is my current obsession for body moisturizer. I am super picky with body creams because I don't like to wear anything that feels sticky or heavily scented (I'm normally a body oil kind of person). This is heavenly and the coconut scent is perfect – not too light and not too heavy. It has a very smooth texture. 100% recommend.
Lip Treatments
I'm a lip balm junkie and will try almost any lip moisturizer. My top 3 from Sephora are the Summer Fridays Lip Butter Balm, Laneige Lip Glowy Balm (in Grapefruit or Gummy Bear) and La Mer Lip Volumizer.
Perfumes
Last but not least is fragrance. I'm obsessed with all things Phlur these days. My top 3 are Missing Person, Somebody Wood and Father Figure. I think the Amber Haze and Vanilla Skin Hair Body Mist are amazing and the lasting power is pretty good too.
That wraps up my absolute favorites in skin/body care from Sephora! Stay tuned for my makeup favorites! I know I covered a lot but I wanted to be thorough. If I had to rank my Top 5 must-haves in this category they would be:
La Mer Sheet Mask
La Mer Moisturizing Soft Cream
Beautybio Cryo Face Roller
Herbivore Botanicals Cloud Milk Cream
Sunday Riley Good Genes
What's on your wishlist for the Sephora Savings Event?