above wearing Fenty Gloss Bomb in Fu$$y
The Sephora Savings Event is here starting with early access for Rouge Members! I'm putting together a few updated "best-of" shopping guides and today's roundup covers the Top 5 in Lips for every category from lip liners, lipsticks, liquid lipsticks, glosses and more. If you're not a Beauty Insider you can sign up now for free here to get access to the Savings Event. Use code TIMETOSAVE during these dates (exclusions apply):
Rouge Members – save 20% off 10/27 thru 11/6
VIB Members – save 15% off 10/31 thru 11/6
Insiders – save 10% off 10/31 thru 11/6
Sephora Collection is 30% off for all members
I'm shopping the Rouge Tier and still building my shopping cart but I have my eye on the La Mer Treatment Lotion Sheet Masks (my holy grail), Kerastase Nutritive Hydrating Shampoo, Anastasia Beverly Hills Mini Sultry Palette and Saie Mini Dew Blush Trio to name a few.
Best Lipliners
There are so many good lip liner formulas these days. My top 5 favorites are below.
Huda Beauty Lip Contour 2.0 ($21, color Pinky Brown shown) has the best long-wear lip liner formula. They glide on with full coverage pigment and I love that they're packaged in a twist up format with a removeable sharpener at the base. My favorite shades are Pinky Brown, Terracotta, Honey Beige and Sandy Beige.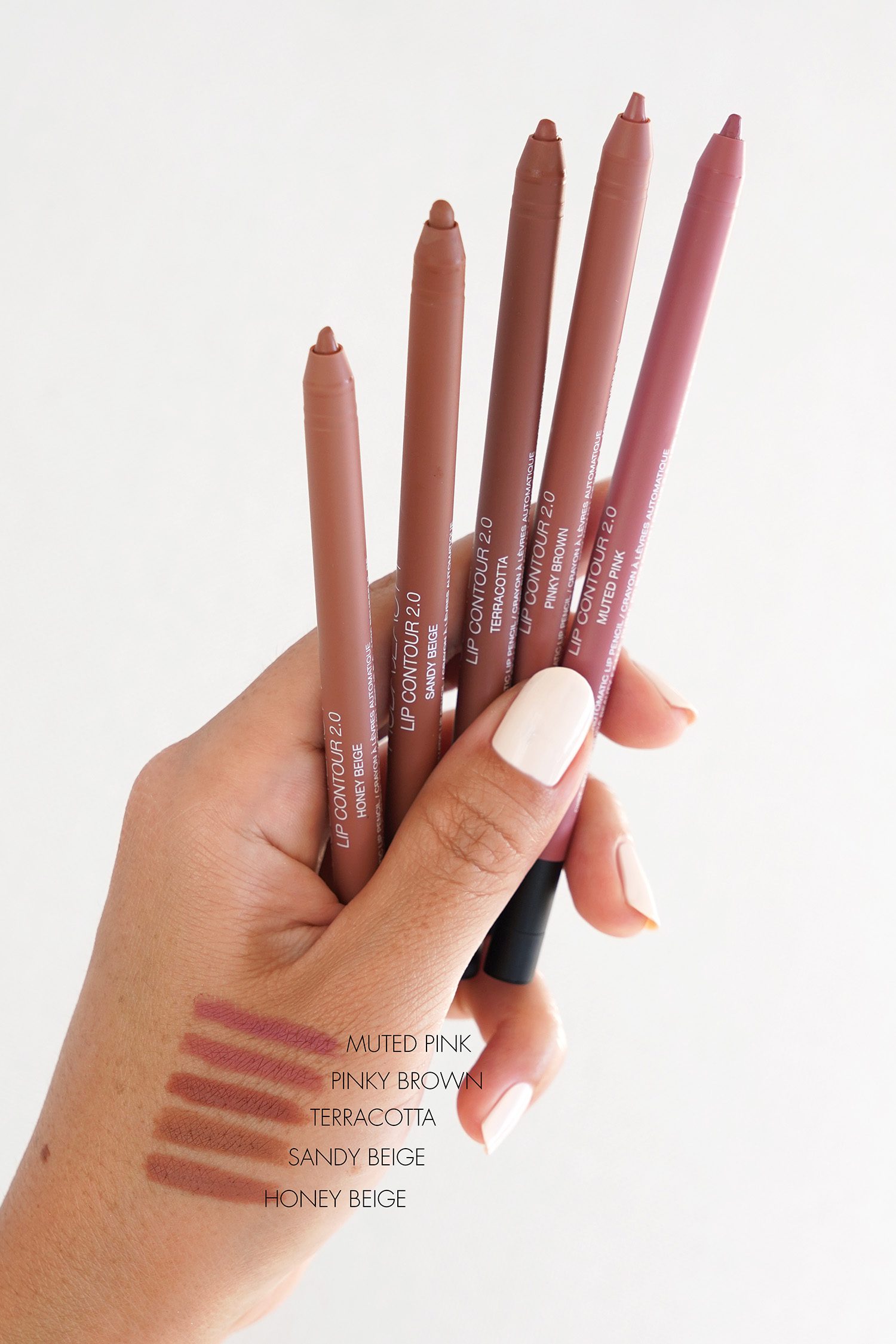 Also wearing:
Pat McGrath Permagel Ultra Lip Pencil ($29, color Structure shown) is another great formula with the best colors. Structure is the perfect neutral brown, Nude Venus is a perfect peachy nude, Buff is the best nude pink.
Make Up For Ever Artist Color Pencil ($22, Wherever Walnut shown) is another great classic pencil. The formula can be used on eyes, brows and lips – they are easy to blend with a matte finish. Wherever Walnut seems to be the most popular color, but I also really love Up & Down Tan and Anywhere Caffeine. They launched a really cute Mini Artist Pencil Set ($35) which has their best-selling shades.
Charlotte Tilbury Lip Cheat ($25, Pillow Talk shown) is my most-worn lip pencil. Pillow Talk is my lips but better shade. I also love Pillow Talk Medium and Iconic Nude.
Sephora Collection Lip Liner To Go ($6, Light Brown shown) is a mini lip pencil perfectly sized for the smallest clutch or pouch. I have a couple colors and Light Brown is my favorite everyday neutral.
Best Lipstick Formulas
Sephora carries so many great lipsticks. Narrowing down my top 5 was really hard as I can list at least a dozen formulas I think are excellent. Here are the best ones I reach for the most.
Armani Lip Power ($45 each, Shade 109 shown) is one of the best creamy opaque smooth lipstick formulas I've tried. There are lots of great colors but 109 is the best everyday pink in my opinion. They also launched this in a Matte Formula too (lots of great nudes, I love Shade 111 Matte).
NARS Afterglow Sensual Shine Hydrating Lipstick ($32, Orgasm shown) is my favorite formula for a shine lipstick. Pigment is impressive for a shine formula. They have a comfortable hydrating feel that feels like a balm. My favorites are Orgasm which is a peach pink gold, Breathless a beige nude and Dolce Vita which is a classic rose.
Gucci Care Glow and Shine Lipstick ($47, Sally Soft Honey shown) is another great shine lipstick formula. Pigment is very good with these and I love the glossy finish. Sally Soft Honey is the best everyday pinky nude. Call It a Day is the best mauve (great for fall). I also love Julie Blush for a bright peachy shade.
Pat McGrath MatteTrance Lipstick ($39, Nude Venus shown) is hands down the best matte lipstick formula I've tried. It's smooth, opaque, doesn't look dry on the lips and the color selection is outstanding. They have a good range of neutrals, reds, bolds, browns – my top 3 shades are Nude Venus (peachy nude), Christy (pink nude) and Divine Rose (rose pink).
YSL Rouge Pure Couture Caring Satin Lipstick ($45, N5 Tribute Nude shown) is a new formula and after trying a few shades I have to say I am REALLY impressed. It has an ultra smooth formula that glides on the lips with absolute perfection. I'll have a full review on the shades I picked up soon.
Best Liquid Lipstick Formulas
Gucci Transfer-Proof Matte Liquid Lipstick ($47, Grace Cinnamon) is a beautiful formula. Grace Cinnamon is the perfect nude pink shade with smooth coverage and a super lightweight texture.
Urban Decay Vice Lip Bond Glossy Longwear Liquid Lipstick ($27, OG Backtalk shown) is the best long-wear liquid lipstick in the sense that once it sets it does not budge or transfer. OG Backtalk is a really pretty mauve. I also think Text Em is the best rose pink shade ever made.
Tom Ford Lip Luxe Matte ($59, Naked Haze shown) is another exceptional formula. I've only tried one shade in Naked Haze which is a great everyday nude pink. I plan on picking up one or two more during the Sephora Savings Event. Texture is lightweight and coverage is smooth and really good.
Dior Rouge Dior Forever Transfer Liquid ($45, Shade 100 Forever Nude) is another great long-wear formula that is also transfer proof. I have this in a couple shades and they really do stay put without transferring. Shade 100 Forever Nude is perfection.
Sephora Collection Cream Lip Stain Liquid Lipstick ($15, Shade 70 First Date shown) is a budget-friendly Liquid Lipstick with an impressive color selection. Formula is full coverage with a creamy satin finish. I love that these feel super lightweight on the lips and they don't look dry. All Sephora Collection items are 30% off during the Sephora Savings Event.
Top 5 Lip Glosses
I'm 100% a lip gloss girl at heart. Here are the best top 5 formulas I reach for the most.
Lawless Forget the Filler ($26, Cherry Vanilla shown) is the best smoothing lip gloss that plumps without any tingle. I like the darker/bolder shades for a lush lip look. They are on the thicker side but I love the finish. Cherry Vanilla is the best sheer red I've ever tried. Juicy Watermelon is the prettiest bright pink. They also launched a few shades in a Jumbo Size ($38 each) and for holiday they have a cute Mini Dreamy Darlings Plumper Set ($27).
Dior Addict Lip Maximizer Plumping Gloss ($40, 12 Rosewood shown) is my most-worn lip gloss formula for the color and texture. I splurged on nearly all of the shades and can easily say they were 100% worth the splurge.
Fenty Gloss Bomb Universal Lip Luminizer ($21, Fenty Glow shown) is another favorite. It's been a favorite since the day they launched Fenty Glow. Every color is wearable and super flattering. I love the smooth texture and shine. I think every color is a must-have.
Pat McGrath LUST Gloss ($29, Nude Venus shown) is another great smooth texture gloss. Nude Venus is the best peachy pink color with pretty good coverage. Flesh Fantasy is a pretty beige pink. Divine Rose is a stunning plum pink.
Bobbi Brown Crushed Oil-Infused Gloss ($33, In the Buff Shown) offers hydration, color and shine in one. Finish is very comfortable and they are great for vacation (or beach) no-makeup days where you want a little bit of color to look polished.
Most-Worn Tinted Balms/Sheer Lips/Oils
Last we have a look at the best tinted balms. A lot of these double as sheer lipsticks.
Tarte Maracuja Juicy Lip Plump ($24, White Peach shown) is a formula I always have in my bag. Every single color they've launched is super wearable. They're smooth in finish and I love how they feel on the lips. During the holiday season they have a lot of great value sets and limited-edition shades. If you're a fan of the Maracuja Lip formula definitely check out the 2023 Best of Maracuja Juicy Lips Set.
Summer Fridays Lip Butter ($24, Vanilla Beige shown) is another formula I carry in every single purse. I also have the clear one on my night stand. Each shade has a different scent to match the color name but they aren't overpowering. Love the cute Mini Lip Butter Set too which I think would make a super cute gift.
Kosas Wet Lip Oil ($22, Revealed shown) is one of my favorite tinted lip oil formulas. It actually doesn't feel thick like you'd expect from an oil. Every single shade is beautiful. The one I get asked about the most is Revealed which I'm wearing in this post.
Last but not least, I really love the YSL Rouge Volupte Shine ($43, Shade 162 shown) and YSL Candy Glaze Lip Gloss Stick ($39, 15 Showcasing Nude in hand, 13 Flashing Rose in background). Both have a balm-like formula. The Rouge Volute Shine has more slip with a sheer glossy finish while the Candy Glaze is thicker and feels like a jelly finish. Both are really phenomenal for formula and color.
That wraps up my extensive best-of lip shopping guide! If you're looking for the best of the best in lip formulas I hope you found this round up helpful. Happy Shopping!
Shop the Post
Many thanks to Sephora for partnering to sponsored this post.