Anastasia Beverly Hills launched new Satin Velvet Lipsticks ($23 each) and Lip Pencils ($18 each) and they looked so beautiful on Instagram I couldn't help but order a bunch to try. It's been a while since I've tried any of her lipsticks since I only remember her launching mattes in the past. This round she has a new Satin Velvet Lipstick formula which is more like a regular lipstick. Her Lip Liners looked promising, and I love the square shape! I hauled 6 of each. Here are my thoughts, swatches and lip looks.
Satin Lipsticks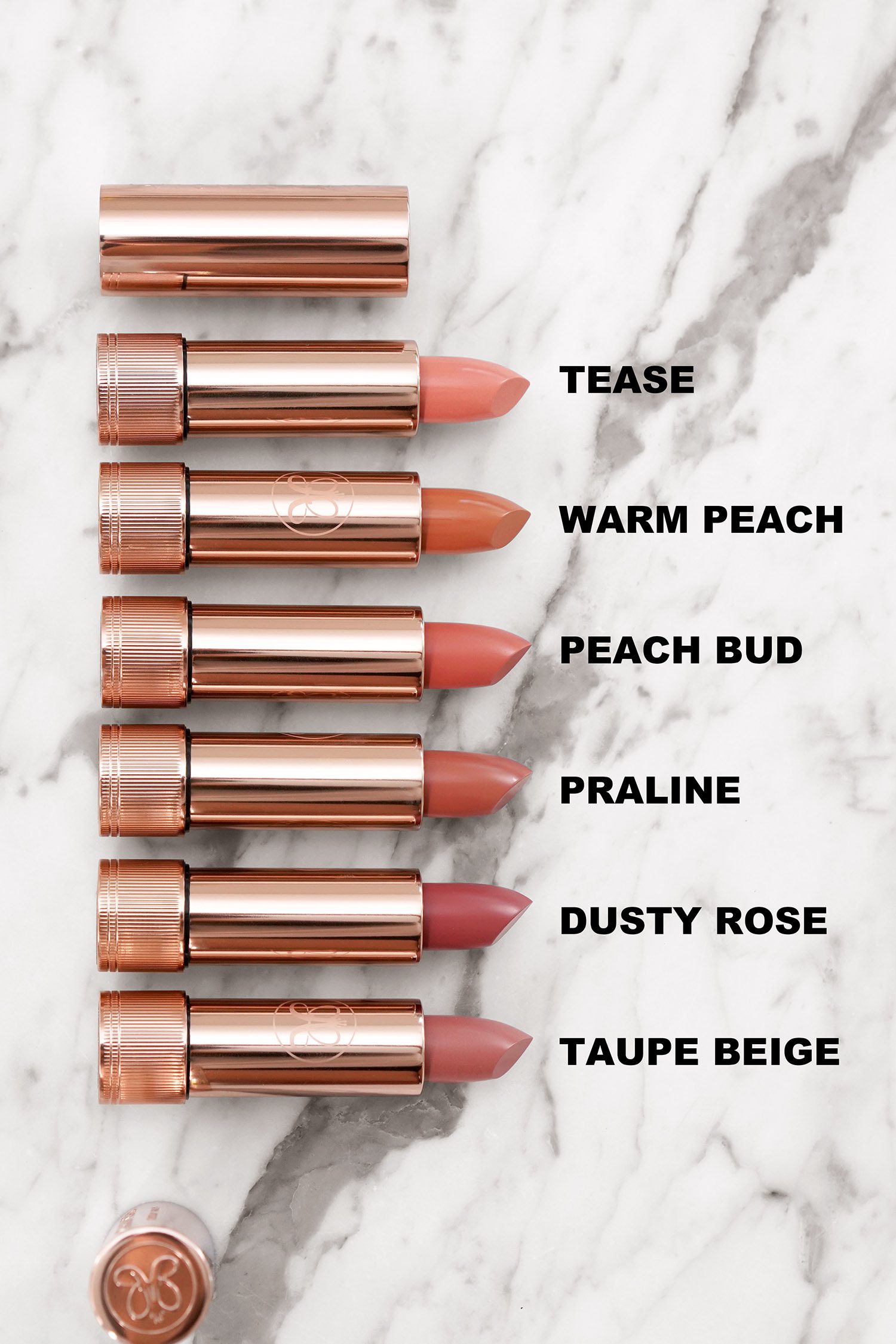 Satin Velvet Lipstick ($23 each) is more like a satin lipstick. It's not really that velvety to me and I am 100% ok with that. They're ultra pigmented, smooth, creamy and have great lasting power. (I still like to use a lip primer underneath to smooth/prep the lips like the MAC Prep and Prime Lip.)
Formula is really good and I love the sleek slim no-fuss packaging. Color selection seems pretty good too although with nudes and neutrals it's always hard to see how it will look on the lips. A few of these were misses for me simply because the color doesn't work for my skin tone or lip tone.
Tease is pale pink peach and looks like washed out death on me, would probably work if I paired it with a liner and gloss (similar to Tom Ford Blush Nude on me which looks great on so many others, but not me)
Warm Peach is a light warm peach orange, also a bit pale for me on its own, but if I add a brown liner I can make it owkr
Peach Bud is my favorite, it's the perfect mix of peach and pink
Praline is an easy to wear neutral nude on my lips
Dusty Rose is a light rose neutral, goes on my lips lighter than what I see in the tube, but if you don't have pigmented or brown tones in your lip, then this will look more true to tube
Taupe Beige is a neutral cool-toned pink beige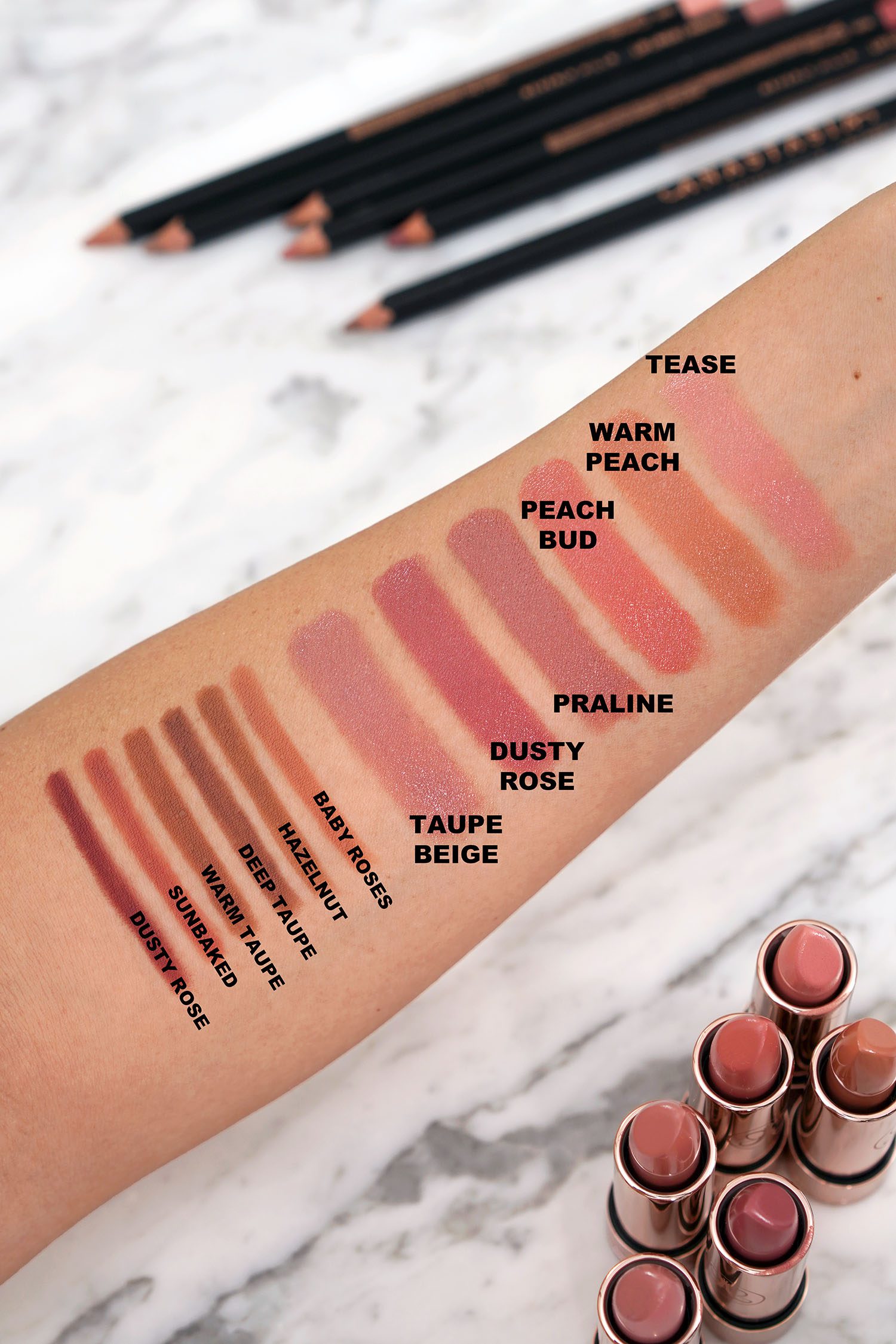 Beauty Look breakdown wearing: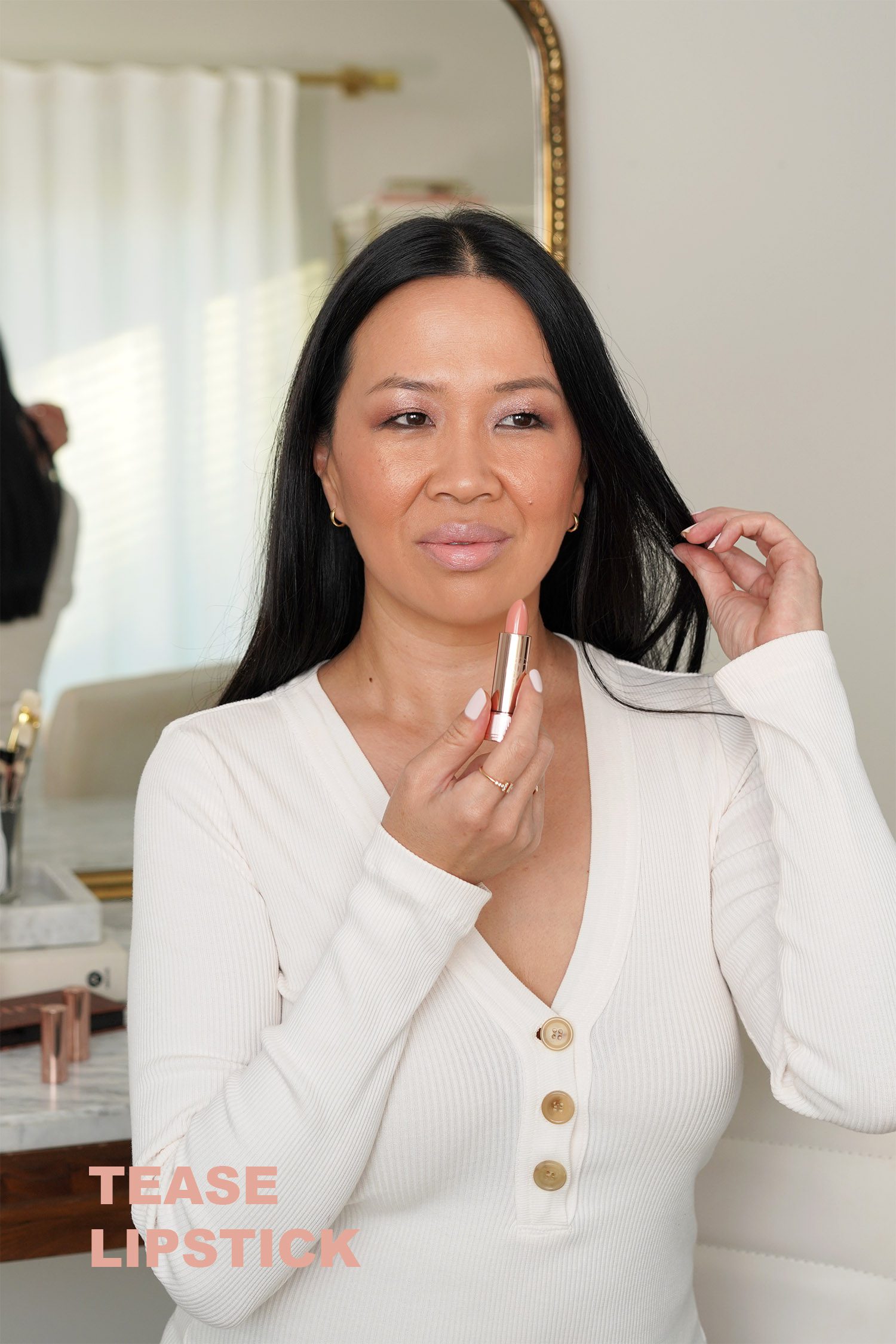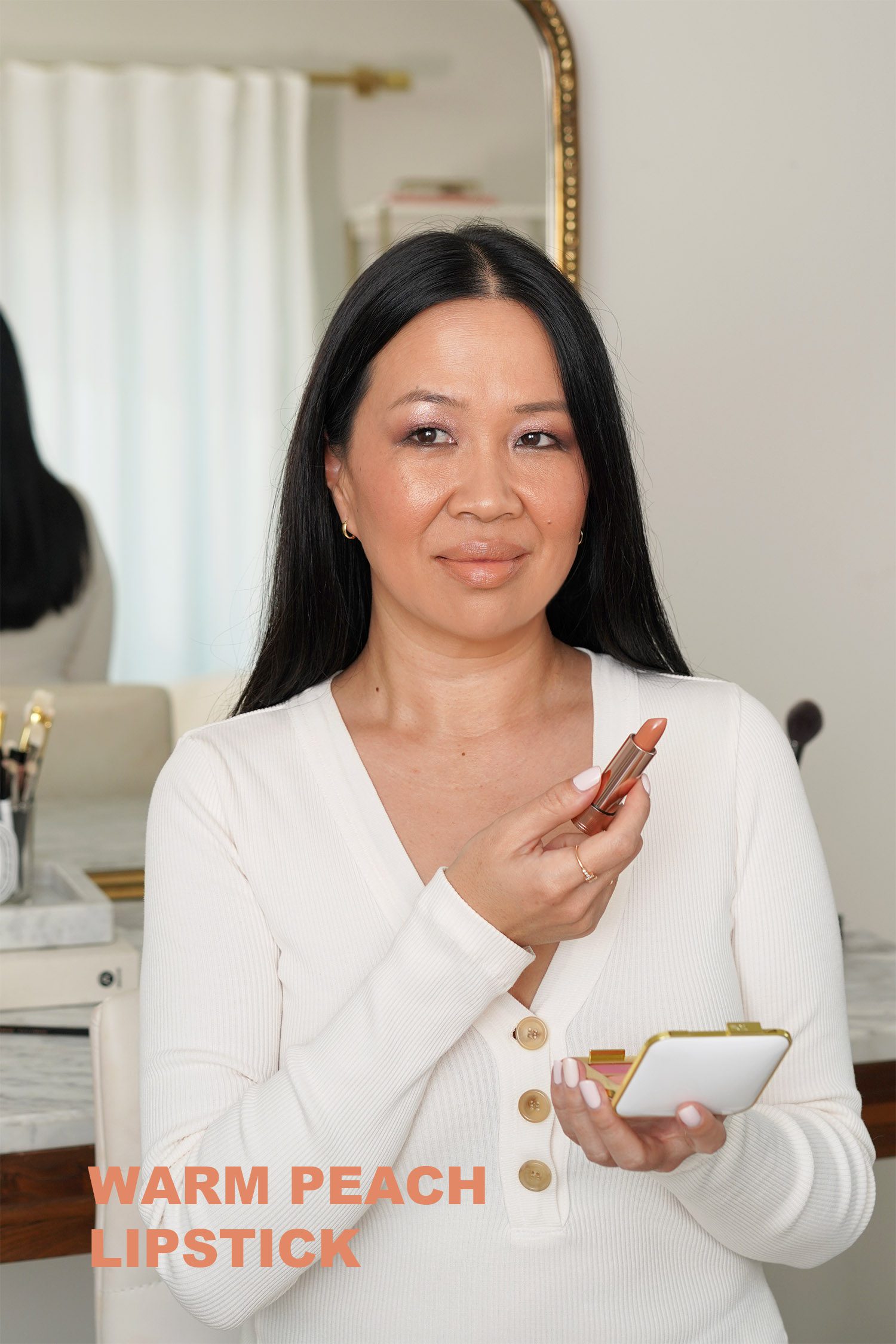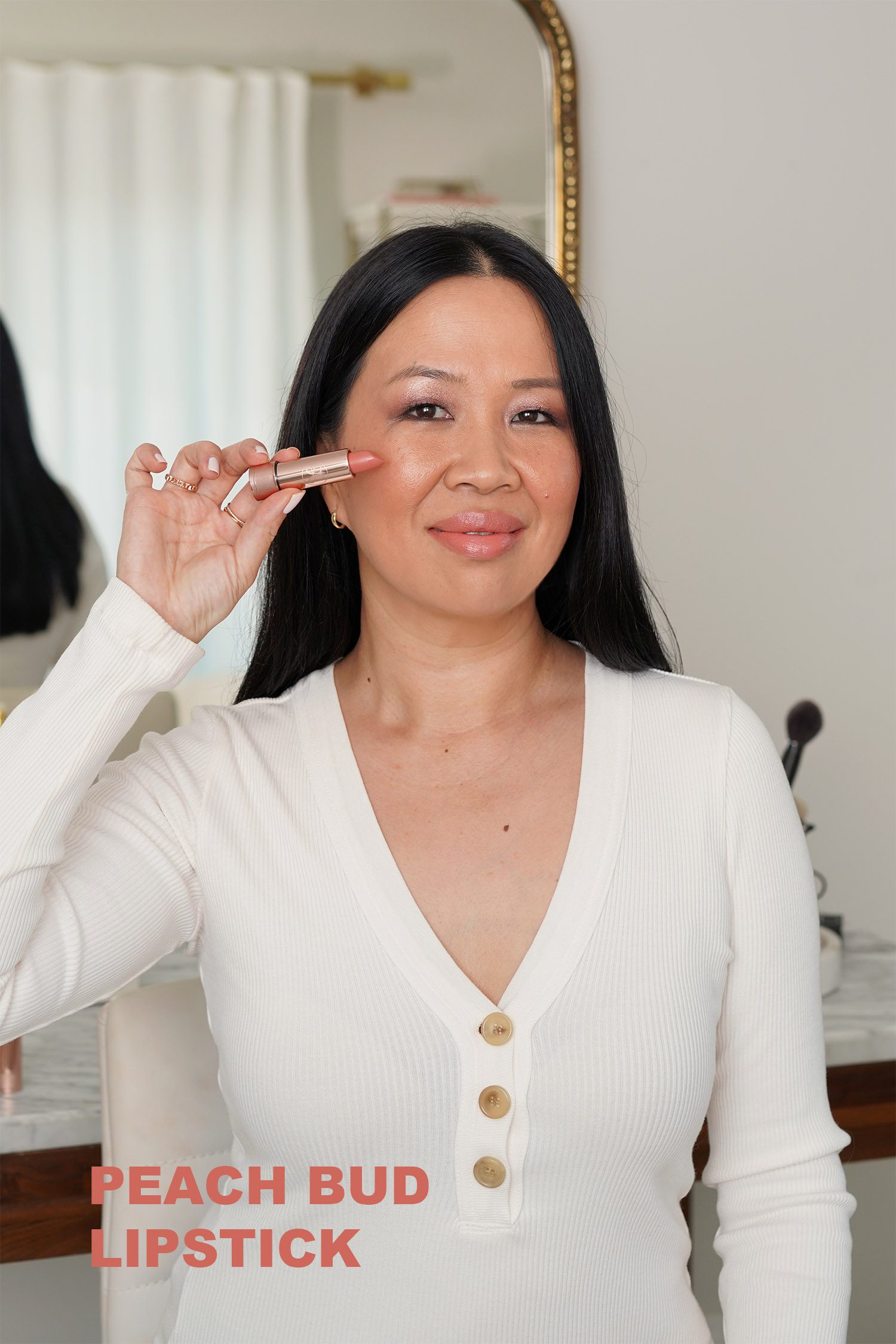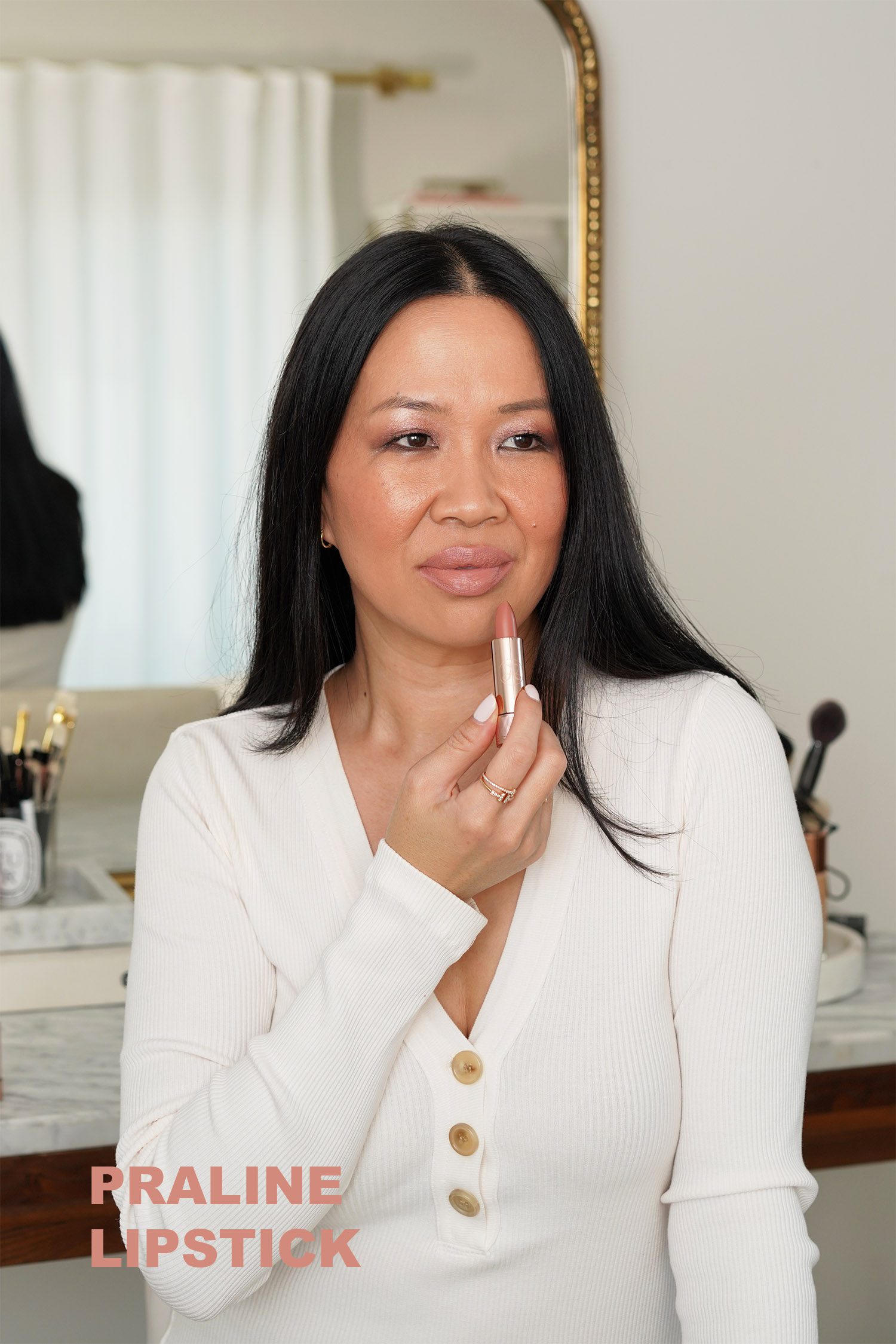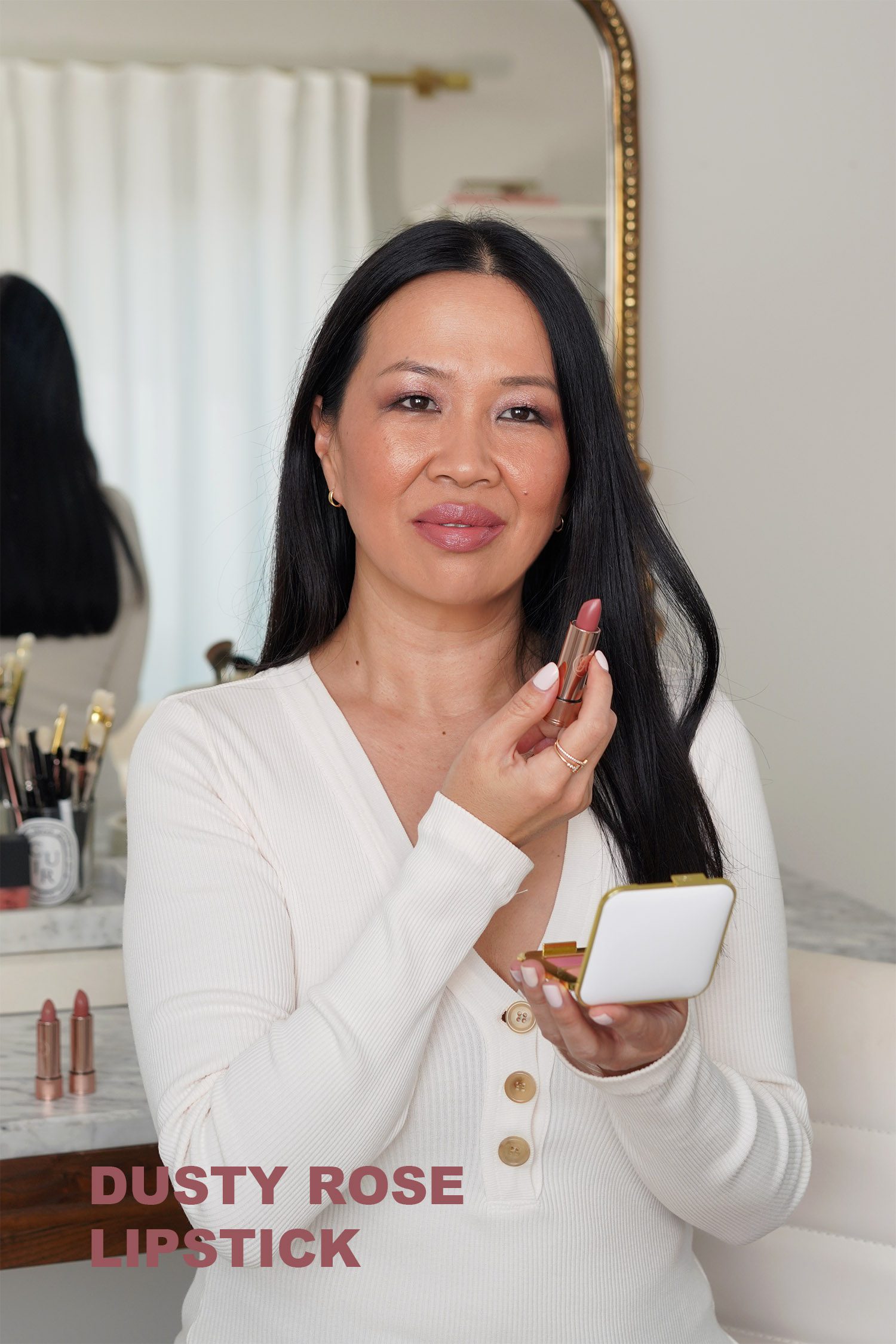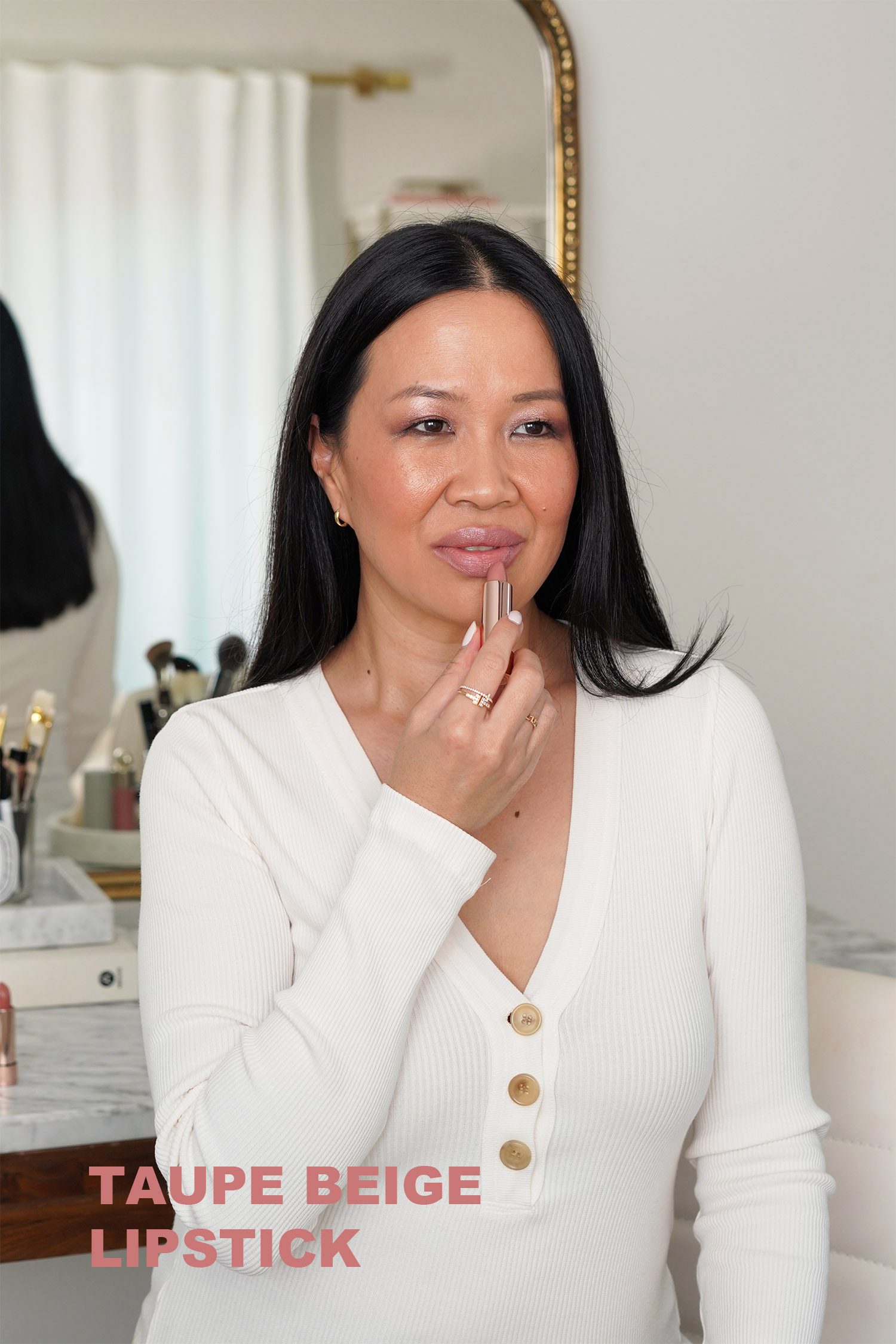 Lip Liner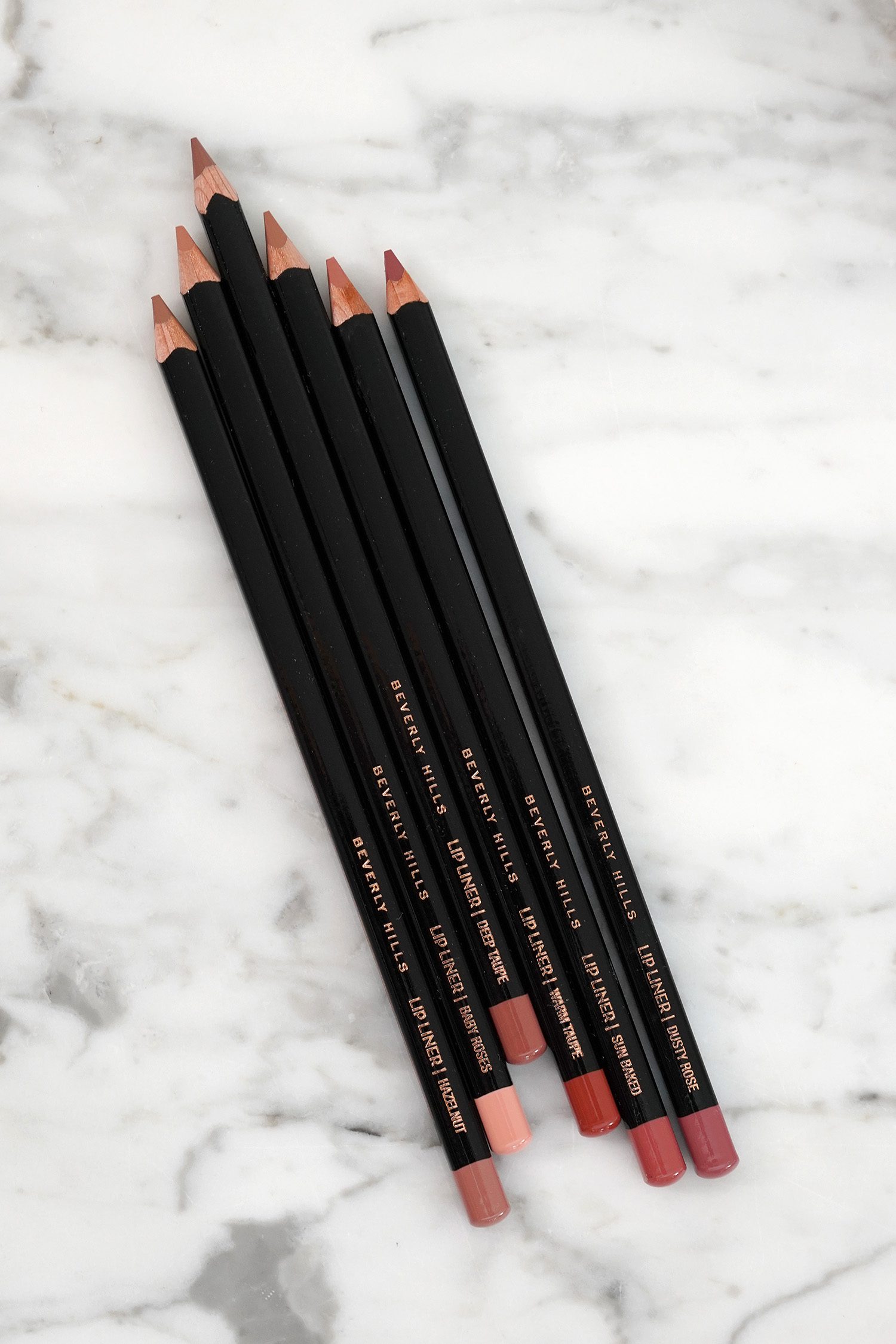 The Lip Liners ($18 each) are your basic everyday lip pencil. I like that they're not too creamy and not too stiff. They do tug a little but it's not so matte that it drags. I'm still in the process of testing different combinations but I swatched them on their own below on the lips so you could see the color.
Baby Roses is actually a wearable pale peach on me! I was worried it would be too pale, but it works on me!
Hazelnut is a cool-toned brown (not my color, but looks pretty in the arm swatch)
Deep Taupe is a deeper cool-toned brown
Warm Taupe is a warmer taupe brown
Sunbaked is an interesting peach, warm but not orange, I love it!
Dusty Rose is a deep plum rose brown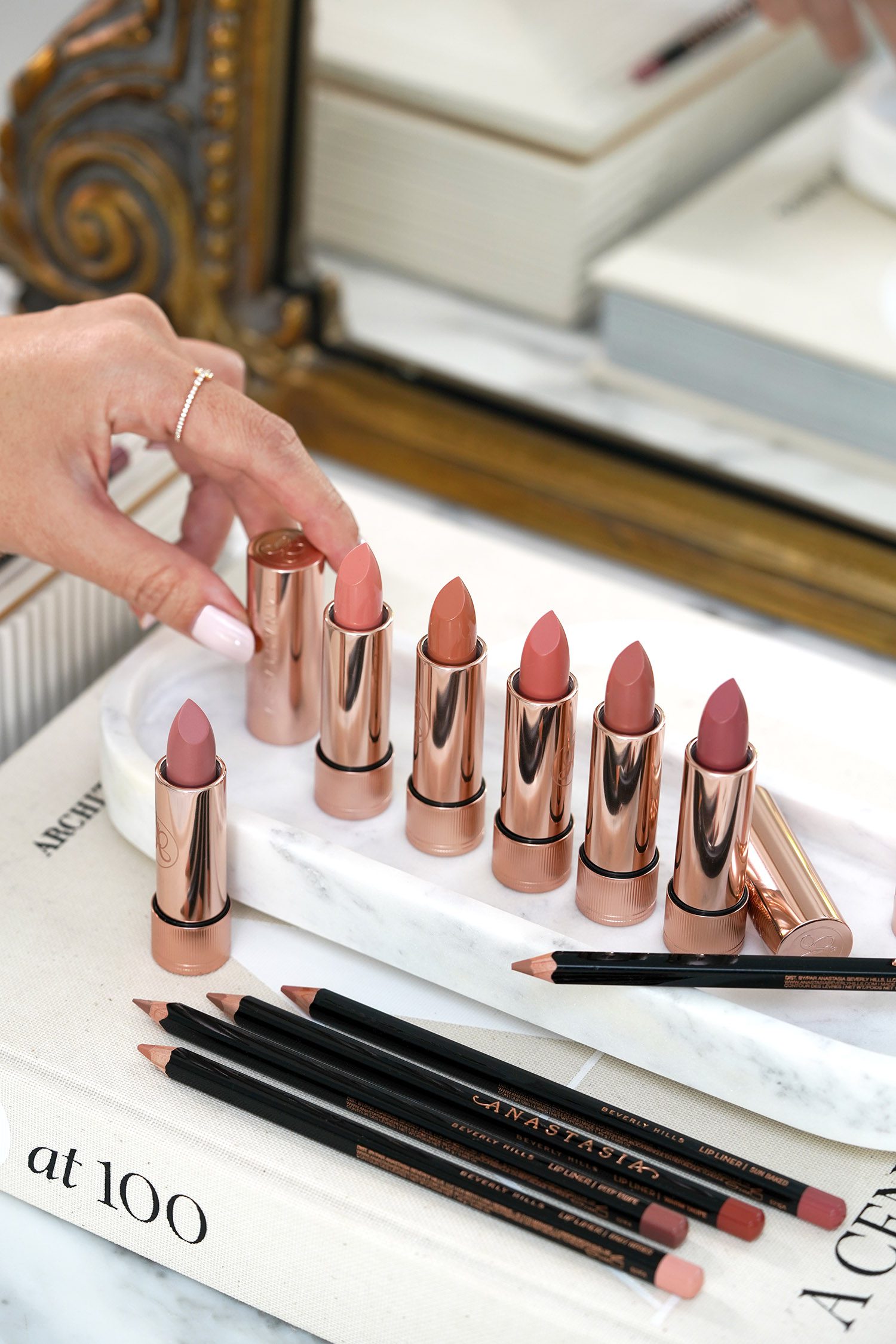 Overall I think they're all worth checking out. After testing what I ordered and looking at other reviews I would have probably skipped the lipsticks in Tease and Warm Peach and opted for the Soft Brown or Rosy Brown instead.
They do appear to be permanent which is nice (even though some of the colors keep selling out). I still have some more lipstick reviews coming soon for the new Sisley Phyto-Rouge Shine, Natasha Denona I Need a Rose, Chanel La Comete and Hermes Shine lipsticks! So stay tuned!
Have you tried the Anastasia Beverly Hills lipsticks and liners yet? What did you think?
SHOP THE POST