I'm rounding up my January favorites for the month! Here's the edited list of what I've been loving!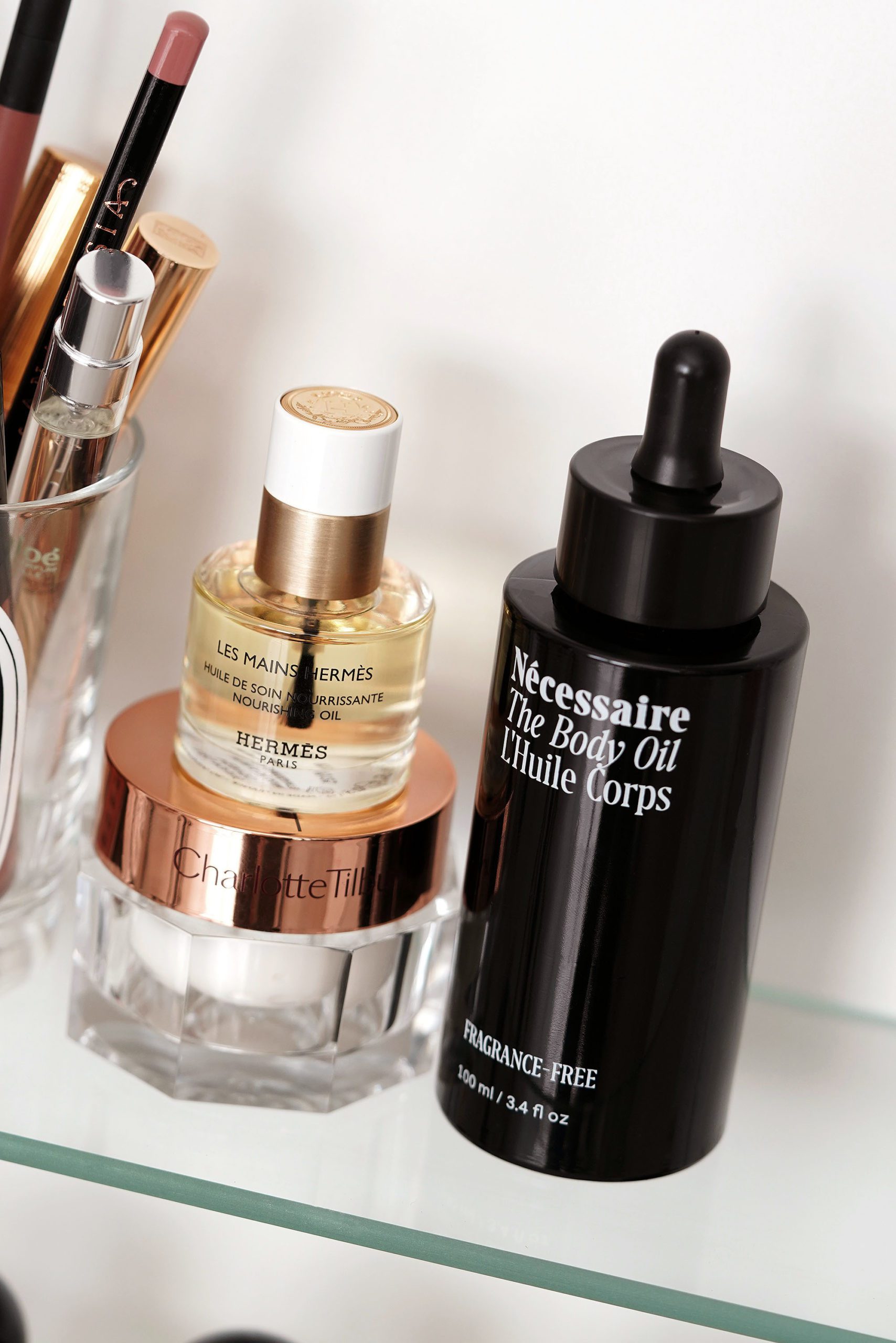 I've been loving the Necessaire Body Oil for a really nice body oil that's hydrating and fragrance-free. It absorbs nicely into the skin and leaves the skin feeling super hydrated. I still really love the Sisley Velvet Body Cream and La Mer Body Cream I featured in my Self-Care Favorites, but sometimes it's nice to have an unscented option! Also one that is more affordable but still has that luxe feel.
I hauled a few of the Hermes nail products last year, one was on backorder and the Les Mains Hermes Nourishing Oil finally arrived! It's quite an expensive cuticle oil but I really love it. It's hydrating and effective. This formula is one that keeps selling out and has been a little hard to find but I pre-ordered it from Saks a while ago and it finally came in the mail. Currently available at Hermes, Selfridges and Saks (pre-order) but I do see it pop up on other retailers every once in a while when it restocks.
For foundation I reviewed three new ones recently and out of all of them the Charlotte Tilbury Beautiful Skin has been my favorite formula in 6 Neutral (on the face here). It has just the right amount of glow, coverage, texture and finish that I like. Similar to the Armani Luminous Silk Foundation but the Charlotte Tilbury seems just slightly more opaque. Some shades have sold out so you may have to do a bit of searching to find your match. Available at Charlotte Tilbury, Nordstrom and Sephora.
For color my go-to neutral blush is Laura Mercier Fresco. It's been featured here before many times and I love it for the color and slight hint of shimmer. It's the perfect neutral tan blush with some peach tones to give you a bit of natural color. Swatches + comparisons in this post here.
My go-to eyeshadow palettes have been the Natasha Denona Biba (review + swatches here) and Too Faced Natural Nudes (review here).
I found the perfect opaque baby pink nail polish with Dior Rose Quartz. It has the perfect undertone: pale, not too chalky, not too blue. It's also opaque and smooth with 2 coats. I ordered it from Dior.com and it's pure love.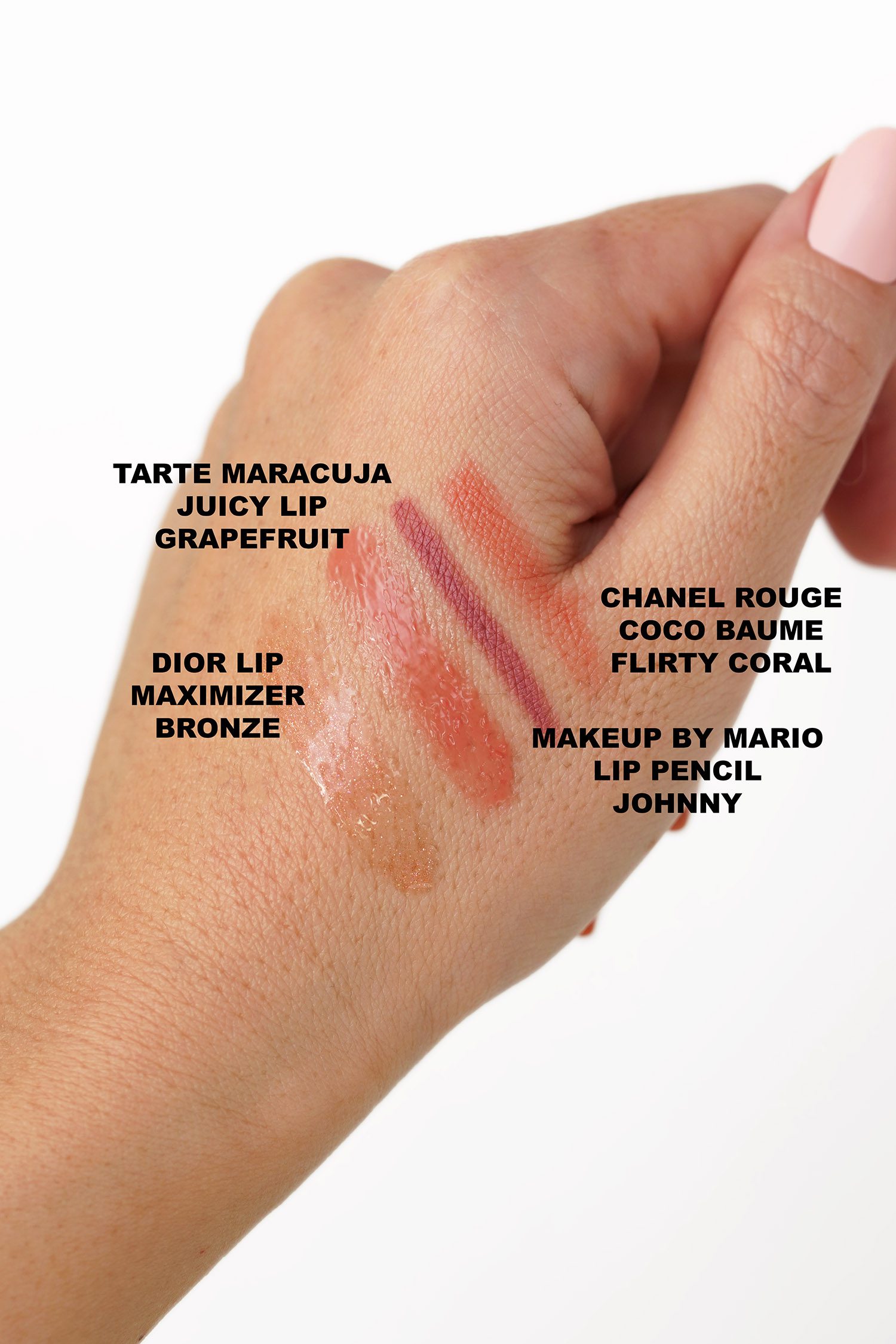 For the lips I have so many loves but if I had to narrow it down to my top four, I've been loving the Dior Lip Maximizer in Bronze from holiday (review here). It's a limited-edition color and I bought a backup. It's a sheer bronze sparkle lip plumper. The Charlotte Tilbury Collagen Lip Bath in Gold is similar if you can't find the Dior one.
My love for the Tarte Maracuja Juicy Lip Balms continues! I've been loving Grapefruit for a nice juicy soft peach. (Currently on sale at Tarte!)
The Makeup By Mario Ultra Suede Sculpting Lip Pencil Johnny (swatched here too) has been a go-to for the perfect neutral pink. It's not too dark, not too light, just the perfect in between kind of rose pink.
I love a good tinted lip balm and love the Chanel Rouge Coco Baumes from their Spring-Summer Collection, Flirty Coral is my favorite, but I love all the colors.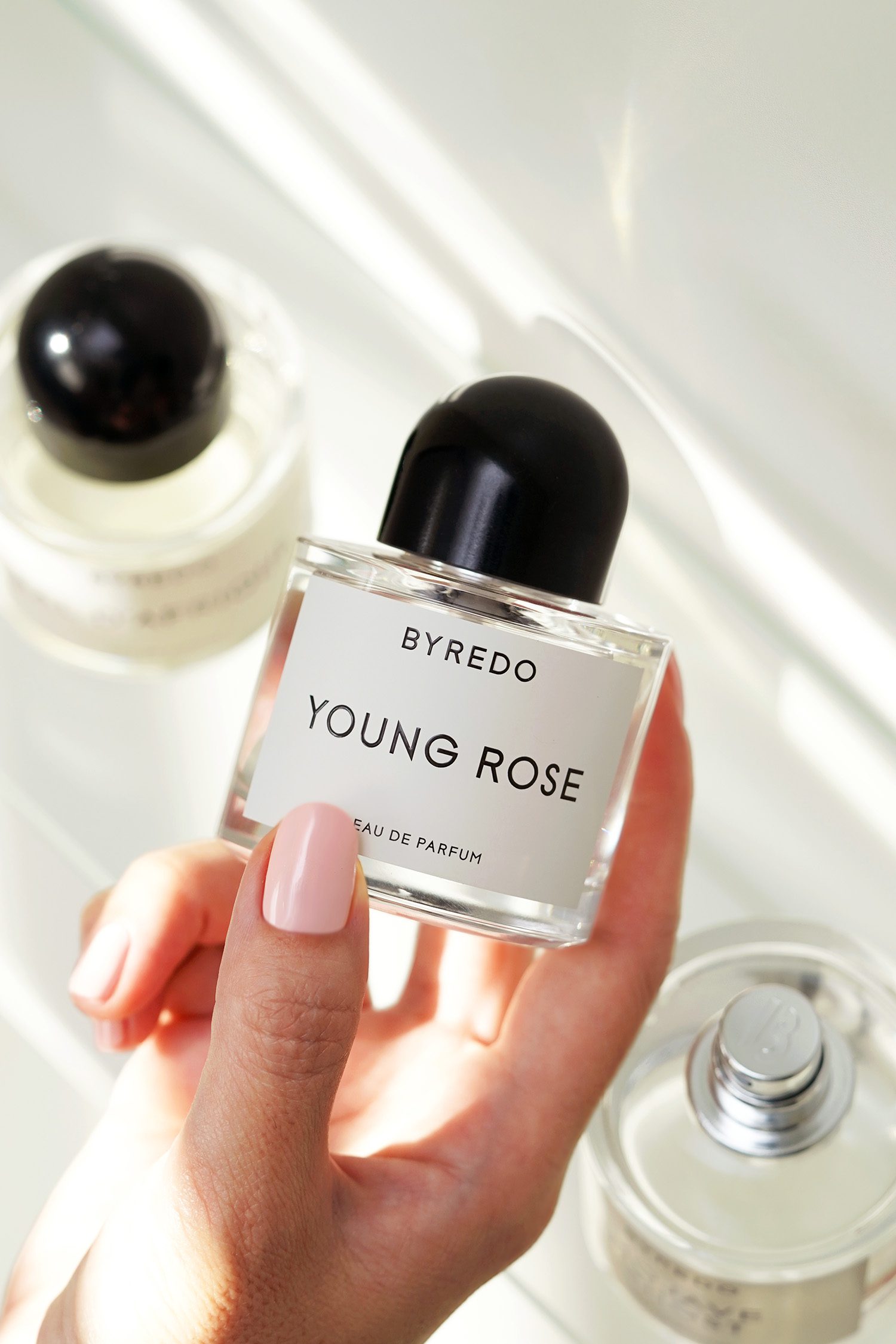 I bought the Byredo Young Rose as soon as it was available in the 50 ml size. It's such a pretty spring time perfume and even though it's named Young Rose, I don't really detect a lot of rose notes. It's a fresh sweet floral kind of scent, but not in an overpowering overly sweet way. Notes include Sichuan Pepper, Ambrette Seeds, Damascena Rose, Orris, Musk, Ambroxan.
For the hair, I've been loving the Olaplex Bonding Oil + Bond Smoother mixed for a smooth frizz-free blowout. A lot of you have been so kind to comment on how smooth my hair always seems to look. The reality is it takes a lot of work to maintain as I have naturally frizzy hair which requires a lot of smoothing, styling and extra help to keep smooth! In case you want to see my routine you can check out the Reel I did with Ulta Beauty.
View this post on Instagram
A few other staples I've been loving. Long-time readers know I'm a huge fan of APL! I did a Roundup Review of the styles in an older post that I reference anytime I get questions about comfort, sizing, style favorites. I still wear them nearly everyday. They wash easily in the washing machine although I give them a soak first in the tub. Scuff marks and stains come out easily with some dish soap and a sponge. I throw them in the washing machine and then air dry them.
Favorite sneaker style is the Techloom Breeze.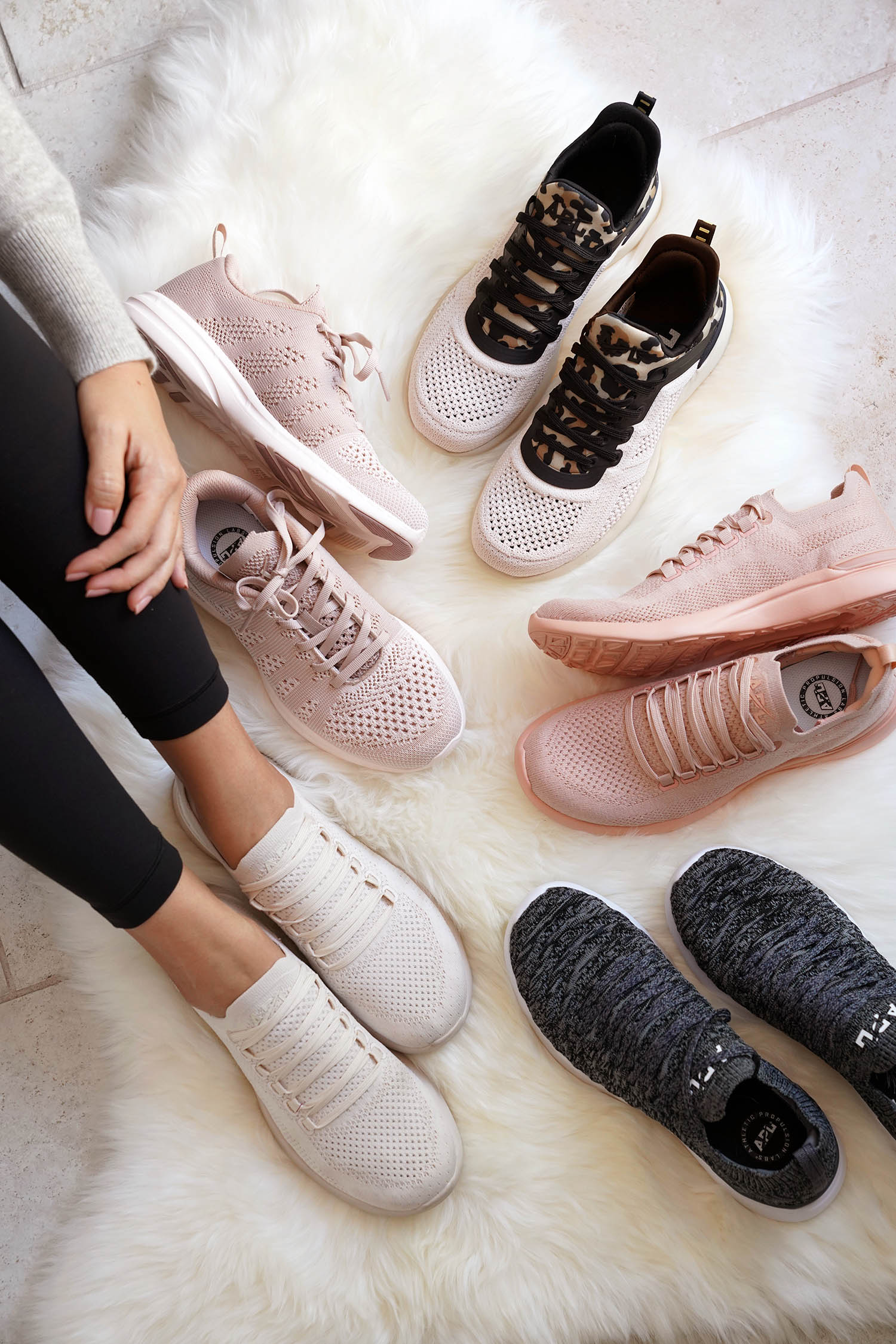 Sizing, style info, etc in THIS POST HERE.
Also love the APL Slides!
Last mention is the Lululemon Everywhere Belt Bag. I've loved this for so long but don't think I've done a full review. They had a few cute fleece options over the holiday which have sold out, but I also love the classic nylon material. The size is perfect for on-the-go kind of use. I use this whenever Andrew and I go on long walks. I also used it to walked Lucy too (RIP). It's nice to carry just the essentials without having to carry a full purse.
I have it in multiple colors. Everywhere Belt Bag colors top to bottom is the light grey (older color), Pastel Pink, Mulled Wine and Black. Sweatshirt is Lululemon, biker shorts are Free People.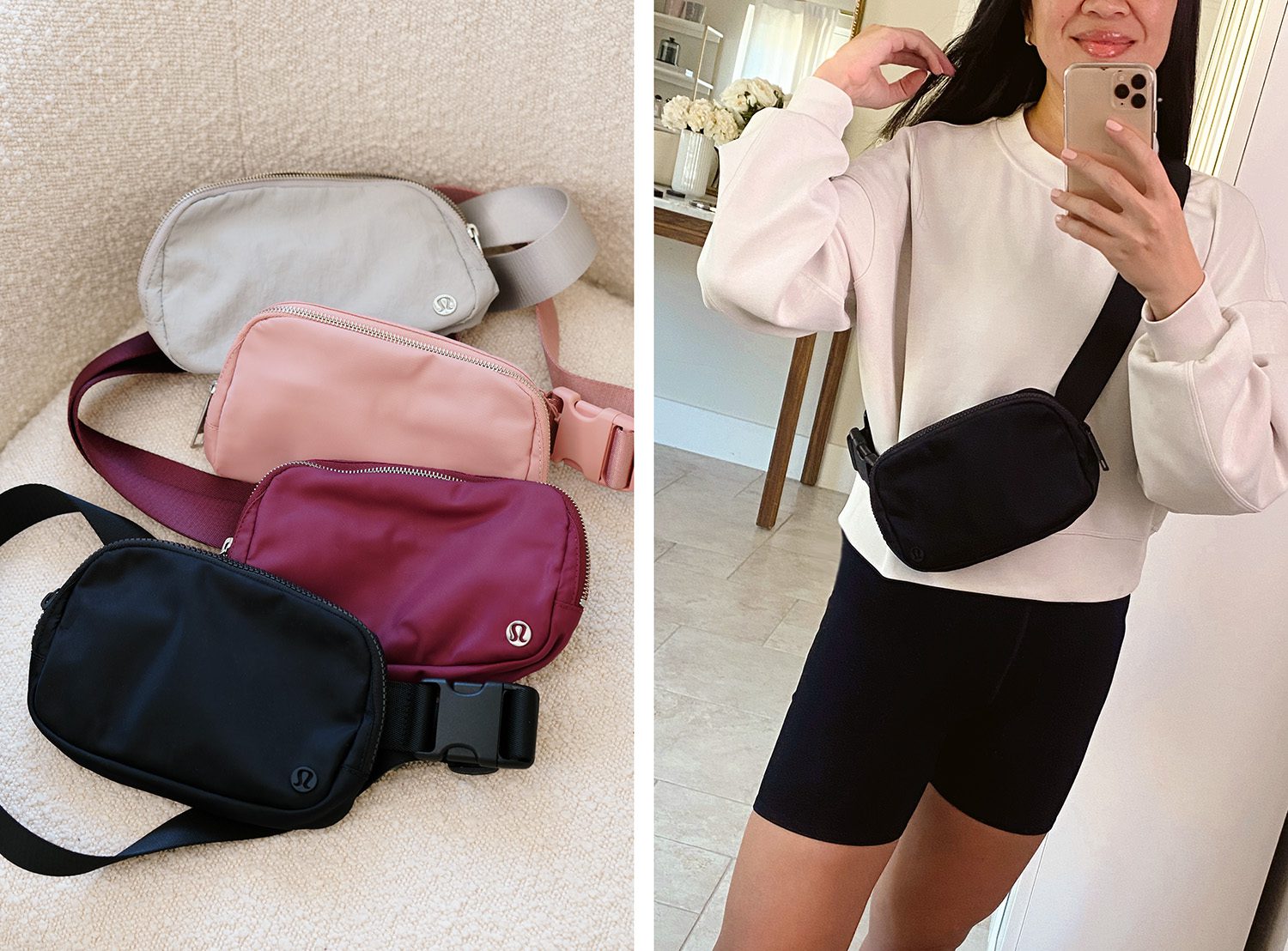 Shop the Post
What was on your favorites list this month?