Dior has some great everyday makeup staples and I wanted to do a blog roundup for those of you who still prefer detailed blog posts versus video or social media posts. I've done a few tutorial videos on my Instagram which I will include below for reference. Many thanks to each of you who took the time to leave a nice comment on the video or messaged me! I truly appreciate the support!
I love Dior for their beautiful limited-edition collections but today's roundup focuses on staples that are part of their more permanent collection. I usually shop for Dior at Sephora because they have the Backstage Line or Dior.com because they often have great deluxe samples available with your purchase. I love getting those little samples of their La Privee fragrance line to try! Also the Dior website usually stocks the entire collection for limited-edition launches while it seems like other retailers don't always have everything.
Base Favorites
There are two foundations I love from Dior. If you like medium to full coverage with a glow, the Dior Forever Skin Glow Foundation ($52) is a nice one with SPF 35. I use either the Shade 2.5N or 3N. It has a natural radiant finish with good lasting power. I do find the color oxidizes and darkens slightly once it sets.
For a more fluid lightweight finish the BACKSTAGE Face & Body Foundation ($40) is a popular one you can use to blend out imperfections and uneven tones. It's a sheer natural finish but has buildable coverage. It's waterproof and sweat resistant. I love the BACKSTAGE Customizable Set that's a Sephora.com exclusive. It's the same price as the individual foundation but comes with a large mesh zip pouch and a mini primer.
Another product I love is the Dreamskin Fresh Perfect Cushion, but this is more of a skincare SPF product with a tint in one versus a foundation. I love the formula and wear but the shade range is horrendous. I love cushions but they still haven't seemed to taken off in the US.
Concealer
The Dior Forever Skin Correct Concealer ($36) has been a cult classic for quite some time but I never tried it until recently. It 100% lives up to the hype and is now in my Top 3 formulas for multi-tasking. It's creamy, opaque, easy to blend and makes me look more alive. I ordered quite a few shades since I wasn't sure how it would perform color-wise. Shade 2.5N is my favorite for my skin tone but for brightening 2N or 2W work for me too.
If you try one thing from Dior I would recommend that you try the concealer.
Powders
Two powders I like from Dior are the BACKSTAGE Face & Body Powder-No-Powder ($40) in 2N and the Forever Loose Cushion Powder ($58) in 20 Light.
The Backstage Powder is a pressed blurring powder with a sheer finish. It still has enough color that you need a good match. I picked one shade lighter than my usual tone because I found the colors run dark. (Also on the face in this Dior Lip Glow post here.)
The Forever Loose Cushion Powder is cased in a beautiful compact with a mesh cover and powder puff. This is a sheer matte finish powder that sets the makeup really nicely. I like that it's matte but not overly matte. I would say the main downside is the price. It's expensive for the amount of product you get.
I recently ordered a few beauty tools from Dior and really like the Dior Backstage Kabuki Brush 17 ($57). There are a lot of good retractable brushes out there so if you already have one I'd recommend sticking with what you have. I do like having a cover on some of my brushes as it makes it easier for touch ups on the go or for travel.
Cheeks
Dior blushes and bronzers have also gone through multiple reformulations and revamps over the years. I really love the blushes and wish there were more colors! Rouge Blush ($44) in Charnelle 459 is a really nice brownish neutral with a satin glow. Formula is soft, blendable and melts into the skin beautifully!
The Dior Backstage Rosy Glow Blush ($37) in 001 Pink is like the Lip Glow but for cheeks. Your mileage may vary depending on your skin tone but I like this for a really natural light pink flush. It does adjust on my skin a few minutes after application. It's almost always sold out at Sephora, but still available at Dior.com.
For bronzer the Dior Forever Natural Bronze ($48) is one of the best matte bronzers I've tried. Looking at the pan it's not 100% matte. I would call this a radiant matte. I use Shade 05 Warm Bronze but can also wear 03 Soft Bronze. It warms up the complexion in a natural way and I like the color tones. This is another example of a product where Dior.com has more shade options available than other retailers. If you're ultra fair 01 Fair Bronze looks like one that won't be too dark for you.
Eye Makeup
The 5 Couleurs Couture Eyeshadow Palettes ($62) are palettes I think I've tried in every re-formulation since the 2000s. This current formulation has the softest most finely milled texture out of all the Dior eyeshadows I've tried. They can be on the delicate side so I'd recommend being a little more careful with the palettes. Dior.com has the most color options available. To track down other shades you might have to do a bit of shopping around. Four I really like are New Look, Nude Dress, Mitzah and Poncho. They have a good mix of finishes with mattes, shimmers, satins and sparkles. Even the mattes have a luminous subtle glow.
Pigment is medium to full and buildable. The soft texture makes it easy to blend and layer.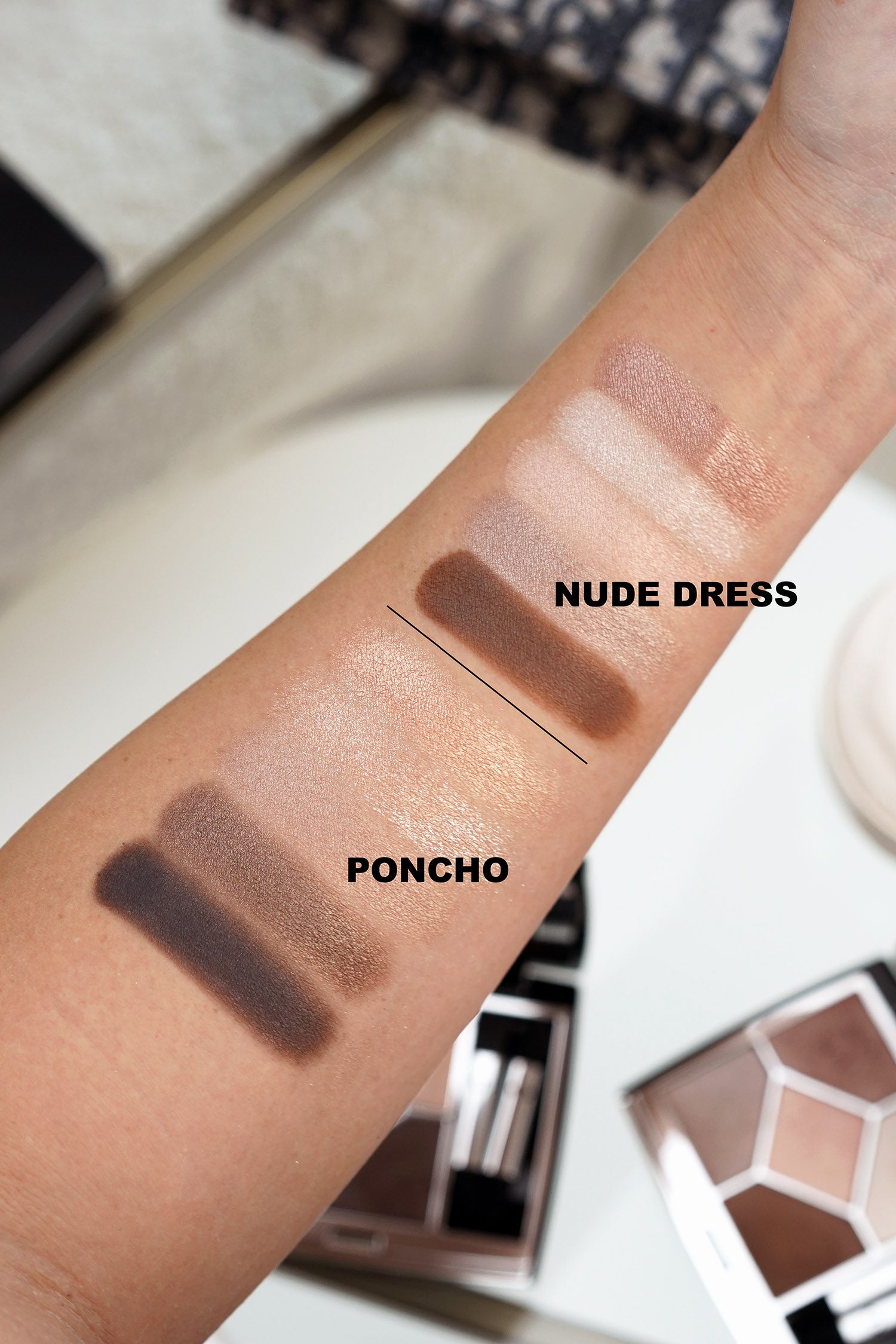 Lashes
Dior has so many formulas of mascara it's hard to pick a favorite. I've tried so many over the years but most recently repurchased the Diorshow Maximizer 3D Triple Volume Plumping Lash Primer ($29.50, one of the best lash primers) and the Diorshow Iconic Overcurl Mascara ($29.50). I really love the overcurl formula for volume and holding the curl. I also BACKSTAGE Lash Curler ($26) which is pretty good!
Lips
For lips I love the Lip Maximizers ($35) for a nice plumping gloss that doesn't have the sharp sting. Colors adjust on my lips with a subtle tint. I have quite a few shades but find I reach for 001 Pink, 012 Rosewood or 016 Shimmer Nude the most. I also really love Ultra Pink (limited-edition shade).
I still love the Lip Glows but already did a full review. In case you missed it you can see the review and swatches of the New Lip Glow Formula here.
For lipstick and lipliners I have to admit I find the color options a little overwhelming, especially when counters like Nordstrom, Sephora or Neimans don't always have the full color range. I picked Nude Look 100 in the Rouge Dior Lipstick ($38) and Lip Contour Lip Liner ($31) and LOVE the color. For a liquid lip the Rouge Dior Forever Liquid Transfer-Proof Lipstick ($38) in Forever Nude 100 is a close match with a lightweight finish.
Wearing the lipstick below:
That wraps up my Dior favorites roundup! If you've watched my videos and wanted a blog roundup with more detail I hope you found this helpful! Many of you have mentioned it's more helpful to see application in a video format so I'm linking the videos below for reference.
View this post on Instagram
View this post on Instagram
Shop The Post

Do you have any Dior Makeup favorites? What are your go-to's?