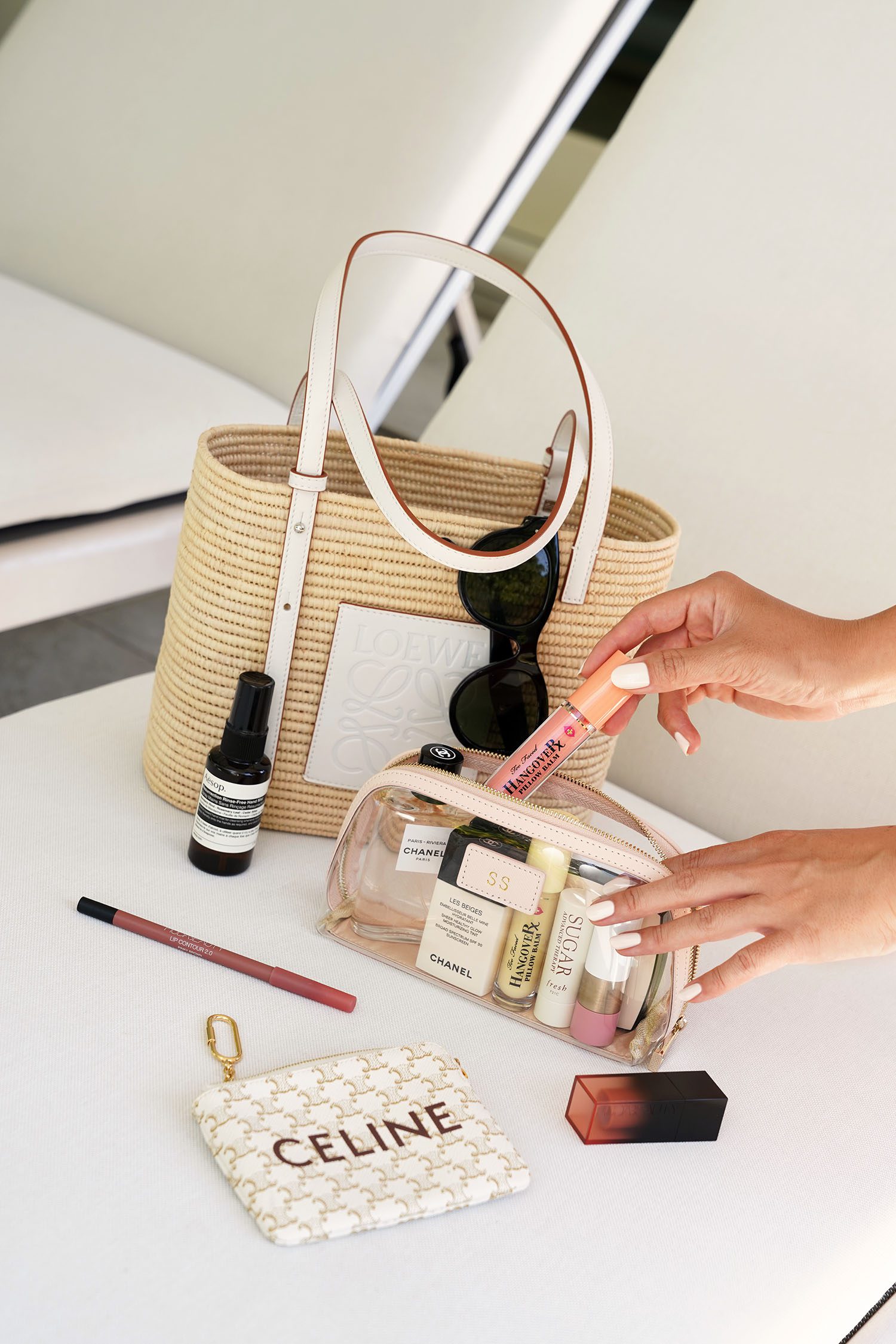 Happy Wednesday! I'm rounding up 10 Things I'm Loving Right Now. A few of these I've mentioned on my Instagram Stories and thought I'd add some more detailed thoughts and include some swatches!
Shimmer Body Oils
As a lover of a good body oil I ordered the new Summer Fridays Pool Time Glowing Body Oil from Sephora and love it! This is a limited-edition product and has a lightweight feel with a subtle glow. There is shimmer in it but it's subtle on the skin. It has a coconut beach like scent that I find really subtle. I personally love the scent of the Tom Ford Soleil Blanc Shimmering Body Oil (which I find feels a tiny bit more textured in the shimmer) but they are both really lovely for summer. I have the mini shown, also available in a full size option.
If you love shimmer body oils, tell me if you think I need to try the Sunday Riley Fairy Godmother or the Anastasia Beverly Hills Shimmer Body Oil.
Lip Favorites
I have quite a few new lip loves! The new Huda Beauty Lip Contour 2.0 Automatic Lip Pencils are creamy, opaque and super long wearing. These have a twist up style but there is also a sharpener in the cap to sharpen just the product. I ordered the neutrals sight unseen and have been loving Sandy Beige and Terracotta the most.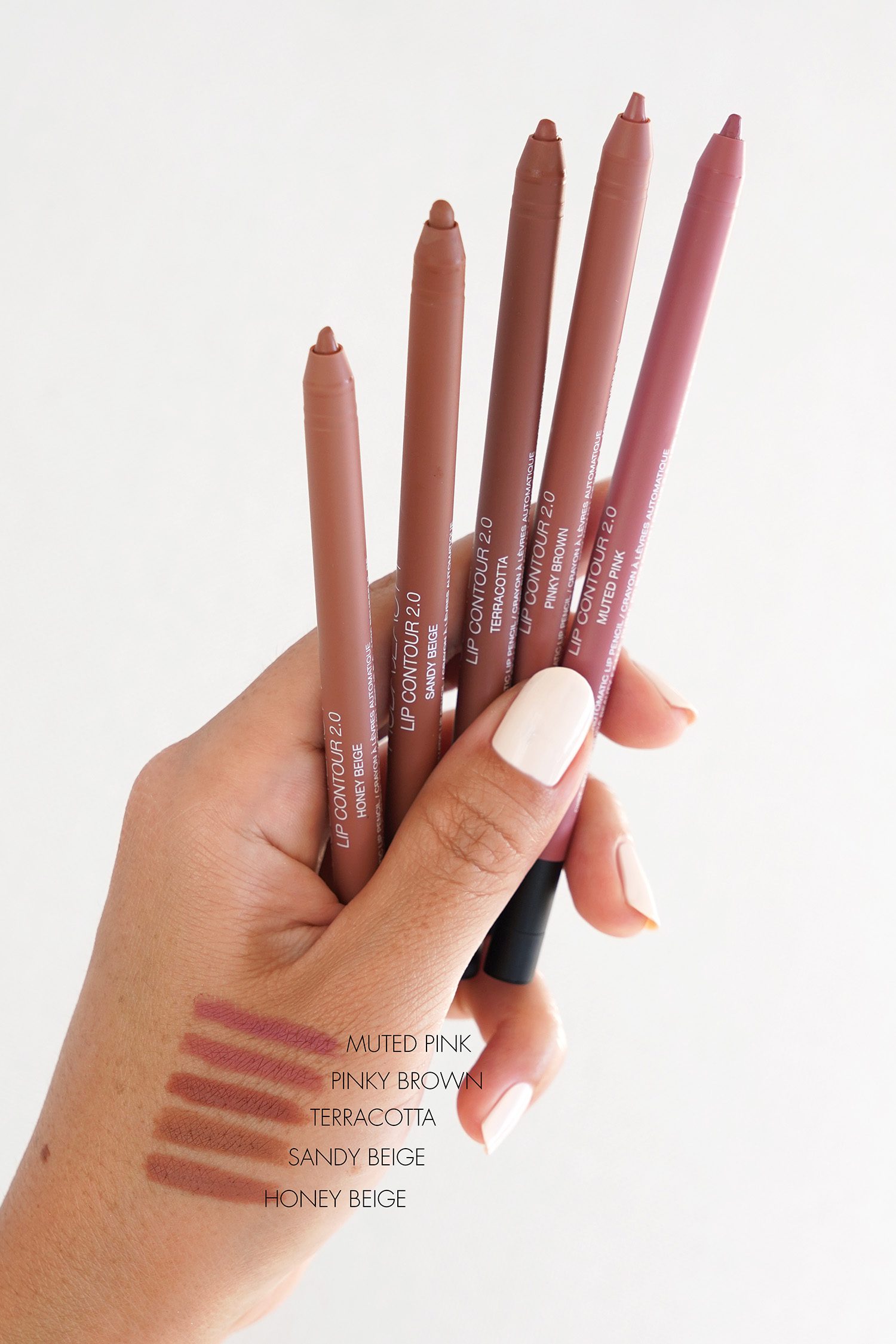 I also really love the Huda Power Bullet Cream Glow Hydrating Lipsticks – they are creamy, opaque, smooth and have a good range of neutrals in pink and beige tones. I really love Honey Bun for my perfect neutral peach pink nude. I have a few more of these in my shopping cart. They have a pleasant, sweet smell to them, almost like cake!
I've been a huge fan of the Too Faced Hangover Pillow Balm and could not be more thrilled they launched tinted flavored versions. They have a slight cooling sensation. Pigment is very very sheer but I think the flavors are really fun. My favorites are Mango and Banana. The only one I'm not a huge fan of is Cocoa Kiss because it smells like a Lip Smacker. Not a deal breaker, but just doesn't give me the cocoa vibe as the name implies.
I still reach for Fresh Sugar Balms the most these days (currently 25% off online at Sephora). I like the Sugar Advanced Therapy the most. For the flavored Sugar Hydrating Lip Balms I love the Coconut, Lime Mint and Lychee. I think they make some of the best scented lip balms on the market.
Also still loving the Hermes Rosy Lip Enhancer Lip Tints! Full review + swatches in this post here.
Chanel Loves
I love all things Chanel and I find myself reaching for their bases quite frequently these days. For a good lightweight summer base I like the Chanel Les Beiges Sheer Healthy Glow Moisturizing Tint with SPF30. I wear the shade Medium or Medium Plus. It offers a sheer lightweight finish that adds a subtle glow. For more coverage with a higher SPF the CC Cream is also one I swear by especially for the summertime.
I've shown a few of the Chanel Les Eaux de Chanel perfumes I have. I love the travel size options because they're purse friendly! My top two favorites are Paris-Riviera and Paris-Biarritz and as a citrus lover, I cannot pick between the two. Paris-Riviera is the more tangy sweet version, it has a mix of Sicilian Orange and Neroli I feel this is the slightly bolder version. Paris-Biarritz has Sicilian Mandarin and Lily of the Valley. It also has a bright vibe but has a slightly softer feel.
I'm super curious about the newest one Paris-Edimbourg, but also have my eye on the Dior Eden-Roc which I got a mini sample of and love (has a similar vibe to Jo Malone Wood Sage and Sea Salt), and the new Maison Francis Kurkdjian Aqua Universalis Cologne Forte. Trying to decide on my next splurge!
Aesop Resurrection Rinse-Free Hand Mist
Last but not least, my latest love is the Aesop Resurrection Rinse-Free Hand Mist. I also like the Rinse-Free Hand Wash version which is a lightweight gel but sometimes it's nice to have a misting option! Both are also available in this cute Adventurer Roll Up Trio Set too. I did try the Geranium Leaf Version as well but I prefer the scent of the Resurrection formula. I cannot find the listing right now but the last time I checked the Aesop website these were listed as having 60% alcohol.
Also featured in this post: Loewe Square Raffia Tote (unboxing and quick modeling in this Birthday Haul reel), Celine pouch, The Daily Edited Clear Makeup Bag, Tory Burch Basket-Weave Sandals (love!!! runs true to size), Sunnies Celine
That wraps up my 10 Things I'm Loving Right now! Would love to hear what you're loving these days. Have you tried anything in my roundup yet? What did you think?
Shop The Post: