I ordered some of the new Gucci Poudre De Beaute Eclat Soleil Bronzing Powders ($62 each for 12 g/0.42 oz available at Sephora) recently and have fallen completely in love with them! There are currently five shades available and I decided to try the lightest three options Shades 01, 02 and 03. These Gucci bronzing powders are packaged in the most beautiful mirrored compact with a gold and turquoise design. Each bronzer has a bottom compartment for a small flat brush to apply the product. Although I prefer larger full sized brushes, the mini compact brush is actually functional to apply the product on the face (I normally don't use the compact brushes).
The bronzer texture is soft and powdery. Pigment is sheer-medium in coverage but buildable. Each color I tried performed well. They didn't look muddy or turn orange or darken The only semi-negative thing I can say about these is that they have a strong floral powder scent. It's not a deal breaker for me and after it's on the skin the scent fades and I don't notice it anymore.
Lasting power is quite good. I think these are solid winners even though they are fairly expensive. The bronzing powder also come with a small pink pouch so you can protect the compact from getting scratched if you want to put it in a makeup bag.
Shade 01, 02 and 03:
_________
Gucci Bronzer Shade 01
Shade 01 is a matte lighter cooler-toned brown with pinkish undertones (similar to Tom Ford Terra).
Look wearing: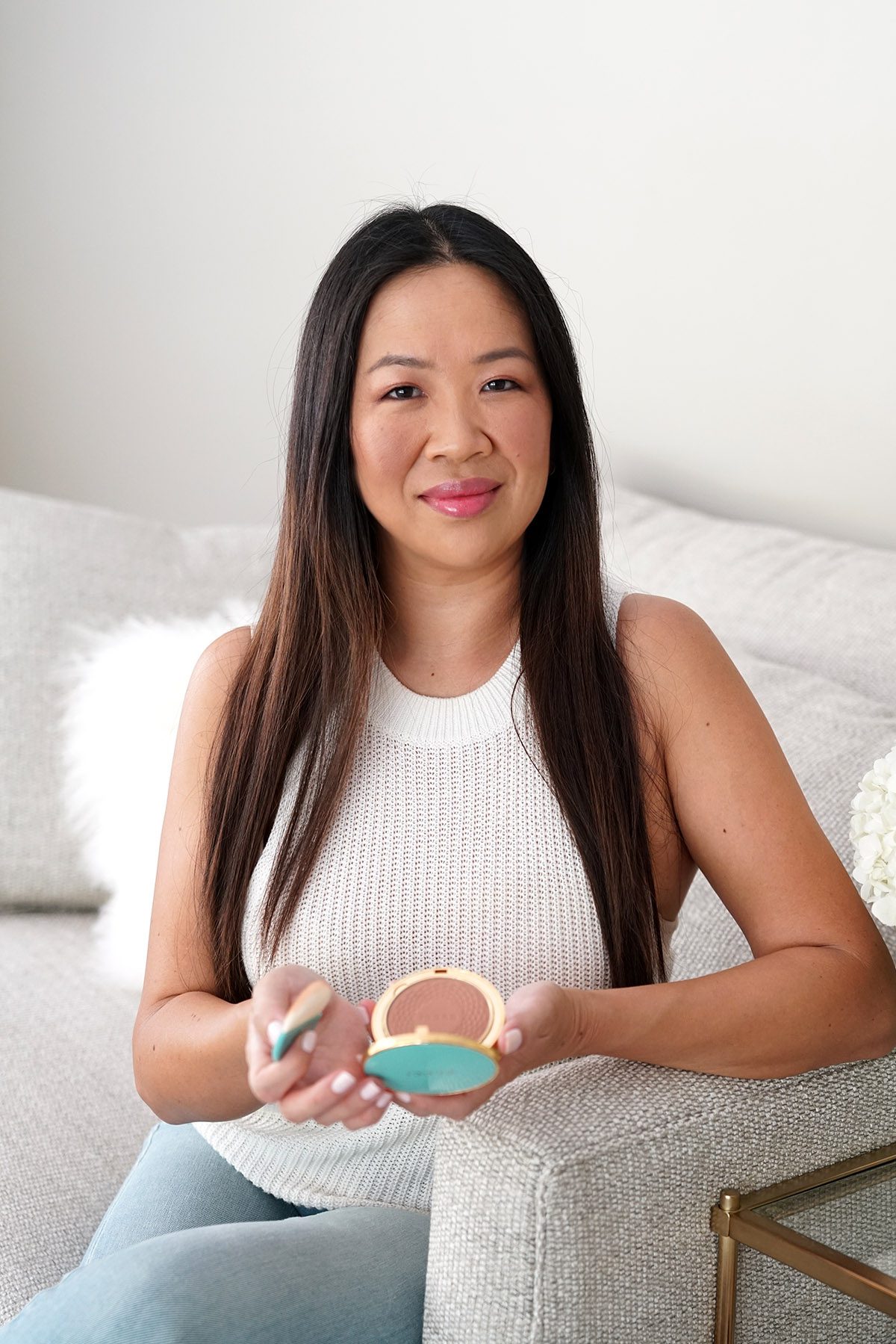 _________
Gucci Bronzer Shade 02
Shade 02 is a medium neutral cool-toned brown with subtle shimmer (this one looks deeper than Shade 03).
Shade 02 Bronzer with Sheer Lipstick in The Painted Veil
_________
Gucci Bronzer Shade 03
Shade 03 is a light-medium warm golden bronze with gold shimmer.
Below wearing Bronzer Shade 03 with the Satin Lipstick in No More Orchids
For those who have asked, comparison swatches to the Tom Ford Soleil Glow Bronzer in Terra and Gold Dust, NARS Bronzing Powders in Laguna and Casino and the Kosas Sun Show Bronzers.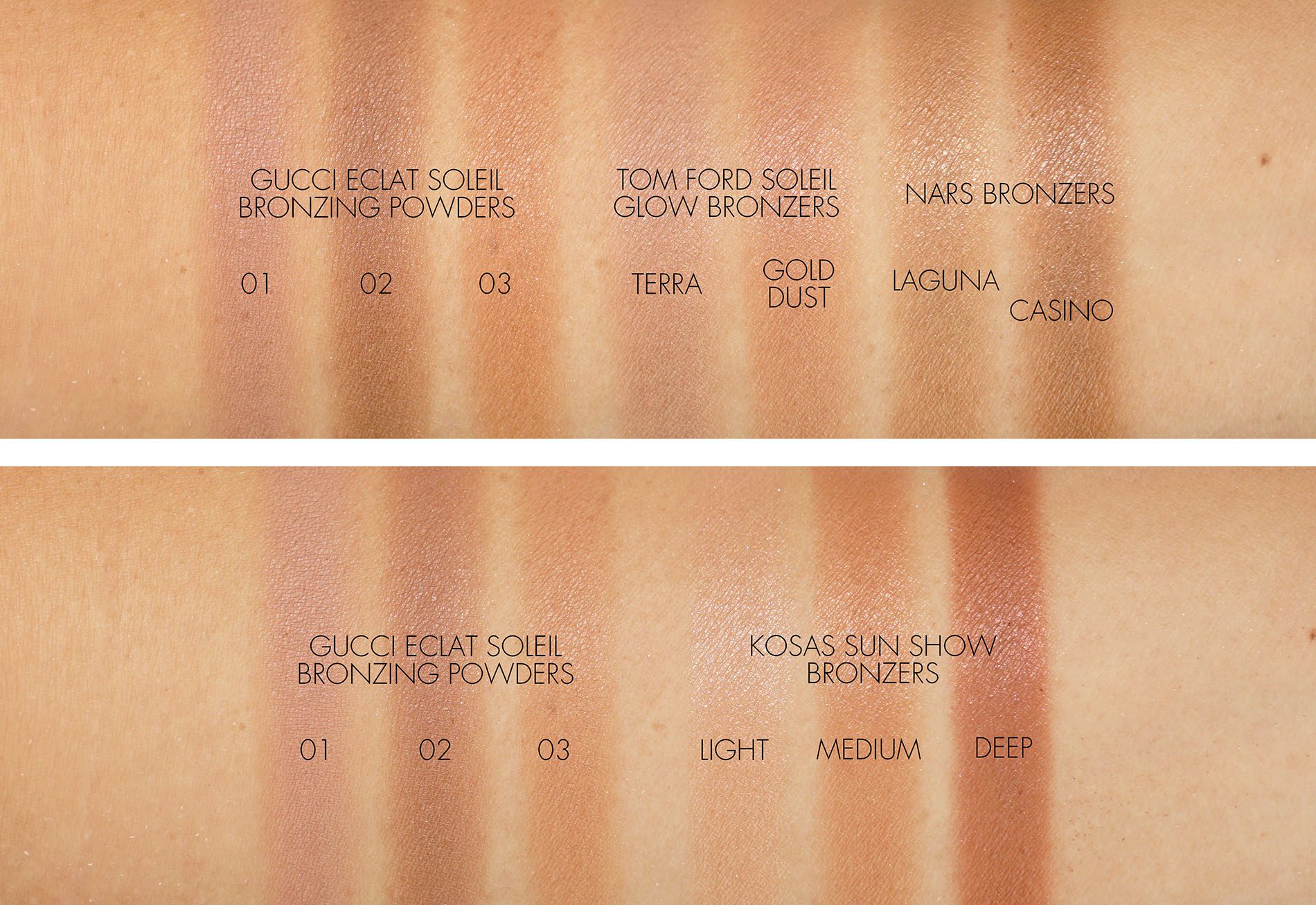 _________
Lips – No More Orchids in the Satin Lipstick and Lip Balm Formulas
left is the Satin Lipstick, right is the Lip Balm, nail color is Essie Wearing Hue?
Last I wanted to share a look at two lip formulas in the color No More Orchids. Gucci launched this color in a Satin Formula to coincide with the launch of the bronzers. It's a vibrant hot pink with a medium coverage creamy finish. There's a soft shine to it like a classic lipstick. I actually prefer the No More Orchids Balm Formula which is a sheer hot cool pink. It's not quite as blue-based or sharp on my medium tan olive skintone and works better for my complexion. To me the colors are pretty much the same but the pigment changes how it looks on the lips.
I ordered a few other colors a while ago but haven't had a chance to test them. I do have and love the shade The Painted Veil in the sheer finish for a warmer pink (also worn in my Gucci Mascara review here).
Overall I really like the bronzers I hauled! If you're like me and don't really like true mattes you'll love these. They have a subtle glow to them so they won't look flat on the skin. They're easy to wear and don't look muddy on the skin. I like that they're soft in texture and easy to build/blend. I have no regrets with my purchases although I can't say the colors must-haves since they aren't super unique. I see similarities with other brands and formulas so I do think they are easy to dupe. Still I think they performed well and were worth the splurge. I love the packaging and if you don't mind the floral scent, I think you will probably like them too.
Have you checked out the Gucci Bronzers yet? What did you think? I bought mine from Sephora the day they launched. They've since sold out and restocked (once I think) and some colors have sold out again. You can also find these at Gucci and Selfridges.