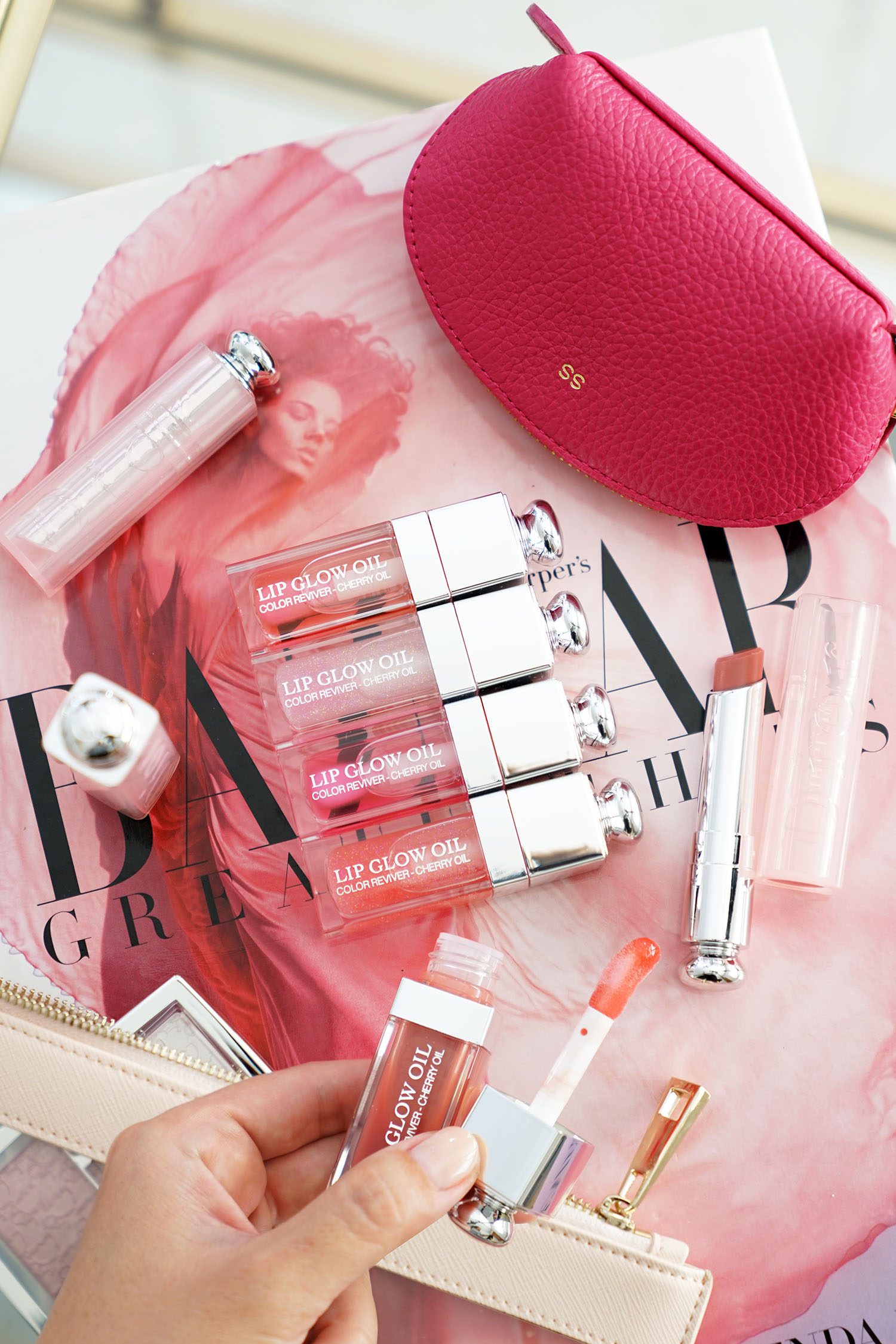 There are quite a few new lip oil launches this spring and I have a Dior Lip Glow Oil review and swatches today. There are eight colors available. Six are available at all Dior counters in Pink, Coral, Raspberry, Cherry, Berry, Rosewood (the non-shimmer ones) like Sephora, Nordstrom, Bloomingdale's, Neiman Marcus etc. and then there are two of which have shimmers with tiny glitter flecks in Pearl and Holo Pink that I found online at Sephora. I ordered five of them.
The Dior Lip Glow Oils have a wide cushiony applicator. It allows me to coat the entire lip in one swipe which is nice. They have a thick texture that adheres to the lips and while it feels lush and thick, it's not greasy or too sticky feeling. It's comfortable and offers instant hydration to the lips. After testing I have mixed feelings about these. While I like them and think they are lovely the colors all look the same on my lips, even the sparkle ones. They have a slight color enhancing finish to them – they do transform the tint on my lips in a subtle way. Raspberry and Rosewood have the deepest tints to a flushed pink on my complexion.
Colors I bought:
001 Pink is a soft pink
003 Pearl is a clear almost white base with loaded glitter
007 Raspberry is a sheer medium bright pink
010 Holo Pink is a clear pink base with glitter suspended
012 Rosewood is a medium rose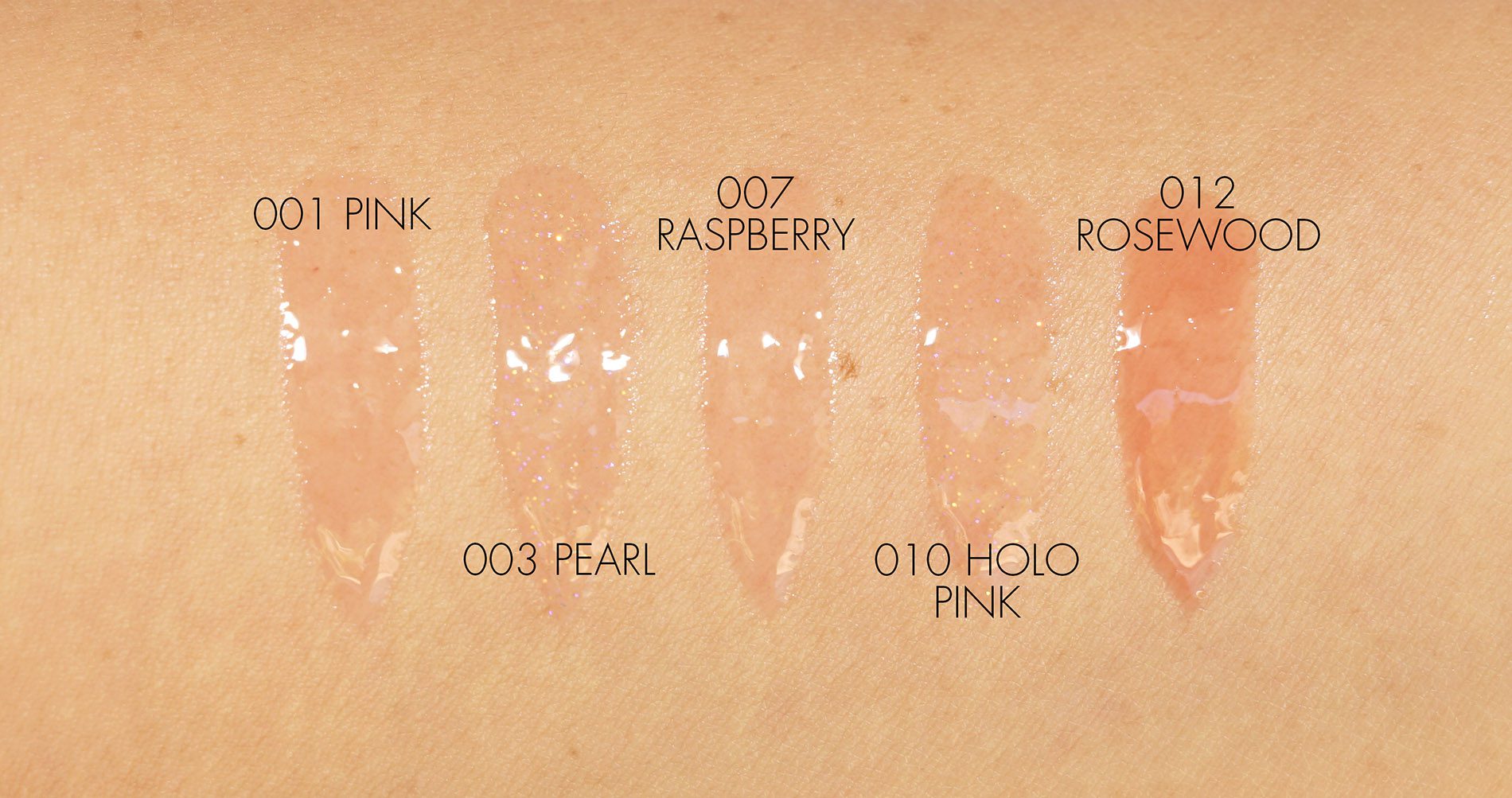 001 Pink
003 Pearl
007 Raspberry
010 Holo Pink
012 Rosewood
The glitter ones have a very subtle glitter effect. I can barely see them in a swatch or on the lips. The shimmers in the Dior Addict Lip Maximizer or holo options for the Dior Addict Lip Glows are a lot more noticeable.
Moisture-wise I don't think these are the best for a lip treatment. I tried these on numerous occasions and even waited until a super dry lip day to see how these performed. I had dry lips to the point of peeling one morning. Application offered instant relief and moisture as it hugs the lips and acts like a glossy cushion. It stays put for several hours without budging or fading. The main downside for me is the moisture doesn't stay there. Once it's off the lips there isn't any remaining moisture. With other balms, even when they fade or wear off, I feel like lips are left hydrated and feel better. The effect of any hydration seems to only be there when the product is on the lips, once it is off, my lips are left feeling dry again.
I like these as a lush thick gloss with high shine. As a lip oil, it didn't perform as I had hoped – but that doesn't make them bad. For moisture I prefer the original stick Dior Addict Lip Glows by far. Even the Addict Lip Maximizers have more lasting hydration on me.
Look wearing 012 Rosewood:
Look wearing same as above for eyes/face, lips are 003 Pearl (which looks pretty much the same):
If you're looking for a subtle color-transforming gloss with a lush look and high shine, I'd recommend trying one. I don't think you need more than one color as they look very similar in my experience. They have a very subtle minty scent but it's barely noticeable and there's no tingle or plumping sensation which is a plus for me since my lips are sensitive and often go fully numb with plumpers.
You can find the Dior Addict Lip Glow available at all Dior counters. The shimmer ones appear to be exclusive to Sephora for the moment. I bought all of these from Sephora. Makeup bags shown in most are by The Daily Edited (clear pouch) and Cuyana (mini bright pink bag).

Have you tried these yet? I ordered a few of the new spring items and the Rosewood Dior Addict Lip Glow. Review coming soon!