It's been a while since I've done a makeup brush roundup so I have an updated one for you this week! I've always loved trying new brushes and makeup tools, even long before I started this beauty blog. Over the years I've tried a wide range of high-end brushes and because of the product testing and swatching I do I've acquired more than the average beauty lover. Many brushes can be multi-taskers these days so there is definitely no need to purchase a lot. I'd recommend building your tool set over time. Try a couple from a few brands and see how you like them, then build from there.
I've split the ones I use the most by category to help you find the tools best suited to your needs. Over the years many of my tried-and-true lines have revamped their makeup tools and changed materials to synthetics. Since I do take good care of my tools there are a number of older ones that I've kept and still use but in today's roundup I've included ones you can still find.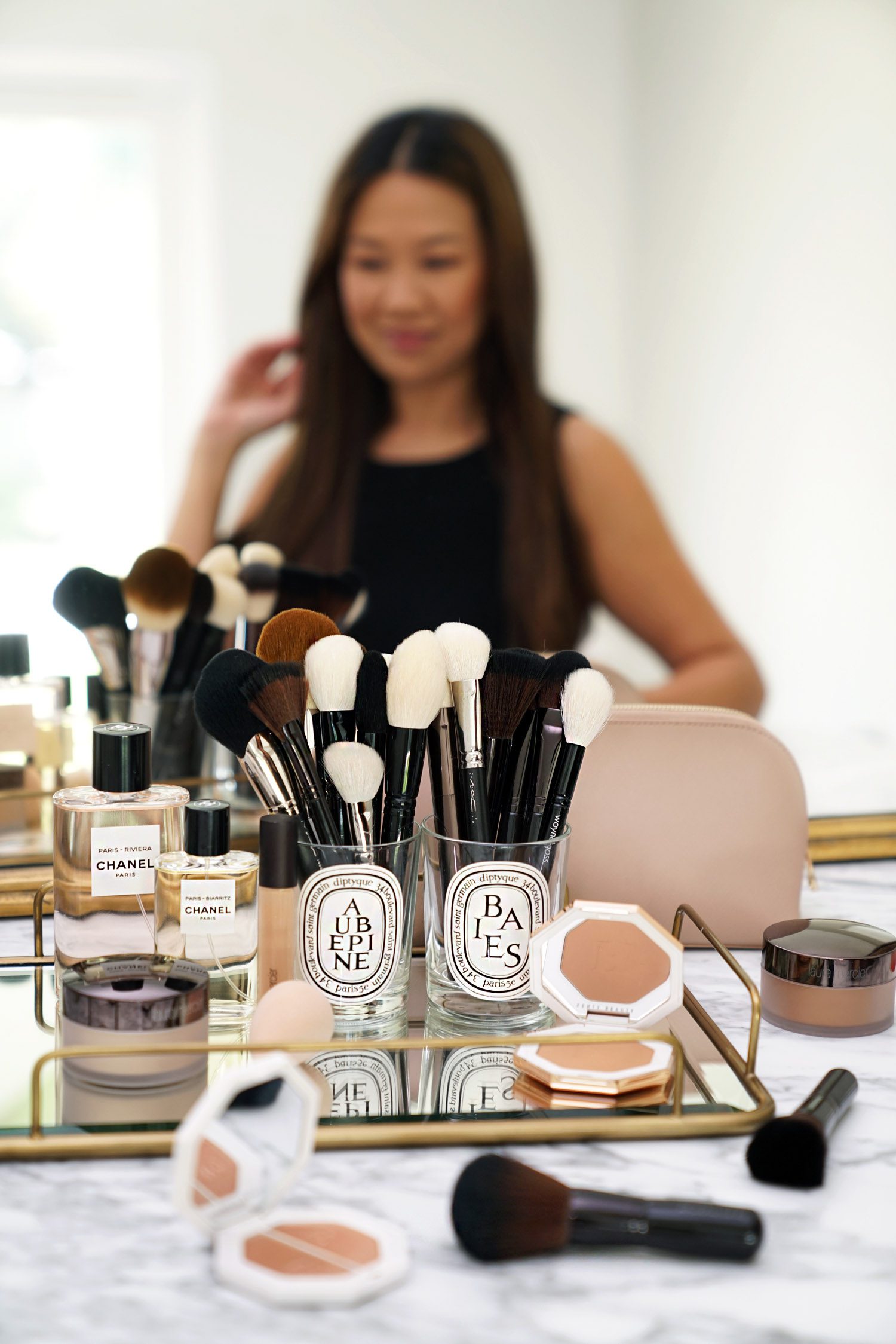 To care for my brushes I've tried a number of brush cleaners: liquid, solid, gels, baby shampoo, etc. To this day I find MAC's Brush Cleaner to be one of the best as it truly cleans the brushes well, doesn't leave a residue or lingering scent and doesn't damage the brushes. However with the frequency I have to wash my brushes purchasing and repurchasing it gets really spendy. I tried Dr. Bronner's Liquid Soaps as there were so many positive reviews about how good these were to clean your brushes. I tried the Unscented and Lavender, unfortunately my skin had an allergic reaction to both from residue that was on the brushes (they didn't rinse out all the way, even with multiple rounds of warm water rinsing under the faucet). These days I rely on the Dawn Dish Soap diluted a with warm water in a bowl or the Dishwashing Foam and this gets my brushes clean without any residue. For sponges I still rely on the beautyblender solid as the best solid cleanser.
Onto my favorite brushes, up first are the ones I love for powder!
Powder Brushes
Above from left to right:
_____________
Blush and Highlighters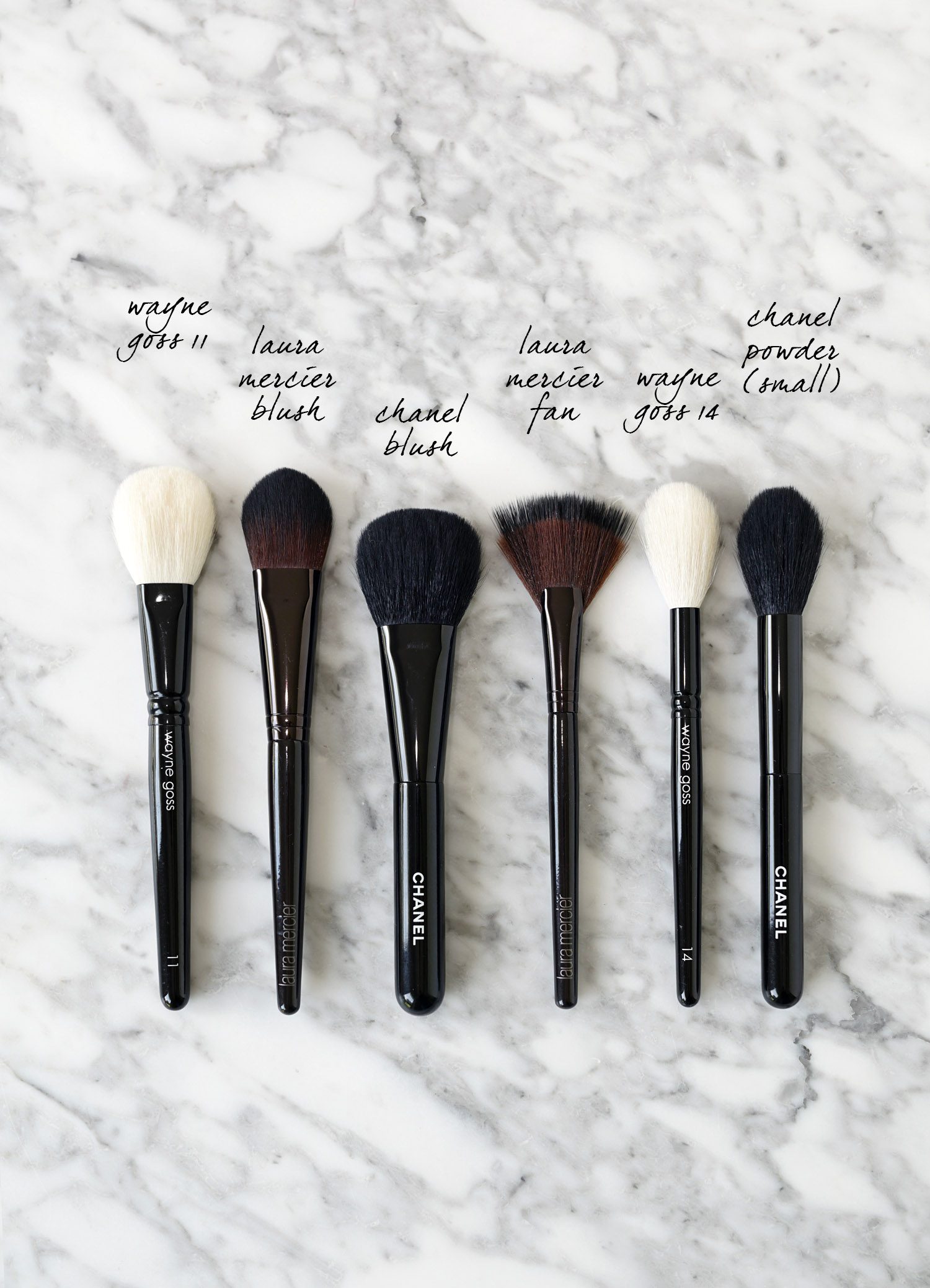 For me I will use a blush brush for highlighter and vice versa. Some of you may prefer a smaller brush for highlighter and that's perfectly ok! The first three are ones I reach for the most for cheeks, the last three are smaller and less dense to apply a softer wash of color. Above from left to right:
_____________
Angled Brushes
Above from left to right:
_____________
Skunk Brushes / Blending
These fluffy duo fiber brushes are nice for soft buffing. You can use them for powder or creams. I was surprised to learn you can use these to buff in foundation! Above from left to right:
_____________
Miscellaneous
Above from left to right:
_____________
I hope this roundup with side by side photos helps give you a reference point on size and density! While there is no single brand that has all the tools I want, if I had to pick one brand of face brushes to use for the rest of my life it would either be Wayne Goss or Laura Mercier.
When it comes to travel a lot of you want to know how I pack my brushes. There's no hard set rule I go by when packing tools. I've tried a number of brush pouches like the MustaeV Bloom Pouch, Make Up For Ever Pouch, the Clearly MAC Rectangle etc. For the past few trips I've thrown my tools into the Truffle Clarity Jetset Case and it's perfect for my needs (see it in action here). I fit everything shown below into the pouch without any issue. If you're worried about the debris getting the case dirty just layer in a little tissue. The plastic cleans easily from powder contact. If you use anything cream based though I recommend you wrap those tools in tissue if you can't clean it before you pack.
That wraps up my favorite brush tools post! What are your favorite tools?
Press samples have a * next to them. Others purchased by me.