Tom Ford Beauty Soleil 2019 has launched and I've been so excited to play with the collection over the past few weeks. As usual the pieces are limited-edition and come in the beautiful white and gold packaging. Overall I think the collection is really beautiful for that perfect sunkissed look. I purchased several products the minute they launched online and also received a few items as press samples. There are a number of other items in the collection I don't have featured, but I'm really happy with the items I do have:
________________
Soleil 2019 Lips
The lip colors this season are true to the Tom Ford Soleil theme with fresh and sheer color options. I ordered items sight unseen and was lucky that I ended up really loving every piece I bought. I opted for two of the Lip Color Sheers in Mustique (perfect cool toned baby pink) and Carriacou (perfect peach cream). Both are medium in coverage and have a soft glossy finish. I find myself really loving Carriacou for a natural peachy cream lip. Lasting power is pretty good for sheer lip color, although I don't really consider these "sheer" like the name implies. They are sheer if you compare them to the regular formula lip colors and mattes. I think these have medium coverage.
The Lip Blush is a clear gold flecked color transforming balm that so many of you have been interested in! As soon as I put a sneak peek on stories I was flooded with comments – all of which were mixed. Based on my testing I really like it. It gives my lips the perfect pink flush but it will look different on everyone. I think it's really flattering on my lips. It's lightweight, unscented, gives my lips a nice pink glow/stain. Stays put. The only thing not to love is the high price tag. At the $55 price you can find something similar for a lot less like the Dior Addict Lip Glows or Bobbi Brown Extra Lip Tints.
Lip Gelees seem to be having a bad moment on the internet. On the hands/arm they do not swatch well and look practically clear. As one who does not put counter testers on my lips I can understand why these have been dismissed as fails because I would have passed too had I counter swatched them. I ordered two and received the other two as press samples. I do not think they are as bad as the online reviews. The concept is really nice for a fresh gelee lip look with a slight stain and balm in one. I think the colors are perfect for a sunkissed summer pop of brightness. But the $55 price tag is really hard to justify for something that is sheer, has small packaging, seems to have little product and is more than 1/2 clear. Colors swatched straight from the tube vs. with a lip brush so you can see the actual color. Lustrous is a sheer red, Sunlit is a orange color, Scorching is a light peach, Maldives is a baby pink.
Swatches straight out of the tube versus with a lip brush:
Lip swatches of the items below (forgot to do a detail shot of the lip blush, but scroll down to the bottom to see it on a full face makeup look). All done on bare lips.
________________
Soleil 2019 Eyes
There are three Acqua Metal Shadows and I opted for two in Venus Rising a metallic pink and Violet Argente a metallic neutral bronzed mauve pink (so hard to describe this one!). I've worn Violet Argente on stories a few times and everyone was asking about it. These are metallic fluid shadows that come with a sponge tip applicator. The applicator is really flexible and a little hard to control for me so I take a separate shadow brush, brush it off the tip of the applicator and then apply to eyes. You can apply directly to the lids and blend with a finger too which works. I need more control so I've found using a separate brush to apply is the best. The color is quite intense with one swipe but sheers out to a lovely smooth sheen. Layering increases the intensity and shine. Once they set they stay put all day. It didn't budge in warm weather for me and I think I'll be reaching for these all summer long. That being said if these are out of your price range you might want to wait and check out the Bobbi Brown High Shine Liquid Eyeshadow or Armani Eye Tint Liquids coming out soon.
Swatches and comparisons side by side to a few others including the Armani Eyes to Kill Stellar in 5 Stellar, Hourglass Scattered Light in Aura, Tom Ford Eye Duo in Golden Peach and Charlotte Tilbury Eyes to Mesmerize in Rose Gold. This is for a color comparison/reference. I really can't compare formulas because they are all so different. The Tom Ford is the most fluid and metallic.
Violet Argente on the eyes with a black liner. Also wearing Gold Dust Soleil Glow Bronzer and the Lip Blush.
________________
Soleil 2019 Cheeks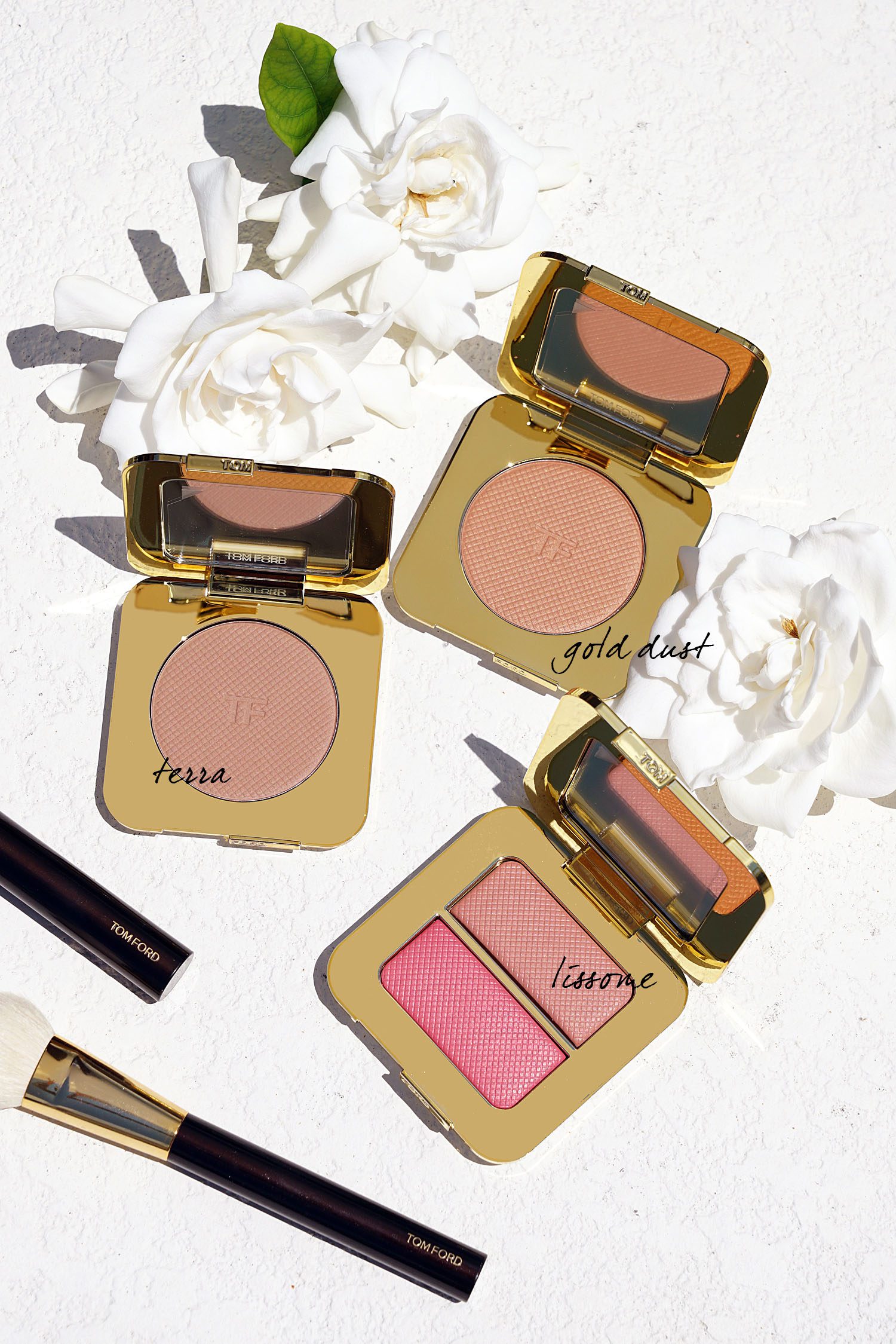 The bronzers Terra and Gold Dust have been reformulated this season in a Soleil Glow Bronzer. I have two in the miniature format. (Also available in the jumbo size.) The colors are really similar to the previous launches. This year the Soleil Glow Bronzer has a softer finish which is more powdery with an almost creamy touch. Because they're so soft it's almost made the pigment more intense. I recommend applying with a light hand. The 2019 Terra does seem to be slightly more cool-toned than previous Terras. I've used the Tom Ford bronzers for years and really do love them. If you're looking for a new one though I'd recommend opting for one of the NARS summer palettes like Summer Lights (review coming soon). You'll get more bang for your buck since it's a full palette for eyes and cheeks. The Tom Ford bronzers are a really nice splurge. I've never regretted buying the previous season's versions and the mini is nice for travel. Just though I'd suggest an alternative if you're looking for something a little more unique/fun.
There's also a new Sheer Cheek Duo in Lissome which I think is so so pretty. I'm calling this a must-have. It has a soft peach and soft pink with the prettiest satiny finish. It makes the skin glow without adding any frost or excess shimmer. Formula is the same as previous launches. It has a smooth almost cream to powder hybrid formula that isn't really all that sheer. It's super easy to blend, applies smoothly, doesn't emphasize texture and stays fresh looking for hours.
Swatch comparisons to the original powder versions of the Tom Ford Bronzers and Sheer Cheek Duo in Bicoastal side by side. I swatched everything with a heavy hand. On the face everything applies a lot more sheer especially with blending.
________________
Three looks with the cheeks:
Overall a beautiful launch with easy to wear fresh natural color. Tom Ford Beauty can be quite the splurge and I've been really happy with most of everything I've tried from the line over many many years. Based on the numerous launches and repeats over the seasons, I don't think I'd call the bronzers a must-have if you've bought previous year's colors. For me the top stand outs are Lip Color Sheer in Carriacou, Acqua Metal Shadow in Violet Argent and the Sheer Cheek Duo in Lissome. The Lip Blush is a solid thumbs up for me as I really like the flush it gives my lips, but you can 100% find a cheaper alternative that's just as good.
You can find the Tom Ford Beauty Soleil 2019 Collection out now. I bought my pieces from Nordstrom. Also available at Bloomingdale's, Neiman Marcus, Saks Fifth Avenue, Sephora and all other Tom Ford Beauty retailers.
Have you checked out this collection yet? What did you think?
Press samples have a * next to them, all other items purchased by me.