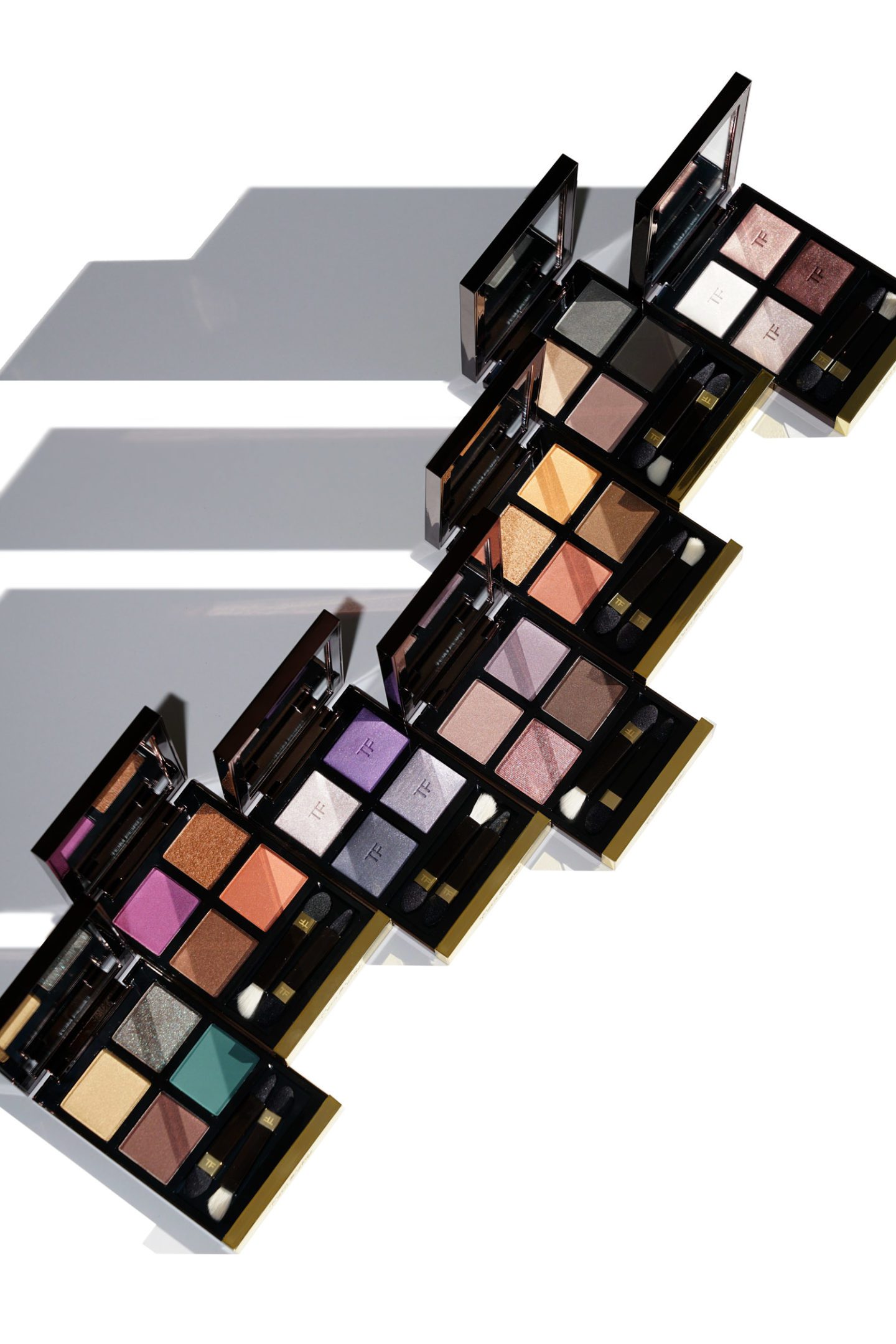 Tom Ford Beauty launched seven new Eye Color Quads ($88 each) late last year. I apologize this has taken me so long to post. I felt overwhelmed with all the options but finally have a roundup with thoughts on each one for you today. I've been a huge fan of the eyeshadows since they first launched. The new color additions offer some beautiful more trendy options for you to create more unique beauty looks. I'll say up front that I still think the best ones are previously launched colors including Nude Dip, Honeymoon, Golden Mink and Seductive Rose. The new ones offer a more diverse color range outside of neutral territory. I bought three of them in Supernouveau, Leopard Sun and Virgin Orchid. The Tom Ford Beauty team then sent more as press samples so I have all seven swatched for you today.
For those not familiar with the Tom Ford Eyeshadow Quads I'll give a little overview. These are among the most expensive that I've tried and I think as long as you love the colors in each palette they're 100% worth the splurge. There are different finishes and textures in their palettes. Quads like Honeymoon and Nude Dip have a pressed metallic finish different from all the other quads. This round Virgin Orchid and Daydream have the same texture. For the other quads there are mattes, glitters, shimmers and satin formulas. In my experience everything has really good pigment, colors are easy to layer, lasting power is very good, glitters apply best when pat on the lid with a finger.
Thoughts on the new shades plus swatches, Top Row: African Violet, Leopard Sun, Supernouveau and Virgin Orchid. Bottom Row: Photosynthesex, Daydream, Pretty Baby.
___________________
Leopard Sun is my favorite out of all the colors. This has a very warm mix of colors so it surprised me that I found this one the most wearable for me. It has a sparkling glitter gold, a yellow warm gold shimmer, a rust shimmer and a medium brown shimmer. When layered together it creates a sunset looking eye.
This is the only one I photographed a makeup look for. I did test each one separately on the face but didn't take photos since it was over a long period of time. If you want more looks with others let me know. Below wearing:

___________________
African Violet has such an interesting mix of colors. It has a sheer satiny bright violet, copper glitter, warm shimmery bronze and soft orange. The violet and orange are on the sheer side but it works out in my favor as blending and layering them with other shades from other quads helps to add warmth and life. You can definitely layer for more intensity as seen in the swatches below.
___________________
Supernouveau is a neutral cool tone quad with a warm shimmery champagne, steel dove grey blue silver shimmer, mauve satin and washed out black. This one gives a nice alternative to the black/grey/white smokey eye. It's very cool-toned on me. I need a creamy base to make colors adhere and stand out on my skin.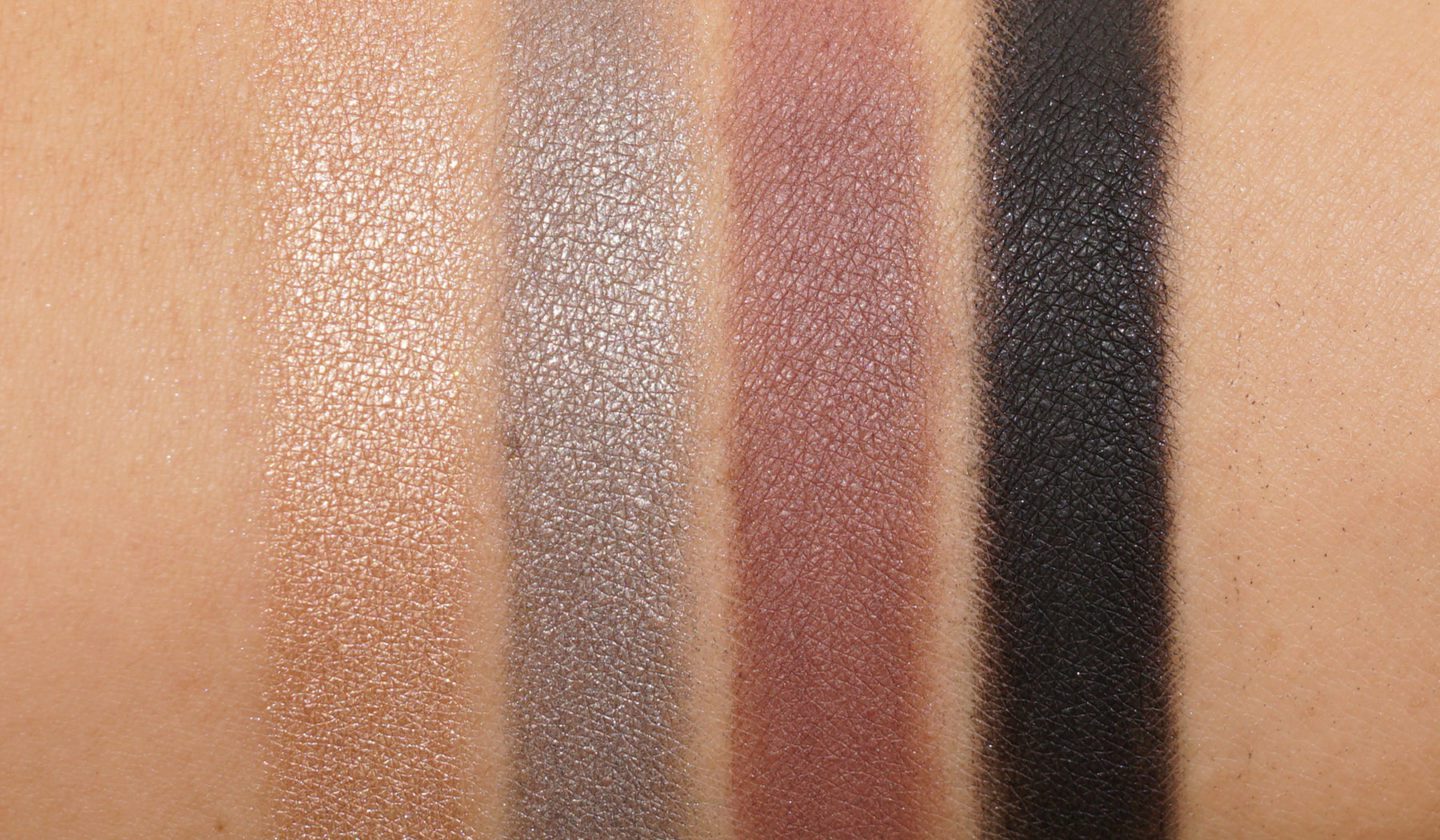 ___________________
Pretty Baby is one I thought I'd love the most but I have a hard time pulling off this much purple in one eye look. For me it requires a bit of mixing with warmer or neutral shades. It has the most beautiful mauve pink shimmer, a lilac satin shimmer, a duo chrome glitter violet-blue-pink and a deep shimmery smokey brown.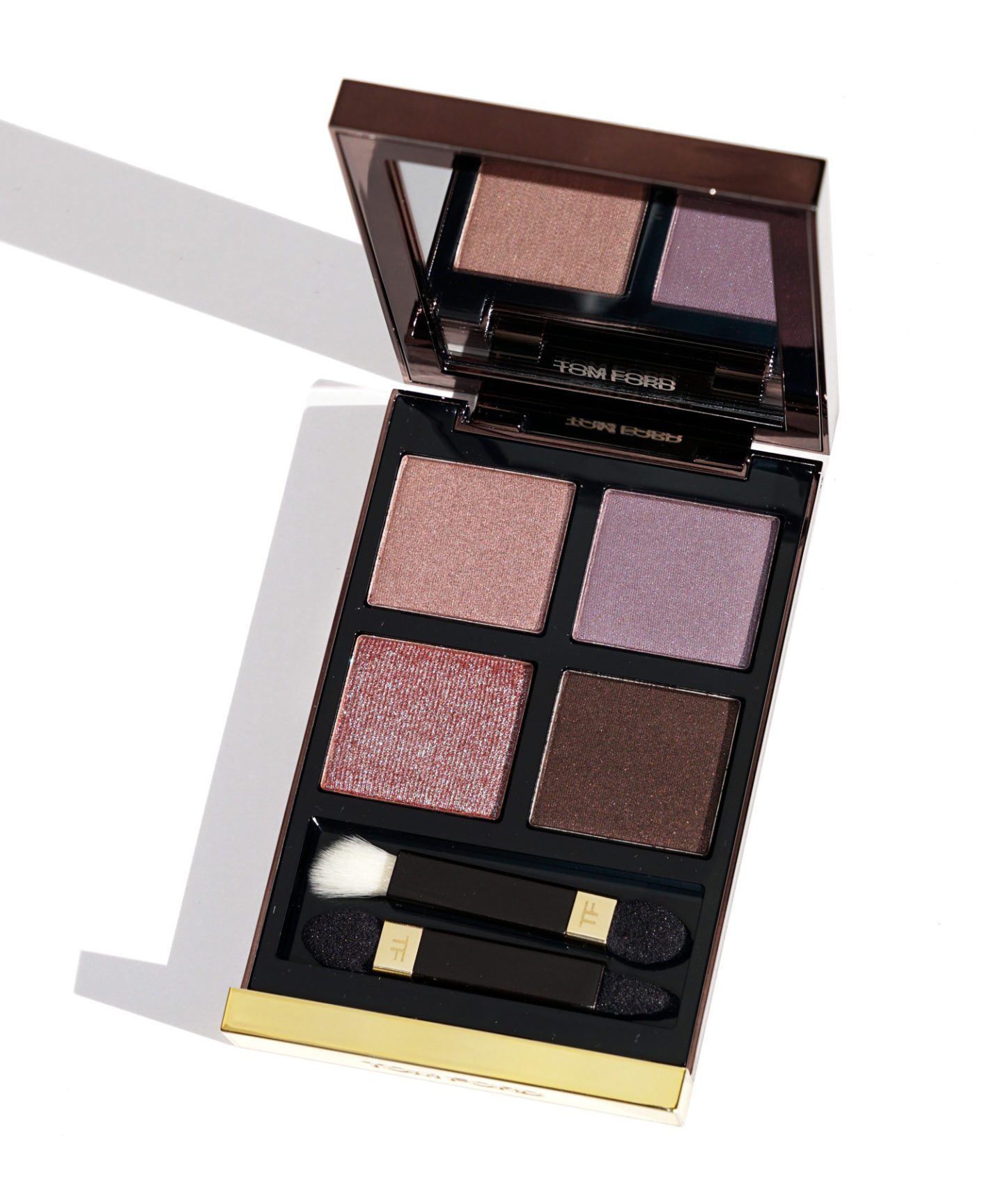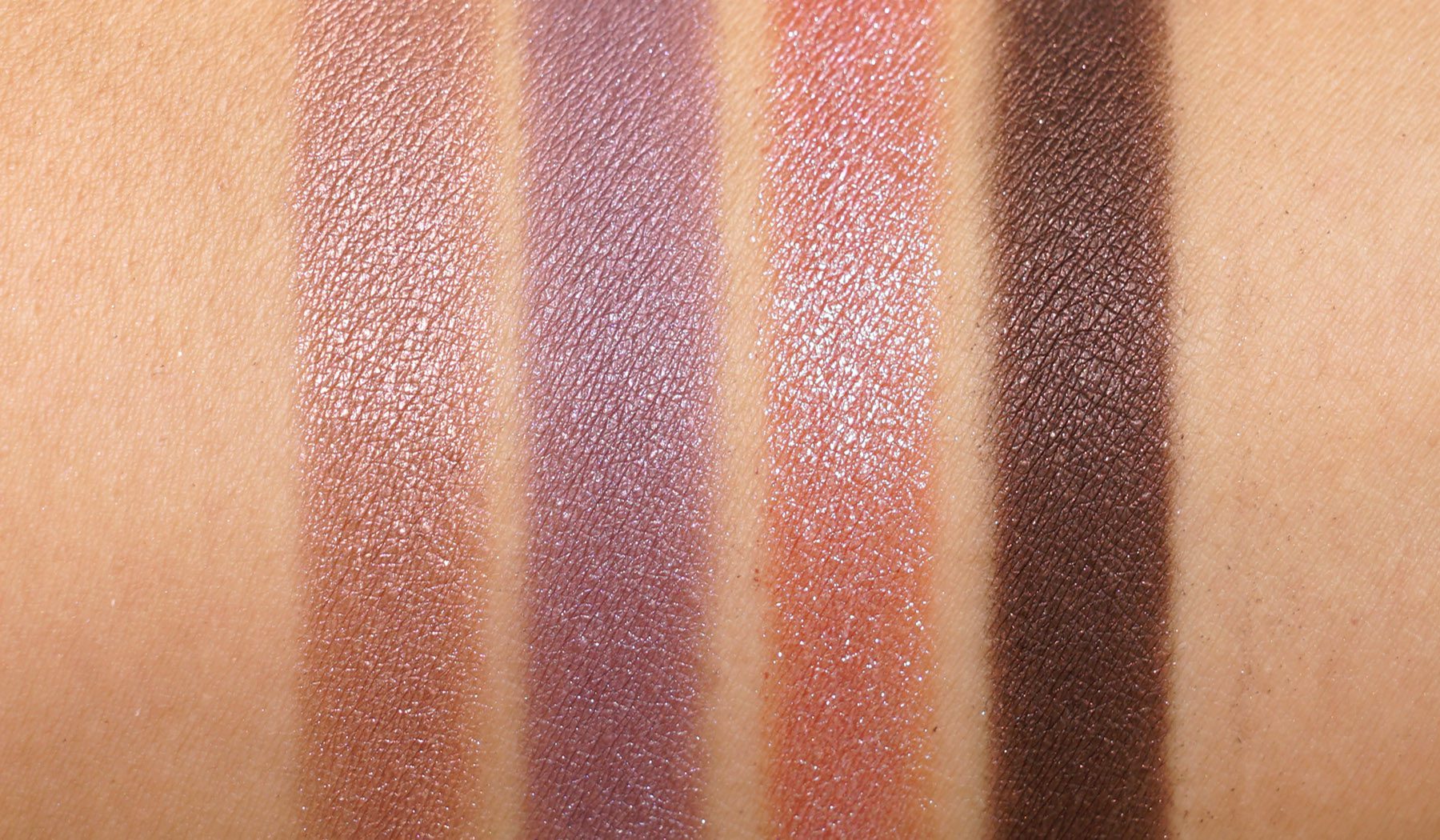 ___________________
Photosynthesex is another super unique quad I thought would be hard to wear but when the colors are layered together it makes for a really pretty night out kind of look. I like finishing this one with the green glitter on top and the dark matte green can be deepened in color with a damp brush. This has a yellow shimmer, a glittering duo chrome green brown, a deep warm brown shimmer and bold emerald matte.
___________________
Virgin Orchid is a cool-toned quad of metallic white, shimmering golden pink, mauve satin and deep plum shimmer. I love the formula of this quad but found it too cool-toned and too pale for my skin tone for a single eye look. Quality is excellent, I do think it needs more colors added for me to make it work on my complexion. The mauve shade is what makes it too cool, but I simply take the color from another quad like Nude Dip or Honeymoon and it warms it up for me. Alternatively I can use the mauve in this one to neutral out palettes that are a little too warm for my liking.
___________________
Daydream is the only one I had performance issues with. It has the most beautiful shimmer finish but if you blend at all, color disappears as it sheers out so much it almost looks like it's being pulled off. If you layer color on top of color it's best to apply in more of a patting motion and softly blend. I also don't wear blues or violets like this so color scheme isn't really my thing for this one.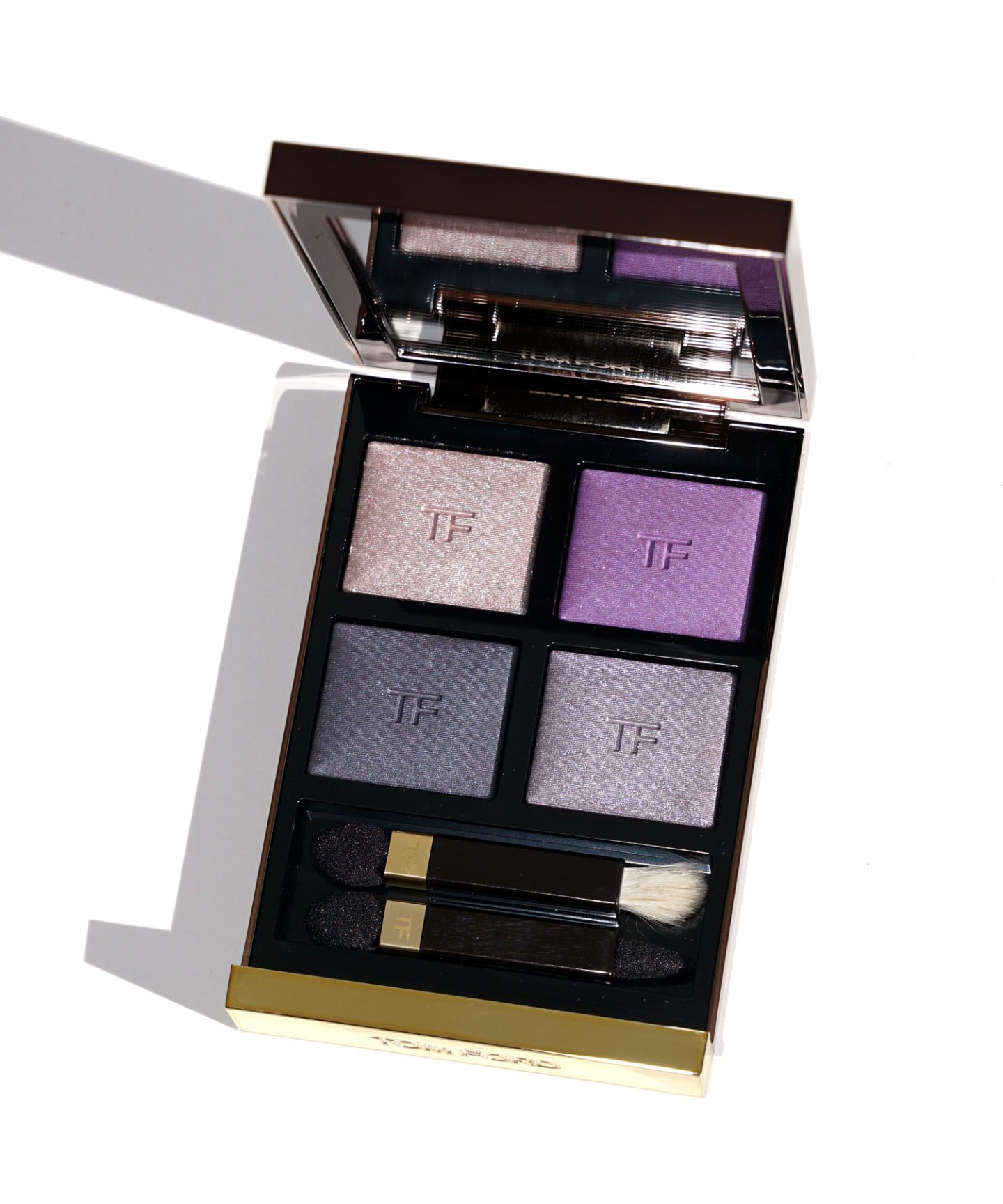 ___________________
Overall my favorites are Leopard Sun and African Violet – surprising to me as I'm a neutral eyeshadow lover but find myself gravitating towards warmer shades these days. Each palette as with all Tom Ford Beauty products are very expensive and quite the splurge. If these are within your budget I'd recommend buying if you think you'll use or love the colors. I think these are on the more edgy and bold side, but the color scheme is unique and very different from everything else you see on the market today. This is what I feel makes his quads special. In the case with most of his quads I mix and match a lot of them together. If you're new to his line and want to know which one to try first, I still think the ones I listed above at the beginning of this post are his best ones. I cannot pick just one, but my most-used two are Nude Dip and Honeymoon.
You can find the new Tom Ford Eye Color Quads out now. I bought mine from Nordstrom and Sephora. Also available at Neiman Marcus, Saks Fifth Avenue, Barneys New York, Bloomingdale's and all other Tom Ford Beauty counters. Have you tried these yet? What did you think?

Supernouveau, Leopard Sun and Virgin Orchid purchased by me. Others are press samples.