A few new items have launched from Natasha Denona including a new eyeshadow palette, foundation and liquid lipsticks and I have a roundup review today! I also revisited a few of her Blush Duos (shopped my stash) and had been wearing them recently. I got so many compliments on how natural but fresh my complexion looked I thought I'd add them to this review. After some testing I have some hits and misses. What's covered today:
Mini Nude Palette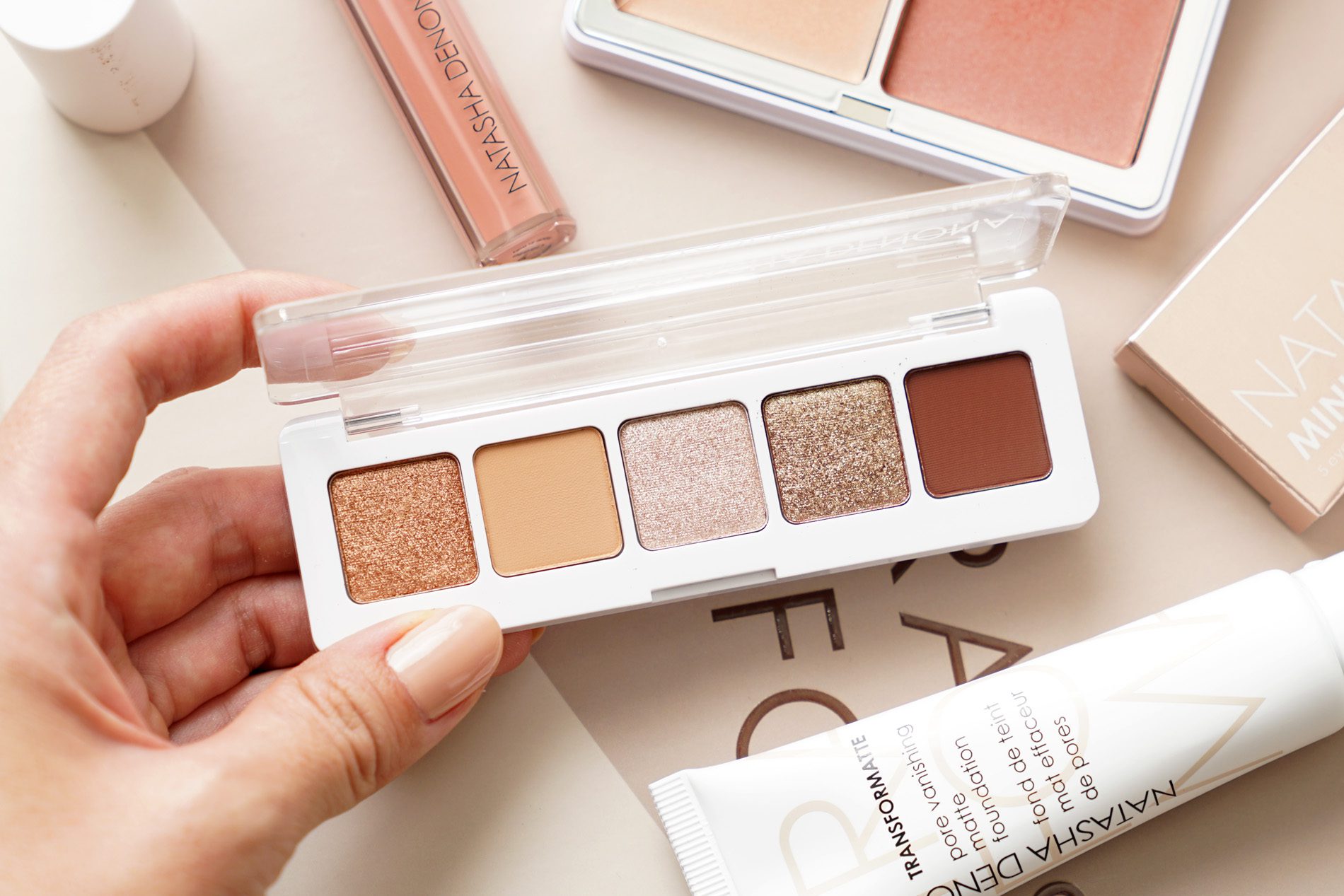 I'm starting off with my favorite item in the launch which is her Mini Nude Palette. This actually isn't something I'd call nude, it pulls a lot warmer but it's still beautiful. It has a mix of mattes with her pressed pigment metallics. Pigment is really good, texture is easy to blend, colors stay put on the eyes. There will be some fallout with application because of the finish of the shimmers/powders but it's easy to clean up. Colors layer beautifully:
Bronzage is a shimmery warm light copper sparkle
Quoin is a matte camel beige
Lumino is a metallic sparkle ivory
Sienna is a duo chrome bronze silvery taupe
Soil is a deep warm matte reddish brown
Quick close up look of eye makeup with flash:
Transformatte Pore Vanishing Matte Foundation
Her Transformatte Pore Vanishing Matte Foundation is a really good one. It comes in a pump tube. This is a medium coverage soft matte finish foundation. Her team sent over a selection of shades to try and my match right now is 30W. There are 35 shades to choose from with different undertones. I tried this back in the summer when this launched and got a few samples. My shade back then was a mix between 31W and 42NY. Colors do oxidize slightly on the skin once it sets, but once it sets color stays consistent. On me it has a blurring effect that has good coverage but still lets the skin look like skin. It's matte but not flat. I think it does noticeably smooth out my pores but I think I should note that both Andrew and my brother informed me that even when looking at my bare face, they do not think I have any. I know for a fact I do have them and I can see them.
Lasting power is really good. I tested my samples over the summer and it held up well. Right now the weather is very mild for Florida. By the end of the week sweater weather might be over for a bit. For me this is another hit.
Bare skin vs. one layer of the foundation applied. It smooths out the skin, covers redness, and covers most of my sun spots and freckles. 30W applied below (no powder or concealer, just the foundation).
Mark Your Liquid Lips Matte Liquid Lipstick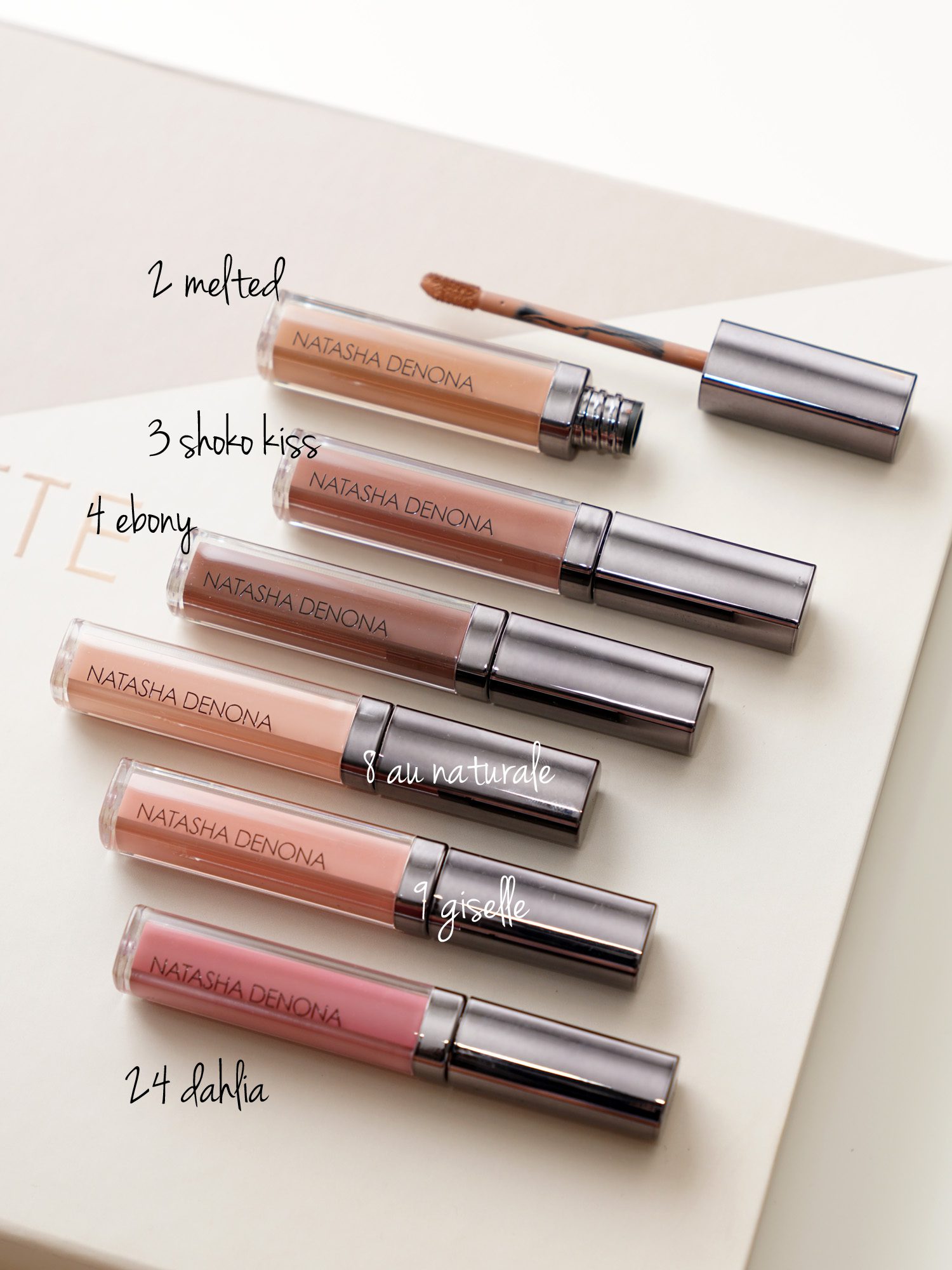 Up next are her new liquid lipsticks called the Mark Your Liquid Lips Matte Liquid Lips. I had a solid feeling these would be a miss for me as I do not like liquid lipsticks and for the most part they don't suit my preferences. After testing I can say that these are not for me. They're not bad, I just don't like liquid lipsticks. They have a similar vibe to the Anastasia Liquid Lipsticks and Kat Von D Everlasting Liquid Lipsticks. The formula of the Natasha Denona ones is pretty much the same – high pigment, full coverage, very matte and budge proof. I tested Giselle first and left it on the entire day. Lasting power was AMAZING. It lasted through snacks, lunch, drinks, coffee and did not even transfer when I tried to wipe it off with a tissue. The best thing about these is the lasting power – no transfer to teeth or anything. I received a handful of colors and Giselle was the only one I could wear. All the others dried down to a darker and almost grey finish. Definitely not true to what you see in the tube, but this is the case for all liquid lipsticks I've tried (ABH and KVD included).
The dry-down color change is most apparent with Shoko Kiss, in the tube it's a caramel brown. Once dried it's a grey taupe.
2 Meltedonce dried is a greyed beige nude
3 Shoko Kiss is a caramel brown taupe
4 Ebony dries to a deep grey brown matte
8 Au Naturale is a pale peachy nude
9 Giselle is a warm rose pink
24 Dahlia is a deep rose
I do really like the color of Giselle on my lips which dried down even further to more of a neutral-cool color rather than the warm peachy pink you see arm swatched below. I have a makeup look wearing Giselle further down. I still don't like matte looking lips so for me these were a miss.
Blush Duos
The Natasha Denona Blush Duo's aren't new but I think they're really nice. They are so under-rated. I've had them for a long time and used them on and off but completely forgot I had them! I started using one of the pink ones recently and received so many compliments about my complexion I thought I should use them more. These are powder duos with a soft sheen. There are several variations and the only downside is that she repeats one of the colors #02 Toutou in quite a few of them so if you are interested in more than one color, there might be a good chance you'll get Toutou multiple times. There are a few pink ones available. Different options are available at Beautylish and Sephora.
Pigment is smooth and super easy to blend or layer. Finish is soft and diffused. The pink one applies sheer on the arm but it looks a lot better on the face.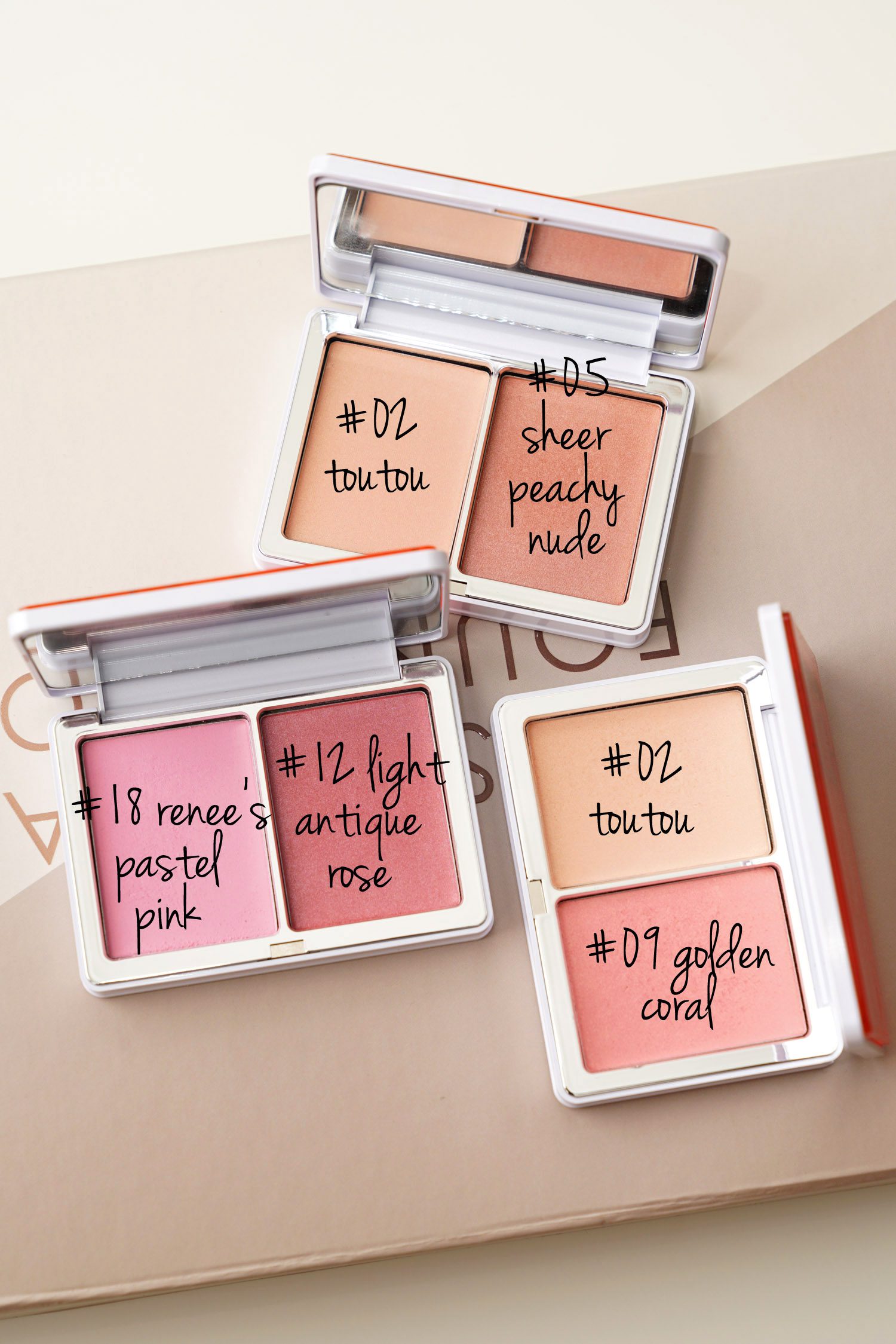 Makeup look below wearing:
I really love the Mini Nude Palette although I keep waiting for a truly neutral or neutral cool palette from her. If you already own a lot of warmer shades you can probably shop your stash. Pretty much nothing would have stopped me from buying it as I like more of her eyeshadows. Transformatte is a win for me. Blush duos are wins, although I do think it's a little odd she repeats shades in so many of the colors. Liquid lipsticks are a miss as I don't like how liquid lipsticks perform, darken once they dry down or look super matte.
You can find all the Natasha Denona items I featured today at Sephora. Some of the items are also available at Beautylish. Have you tried any of these before? What did you think?

Press samples include the Transformatte Foundation and Liquid Lipstick. Eyeshadow Palette and Blush Duos purchased by me.