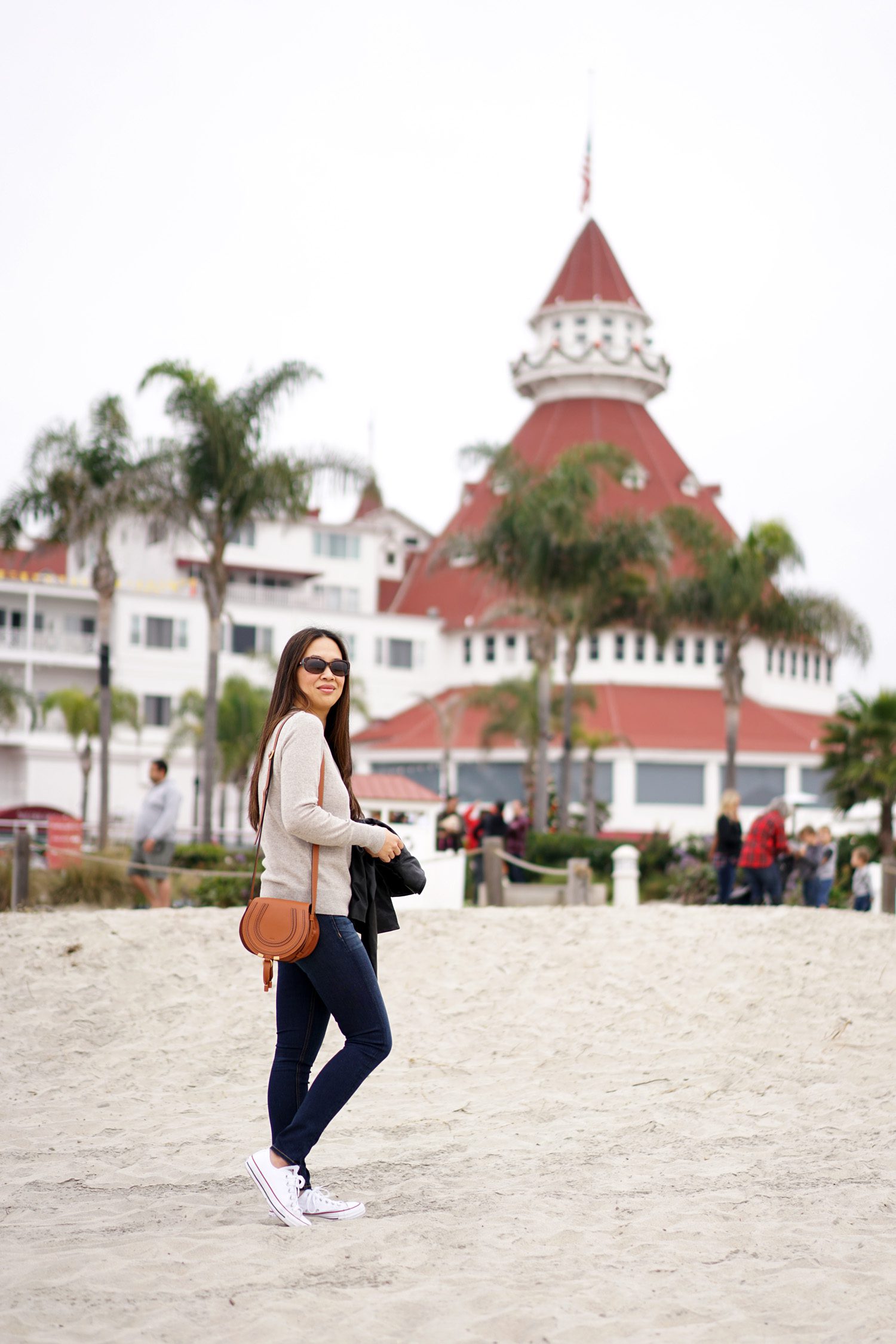 We planned a spur of the moment trip to California the last week of 2018 and had such a great time. Andrew had some meetings on the West Coast so I decided to tag along to keep him company and to also visit family and friends. We decided to hit up three cities in one week including San Diego, Los Angeles and San Francisco. I was beyond thrilled to go back. We didn't have any concrete plans beyond our flight dates. It was all about catching up with loved ones and packing in as much eating and shopping as we could! A number of you messaged me asking how I manage to stay fit while having an "amazing appetite" and it made me laugh so hard I started to cry. After months of sticking to mostly clean eating I decided to live life to the fullest and not care about the calories for the last week of the year. It was 100% worth it. Also with all the walking we did neither of us gained any weight during the trip.
San Diego
Above Left: Flying out of Tampa International Airport overlooking St. Pete Beach, Right: Landed in San Diego with the Away Luggage in Bigger Carry On and two Everywhere Bags (c/o), rest of our luggage was at baggage claim, wearing Madewell Sweater, Joie Jacket (older style), jeans worn are Frame Denim, sneakers are Converse Shoes
We took a red eye from Tampa to San Diego and packed our Away Luggage with 1 Medium Suitcase, 2 Bigger Carry-Ons and 2 Everywhere Bags. Full review + packing posts to follow in separate features as this one is pretty lengthy with 3 cities. I will say that the Medium Luggage was perfect for us and that we are both incredibly impressed with the Everywhere Bags. In San Diego Andrew booked us a room at Hotel Republic near downtown. It was around 12 minutes walking distance from Little Italy and in a relatively safe area. We enjoyed our stay! The rooms were clean, modern and very comfortable. We would definitely consider staying here again.
We stopped by some of our favorite food places and tried one new spot. The first morning Andrew had to rush to meetings so we had breakfast in the hotel which was decent but there are better options in town. Our favorites:
Other food places I'd recommend by area:
Little Italy – Crack Shack, Ballast Point, Pappalecco (for coffee and desserts), Ironside, PrepKitchen
Hillcrest / Balboa Park – Cucina Urbana
La Jolla – PrepKitchen, Coffee Cup La Jolla, Whisknladle, Herringbone, Piatti
We stopped by Coronado a couple times to visit family and walk around the beach. Compared to Tampa, the beaches in Coronado seemed freezing this time of year! We still love it here.
Above wearing Everlane Cashmere Crew, Kate Spade Sunglasses (older color style, current version here), Rag and Bone Ankle Skinny

I also made a point to stop by one of my favorite coffee shops in town. Communal Coffee has really interesting floral lattes (and regular ones too). Their light bites are very good as well. They have a cute flower shop inside which is a little spendy to build your own bouquet but they always have the prettiest fresh cut flowers. The shop is not just Instagram friendly. They actually have very good coffee and food.
Los Angeles
Our next stop was LA! On the way up we stopped in between San Diego and Los Angeles to see Rachel of Beauty Professor! I posted a photo of us with her beautiful baby on Instagram in case you missed it! We drove up that evening to LA and we stayed with my brother while we were in town. View from my brother's house:
We did one touristy thing while in town which was to visit the street where you can see the Hollywood Sign on Windsor Boulevard between 4th and 5th Street. Also shown in this post here.
We managed to pack in a lot of shopping at The Grove, Beverly Center, Americana at Brand and Westfield Century City. I would say the best spot to shop is Century City. The Grove is always fun, but with the recent changes and upgrades, you will find a lot more options at Century City or Americana At Brand. Melrose is also a super cute area for the smaller boutiques and restaurants. Quick thank you to the sweet readers who stopped me to say hello while we were out and about! It really made my day that you took the time to stop and say hi 🙂
Highlights Below:
Other eats and tries:
My bestie Laura, so happy to see her! Below wearing the top is the Free People Nikala Tee (still available here), jeans are the 7 For All Mankind High Waist Skinny, Chloe Mini Marcie, Cole Haan Grandpro Stitchlite
Below outside my happy place, I had to stop by multiple Sephora stores. This one at Century City is the best one we saw!
Last Stop San Francisco
Cropped Sweater from & Other Stories, Frame Le Skinny Denim jeans on repeat, Converse Shoes, Chloe bag
Our last stop was San Francisco. We arrived in town Christmas Eve and stayed a few more days at my brother-in-law's house. One of our good friends gave us a tour of the new Facebook facility in San Francisco. He's based in campus in Menlo Park but was still able to give us a tour of the new building. The views from the top floors were amazing!
Leather jacket from Vince (old style, current version here)
My must-sees for San Francisco were Tartine Bakery and Tartine Manufactory. I would eat at both places on a daily basis if I could. The bread and pastries are the best I've ever had! I live for the Tartine Morning Buns.
We also tried a few other cute places which I didn't get pictures of. Most of the restaurants were closed for Christmas Eve and Christmas but we managed to find some open restaurants. On Christmas Eve we stopped by a ramen place called Iza Ramen which was really cute! On Christmas evening we decided not to cook at home and instead went out for Chinese dumplings. Three of us put in our names at both Kingdom of Dumpling and Dumpling Kitchen (they're both on the same street) and waited nearly 45 minutes for a table. Kingdom of Dumpling opened up first. It's a very tiny restaurant inside with maybe only 8 tables. Even though the wait was long and space was a little cramped, we had the most entertaining memorable Christmas there. We would 100% go back.
A few more snapshots of our trip. I have the worst fear of heights and it's an ordeal for me to walk down steep hills. I would almost rather stop drop and roll down any steep hill, it's that bad. Andrew held my hand the entire time. We walked through Nob Hill, Russian Hill, Lombard Street and it was so packed for the holidays! We eventually made our way down to Boudin's at Fisherman's Wharf to grab some coffee and just took our time to enjoy the city.
On our last day before we flew back to Tampa, we stopped by a hole in the wall Banh Mi shop called Dinosaurs in the Castro. It was excellent! It's tiny but the food was delicious.
I hope you enjoyed our California Travel Diary! We are not good at planning but we always manage to have a good time even on spur of the moment adventures. I hope in 2019 we'll be better and plan our trips more in advance. I'm currently researching places to visit in the upcoming months. We have so much on our travel bucket list it's hard to pick a destination!
Do you have any favorite spots in California? Or any travel plans for the upcoming year? I'd love to hear about them! Packing posts are what most of you have been asking me for. I'm breaking it down into a 3 part series so stay tuned! I'll let you know what I brought with me, what I could have skipped and also the list of things I felt like I missed.