I've loved the Becca Shimmering Skin Perfector Pressed Highlighter for years! I still remember the early days of the brand when the line had those beautiful loose shimmering powders, pigmented eyeshadow singles and glowy lip glosses. They had the prettiest pink gold shimmer powder called Gypsy and warm pink called Princess which I wish they'd bring back, but these days they have so many beautiful options you are bound to find one that works for you. The Becca Glow is one of the more intense highlighters on the market. The Shimmering Skin Perfector Pressed Highlighter is an ultra soft powder that comes in a number of colors. All the colors are very pigmented, ultra smooth and very soft. This makes the powder in the compacts themselves on the delicate side – it's not something I'd throw in your purse for touch-ups. If you do carry it with you make sure it's secured in a cushioned makeup bag.
I've found classics to be Opal, Moonstone, Rose Gold and Champagne Pop. I've used up entire pans of Opal and Champagne Pop which is huge for me since I own so many highlighters I rarely ever hit pan. I've purchased a few other shades and also have received a couple here and there as press samples. It occurred to me that I hadn't done a comprehensive roundup and so I stopped by several different Sephora stores during the Spring Bonus Event and bought all the other shades I could find. Do note that you won't find all the colors at Sephora. Some are Ulta Exclusives and a couple are exclusive to Becca's Website. I don't have all the shade options swatched today, I'm missing Prosecco Pop (I did swatch it from a palette here), Golden Mint and Parisian Lights, but I do have most of them!
In terms of application the highlight can be pretty intense but the formula is soft and easy to layer and blend. You can use them anywhere you want a highlight, on the cheeks or eyes. I find them versatile for both. Since they are intense I like to use a loose fluffy brush to apply. For me I prefer one that is really soft. My favorites are the Wayne Goss Brush 14 (also in The Face Set), Laura Mercier Fan Brush, MAC 137S or Chanel Foundation Blending Brush (it's essentially like the MAC skunk brush but fluffier/less dense).
___________________________
Onto the colors, I've split the 15 colors I now own into 3 categories so you can see the shimmer/colors better up close. First set includes lighter champagnes and white shimmers.
Pearl, Moonstone, Vanilla Quartz, Champagne Pop and Opal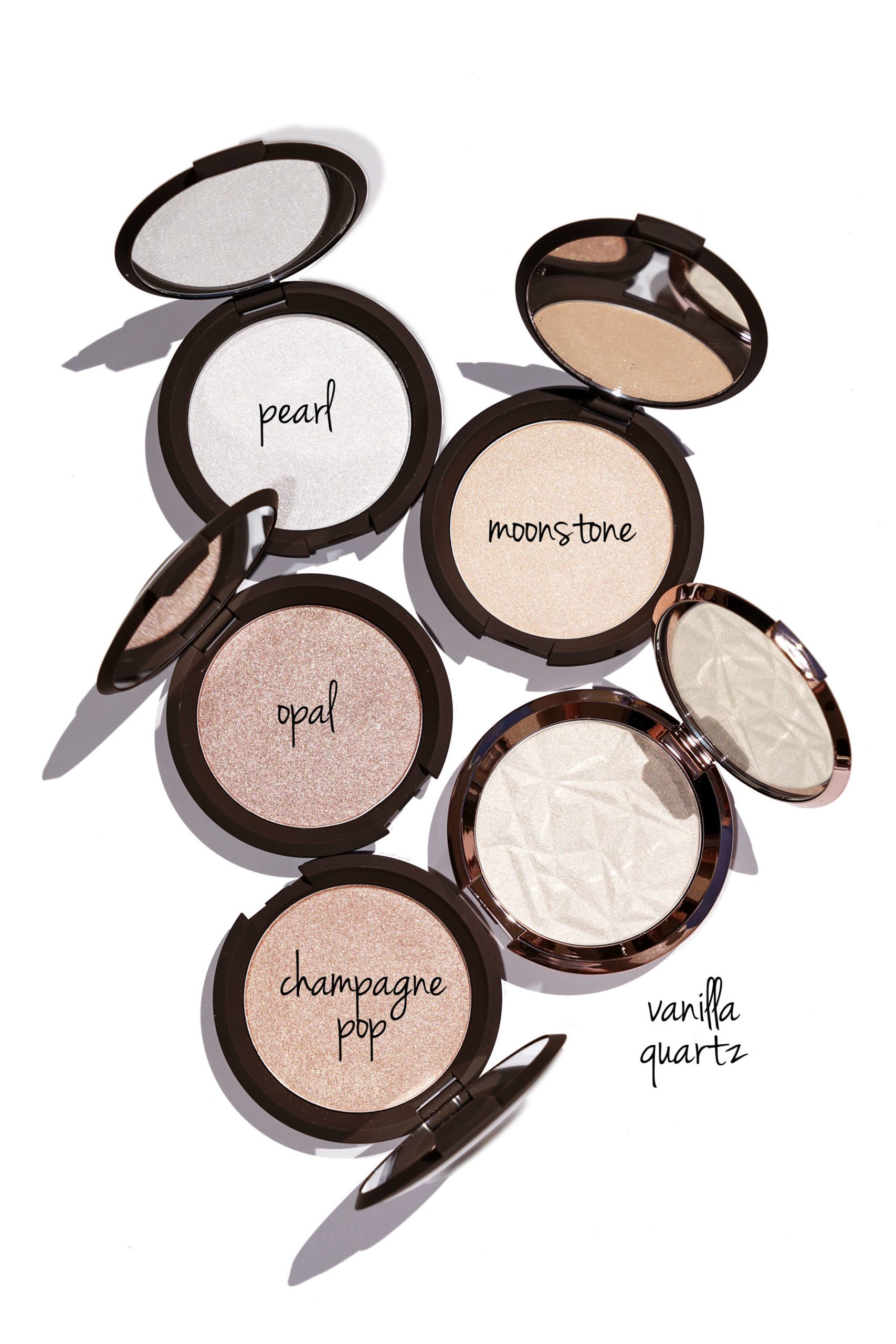 Color descriptions and swatches:
Pearl is a glowy white pearl shimmer
Opal is a champagne pink beige shimmer
Moonstone is a soft light gold beige shimmer
Champagne Pop is a classic champagne gold shimmer
Vanilla Quartz is a duo chrome opal that flashes a hint of pink, note that on my skin it's hard to see the duo chrome in the swatch below
___________________________
Dreamsicle, Topaz, Bronzed Amber, Chocolate Geode and Gradient Glow
Bronzey shimmers swatches:
Dreamsicle is the newest, it's a soft tangerine + gold swirl, on me this looks very orange on the cheeks, it looks amazing on the eyes thought!
Topaz is a coppery bronze pearl
Bronzed Amber (found this at Ulta) is one of the least shimmery colors, it has a velvety sheen and is a warm soft bronze amber
Chocolate Geode is also one of the newer ones, the beauty world needs more medium to deep highlighters like this one! It's a shimmering bronze, swatches darker on the arm than on the face (scroll down for beauty looks)
Gradient Glow (also an Ulta exclusive) is a mix of Bronzed Amber, Moonstone, Opal, Rose Gold and Topaz pressed together in stripes. Swirl them together and you get a really pretty color!
___________________________
Rose Quartz, Smoky Quartz, Prismatic Amethyst, Rose Gold and Lilac Geode
Pink tones and swatches:
Rose Quartz is one I never knew existed! I thought for sure it would be way too pale for me but it's actually a very wearable pale cool pink shimmer
Prismatic Amethyst is pale lavender with a hint of soft pink gold shimmer
Smoky Quartz (available on Becca's website) is a shimmering mauve with taupe undertones
Lilac Geode (available at Ulta) is a a pale pink lilac gold
Rose Gold is a medium rose peach shimmer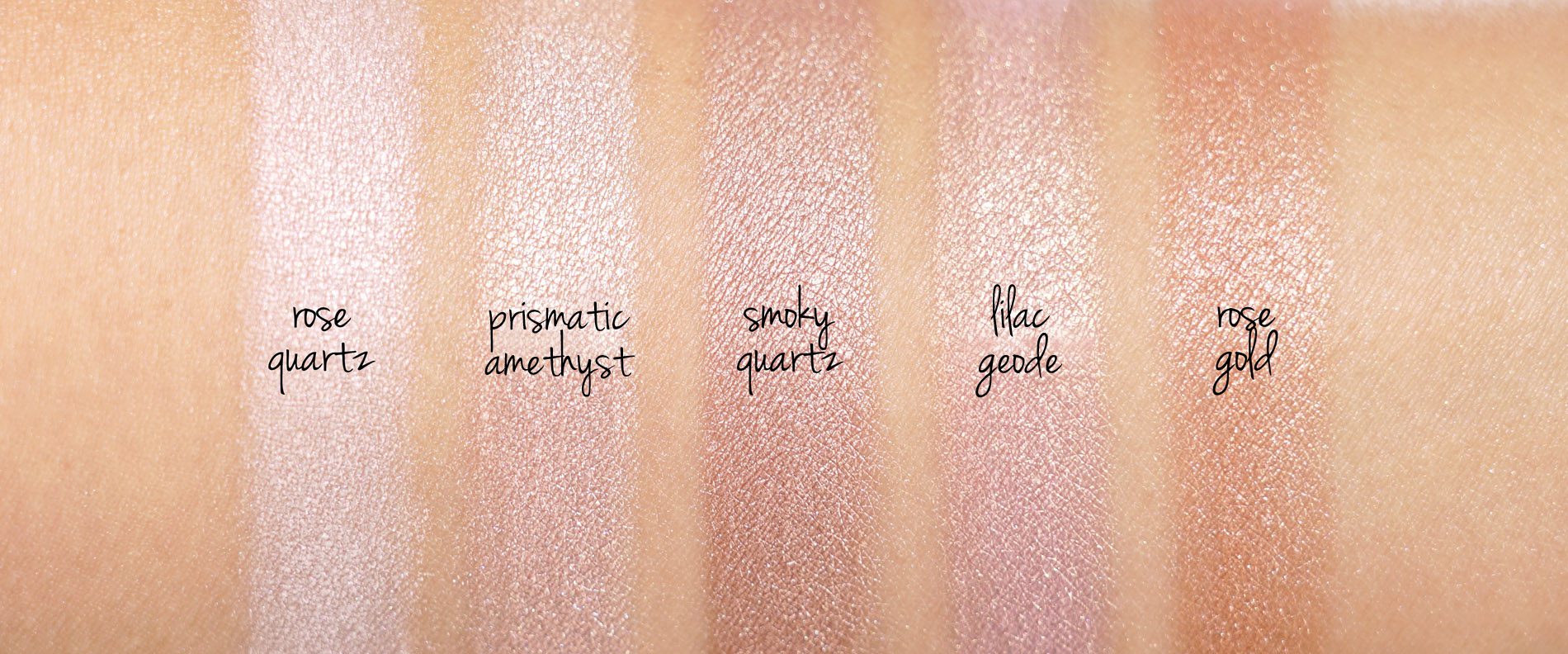 I swatched a few on the face. As always I don't usually wear highlighter alone on the cheeks. I typically layer on top of blush or bronzer but I swatch them alone on the cheeks so you can see the true color. Also wearing below:
Highlighter Colors worn:
Top Row: Champagne Pop and Dreamsicle
Second Row: Chocolate Geode and Rose Gold
Bottom Row: Rose Quartz
Overall thoughts and a few comparison notes to other highlighter options. I think the Becca Shimmering Skin Perfector Pressed Highlighters are some of the prettiest ones out there. Texture-wise they can be on the soft side so some may be more delicate than other brands. Shimmer factor is medium to high but easy to diffuse or intensify. Lasting power is excellent. There is a wide range of shades but if you're medium skin toned like me some of the lighter options may look really similar on you. Whether or not these are must-haves really depends on what you already own. We live in a world saturated with highlighters and they keep on coming. I do think the quality, texture, pigment and finish are excellent with the Becca ones. If you own a ton you may want to shop your stash.
On me these don't emphasize pores or texture but your mileage may vary depending on your skin type. I think with highlighters blending is key to smooth out any harsh edges.
My top picks are Rose Gold, Opal, Smoky Quartz and Champagne Pop. If you want a more trendy duo chrome kind of shimmer opt for their Light Chaser Highlighters (reviewed here when I was super tan!). Anastasia Beverly Hills Glow Kits have a more intense frost and shine. If you want something more natural looking with less shimmer I'd recommend you try the NARS Highlighting Powders or Tom Ford Sheer Cheek Duos. If you like the shimmer and sheen of the Becca Highlighters but want more color (versus shimmer) their Shimmering Skin Perfector Blushes are some of the most glowy pigmented blushes I've ever tried. If you've been interested in these but don't have a counter or store near you I hope these swatches help you!
You can find the Becca Shimmering Skin Perfector Pressed Highlighters at Sephora, Ulta Beauty, Nordstrom and Becca Cosmetics.
If you're a Sephora Beauty Insider there will be another round of their Spring Beauty Event coming up this week! The dates, details and codes for the Sephora Spring Bonus Event Round 2:
Rouge Members: receive 15% off 4/20 through 4/23, use code

YAYROUGE

VIB Members: receive 15% off 4/20 through 4/23, use code

YAYVIB

BI Members: receive 10% off 4/20 through 4/23, use code

YAYINSIDER
I'll have my Sephora haul on the blog tomorrow 🙂 And to continue the spirit of giving back I'm doing a few more giveaways this week! One person will be selected to win 3 Becca items including the Iconic Trio Set, Ocean Jewels Highlighter Palette and Ocean Jewels Eyeshadow Palette. Open internationally to anyone 18 years or older. Simply enter through the widget below. Runs through 4/20/2018 11:45 PM EST. One winner will be selected within 48 hours after giveaway ends and contacted via email by me. They must respond/confirm within 48 hours or another winner will be selected in their place. Prizes are shipped within a week. Not sponsored or affiliated.
Press samples of highlighter include Vanilla Quartz, Prismatic Amethyst, and Gradient Glow. All other shades purchased by me.