I have my first holiday gift guide of the year! Today I'm rounding up some of the best travel beauty cases and makeup bags I love. If you're in need of ideas for a fun unique gift, I think any of these would be great gift for the beauty lover or frequent traveler. When it comes to travel prep I'm always looking for good storage and packing solutions to organize and carry my things, especially beauty items. I've tried a lot of different options over the years. Many times I'll use the freebies from gift with purchase events, but sometimes it's nice to have something a little better quality that's sturdier. If you've followed my packing travel posts you'll probably recognize several of these bags. I've put each one to the test on different kinds of trips. I'm primarily a carry-on traveler so in general I'd say these bags work best for shorter trips. Quick note that all the cases come empty with the exception of the Away Mini Suitcases, but I've filled all of them with some of my favorite things to help show what you can fit inside. I hope this helps decide which option is best for your needs!
Mini Beauty Trunk Case
Bobbi Brown Beauty Case ($160, measures 6.406″ L x 3.844″ W x 8.609″ H) is something that has special meaning to me as Andrew gifted me a black leather case many years ago when we were in college. This was in our early dating days before he knew I was a beauty junkie! He found it at the airport in London before he flew back home one summer. It was the perfect gift and I used it for many years (I still have it!). Each year Bobbi Brown has released a new version. This year's is a beautiful deep red. You can see everything that I fit inside the 2016 version which is nearly identical to this year's inside.
I have actually fit this inside a carry-on suitcase in previous years, but as you can imagine it does take up a lot of room. For weekend trips it's perfect. There have been times I just packed a weekender bag and this case. My black leather one has held up remarkably well. It can get dirty inside, especially if you store dirty brushes or have powders that spill. Mine has been relatively easy to clean with a damp cloth and canned air. Canned air works wonders to remove debris from almost anything!
This one has two levels, a top tier that can hold brushes or skinny perfumes and then a sectioned portion to hold compacts, liquids or lipsticks. The base is bigger/deeper so you can stack more inside. There is a nice gap on the top of the bottom (if that makes sense) so there's a lot more room than you might think.
Clear Double-Sided Zip Pouch
Anya Hindmarch In-Flight Travel Case ($275, measures 8.7″D x 3.2″W x 4.7″H) is one of my most expensive makeup bag splurges. I can't remember the exact date that I bought this but I know I've had it for over two years. It's clear and has two zippered sides, one for Take-Off and one for Touch-Down. You can really put anything you want in it, but for flying it's nice to have two sides to separate items so you don't have to dig around your makeup bag to search for things. This bag has gone through a lot of travel and still has held up really well. It's been through quite a bit of squishing, packing and use. Many of you have asked if I think this purchase was worth it. In this case I don't know that I can say it's worth the price tag because it's soooo expensive, but it has held up a lot better than I anticipated, especially since it's made of clear plastic and patent leather. So that being said I'm still 100% happy with this splurge because the quality has proved to be excellent.
A closer look at both sides, on the Take-Off side I can stack 3 compacts flat to fit inside. The Touch-Down side is skinny in the opening but can still hold long tubes like Chanel glosses, cream shadow sticks, etc.
Clear Flat Snap-Closure Pouch
Ouai Clear Envelope Pouch ($25) is currently sold out on their website which is the only place I could find to buy it. Right now you can buy it in their Under the Mistletoe Set. I'm hoping they restock eventually because it's a great large flat pouch! Do note that since there is only one button clasp smaller things can be prone to falling out if you stuff it (versus a zip bag that won't let anything spill). But for medium to larger size bottles it's great! What I've fit inside below: Ouai Wave Spray, Ouai Hair Oil, Ouai Smooth Spray, Sunglasses, Byredo Hair Perfume in Mojave Ghost, Oribe Gold Lust Dry Shampoo Mini, Oribe Swept Up Powder Spray, Fresh Sugar Lip, Atelier Cologne Minis, mini L'Occitane Divine Cream. I think the world needs more clear pouch options – they're so handy for everything!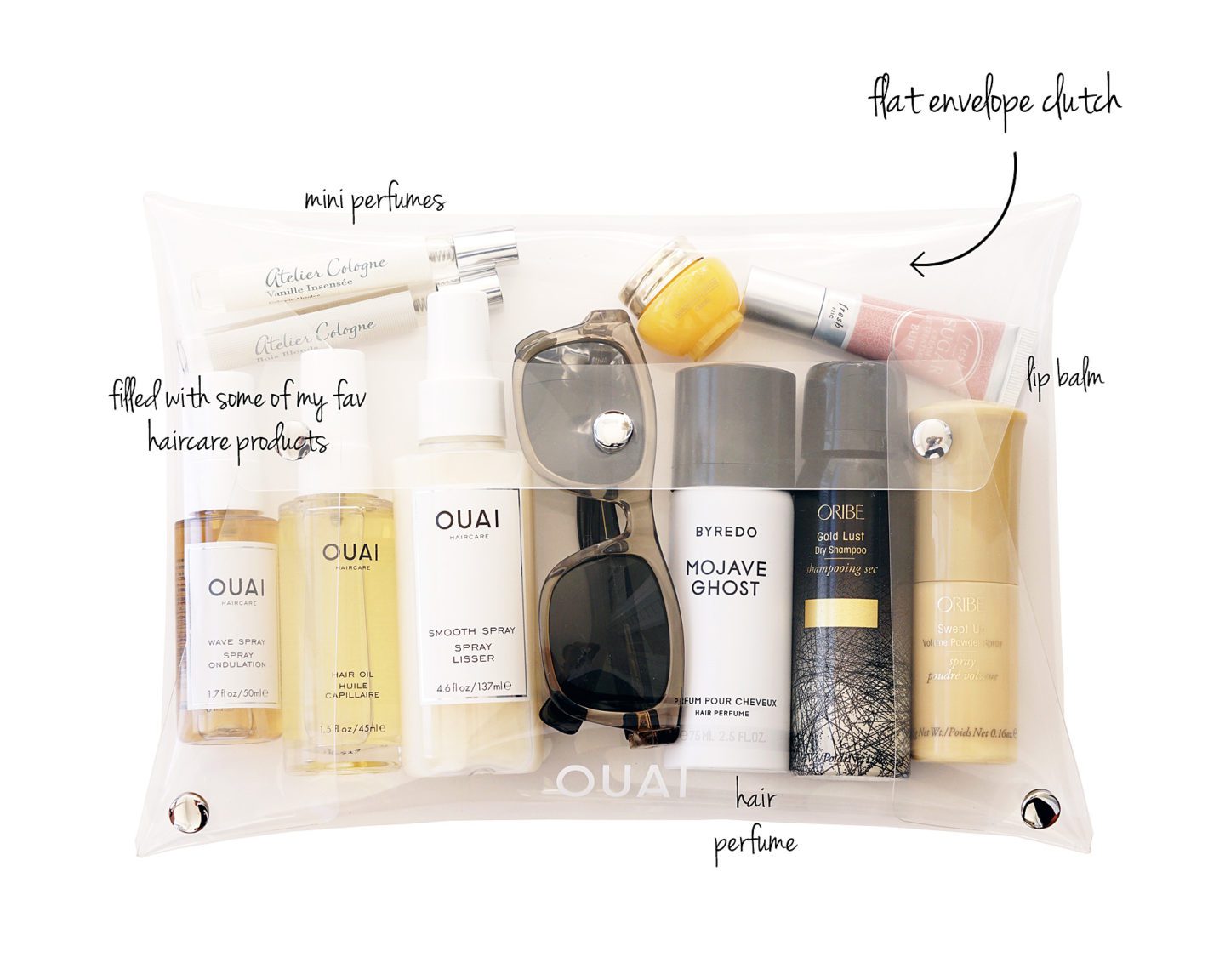 Large Leather Monogram Makeup Bags
The Daily Edited is a brand I discovered earlier this year. Their entire line is designed so you can have it customized and monogrammed! I ordered three items: one Black Large Cosmetic Case, one Taupe Large Cosmetic Case ($100 each, measures H 5.3″ x W 8.9″ x D 4.3″) and one of the Travel Cases ($120, measures H 5.9″ x W 9.4″ x D 3.5″). I have by initials in the blind embossed style SS. These are made of Saffiano Leather and are decent in quality, but the lining is not the best on the market. For something in the $100 range these are very good and I feel the large cosmetic cases are the best ones I've tried in terms of size, proportions and function. They are sturdy but the leather isn't as thick or stiff as some other luxury brands so it's bendable and prone to slight stretching in areas. Based on the occasions that I've used mine I just don't think it's something that will last as long as say something from Louis Vuitton. That being said, I do understand if you throw something in a suitcase packed with other items it's bound to get smashed or worn so this isn't a deal breaker for me. I brought one of the large bags with me on my trip to San Francisco and felt it was perfect in shape/size. It gets the job done and even though I think it could be better quality these are among my favorites for the style.
I've also used the Large Travel Case and it has an upper portion with compartments and leather straps with holes. This seems to be perfect for someone who wears a lot of jewelry or travels with different pieces. You can store earrings and also keep items separated. I'm a minimalist when it comes to jewelry, especially with travel as I'm always worried I'm going to lose something so this part didn't really appeal to me. There's a bottom portion that's larger where you can store beauty products, compacts or other accessories. For an all around travel case it's beautiful. For beauty I've found other options better suited to what I pack but it is a beautiful case and I can see many people using it for accessories, jewelry, etc.
A look inside and side view of the Large Cosmetic Case:
A look at the Large Travel Case, both tiers:
Mini Travel Cases
Away Mini Suitcases are back this year! If you remember last year they had the Grey/Asphalt color as gift card cases which were super cute. They measure 7″ x 5″ x 3″ and this is the first year they've offered them to the public in 10 different colors, including their winter colors Frost and Pool. Each mini is available as a stand-alone for $35 or free with the purchase of a gift card. There are also some curated sets ranging from $45 to $95 packed with some of their TSA-sized essentials. Shown below are White, Asphalt and Brick Mini Suitcases next to the Away Carry-On (the black one been well-loved by my husband, this is the original one they launched back in 2015). You can buy all of these directly from their website Away Travel or one of their stores (New York, San Francisco, LA and Austin so far).
Each one has the same interior which has a grey mesh pocket and open inside, much like the Away suitcases. Below I have a closer look at the interior and some of the fun curated options they have. You can mix and match the colors in any of the sets. Right now they are sold out of the Beauty Set and Essentials Set but I've been told they are going to restock soon. The pink one is going to be restocked (they hope next week!). All others are limited-edition while supplies last. I love that these come wrapped in a drawstring cloth sack – it's an extra special touch that makes these so cute. I was gifted 3 and promptly ordered a bunch more to give as gifts this year. Cameras shown below include the Leica Sofort Instant Print Camera and Sony NEX-6 (discontinued, current model is Sony A6000 Camera
). You can also see my Dyson Supersonic Hair Dryer review here (and yes I still think it's my favorite).
So many of you have asked for a look at the inside of these cases so are more photos. They plan on restocking the sold-out sets around next week so keep an eye out for them! For now you can still buy the Individual Mini Suitcase in all the colors for $35 each (some have sold out, but pink is going to be restocked).
The Beauty Set $75 comes with mini Malin + Goetz Shampoo and Conditioner, RMS Beauty Lip Shine in Bloom, IGK Jet Lag Invisible Dry Shampoo, Herbivore Deluxe Rose Mist, Wallpaper's City Guide to Paris
The Essential Set $45 comes with Malin + Goetz Mini Face Moisturizer, Mini Face Wash, Marvis Toothbrush, Marvis Toothpaste, Deep Sleep This Works mini pillow spray, Wallpaper City Guide for London
The Field Set $75 comes with a mini Harry's face lotion, Malin + Goetz deoderant, Public Supply Notebook and Wallpaper City Guide for  for Austin
Interior color is the same for all cases, one mesh pocket and an open interior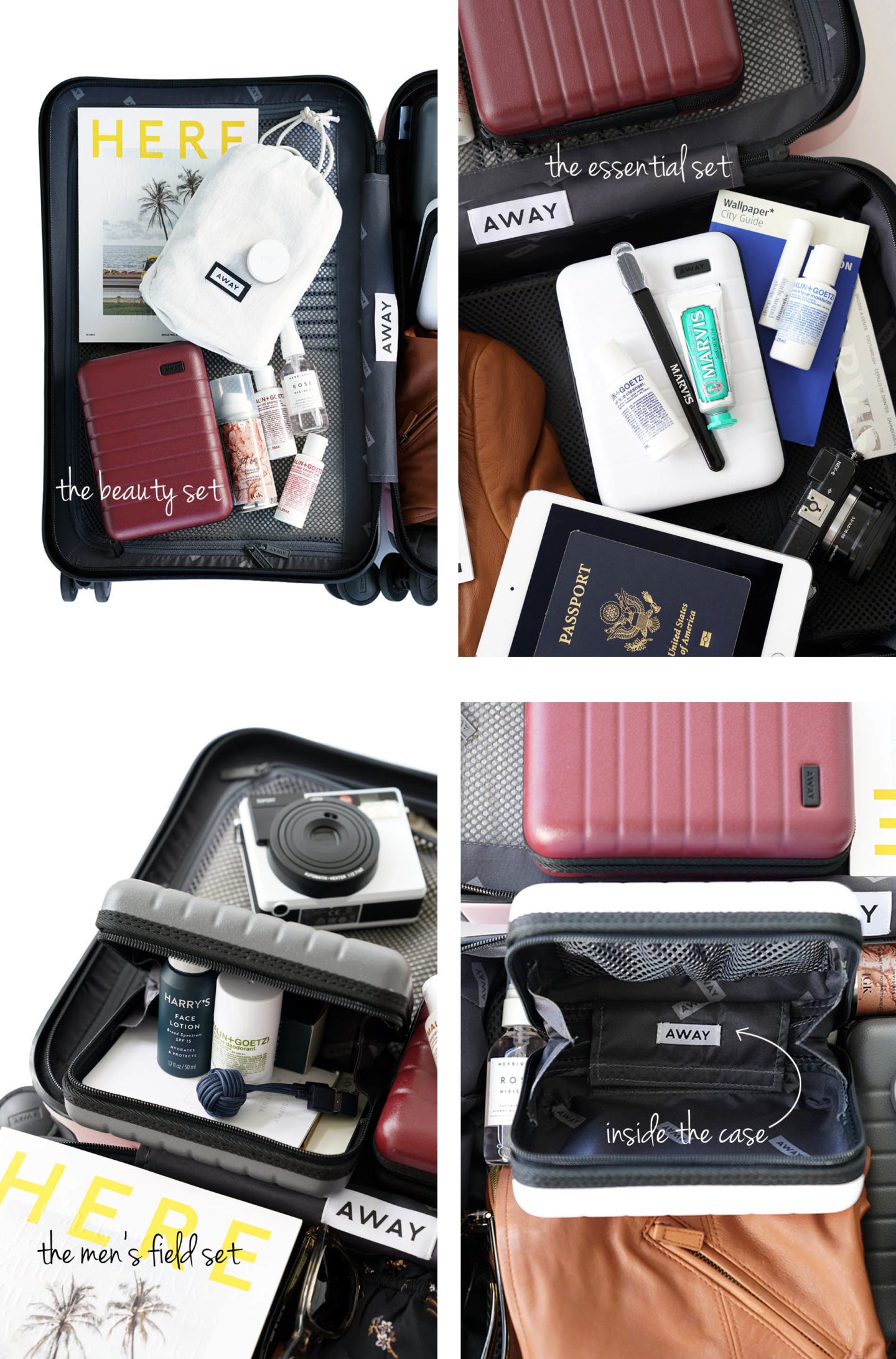 Clear + Leather Pouches
Truffle Clarity Jetset Cases ($85 each, measures 7 1/2" L X 5 1/4" H X 2″ W). They launched non-flat pouches this year and I was thrilled! I ordered two of the three colors for myself and really like how they are constructed. They are on the expensive side for the size but I think they're great for throwing in your carry-on tote. I find the quality pretty good and there's enough structure to it that it will retain its shape well. I didn't want to love these at the price but now that I've purchased two I'm really glad that I did. I've been a fan of the flat pouches for such a long time it's nice to see something with more depth!
Large Open Clear Zip Bags
MAC Clearly MAC Large Rectangle ($30, measures 8.5″ x 5.38″ x 5″) is one of the more affordable clear bags that I own and think it's sturdy and well made for the price. They've had several variations over the year and this is the current one. They also have the Clearly MAC Rectangle ($26, measures 9.25″ x 3.5″ x 3.38″) which I've had on my wishlist for brushes. I've tried a number of brush rolls in the past and while they're great – sometimes I just want something more basic, simple and open. View of the front, back and side – it's pretty roomy!
On My Radar
Net-A-Porter Holiday Beauty Kit ($115) is one that I do not own but spotted it online for one of their holiday kits and it looks like a steal! If you're budget is around the $100 mark and want to gift a little bit of everything this kit has just that. The clear case looks promising for travel as well.
That wraps up my gift guide on favorite travel beauty cases for carry-on travelers. If you have any friends or family that already have all the beauty products and you're stumped on what to get them, I think a makeup bag or travel case is a great alternative.
This week's giveaway is going to be a Bobbi Brown Beauty Case + Away Mini Suitcase in Brick! I bought a Bobbi Brown case but was also sent one as a press sample, so I'm giving away my extra. I also ordered a ton of the minis to give away as gifts and I'm adding one to this giveaway. As a bonus I'll be filling both with some makeup goodies but the picks will be customized based on the winner's skintone, skintype and preferences. This giveaway is open internationally but you must be 18 years or older to qualify. Simply follow any of the tasks provided in the widget below.
Runs through 11/29/2017 11:45 PM EST
I'll pick 1 winner via the Rafflecopter widget below and e-mail them within 72 hours after giveaway ends
Winner must respond to e-mail within 72 hours or another person will be picked in their place
I usually ship prizes within 1 week
Open internationally
Not sponsored or affiliated
Do you have any favorite travel makeup bags? Are you a carry-on traveler or do you check your suitcases? Stay tuned for more gift guides, Black Friday and Cyber Monday Sales Roundup and more!
Press samples include the Away Mini Suitcases and MAC Clearly MAC Rectangle Bag. Other pouches and bags purchased by me.