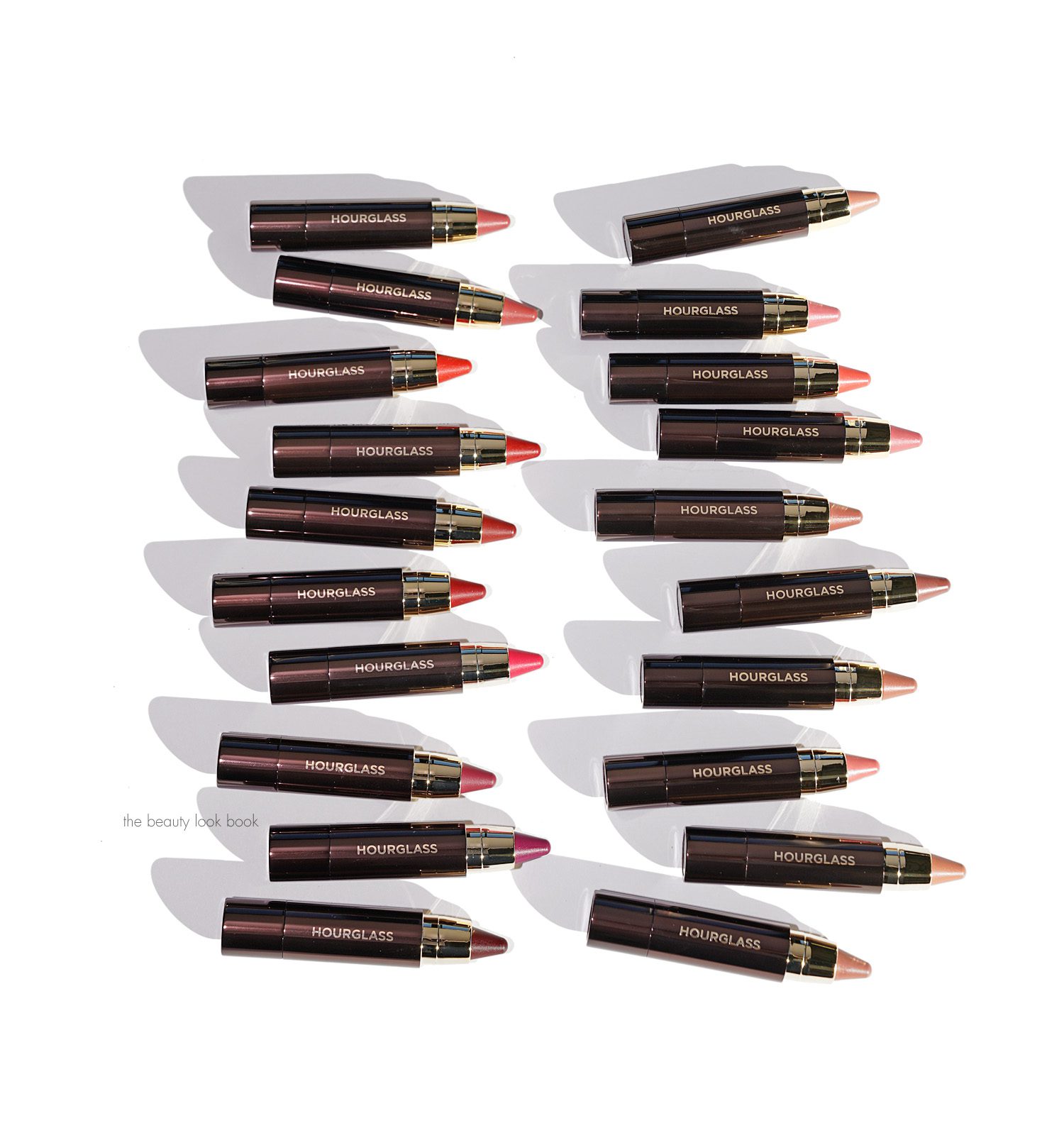 Hourglass Cosmetics just launched 20 twist-up lipsticks called the GIRL Lip Stylo ($32 each for 0.09 oz/2.5 g) to celebrate and recognize the good in others and ourselves. Each lipstick shade has a special name that evokes empowerment and positivity. These come with medium to medium-full coverage, a very soft shea butter vanilla scent, moisturizing comfortable feel and that is still lightweight. The finish has a soft natural looking sheen.
The color range is just perfect. Every single one of the 20 shades are very wearable. As a neutral lip lover I was beyond thrilled to find natural colors that go beyond the basic beige, pink nude or peach. There are roses, plums, mauves and a variety of nudes with different undertones. After testing these colors I really feel that Hourglass took the time to test these on real women to make sure that they have the right undertones to be flattering and wearable.
Many of you have asked for a comparison to the Hourglass Femme Nude Lip Stylo and also the Chanel Le Rouge Crayon de Couleurs. The original nude twist up pencil crayons from Hourglass by comparison are thicker and tug a little at the lips, they are also more opaque with a very limited color range (I could really only wear the 2 darkest options). The Chanel Le Rouge Crayon de Couleurs have a creamier feel with a more emollient texture. They glide on the lips and have more of a shine. I also find that the Chanel crayons have more pigment and coverage.
Coverage-wise the GIRL Lip Stylos swatch sheer-medium on the arms and hands. On the lips the color adheres a lot better for more noticeable coverage. A few of the plums have a slightly transparent almost jelly finish on my lips. They have a satiny nourishing feel. On my lips I tested a few of the naturals for extended wear testing – they lasted a long time without sliding or budging. The colors will transfer if you eat or drink though.
I swatched and photographed these in batches according to how they were displayed in the press box I received from Hourglass. Colors and descriptions detailed below. For the most part they all act and swatch like creams. I couldn't detect any shimmer in these. Even though they are cream finishes they don't look flat on the lips.
_____________________________
Set 1 includes:
Believer is a light beige nude cream
Creator is a soft pink
Explorer is a bright peachy shade
Seeker is a cool medium rose pink
Peacemaker is a medium beige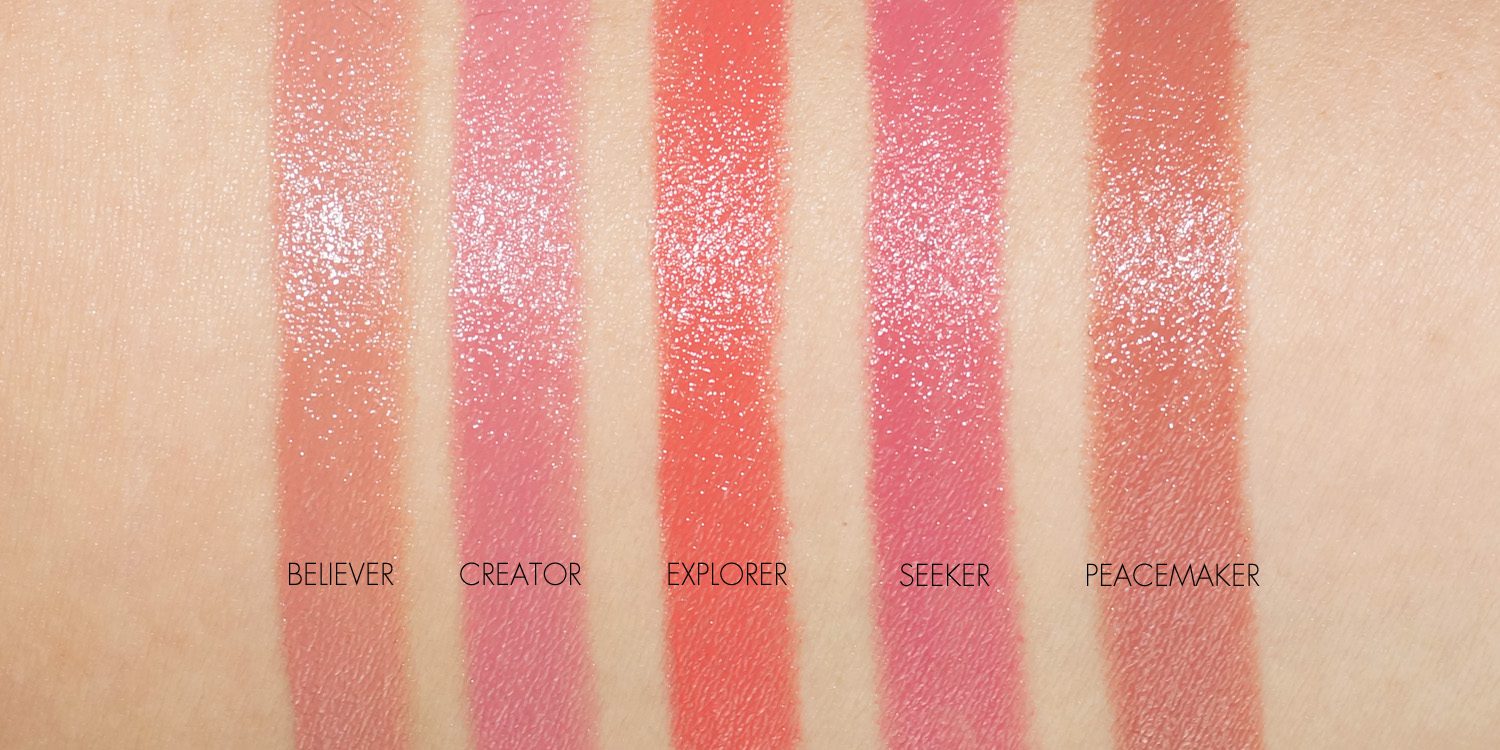 As always these are swatched on bare lips, no liner or primer underneath. For skintone reference I'm wearing NARS Velvet Matte Skin Tint in Groenland with MAC Mineralize Skinfinish Natural in Medium Plus (which I just discovered and am OBSESSED with!).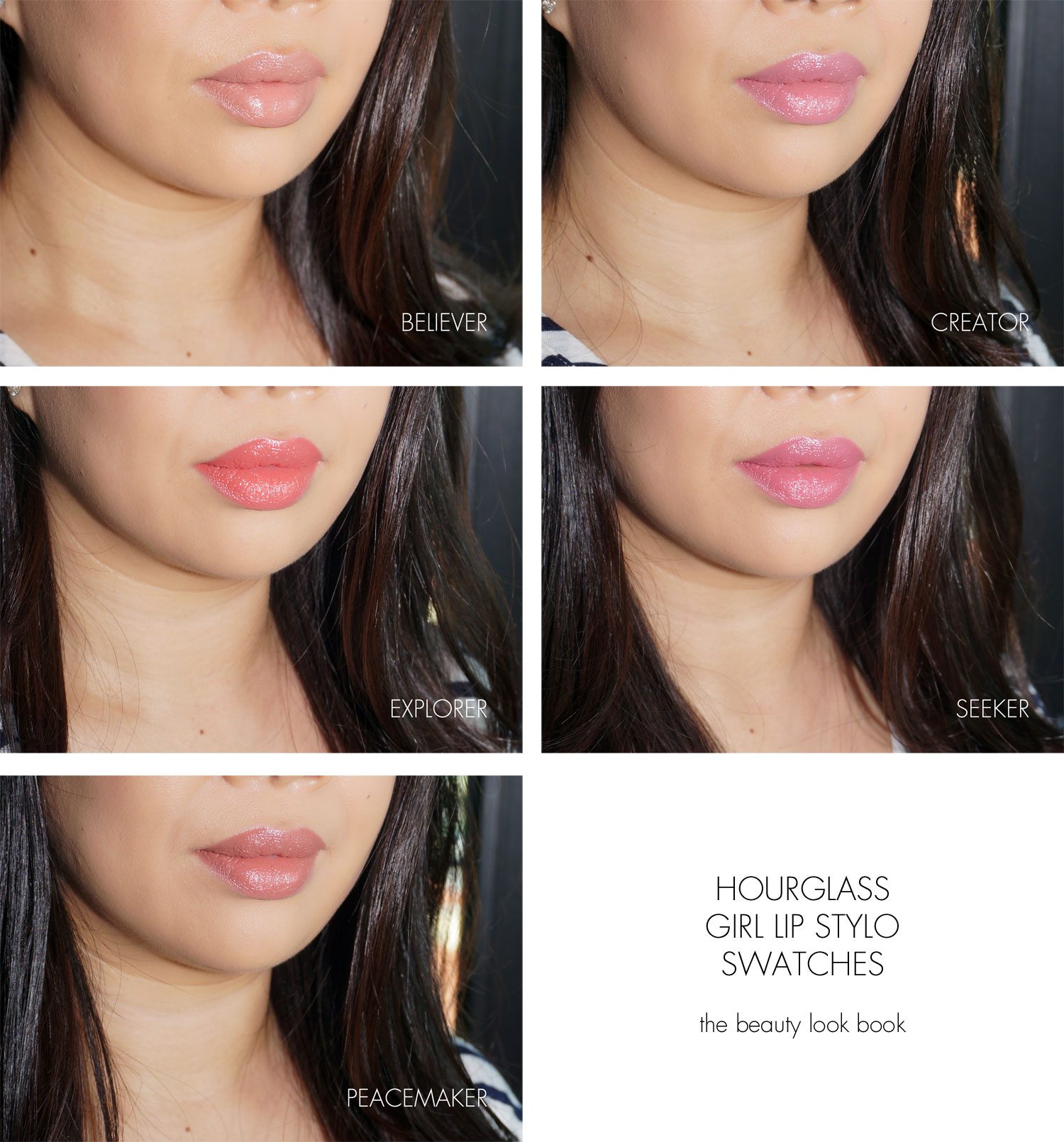 _________________________
Set 2 below includes:
Achiever is a neutral-cool mauve brown
Influencer is a meidum beige brown rose
Dreamer is a soft warm baby pink
Idealist warm peachy beige
Futurist beige pink nude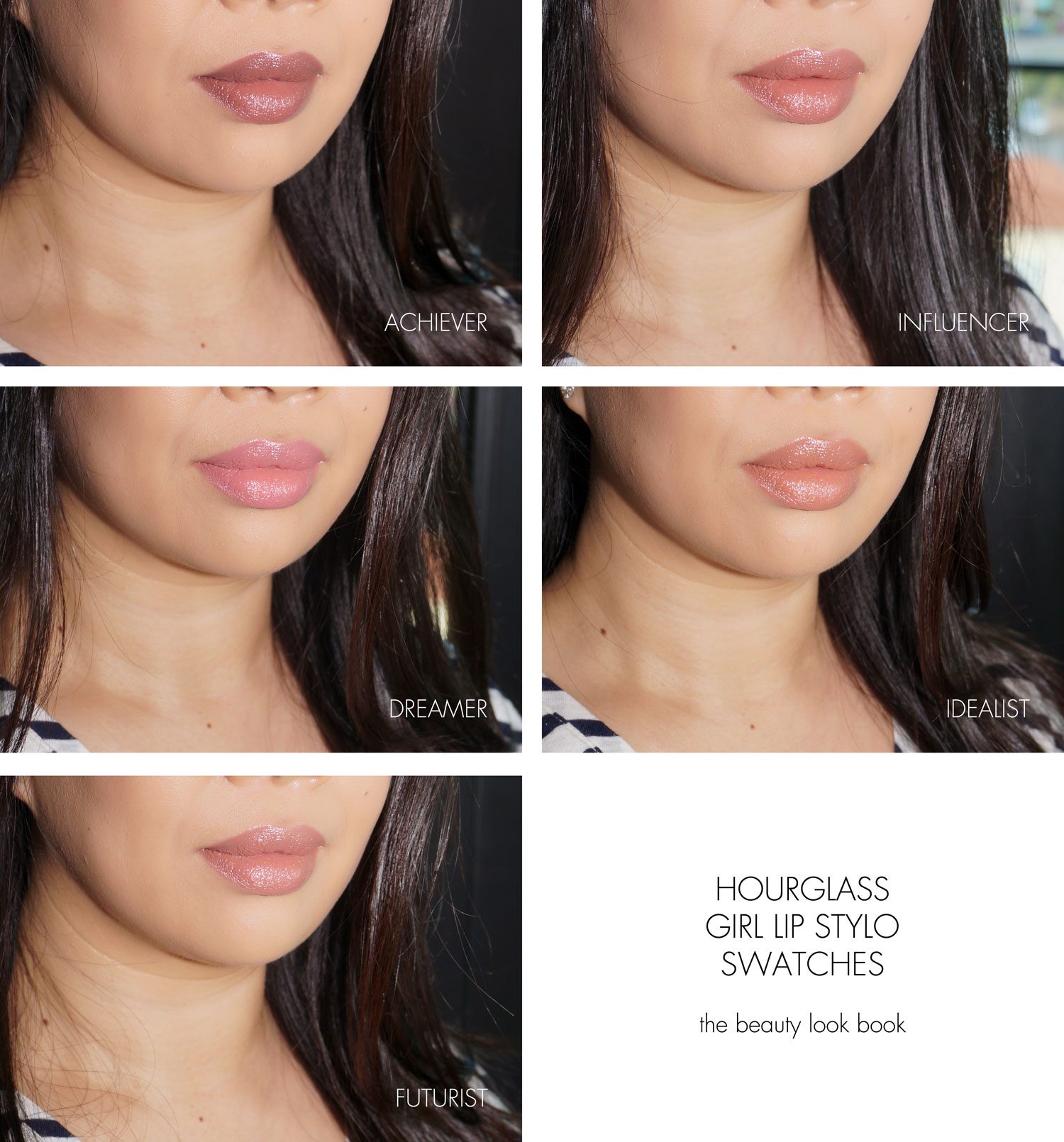 _________________________
Set 3 below includes:
Activist is a medium rose
Inventor pinky rose
Lover bright orange red
Innovator is a bold bright red
Visionary slightly deeper but bright red

__________________________
Set 4 below includes:
Icon is a classic red
Leader is a bright fuchsia pink
Liberator is a gorgeous mauve plum
Protector is a pretty violet purple, but goes on my lips a bit patchy
Warrior is a deep vamp, also went on a bit patchy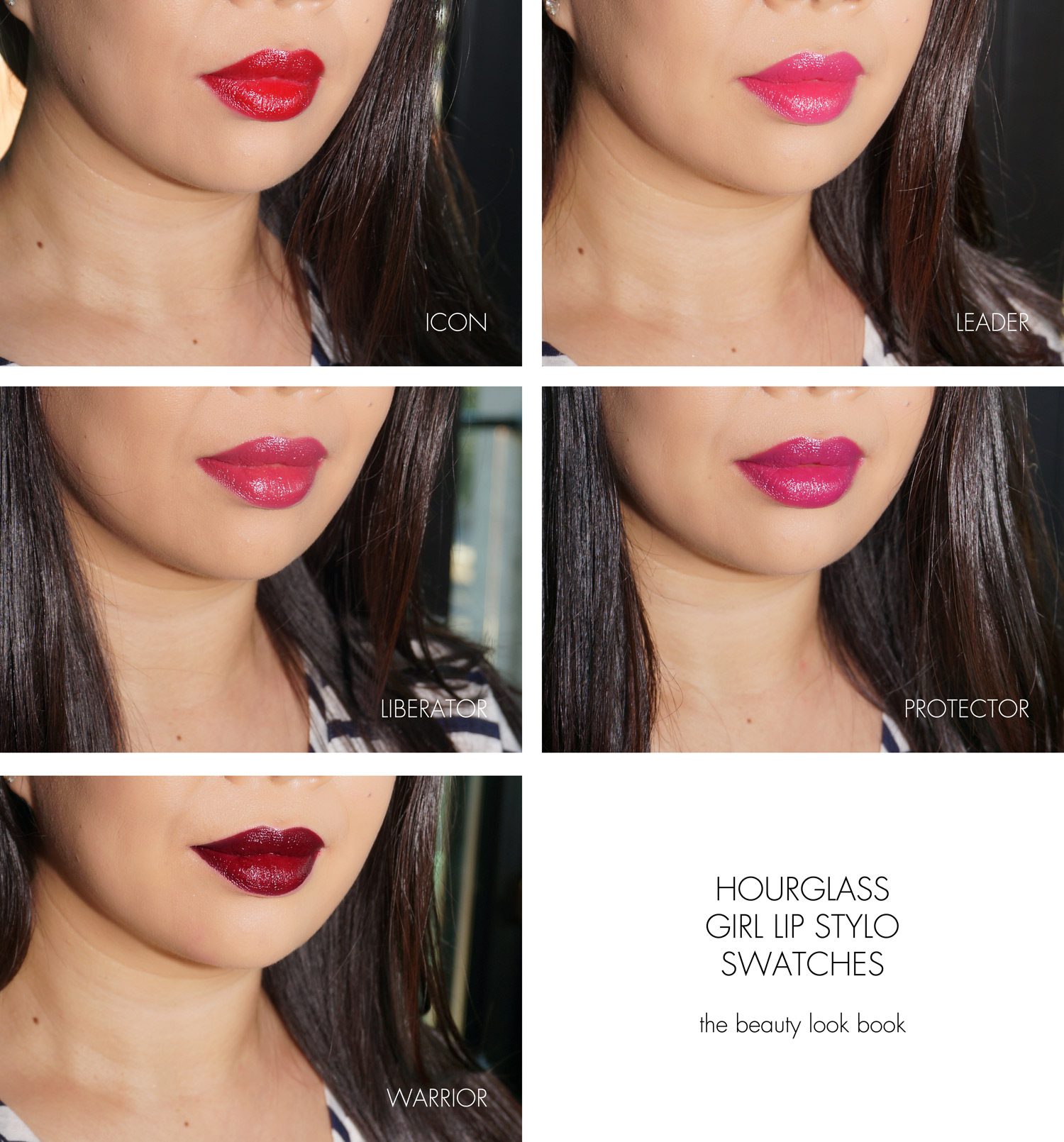 __________________________
A quick look at the color options will show a lot of neutrals that look similar and also a lot of reds. As a neutral lip lover I'm beyond obsessed with the color selection and I know there are at least a handful of you who will echo my thoughts that they are similar but still different. Same applies for the reds, but since I don't wear reds a lot I can understand that some will find a lot of repetition among color groups. The best thing about this to me is that each color has a slight variation or undertone which I think is great. Many of us gravitate towards warm or cool, brown undertones or peachy undertones, light versus medium versus deep. I really believe there is something for everyone in this color range and even though I normally wear neutrals, even the brights like Lover and Leader are wearable and did not leave me feeling like a clown.
My top 5 picks: Seeker, Influencer, Activist, Liberator, Dreamer.
You can upload your own version at Hourglass's website for fun!
I know many of you want to know whether I prefer these or the Chanel crayons that were just launched and I simply cannot pick a favorite. I do think the Hourglass pencils will last longer on the lips and a comparison of the packaging makes them look larger in size so overall they will probably last longer. If you prefer a glossy lip the Chanel is the way to go. Also for the deeper colors Chanel offers more coverage and pigment. If you like neutrals I suspect you will find more options to choose from the Hourglass range.
Bottom line I love these. I'm a gloss or shiny lipstick girl at heart and these GIRL Lip Stylos offer a nice sheen but with more pigment and coverage than a sheer glossy lipstick. Even with all the swatching and wiping I did over the past few days, my lips did not dry out or peel at all. I think everyone should own at least 2 🙂 They are that good. If I had one thing I wished were different, it would be that I wish there was some kind of color indicator on the outside so I could tell the difference between colors without having to look at the label or open up the cap. Still it's not a deal breaker as most of the other beauty brands do the same thing with their lipsticks and compacts.
You can find the Hourglass GIRL Lip Stylos at Sephora, Nordstrom and Hourglass Cosmetics.
Many thanks to Hourglass for sending these gorgeous GIRL Lip Stylos for review.
Save
Save
Save
Save
Save