NARS launched a new concealer called the Soft Matte Complete Concealer ($30 for 0.21 oz) and being the fan that I am of their bases I knew I had to try it. To date the Radiant Creamy Concealer ($30 for 0.22 oz) has been one of my favorites for under the eye and around the nose to help with redness and create a more brighter more awake look. Since I tan easily and also because I use a different shade under the eyes versus spot concealing, I rotate between three shades. I used to mix Custard and Ginger together for my best match. Then NARS added another color in between which is Macadamia with slight peachy tones. This one is perfect for me as I actually prefer something with the tiniest bit of peach for under eyes. The warmth helps brighten the eye are for me. For the Soft Matte Complete Concealer, I ordered the same three shades. The colors are pretty close between formulas for the ones I bought, not identical but pretty close.
The Soft Matte Complete Concealer offers full-coverage finish with a soft matte look. It's oil free, light weight yet ultra pigmented so a little goes a long way. It feels creamy and soft to the touch, almost like it has just the slightest bit of bounce. I tried it under the eyes and on a few spots using the finger to dab and blend. Under the eyes it was like an instant eye lift with a blurring effect. It didn't cake or darken and lasted all day (I did set with powder). For spots it didn't cover them 100%, but I would say that it still did a really good job at covering them to about 85% of the way. For the corners around the nose it works well to reduce redness.
Color-wise these look a bit dark in the pot. Also side by side I thought they all looked the same in the container. Even when swatched on the back of my hand and arm I thought they were all going to be too dark but they actually work better than I expected on the face. I love that it blends effortlessly on the skin and even though the coverage is near full it still manages to look natural on the skin. I will say that I have normal combo skin – since it's matte and opaque I do think if you have dry under eyes it could emphasize dry patches. In this case I would just make sure you have a good primer to hydrate the eye area (I like the Marc Jacobs Coconut Primer for dry skin days).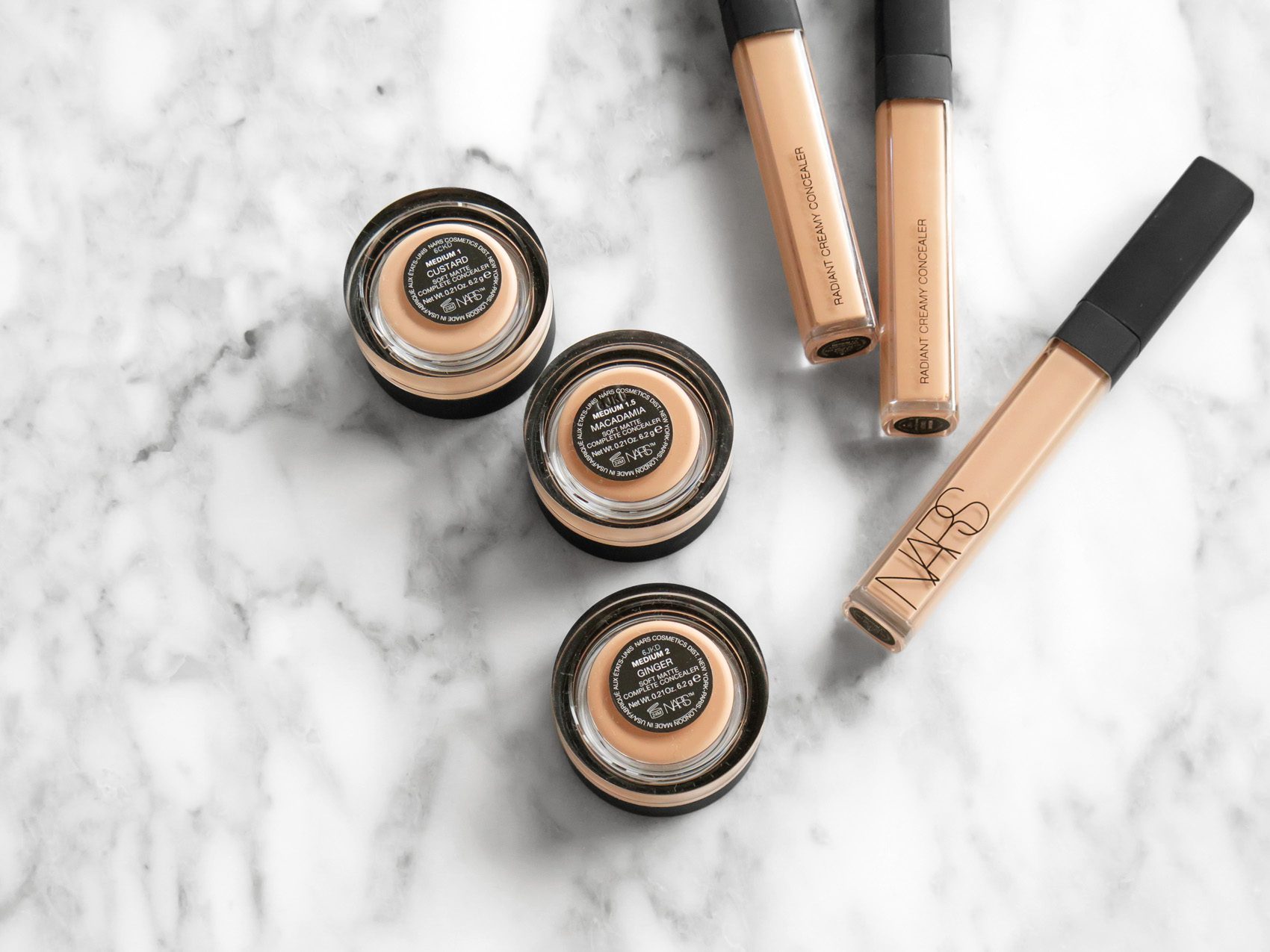 NARS Soft Matte Complete Concealer
3 shades of the matte formula swatched on the face, under eye area and along jawline, on the lips is Kat Von D Beauty Everlasting Liquid Lipstick in Ludwig:
Custard was too light for me, but I put Macadamia on one side and Ginger on the other, both look like they're a good match, right now I have a slight preference for Macdamia:
The Radiant Creamy Concealer has been a long-time go-to for me. I tend to prefer something with a tiny bit of radiance because I find it blends better on my skin type and also looks more natural. Matte often looks too opaque, too matte and therefore a bit fake on the skin. For years the Radiant Creamy Concealer was one of the few I could use under the eyes no matter what condition my skin was in regardless of season and weather. I still love it.
If I had to pick one, I would say Radiant Creamy wins because of the packaging and also because I like something a bit more creamy. I'm not the biggest fan of pots because they tend to get messy. I also really don't like matte finishes because I find they don't work the best with my skin – they tend to emphasize pores, imperfections and look cakey. However for a matte formula the new Soft Matte Complete Concealer is seriously impressive and I do think it's worth owning even if you have the other formulas. I found it easy to blend, but that being said if you need something with a bit more slip to blend easier, go with (or stick with) the Radiant Creamy Concealer formula.
I didn't swatch the Radiant Creamy one on the face as it blends out slightly sheerer so it's a bit more forgiving color-wise. When I use any of the shades, Custard, Macadamia or Ginger, it blends to match the skin really well – it looks so natural you can barely tell there's anything on the face. I do have side by sides of the corresponding shades in both formulas. You can see the difference in finish. Colors are pretty close but I feel the Radiant Creamy formula has slightly more yellow undertones.
Bottom line a solid win. Macadamia is the best match for me, but if I need a bit of brightening I can mix in some of the Custard to lighten or brighten certain areas. Since I tan easily I suspect Ginger will be a match within the next few months and as I'm often in between shades I don't mind owning multiple colors so I can mix them as I transition between colors. I don't know how I feel about the pot style. I've avoided this type of packaging for years and a quick look at my concealer stash shows that they are literally all either wands or twist/click up pens. I also don't like that NARS does that matte almost velvety finish packaging on their face products because it gets dirty so easily. If you get any bit of concealer or cream product on it, it's pretty much stuck there forever (I've tried getting it off, but it's near impossible). It's not a deal breaker though and that's just me being picky.
You can find both the Soft Matte Complete Concealer and Radiant Creamy Concealer at all counters now. I bought the new Soft Matte Complete Concealer from Sephora. It's also available at Nordstrom, Neiman Marcus, Barneys New York and all other NARS counters.
Have you tried this one yet? What did you think? If not, what are your current go-to concealers?
P.S. I'm also testing out concealer formulas from Too Faced, Tarte and will compare them to Kat Von D in the next couple of weeks.
Save
Save