Chanel Perfection Lumière Velvet
($45 for 30 ml/1 fl oz) is the latest foundation formula from Chanel. It's described as a lightweight, oil-free fluid foundation that provides a long-lasting matte-velvet finish. It has what Chanel calls "soft-focus pigments" which smooth and perfect the skin for a flawless look
that lasts all day. It comes in a sleek black bottle. I was matched to 30 Beige (I'm usually either a 20 Beige or 30 Beige for Chanel). According to the Chanel rep I spoke with at Nordstrom the new
Perfection Lumière Velvet
is going to replace the
Mat Lumière
.
The Perfection Lumière Velvet is indeed a lightweight foundation with medium coverage. It has enough pigment to even out the skin but not quite as full coverage as the regular Perfection Lumière. This new velvet formula is designed for those normal to oily skin.
At the counter the Chanel artist prepped my skin by cleaning first with the
Creamy Cleansing Milk
and then followed with the
Hydra Beauty Creme
. She tested 20 and 30 on my skin. We decided to go with 30 which was a perfect match. She applied the Perfection Lumière Velvet with the
foundation brush
and then finished with a light dusting of
Les Beiges
in No. 20 to set. I loved how the foundation blended on the skin with a smooth no-makeup feel. The Perfection Lumière Velvet adheres well to the skin but still lets it breathe. On my normal/combination this lasted all day long and the smooth velvety finish remained the same from the time it was applied well into the late evening. I like that it's not a full-matte finish which prevents it from looking too flat.
Chanel had some amazing matte foundations back in the early 2000's which they discontinued and replaced with Mat Lumiere (which I hated, I found it did not blend well and caked a bit on my skin). I've since tried to find a good matte-finish replacement, the closest is
By Terry's Hyaluronic Face Glow
but it still doesn't have the same velvety finish as the older Chanels. This new Perfection Lumière Velvet is a must- have foundation for those looking for a long-lasting natural makeup with a slight matte finish. I find it has been released at the perfect time of year as we start getting warmer weather. The color stays put on the skin without oxidizing. Below you can see how well it blends into the skin and evens out the texture:
I've been using this over a number of moisturizers, I like it right now over Le Jour de Chanel and set with the Les Beiges powder.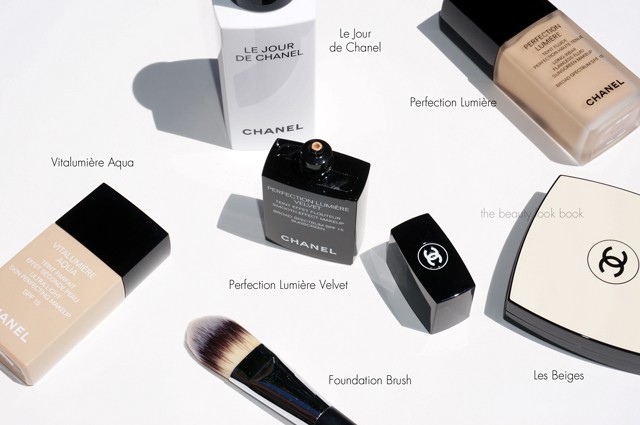 In terms of formula comparisons to the new Perfection Lumière Velvet to other Chanel foundations:
Chanel Vitalumière Aqua is sheerer and more lightweight in color. The new Perfection Lumière Velvet goes on smoother onto the skin and also is more fluid in texture. I found it much easier to squeeze out of the tube.
Chanel Perfection Lumière is heavier in texture and has more full coverage, I find the Velvet version to work better with my skin, the Regular version was a bit too heavy for me.
Packaging comparisons: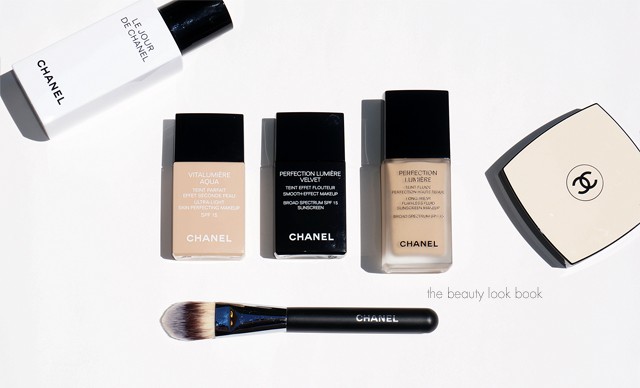 I've been testing this for a week and I've been really pleased with the results. I've always been a huge fan of Chanel foundations (except for a couple formulas) and I highly recommend you check out the Perfection Lumière Velvet foundation. I've had no issues with breakouts or clogged pores with this formula. It blends well, lasts all day and doesn't change color. The velvety finish is natural but still matte-looking.