Guerlain has revamped their
Terracotta 4 Seasons Bronzers
($75 each for 10 g/0.35 oz, made in France) this year and released some new shades for spring-summer. I have not had much experience with Guerlain's terracotta bronzers (except for a few seasonal limited ones) even though I'm obsessed with bronzers in all shades, formulas and finishes. This is the first time I've looked into the Terracotta Bronzer line from Guerlain. For this new release, there are six shades available. Two of the older shades have been re-named (sorry I'm not sure which ones have been repromoted), and four new colors have been added. I picked up the two lightest shades from Neimans, Terracotta 4 Seasons in
Nude 00
and
Naturel-Blondes 02
.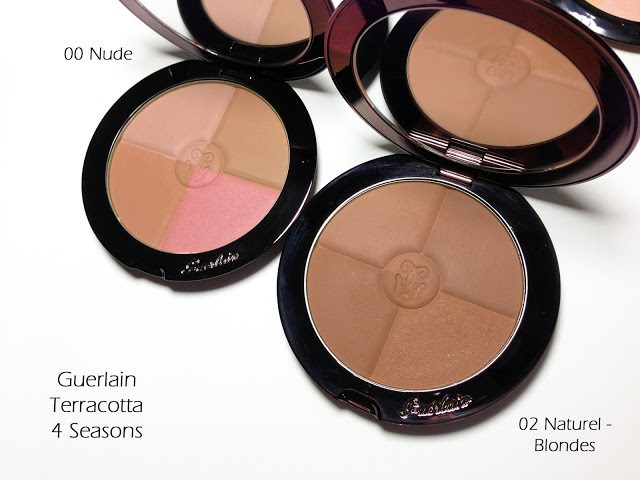 Nude 00 is light quad with three tan shades and one pink shimmer. It's fairly light. I have olive medium skin and currently use Chanel B30, Dolce & Gabbana Warm 100 and NARS Tinted Moisturizer in Alaska. I found Nude 00 to be extremely natural on me applying more like a nude blush rather than a bronzer. The finish is satiny leaning more on the matte side but not flat. Those who detest shimmer in their blush/bronzer will love the finish of the 4 Seasons bronzers.


Naturel-Blondes 02 is the second lightest option. All shades are medium tans (very similar). The bottom right corner has slight shimmer. It's a warm but natural bronzer. On me it's still on the natural side but true to bronzer form. Swatches below will make it seem on the orangey side. On the face it warms up the skin but doesn't look orange at all. On me it's goof proof. The color is layerable but it seems to be one of those shades that is impossible to mess up or overdo.
Each shade in the quads were a bit too sheer to swatch individually on the arm. On the face it's easier to swirl the brush in a circular motion to mix all shades within each palette and then apply to the face. I've found that I can wear these alone without any layering of other blushes or creams.
Here are a few swatches, these were applied with a soft fluffy brush:
The Terracotta 4 Seasons are more matte than the Terracotta Light shades (mosaic looking bronzers) but have a similar finish in terms of pigment/intensity. I have two of the Terracotta Light shades,
Blondes
and
Sun Blondes
to compare.
I had some challenges capturing the true effect of each. There is a softness to each shade that my camera cannot capture. The Blondes and Sun Blondes have a noticeable luminous glow on the face, it might not be apparent below.
I dug through some of my current favorites to compare. Colors will vary depending on your skintone and also undertones. I have a lot of olive/yellow. Note the Guerlain was swatched with a slightly heavier hand to show the undertone. On the face they do not apply quite as intense.
I am one who loves all kinds of bronzers, even ones that are more dramatic and stronger. The Guerlain 4 Seasons shades I chose looked darker in the store and in finger/arm swatches compared to what you see when you apply on the face. They are well pigmented but still extremely soft in color. I think they are among the softest bronzers I own (MAC Golden is one of the softest in color, but I think it is because it matches my skintone closely). Lasting power was quite good. These are heavily scented with a powdery scent. I have a super sensitive nose but I found the scent faded after 5-10 minutes.
I had expected
Nude 00
and
Naturel-Blondes 02
to look darker and more dramatic on the face. Instead I found them to be more on the natural side. I have to admit the other colors instore looked extremely dark, but I almost wish I had tried the darker ones first. At a high price of $75 I highly recommend that you try before buying. I know I will get a lot of use out of the two I purchased. The texture of the 4 Seasons Bronzers is very luxurious and soft. They apply flawlessly. I like that the compacts are sturdy enough that I feel comfortable carrying one in my purse. After testing for a week or so, I like them, but it's not love … yet. I personally prefer the Blondes/Sun Blondes even though the effect/finish is completely different.
For quick reference, here is a photo of all the ones in store. Some with the same names might look different because of the reflection from my iPhone flash:
Guerlain 4 Seasons Bronzers are available at counters now. I saw the entire lineup at Nordstrom and Neimans. I've heard it has also arrived at the Guerlain Boutique in Las Vegas. Currently it's only showing up at 2 locations online at
Nordstrom.com
and
Saks.com
. I suspect it will show up at more locations online soon.
Have you checked out Guerlain's Summer Collection for the Terracotta
release? Have you been a long-time Terracotta Bronzer user? I'd love to
hear what your favorites are (or have been) and your skintone.
This post contains an affiliate link. For more information please see the About/FAQ section.