Everyone has a different definition of "nude." Even each brand has their own interpretation of what they envision as nude (see various products with the word nude in their name in this article,
What's Your Definition of Nude?
) I have been on the quest for the
perfect true nude
, but now that I have found it, I'm not sure how I feel about it.
Edward Bess Sundown Lipstick
($32) is a true nude in the sense that it is flesh toned beige. It's more of a slightly greyed beige brown in the tube, but when combined with the pink in my lip, it wears to a straight flesh color. If you like MAC Siss, then you'll probably like this one too (although Siss was like death on me). Sundown is creamy with full coverage. Makes a good base for glosses whether it's a sheer sparkle or a bright cherry and it definitely tones down the lip better than concealer (which can sometimes be too dry for the lips). I'm not brave enough to wear it by itself – I think it definitely needs some layering with other colors for me.
For nudes, I prefer
Pure Impulse
on me which almost looks pink next to
Sundown
. One of my darker skinned friends bought this recently (Filipino, probably around NC45ish) and it was the perfect nude on her. I wish I could have gotten a picture, it was a perfect contrast to her tanned skin. The other nude Edward Bess has is
Nude Lotus
which I have not tried yet, although it looks absolutely gorgeous on Jennifer from Edward Bess at Bergdorf Goodman (see it on her on their
Facebook page
).
Here is Sundown compared to Pure Impulse (see the lip-swatch of Pure Impulse
here
):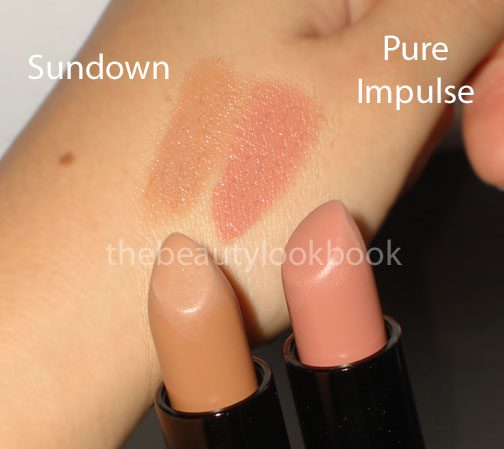 Have you tried any of the nudes from Edward Bess? What are your thoughts?