I've been playing with more and more from Tarte over the past year and I've discovered quite a few favorites! Tarte always has great options that are easy to wear and long-wearing. Here is what I've tested and loved so far!
Concealers + Foundation
Shape Tape Concealer is a great opaque concealer that is easy to blend and stays put. Their newer Shape Tape Ultra Creamy is better for me. It's creamier like the NARS Radiant Creamy Concealer, but the Tarte is thicker and has more coverage. I alternate between shades 35N or 36S for both formulas.
I've tried a few foundations from Tarte in the past but never found one I truly loved until recently. The latest one I've tried is the Face Tape Foundation in 36S which is a nice one if you like full coverage and long lasting power. Since it's opaque you do need an almost exact match. I liked it but didn't love it until I tried it with the Base Tape Hydrating Primer. It's great for smoothing, priming and hydrating without feeling too heavy. I've been using a few mini samples and just ordered the full size.
Blush + Bronzer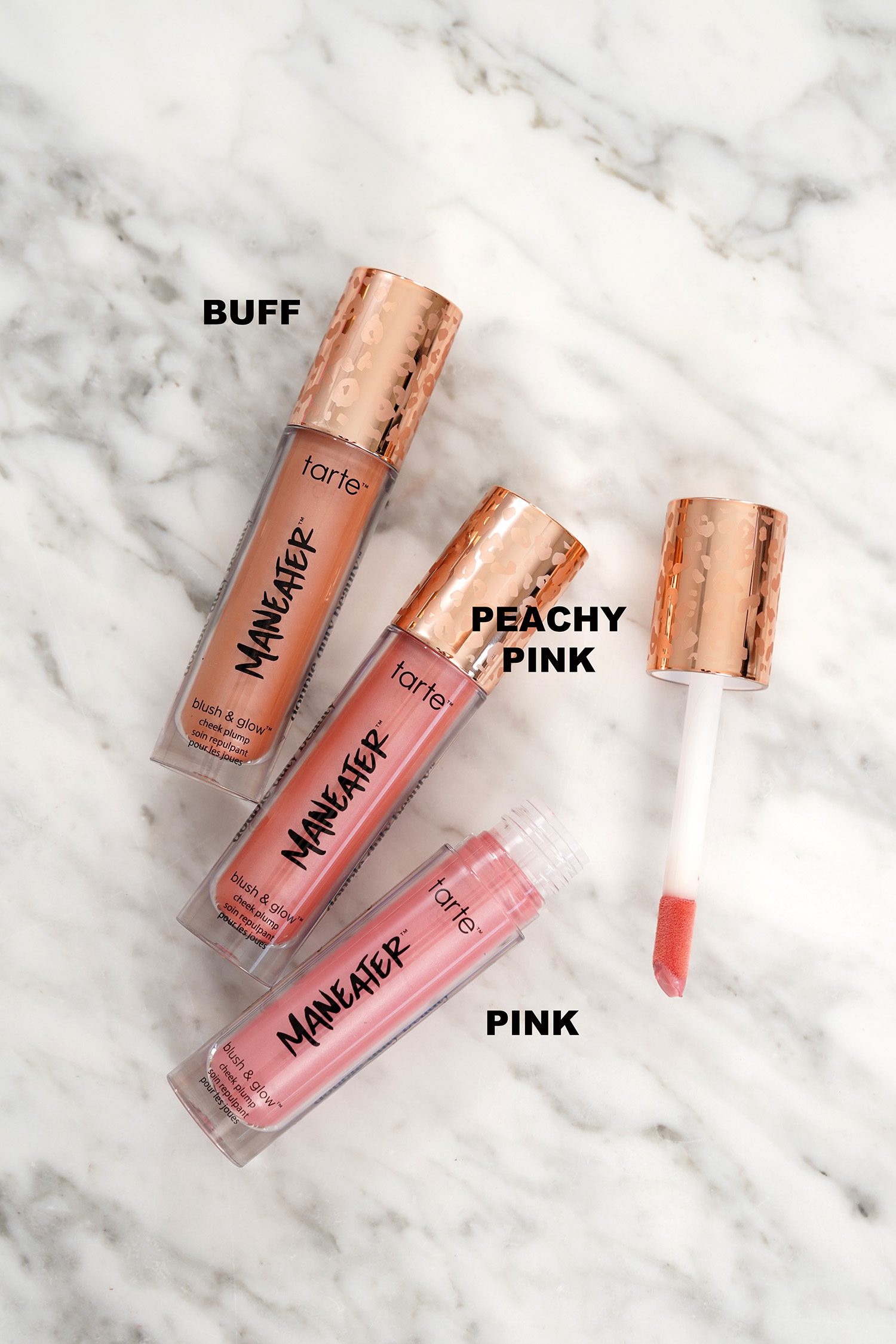 The Maneater Blush and Glow Cheek Plumps are a huge hit for me! They're a liquid-gel formula that's easy to apply and blend. I have three of the neutrals in Buff, Pink and Peachy Pink which are great for everyday. They give the skin a dewy blush without looking or feeling too emollient or dewy.
For bronzers I like the Park Ave Princess Glow Bronzer for a natural glow. It's a neutral bronze that looks nice without any orange undertones. They also have a Matte Version available in two shades.
Eye Makeup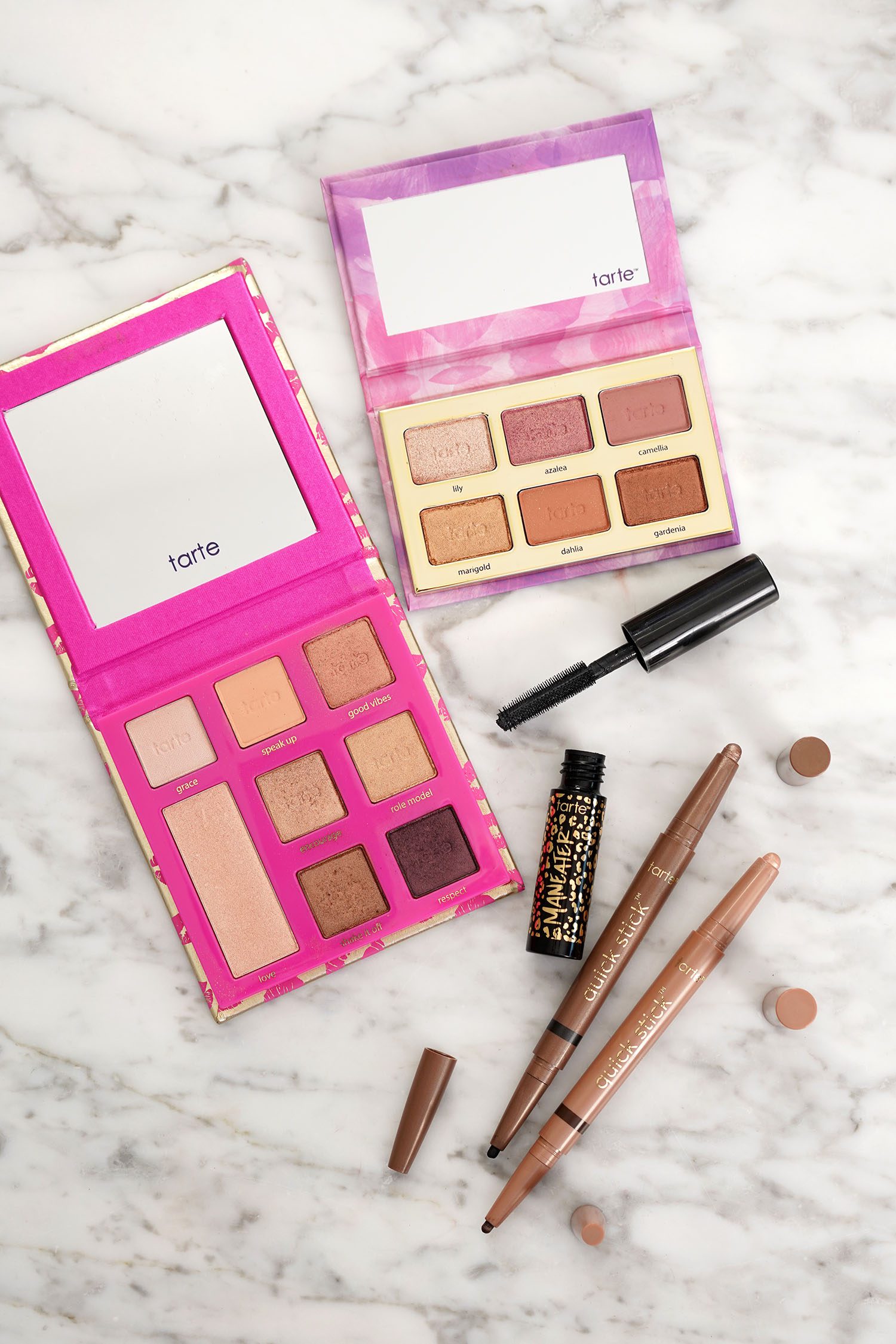 I've played with a few of their eyeshadow palettes and really love the Leave Your Mark Eyeshadow Palette. It has everything for a complete neutral tan-gold-pink eye look. I'll use the shimmery pale shades as a cheek highlighter as well. Pigment is medium but buildable and colors are easy to blend. This is a great no-fuss kind of palette.
Their mini eyeshadow palettes are also really cute and easy to wear. I love the Tartelette Baby Bloom for a pretty mix of colors. It has a good range with just 6 colors so you can create a number of different looks. It has pretty shimmers and a couple mattes.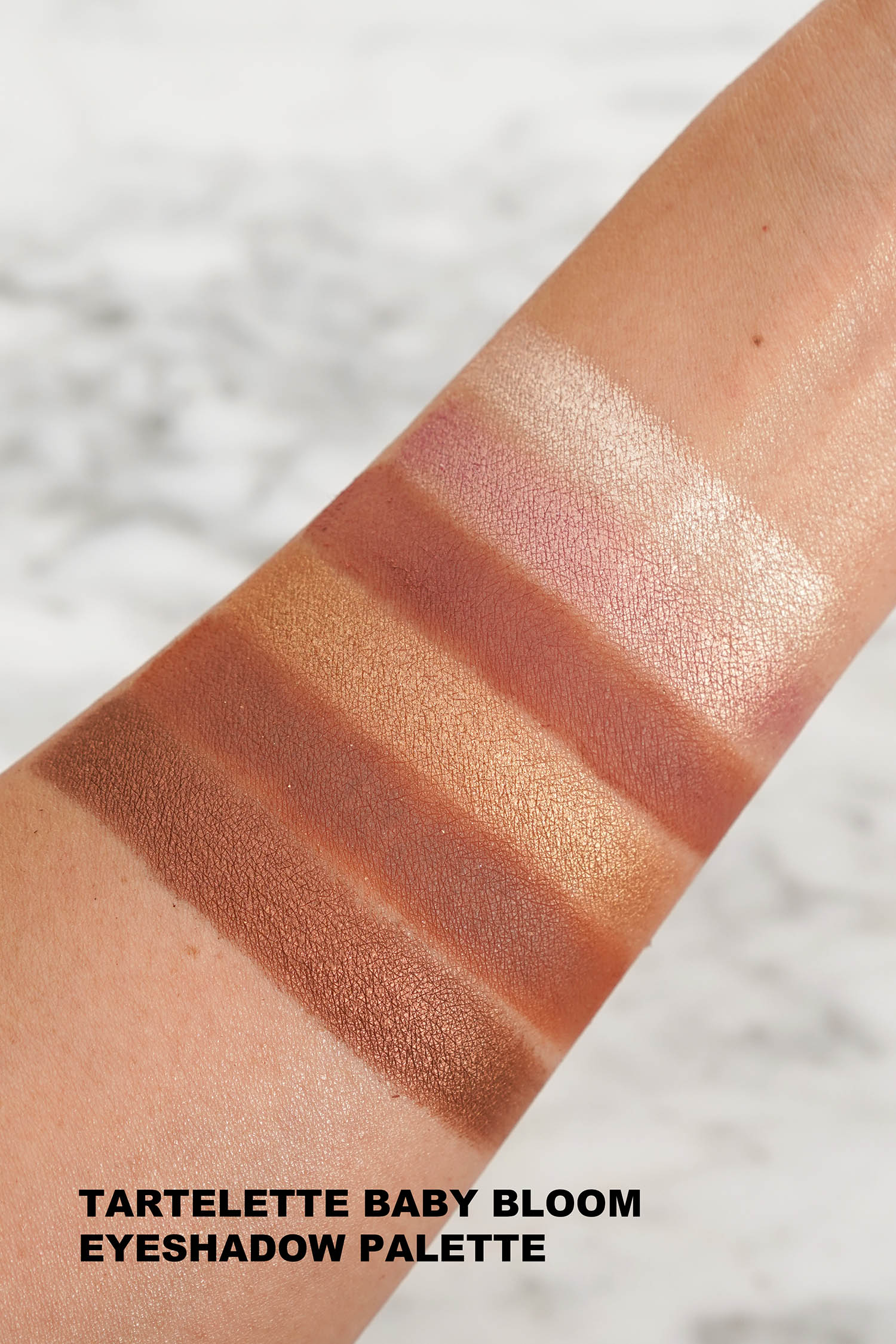 The Quick Stick Shadow Liners are fun for a one-and-done kind of product. Just apply the cream shadow end all over the lid and line with the other side. The shadows stay put once they set and the liner is a nice creamy smudgeable kind of pencil. I have Taupe Luster + Black and Rose Gold + Brown. I just ordered the Golden Pink color. I think they're going to be great for travel too.
Juicy Lip Balms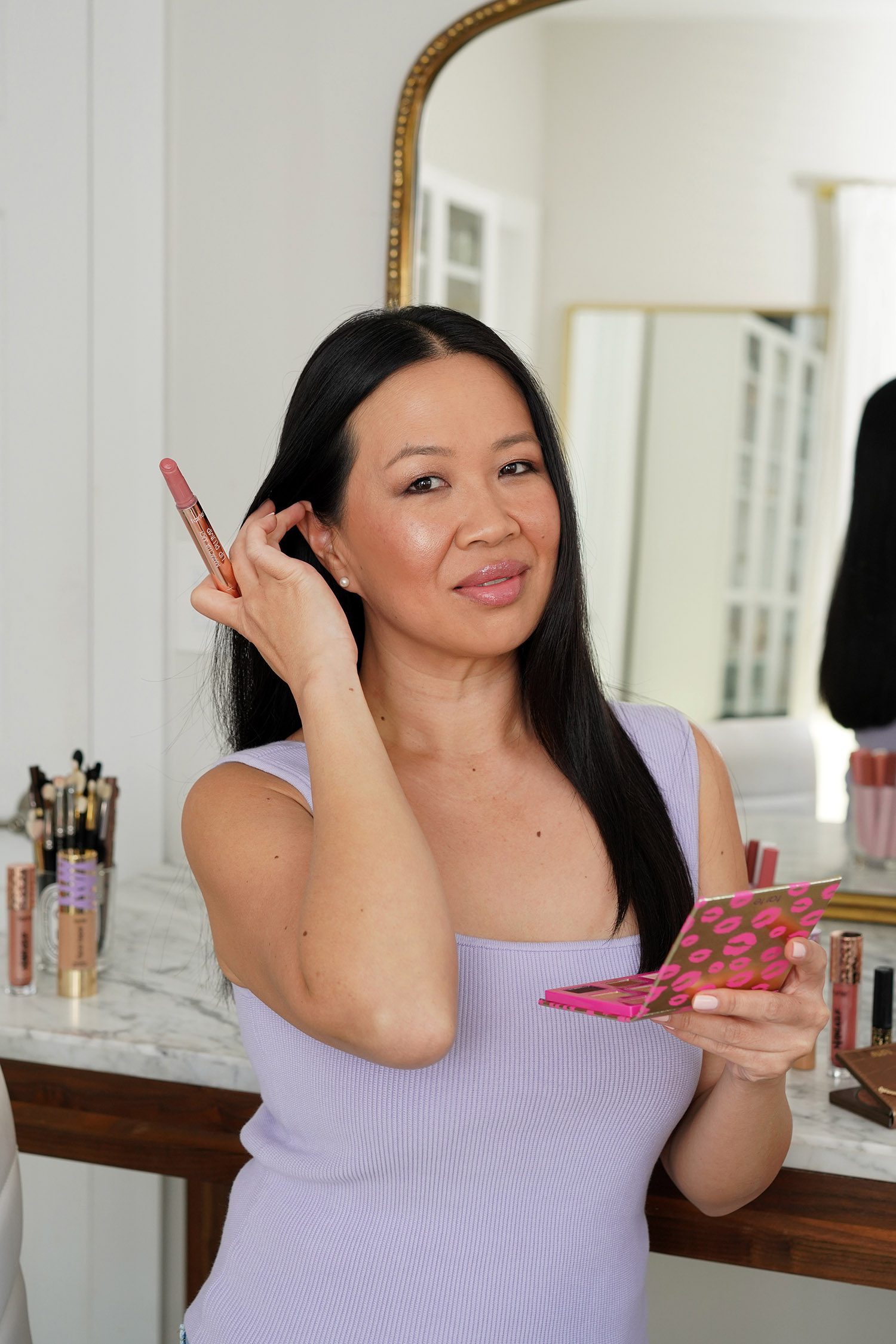 Last but not least many of you know I'm a huge fan of the Maracuja Juicy Lip Balms. They're some of the best click-style tinted balms that I've tried. My top 3 favorite colors are Grapefruit and Rose. They have pretty good pigment for a tinted balm. Love the hydrating feel, shine and texture.
They recently launched their Maracuja Juicy Lip Plump which has the same moisture, pigment and finish, just with a plumping effect. They feel cool on the lips and I love that the tingle is pretty minimal. I love all the colors I bought. I'm wearing Primrose in this post.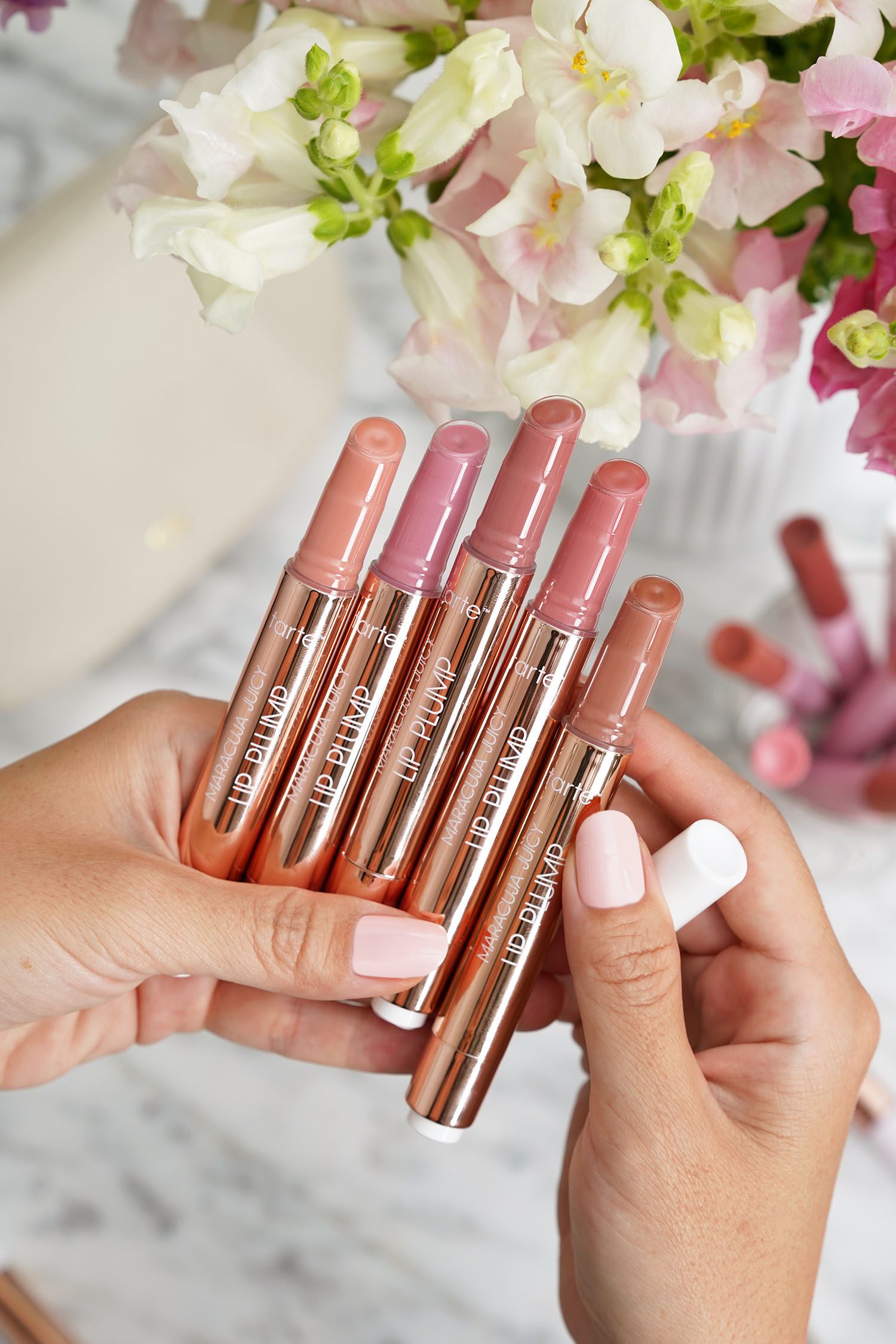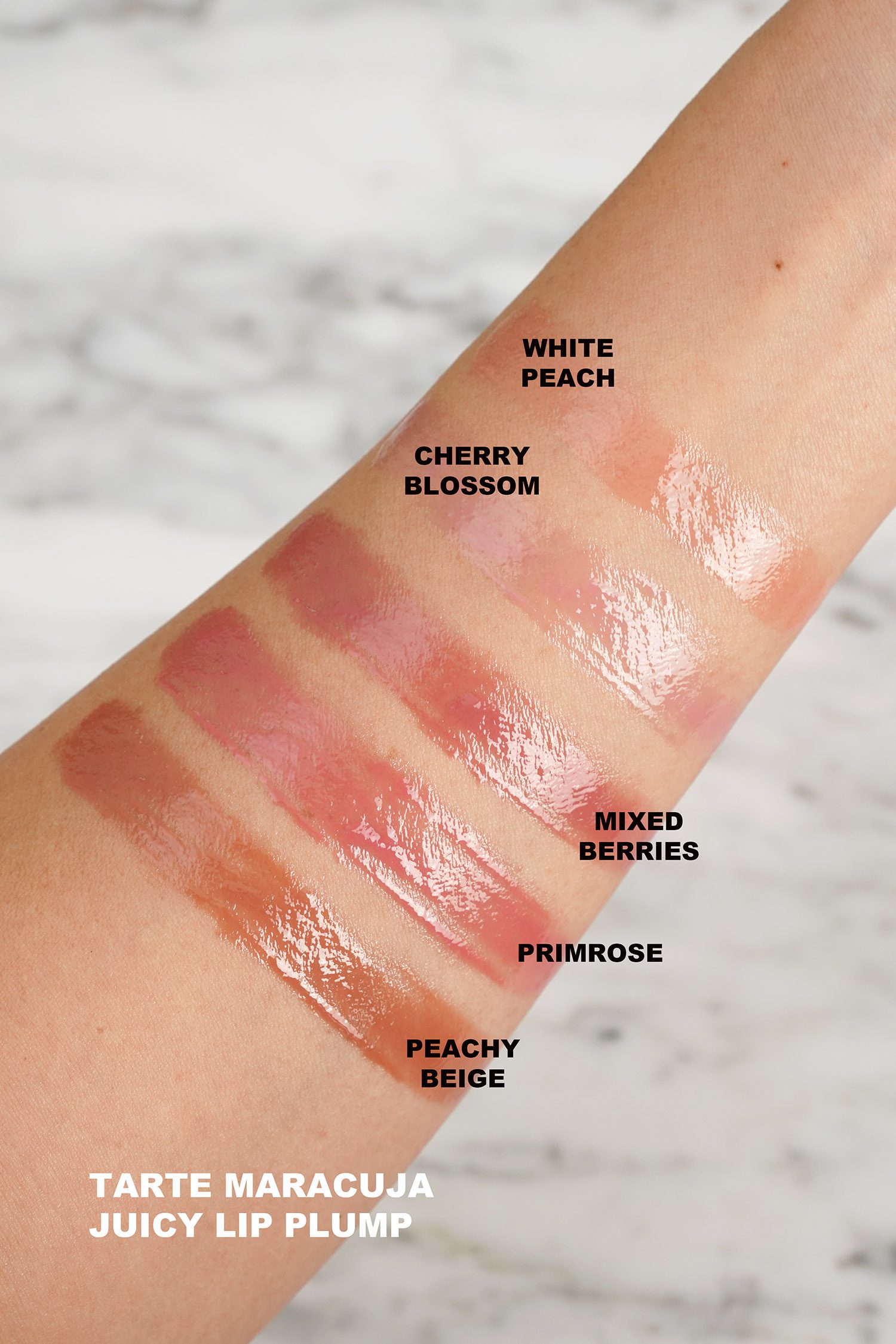 That wraps up my current Tarte favorites. There's so much I haven't tried yet and I'm slowly working my way through trying more in their line.
If you have any favorites let me know! I've been really curious about the Tartelette Full Bloom Eyeshadow Palette and SEA Power Flex Concealer. Let me know what else I should try if you're a Tarte expert!
In this post I'm wearing:
Tarte Base Tape Hydrating Primer
Face Tape Foundation 36S
Shape Tape Ultra Creamy 36S
Quick Stick in Rose Gold / Brown
Leave Your Mark Eyeshadow Palette
Maneater Mascara Mini
Maneater Blush and Glow Peachy Pink
Amazonian Clay Waterproof Bronzer
Maracuja Juicy Lip Plump in Primrose
Top from Reformation
Makeup Look in Action in my latest Reel too!
View this post on Instagram
Shop the Post

Items I hauled are from Tarte, Ulta Beauty and Sephora.