Chanel recently reformulated their lip gloss with a new formula called Rouge Coco Gloss ($30 each for 5.5 g/0.19 oz, made in France). This is a new and improved version that offers more hydration with a glossier finish and plump feel. As a long-time Glossimer fan I was a bit sad to see the original formula go but since Chanel has revamped a number of other products in their line I think it was inevitable to see a new gloss formula. The new Rouge Coco Glosses have two different formulas, most are a regular lip gloss formula Gel Brilliant Hydrantant / Moisturizing Glossimer, but three shades are what Chanel calls Top Coat Intense / Colour-Intensifying Top Coat designed to layer over lipstick to change color.
There are 30 shades of Rouge Coco Gloss total for the initial launch. At a quick glance there are at least a few that seem to be repromotes (but with different names). We're in the midst of working on a few remodels which will take some time so much of my makeup is stored boxes so I won't be able to do swatch comparisons for old vs new. I received 8 shades as press samples and purchased 8 on my own to review. Some thoughts on the new formula and then swatches of 16 colors below.
The Rouge Coco Gloss formula is described as a "non-sticky, ultra light formula leaves lips visibly smooth and plump, and perfectly brilliant." These are indeed smooth glosses that give the lips an ultra high shine. They aren't tacky or sticky but being a gloss there is still a little bit of balmy gloss feel. On my lips they don't really feel ultra light, but more like a semi-thick balm.
Finish is ultra shiny and glossy.
Pigment and finish varies across all colors. Some are sheer creams, some sheer shimmers, some high sparkle shimmers, others are opaque creams.
There's no detectable scent. Yay!
Compared to the original, the sponges have a curved more cushiony bigger applicator tip which allows for more coverage in fewer swipes.
Formula is hydrating and has a cushiony feel, the new ones are noticeably more cushiony and hydrating compared to the original formula.
Lasting power is pretty good, I've been snacking a lot lately so I haven't had any extended period of time where my lips go untouched to test these. I find they stay put for a few hours without sliding off or fading. They will of course transfer if you drink or eat.
Some of the colors are sheer so my natural lip color shows through making many of these look similar.
These have numbers on the bottom of the sticker, but they also have names which aren't listed on the actual gloss (they are on the boxes).
A look at the old vs new:
I split the colors into color grouping for the swatches, descriptions on each color below as well. As always I've swatched these on bare lips. My foundation shade is Tom Ford Waterproof Foundation in Bisque. First are the light golds and neutrals:
774 Excitation is a top coat, it's a sheer gold that brightens lip colors
712 Melted Honey is a sheer warm golden honey shimmer
722 Noce Moscata (purchased) is a semi-sheer smooth shimmering neutral fawn, love this!
714 Caresse (purchased) is a medium coverage nude brown cream
716 Caramel (purchased) is a medium coverage nude pink cream
Next are the peach orangey shades and the two darker colors I have:
744 Subtil (purchased) is a pigmented shimmering peachy color with pink and gold
736 Douceur (purchased) is a sheer cantelope cream
776 Impulsion is a top coat, it's a sheer orange that brightens and warms up colors
752 Bitter Orange is a pigmented bright orange with a tiny bit of shimmer
768 Decadent is black in the tube, on the lips it's a sheer vampy plum, color is gorgeous but this one went on super streaky and settled into lip lines for me
778 Caviar is a black shimmer in the tube, on the lips it's a super sheer almost black grey gloss, this is a top coat designed to deepen lipstick color
Last set are the pinks:
726 Icing is a sheer pale milky pink, this one goes on smooth without any streaks
119 Bourgeoisie is a medium pigmented shimmering rose with gold flecks, this is almost identical to Wild Rose in the original formula, but the new one feels a lot more sparkly
728 Rose Pulpe (purchased) is a medium bright soft pink with micro sparkles
172 Tendresse (purchased) is another favorite, it s a medium hot pink rose with shimmer
738 Amuse-Bouche (purchased) is a pigmented bright pink with a tiny bit of shimmer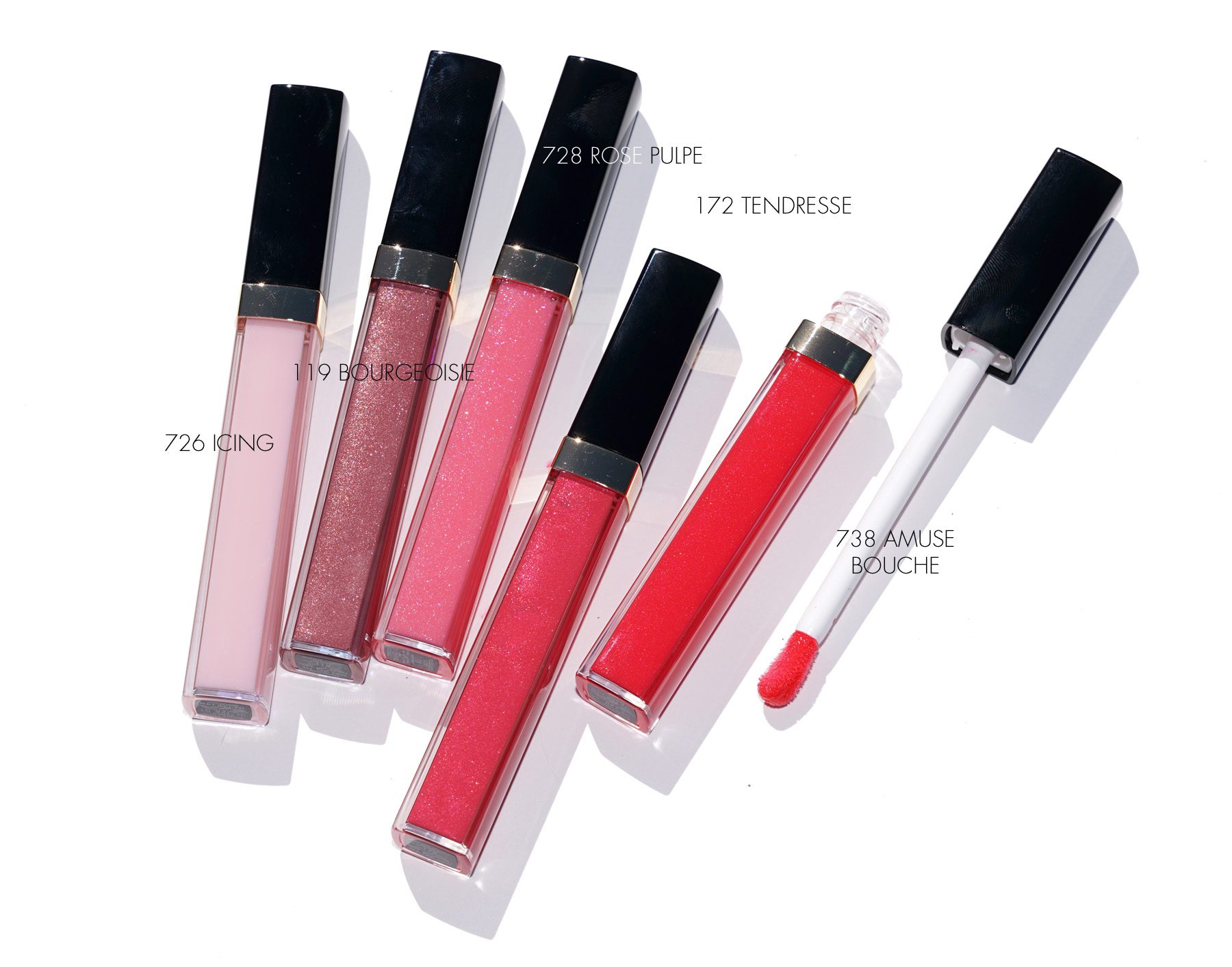 For those curious about how the top coats transform lip colors, I have it swatched over Rouge Coco in Vera (a baby pink) and Suzanne (a medium plum). To recap, 774 Excitation is the gold top coat, 776 Impulsion is the Orange Top Coat and 778 Caviar is the black top coat. I was really skeptical that these would do anything to lip color. I received the top coats as press samples and even after seeing them at the counter they didn't really speak to me until I swatched them on my own. As you can see below they really do shift the color. They're sheer but still manage to change a lipstick. I like Impulsion (the orange one) the best.

Overall, my thoughts are that Chanel has indeed improved the formula. I still have quite a few in the old formula which I adore. I would have loved to see a few more of the original shades in the new formula, but I think there will be a lot we can look forward to in the future. The main differences between old vs new is the applicator change and also the new ones have a cushiony feel with more shine. Off the top of my head, Bourgeoisie looks like Wild Rose, Douceur reminds me of Sirop, either Caresse or Caramel remind me of Giggle.
Since I have pigmented lips and some of these colors are sheer or semi-sheer many look pretty similar on my lips. I was completely blown away by the pigment of Bitter Orange and Amuse-Bouche. Both are brighter than I'd normally wear but I think will be perfect for when the actual summer season arrives. As much as I adore sheer glosses, part of me wishes all the colors had the same pigment as those two. My top 5 color picks out of what I tested: Caramel, Noce Moscata, Amuse-Bouche, Tendresse and Bourgeoisie. My husband commented that my lipstick looked good when I wore Tendresse which made me smile because he rarely comments on my makeup.
You can find the Rouge Coco Gloss at all Chanel counters now. I ordered the ones I purchased online at Chanel and Nordstrom. They retail for $30 each.
8 colors provided as press samples, 8 colors purchased by me.