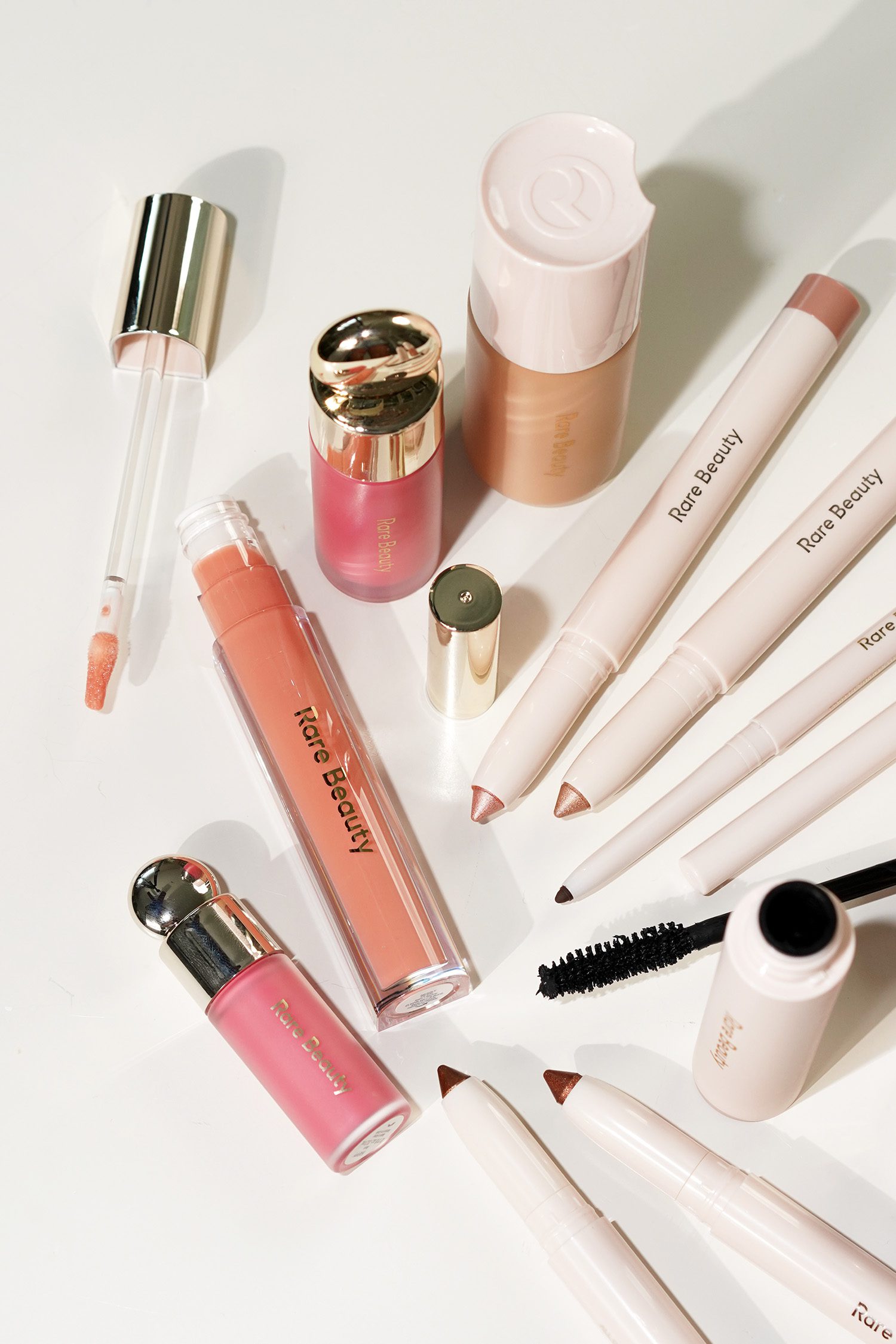 I hauled a few of the new Rare Beauty launches recently and have a review + lots of swatches today. I picked up the All of the Above Weightless Eyeshadow Sticks, Perfect Strokes Longwear Gel Eyeliner and the Fresh & Dewy Lip Cheek Duo.
I did a full look wearing:
View this post on Instagram
Fresh & Dewy Lip Cheek Duo
The Fresh & Dewy Lip Cheek Duo ($28) is a super cute set with a full size Stay Vunerable Glossy Lip Balm in Nearly Petal and mini Soft Pinch Blush in Happy. The Nearly Petal shade is a light peachy pink that's very sheer and barely has any color payoff by itself. I like it layered on top of a liner or lipstick, but by itself I think it's pretty much the same as a clear lip balm (at least on me).
The Soft Pinch Blush in Happy is a super mini. It's very tiny but since the blushes are ultra pigmented I don't mind the small size. It's cute, I love the color, and the pink is really flattering for a healthy pink flush.
Perfect Strokes Longwear Gel Eyeliner
The reviews for the Perfect Strokes Longwear Gel Eyeliner ($19) are overwhelmingly positive but I was pretty disappointed in this formula. It glides on beautifully on the hand, but on the eyes it drags and the pigment is not smooth or intense for the Cocoa shade. I felt like it disappeared on my skin within minutes. For a pencil liner in a twist up format I prefer the Tarte Quick Sticks or Sisley Phyto-Kohl Eyeliners by far.
I liked the Perfect Strokes Universal Volumizing Mascara ($20) from a previous haul so I restocked on another tube. This time however I'm just not really a fan of the formula. I think since I first bought it there have been so many other great launches, this one is just ok. Adds nice definition on me, but doesn't really volumize and absolutely does not hold the curl.
All of the Above Weightless Eyeshadow Sticks
Last but not least we have a look at the All of the Above Weightless Eyeshadow Sticks ($22). This is another product I have mixed thoughts about. I think they're much better than the Hourglass Voyeur Eyeshadow Sticks (reviewed here) but I don't think they are the best out there. Perhaps the formula is just not for my skin type/preference though. The Rare Beauty Eyeshadow sticks are long-wearing but they set really fast so you need to blend quickly. On bare lids they emphasize fine lines I did not know where there giving me almost a wrinkly dried out look. If I load up on eye cream and apply the shadows as a topper on top of a powder shadow I get a better result.
I did a demo with 3 shades on Instagram reels. I think the colors are beautiful. Formula is kinda high maintenance for me, although I don't mind layering. I just see myself reaching for something creamier that doesn't set as fast like the Laura Mercier Caviar Eye Sticks (wish they would launch new colors) or the Bobbi Brown Long-Wear Cream Shadow Sticks.
Overall I had fun trying some new launches. I don't think I would call any of them must-haves although I do really like the eyeshadow sticks in Contentment and Growth. From the Rare Beauty line I still think the best thing I've tried is the Positive Light Tinted Moisturizer.
Have you tried any of these Rare Beauty launches? What did you think?
SHOP THE POST
I bought mine from Sephora.