With summer in full swing I wanted to round up my favorite summer perfumes for the season! I love this time of year for scents – especially anything with citrus or coconut! Here are my top picks for the best summer perfumes. As always I'd love to hear what you are wearing this summer!
Tom Ford Eau de Soleil Blanc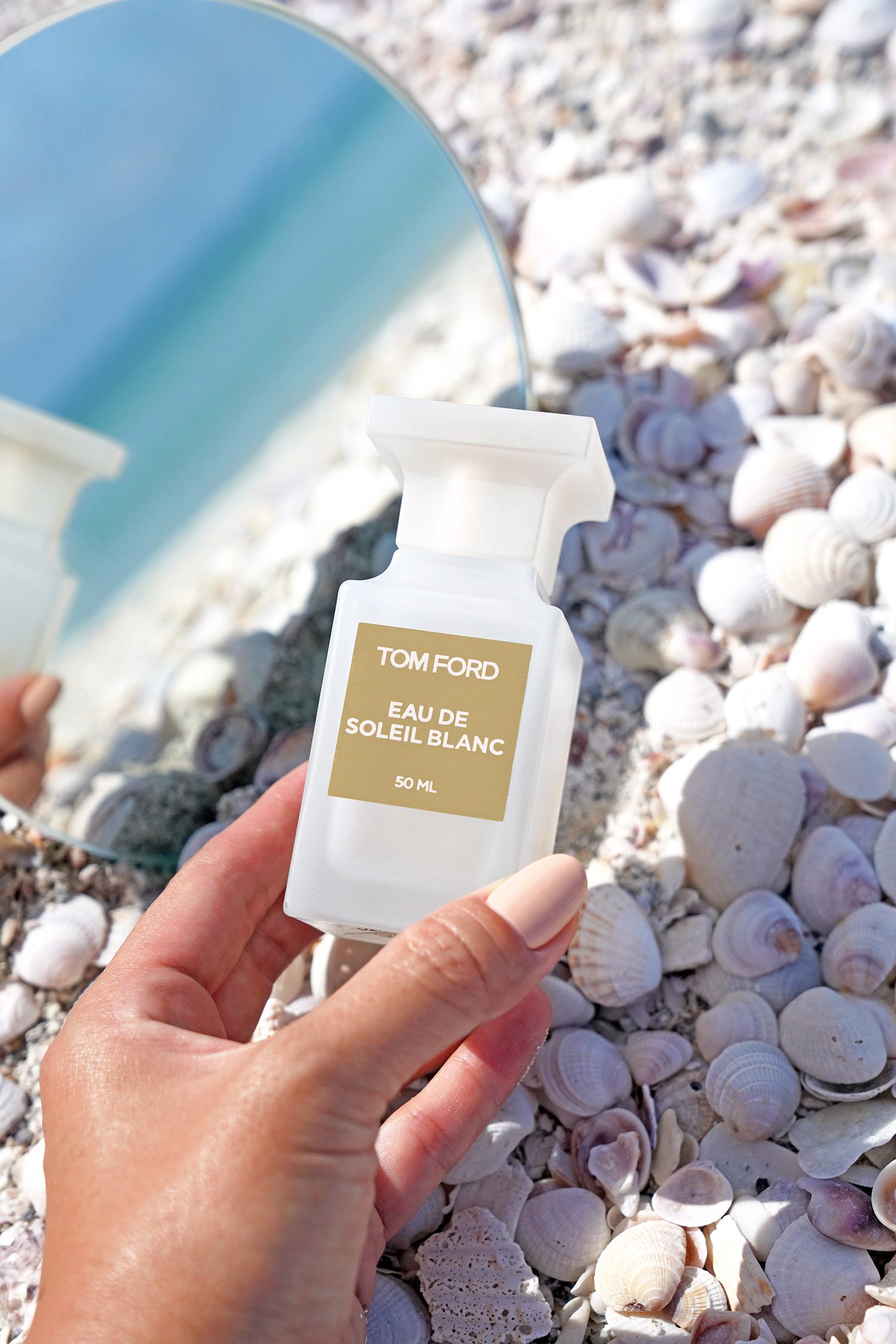 Tom Ford Eau de Soleil Blanc ($49 – $184, multiple size options available at Sephora) this is in my top 3 most-worn perfumes. It's a timeless fresh kind of radiant perfume with coconut notes.
Notes include: Coco De Mer, Ylang Ylang from Comores Island, bergamot, jasmine, tuberose, amber and Moroccan orange flower
Chanel Les Eaux de Chanel
Chanel Les Eaux de Chanel Paris-Biarritz ($80 – $130, exclusive to Chanel.com and Nordstrom) is the second in my top 3 favorites. It's the perfect mix of citrus and floral. Notes include Sicilian Mandarin and Lily of the Accord with sea spray, also available in a Shower Gel and Body Lotion
Also shown above, Nails: OPI Bubble Bath, Rouge Coco Gloss 744 Subtil (swatched here, here and here), Eric Javits Hamptons Hat and Squishee Isla Bag
Chanel Les Eaux de Chanel Paris-Riviera ($80 – $130, also at Chanel and Nordstrom) is another amazing citrus, it has Sicilian Orange and neroli with a crisp and bright feel, Andrew loves this one when I wear it 🙂
Also shown above, Gloss Rouge Coco Gloss 744 Subtil, Sandals: Tory Burch Basket Weave Espadrille Tie Sandal (review here), Sisley Phyto-Touch Bronzer, Eric Javits Hamptons Hat in Cream
Creed Virgin Island Water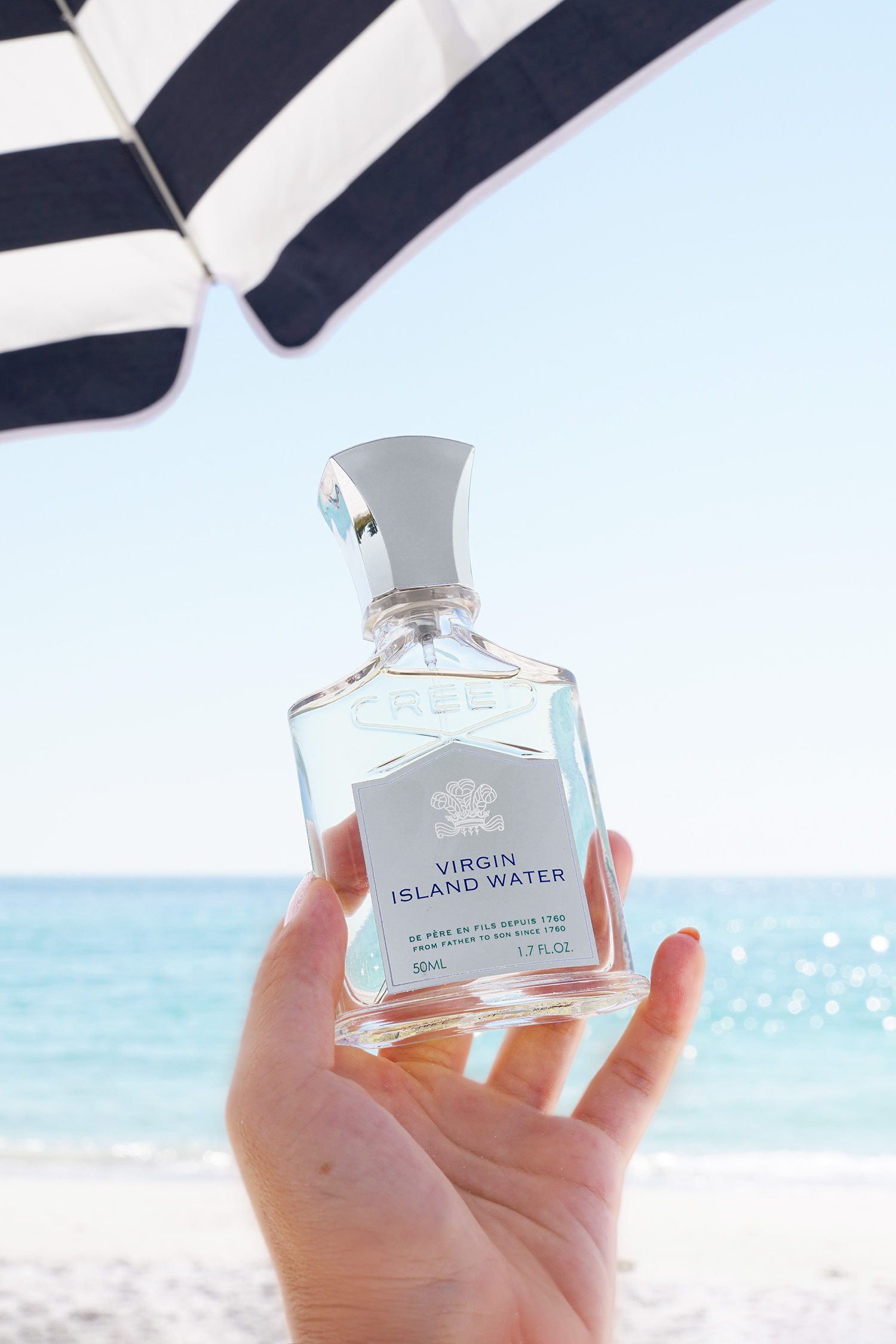 Creed Virgin Island Water ($310 and up at Creed) is the ultimate summer fragrance! It was my first splurge from Creed and I've worn this one for years. I love the mix of bergamot, ylang-ylang and musk. It smells like a tropical vacation.
Top Notes: Jamaican lime, Sicilian white bergamot, Sicilian mandarin
Middle Notes: Indian jasmine, Hibiscus, Ylang-ylang
Base Notes: Tropical Wood, Tonkin Musk
Since Creed is quite the splurge and you might not have a counter near you, I do recommend checking out their Sampler Sets. They rotate them seasonally on their website and you can also create your own. They usually come with a voucher you can use towards a full size bottle as well. Another favorite from Creed is Love in White for Summer if you like crisp white florals, but I still think Virgin Island Water is the best.
Atelier Cologne Lemon Island
Atelier Cologne Lemon Island ($30 – $235, available at Atelier Cologne, Nordstrom, Sephora) as a citrus lover for perfumes I really love the latest from Atelier Cologne in their Lemon Island Cologne Absolue. It has lemon, jasmin and vanilla notes and smells like a citrus dream. I think it's perfect for summer!
Also shown above: Chanel Le Vernis in Golden Sand (review here), Loewe Square Tote, Vitamin A Swim Wrap
Jo Malone Minis
Jo Malone Blossoms Cologne Discovery Set ($115, available at Nordstrom, Bloomingdale's, Sephora) is one of the newest sets with Red Hibiscus Cologne, Yellow Hibiscus Cologne, Frangipani Cologne, Nectarine Blossom and Honey, Orange Blossom. I love these minis for carrying in my purse and I think it's the best way to try their line. There were 3 I had on my radar I wanted to try and I'm still in the process of testing but I can't rave enough about these sets. I already love Orange Blossom!
Diptyque Ilio Eau de Toilette
Diptyque Ilio Eau de Toilette ($145 for 100 ml) is new for summer from Diptyque. It's a unique floral with notes of pear and bergamot mixed and a hint of jasmin. It has a soft fruity feel but the floral notes give it a more green feel so it's not too sweet. Unfortunately this is limited-edition and seems to have sold out so many places online. You might have luck in stores. Right now at the time of this post it is still available at Net-A-Porter and Bloomingdale's – I highly recommend trying it if you can!
Notes: Prickly pear, bergamot, jasmin
Maison Francis Kurkdjian
Maison Francis Kurkdjian Aqua Universalis Eau de Toilette ($215 – $395 at Nordstrom) is one of the most beautiful clean fresh fragrances I've tried. I used to own the Eau de Toilette and used it up and loved it! I also adore this in the Scented Body Oil ($75) and Hair Mist ($65) versions to layer it. I was just about to repurchase a bottle of the perfume when they launched new variations for summer. I have the new Aqua Universalis Cologne Forte Eau de Parfum on my radar.
Notes for the classic version: Calabrian bergamot, Sicilian lemon, white bouquet, light and musky woods
Since this brand is also very pricey I bought their Discovery Fragrance Wardrobe over the holiday but found I still gravitate towards my two favorites, this one and Baccarat Rouge 540.
Molton Brown
Molton Brown Flora Luminare smells like sunshine to me! I have this in the Glowing Body Oil, Hand Cream and Shower Gel. It's an instant pick me up anytime I apply the hand cream. Notes for the Eau de Toilette version and Body Oil below. The Body Oil is a really nice one, I love Molton Brown body products and find that so many of my friends and family love it too.
Top Notes: orange blossom, mandarin and ylang-ylang
Heart Notes: Polynesian frangipani, jasmine absolute and rose absolute
Base Notes: vanilla, cedarwood and musk
Love this Hand Gift Set with the hand wash, hand lotion and hand cream! I'm still missing the Coco de Mer line they discontinued so many years ago – it was one of the best!
My top 3: Tom Ford Eau de Soleil Blanc, Chanel Paris-Biarritz, Creed Virgin Island Water
That wraps up my favorite summer scents right now! Would love to hear what you wear during the summer months – always eager to discover new options!
Shop the Post:

What are you wearing right now?