It's been a while since I've done an Ask Me Anything roundup! The months flew by since the summer. It feels like time is passing by so fast and I feel like we will blink and it will be the new year. Here's what you've been asking lately!
1. How are the moving plans coming along? Moving still? Are you staying in Florida? Are we staying here indefinitely? Where would you move if not California or Florida?
This is the number one question I've received from everyone. The move to Miami is still on! Life just got very hectic with life things. It has been a challenging year for us but Andrew and I are powering through it. We had hoped we would be in Miami by now, but things don't always go as planned and we are rolling with it. The plan is to move in the early new year.
2. Are you getting another puppy for Ollie?
The second most asked question is about another dog. So many of you are doodle lovers and send me videos of doodle puppies, your pets (doodles, ragdolls, and more) and I LOVE IT!!!
We really want another dog for Ollie to have a buddy. He does play with the kitty and they like to chase each other around the house but kitty is 11 so his energy level isn't the same.
Our two Jack Russells were with us for 14 and 17 years. We got them in our early 20s and while I loved them SOOO soooo much, I'm not going to lie, it was a lot of work and it limited what we could do (ie travel, where we could live, etc). They were so nuts I had to walk them separately.
Right now it's manageable with one dog because Ollie had good training and is very well behaved. We are not sure we can handle two. We will see though!
3. Best decluttering advice for large makeup collections? Do you ever get overwhelmed?
I don't have the best answer since beauty is my job. I go through a lot more product than the average beauty lover. Yes of course it's overwhelming but I've been a lot more selective these days about what I review, purchase or accept. I used to post a new review 5x per week. These days it's more like 2x per week, sometimes 3x.
The best decluttering advice I can think of is to use up what you have before you buy anything new. Unfortunately sometimes it's impossible to use everything up before the expiration date. If you have things that haven't been contaminated like a dry shampoo bottle, perfume – I recommend gifting to friends or family. Donating is always an option but a lot of times what they'll accept is limited to new products only.
I know a lot of people use the 2 out 1 in kind of rule. So before they buy anything new, use up 2 things completely before you buy.
4. Favorite designer/luxury brand for purses? Next splurge on my wishlist?
I would say my top 3 favorite lines are Loewe, Celine and Chanel. I've been eyeing the Loewe Compact Hammock, Small Puzzle Edge and a few things from Bottega, but I'm at a point where I need to declutter my current collection. There are maybe seven or so bags/wallets I haven't used in months that I want to sell. I'm debating whether to use a consignment company or do another blog sale.
5. How long did it take for me to become a full-time influencer? What has been your career journey? What's next? Do you ever miss your corporate job?
Lots of questions about my blogging/influencer journey! I've done quite a few posts in the past on what I did before I started blogging full-time. Quick version is my background is in finance. I've worked in lots of different industries. The last industry I worked in was commercial aerospace.
I started my blog as a hobby while I was in grad school at the age of 27 and wrote something almost everyday for about 5 years before I even knew I could make it a career. I didn't know anything about blogging as a career and I was rarely ever sent any press samples. Around 4-5 years into it, another blogger told me about affiliate marketing, helped me get approved into a network and by that time I had a loyal enough following and enough traffic to my site that my blog started converting day 1.
My blog grew quickly and so did the earnings. Blogging was taking so much time and soon it exceeded my corporate salary at which point I took a huge risk and decided to leave the corporate world and blog full time. I was so nervous about it. I had confided in maybe 10 close friends and family about this new venture and 8 out of 10 told me not to do it. Nearly everyone told me I was crazy so I decided to just do it any not tell anyone for a while (except for those 10). I didn't even tell my company or work colleagues where I was going or what I was doing (only 2 from work knew and they kept my secret). I don't think I told my dad about leaving my corporate job until maybe 1 year later because I knew he would be SO worried and would be obsessively asking me for updates on a daily basis "how is your business doing" or "did you write a business plan?" or "are you sure you are ok?" and "can you ask for your old job back?" and "do you want to come work for me?".
All this could have been something that did not work out. But here we are nearly 10 years later and I have zero regrets. I don't miss the corporate life at all – there was lots of high stress, corporate politics, endless meetings, always worrying about what would happen if you were laid off or if management changed. There is still work stress in life, but the type of stress is different. I think all the years of working for different companies and people were very valuable to me.
What's next? I have no idea! I've never been the kind of person who had an answer to the question "where do you see yourself in 5-10 years?" For those who keep asking why I'm not on YouTube, I would love to be. I just need to do it. But shooting and editing video content is not easy. If I were to do YouTube I feel like I would have to drop this blog or social media or hire someone to help manage/edit.
6. Can you do a follow-up on meal prep/meal plans?
Ahh yes. I had planned to do an entire review on this. Andrew and I have tried so many meal prep plans. We've tried pre-made meals, meal plans that you prepare on your own (ie everything is measured), our own meal prep recipes. We have yet to find a plan we love and do not get tired of.
The plans where you make on your own like Blue Apron or Hello Fresh ended up taking too much time. They may have gotten better over the years but when we tried it (this was when were in San Diego, so maybe 10 years ago) the recipes weren't easy and they did not save us a lot of time.
Finding a good plan to fit your diet needs can be hard. There are tons of "healthy" options that don't taste great. As a picky eater I need it to taste good for me to stick with it. We've tried some premade ready to eat meals and there are some really good. The problem is the quality hasn't always been consistent (sometimes they go bad before the expiration date) and although they have different types of foods and meals, eating them day after day gets really boring. Some we have tried and like:
Factor
Cook Unity
Epicured
Fit Life Foods (this might just be local to Tampa)
We did not like Sakara Life although I know it's super popular. Right now we are back to cooking meals ourselves or going out to eat. I'll make eggs for breakfast and we'll add a piece of avocado, toast or sausage. I love cottage cheese + a little bit of jelly or granola for breakfast. I've been into making smoothies again. We've been on a Jersey Mikes kick for lunches. For dinners I usually do something simple like something from Trader Joes plus lots of fresh steamed vegetables.
The easiest meal prep I've done is making a huge batch of ground chicken meatballs + steamed vegetables for the week (you can also use ground turkey). There are tons of great recipes online, I like the Honey Sriracha Glazed Meatballs. I've tried a few recipes and love this one.
7. Personal questions: How old are you? Height? Plans for kids? What does your husband do? How long did you date before you two got married?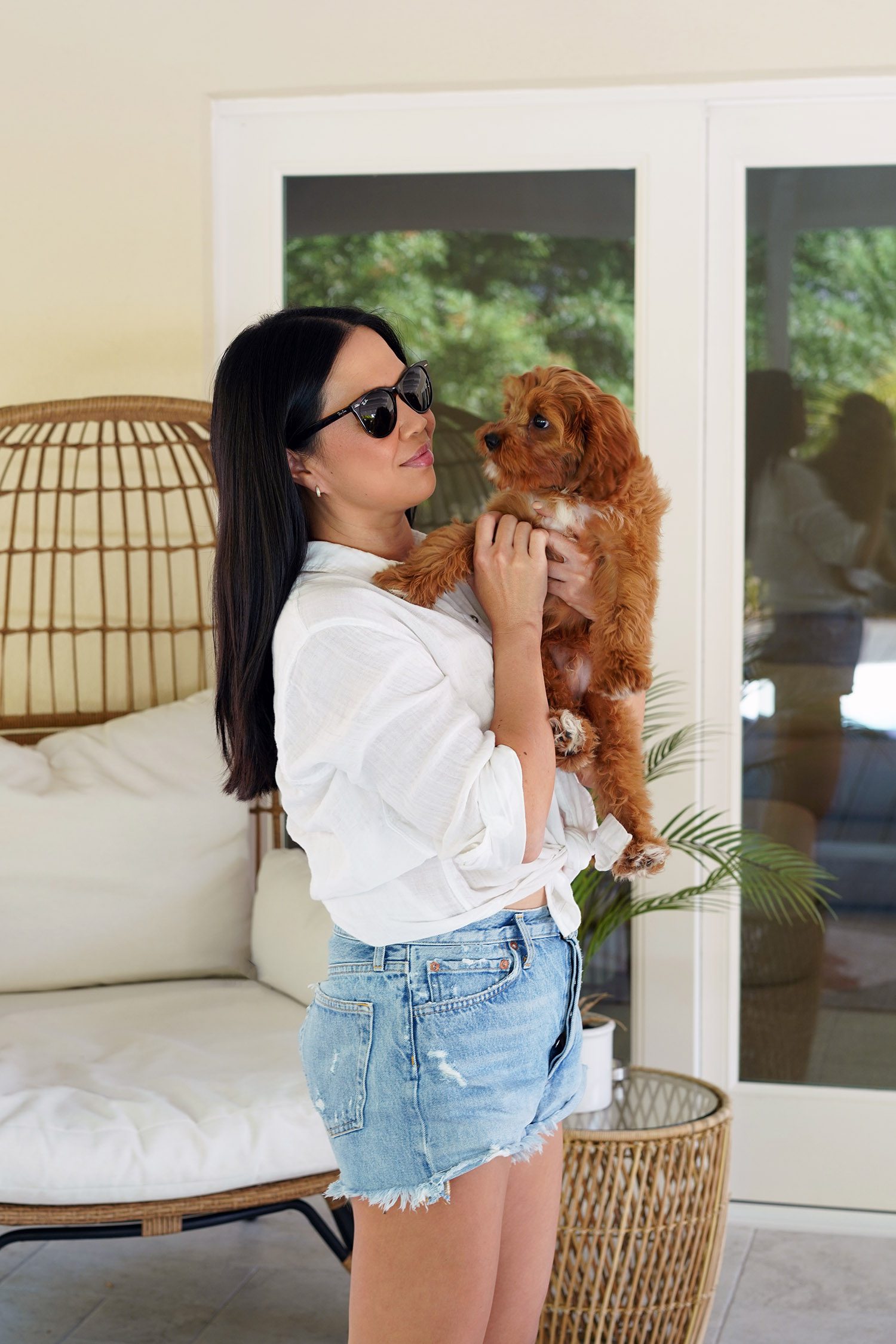 I'm 42 and 5'3" tall. No plans for kids (just more fur babies maybe). Andrew is an attorney. We dated for 7 years before we got married. I sometimes say 7 years minus 3 months (haha) because we broke up once very early on for a short time.
8. Any traveling plans this holiday?
We are not sure. Back in August we had plans to go back to California for a month and then travel all holiday. Work (and life) suddenly became very busy for both of us and we just haven't had time. We might do another trip over Christmas like we did last year.
9. What are your winter skincare must-haves for mature skin?
This is the first winter my skin has felt extra dry and sensitive (due to dryness). Florida is a lot more humid than other places, but we haven't gotten a lot of rain in our area and everything SO dry. I've had to use my rich creams, more hand cream, Vaseline etc. My skin is definitely maturing but I think skincare recommendations depend more on type vs age.
My top favorites right now though:
Prequel Barrier Therapy Skin Protectant for Face and Body has been great for skin flare ups. I had some terrible eczema flare-ups on my hands a couple weeks ago (to the point I couldn't sleep it was so painful). This helped tremendously.
Chanel L'Huile Vanille Body Massage Oil is my favorite body oil. It's so big it feels like it will last forever. Very expensive but 100% worth the splurge.
La Mer Moisturizing Soft Cream is my go-to for moisturizer. For something richer I've really been loving the Augustinus Bader The Rich Cream or Biossance Squalane+ Vitamin C Rose Firming Oil. I just started testing out the Caudalie Premier Cru The Rich Cream and it's SO LUXURIOUS (also available in this trio set). It's a bit rich for my skin type but very hydrating and has a lovely texture, I might try the Premier Cru The Cream version.
Vaseline Cocoa Butter for lips is one of the best things you can buy for lip hydration. The only thing I don't like is how it's packaged, but it's so thick I don't think it would work in a squeeze tube format. The Sugar Cookie flavor for holiday is super fun too.
I also really love the Bobbi Brown Extra Plump Lip Serum (on sale for 30% off at Ulta Beauty right now). The plumping is minimal and not super strong (no tingle) – it's more of a subtle plumping with a smoothing effect and really nice hydration. I'm on my 3rd tube and am going to stock up on a few while it's on sale.
Even if your skin is dry I still think you need to do some kind of exfoliation or acid treatment. I swear by the Sunday Riley Good Genes 1-2x per week.
10. Best beauty splurge you've ever made, you can only pick 1 thing.
This is a tough one! I think the best beauty item I own is the Dyson Airwrap (original version). This was a gift from Andrew. A couple years ago he asked me what one thing I wanted but wouldn't buy for myself and this was it. I didn't want to buy it because I had already splurged on the Supersonic a few years before. I use the Airwrap nearly every single day.
But to pick the best beauty splurge I bought with my own money … I really can't pick JUST one thing. I would have to say three-way tie between the Hourglass Face and Eye Travel Brush Set, La Mer Treatment Lotion Sheet Masks and a large outdoor 5-wick candle I bought from Diptyque.
That wraps up this week's Ask Sabrina series!