Rounding up my August favorites this month! I have a mix of makeup, skin care, fragrance, body care and accessories I've been loving.
Givenchy Beauty
I've slowly been trying more from Givenchy and have to say I'm obsessed. I think the Prisme Libre Concealer is one of the best concealers I've tried. I wear Shade C305 in the concealer and it's creamy, easy to blend, has great coverage, doesn't crease or cake. Love that it has the perfect consistency – not too creamy but not too matte.
The Prisme Libre Loose Setting Powder is also pure love. It sets foundation/concealer so nicely with a natural blurred effect. Based on the color descriptions I first tried 4 Mousseline Acidulee for medium skin tones which has green and lilac powders for color correcting. I've also tried 3 Voile Rose (a bit light, but I can make it work) and 5 Popeline Mimosa (a bit too dark). I still think Shade 4 is the best for me although I don't really need the green and purple tones to color correct. I really wish they would make a medium shade without the color correctors.
Most recently I tried the Prisme Libre Skin-Caring Glow Foundation. I finally found my match in the shade N280. Love this formula for the natural glow and medium coverage.
For a glow complexion enhancer the No 1 de Chanel Skin Enhancers from Chanel hands down was my favorite (Exclusive to Chanel and Ulta Beauty). Full review here. For a more affordable alternative (but without skincare) I still recommend the Elf Halo Glow Liquid Filter (I wear Shade 3 or 4) for an all over natural glow booster.
Lip Favorites
This month's lip favorites are primarily repeats. The YSL Candy Glaze Lip Gloss Sticks in 13 Flashing Rose and 15 Showcasing Nude have been in rotation almost daily. Review + swatches here.
I still reach for the Dior Addict Lip Maximizers in 14 Shimmer Macadamia (below left) and 038 Rose Nude frequently (below right). Review + swatches of more shades here.
The Chanel Longwear Lip Pencils finally came back in stock! The shades Rose Naturel + Nude Brun are the best ones in my opinion for neutrals.
In the matte lip/liquid lip world I tried some of the Lisa Eldridge Velveteen Liquid Lip Colour and was completely blown away! I am usually not a fan of liquid lips/matte lip formulas, but this one from Lisa Eldridge has the most comfortable liquid lip texture that I've ever tried. It has a nice dry down that doesn't shrink or dry out the lips. Colors are very flattering and lasting power is impressive. I have not done a blog post on these but you can see them in action HERE on reels.
Below wearing Fawn
In action below
View this post on Instagram
Eye Makeup Favorites
The Natasha Denona I Need a Nude Palette is hands down the best palette this month if not this year. I love the neutral-warm tones, pigment, color payoff and quality. Still in stock at Ulta Beauty, if you're a Sephora shopper you can sign up for alerts when it restocks there.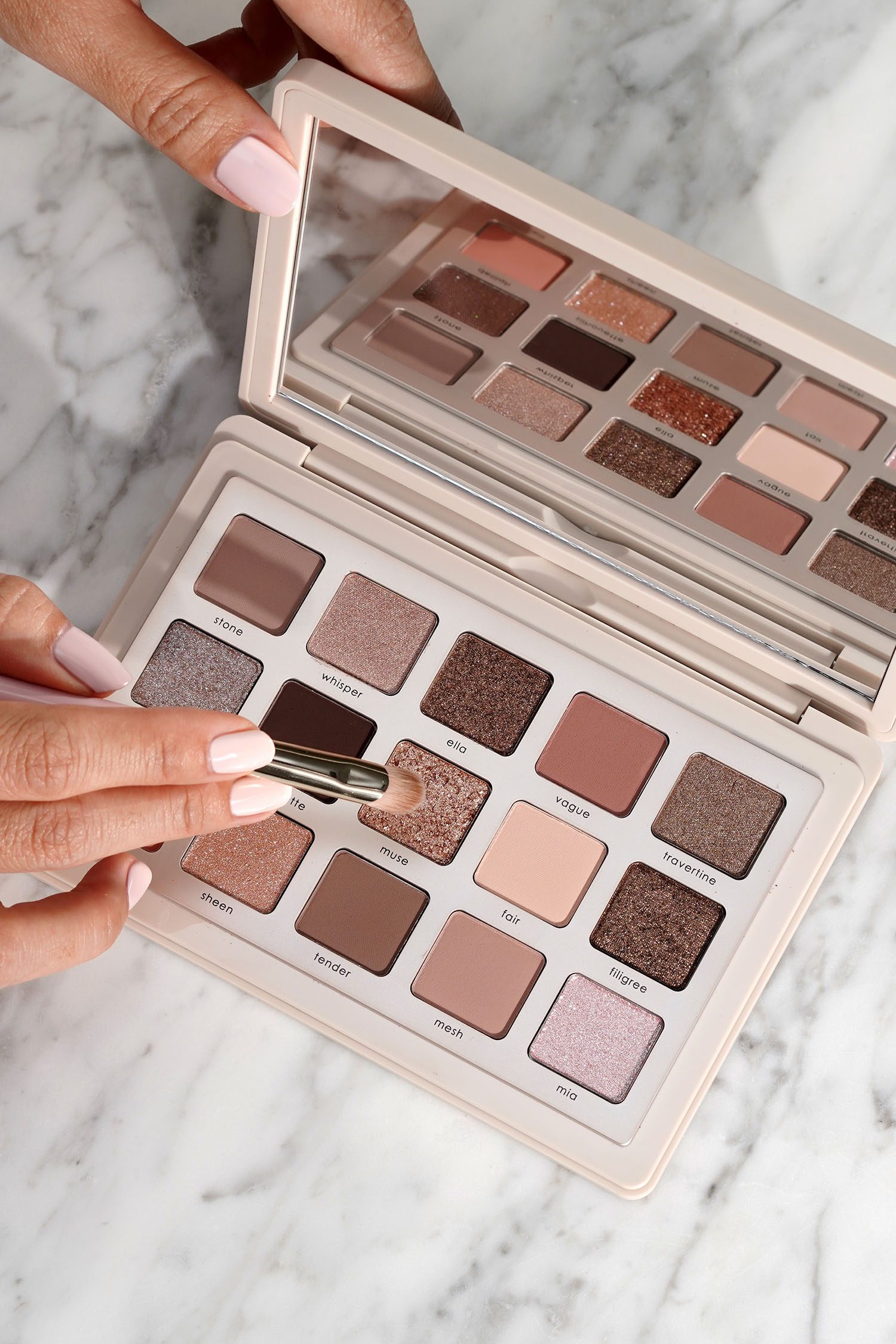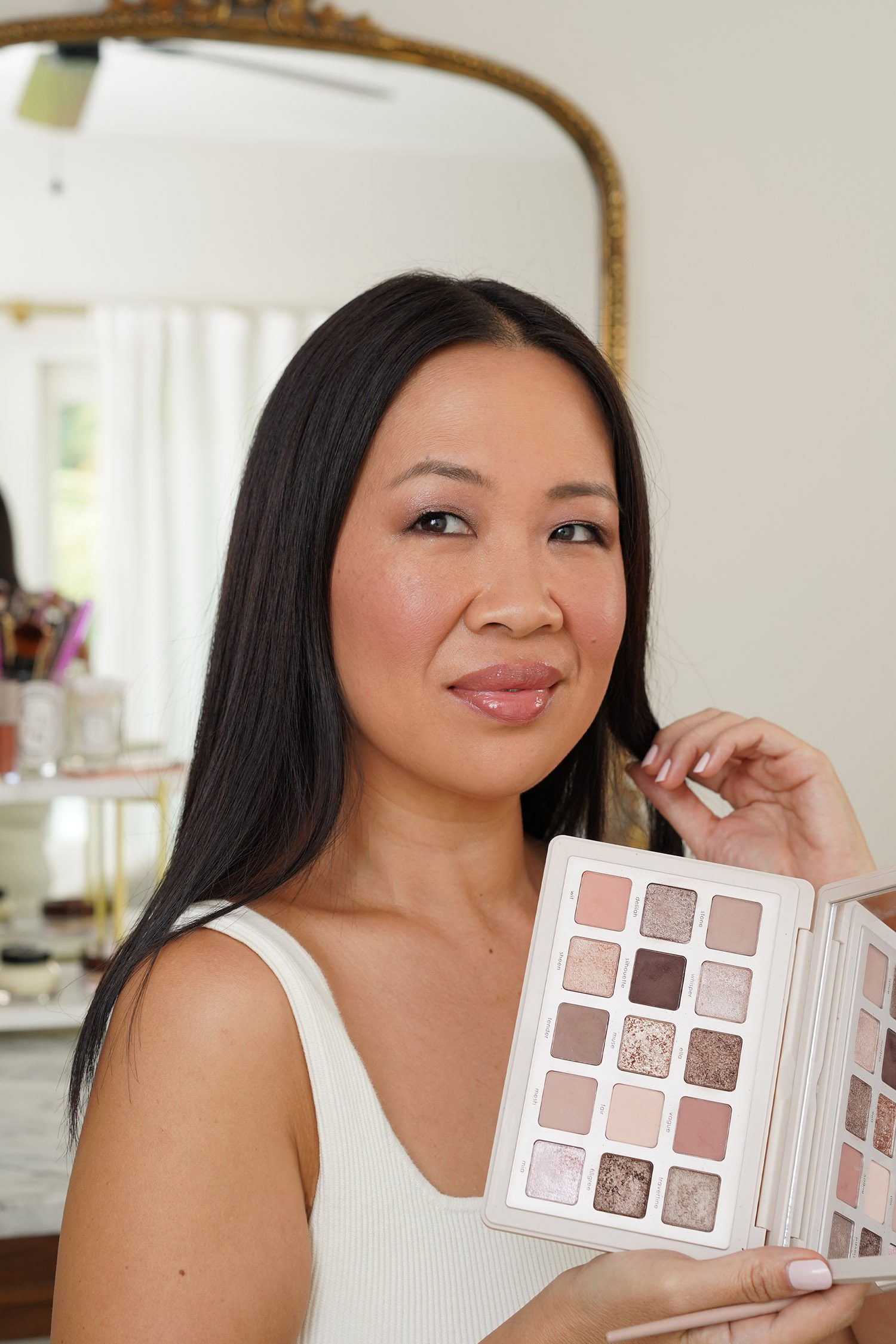 Hand Care
For hand care I've been a huge fan of the Diptyque Softening Hand Wash and the Velvet Hand Lotion. We have mutiples of these in our home, I just started using the Velvet Hand Lotion again and it's pure love.
In my bag I carry the Chanel Le Lift La Crème Main which I love for hydration and smoothing.
For the nails I still swear by the OPI Cuticle Oil for an affordable option. I've been really interested in trying the Dior Huile Abricot which looks like it might have been reformulated recently.
Skincare Loves
Not much has changed in my skincare routine lately. I still have my usual go-to's in rotation but I've been really loving the La Mer Soft Moisturizing Cream, The Concentrate, The Eye Concentrate and the Treatment Lotion Hydrating Sheet Masks.
Fragrance Favorites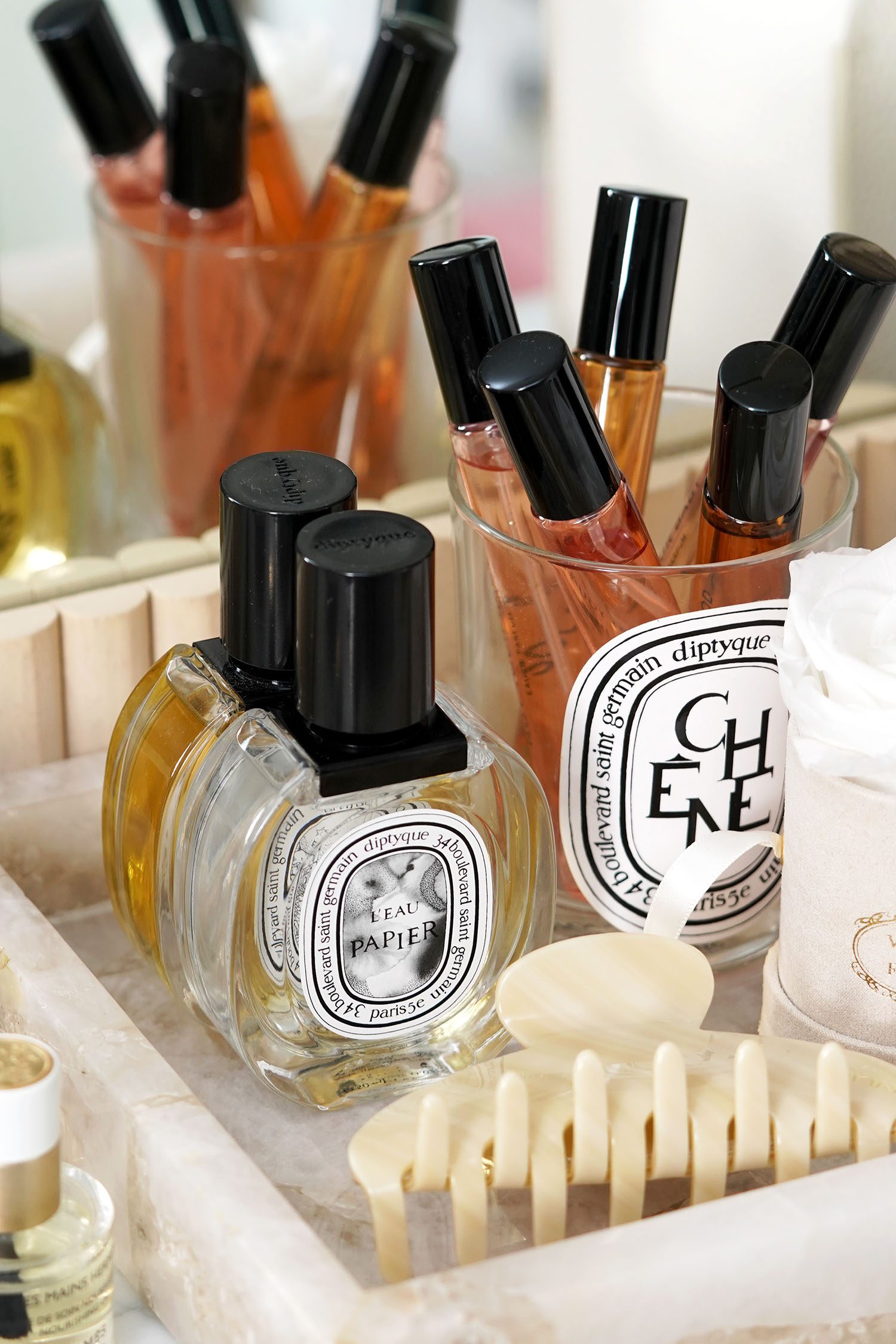 Even though fall is approaching it still feels very much like summer and my top 3 scents for August were Diptyque L'Eau Papier and Phlur Missing Person for skin-like scents and Phlur Father Figure for a lush fig. For date nights or something more sophisticated and dressy I love Creed's Aventus for Her.
Handbag Essentials
I rotate my handbags regularly based on outfits but I always keep a hair clip (love the ones from Emi Jay), blotting papers, travel perfume, and at least a couple lip balms inside. The Dior Blotting Papers have been a lifesaver in this weather. My favorite lip balms are the squeeze tube or click up style format. I also swear by the R&Co Dart Stick for flyaways.
Bag Details
Hair Care Loves
I've been a die-hard Oribe fan for the longest time. I keep going back to the the Gold Lust line for the Shampoo and Conditioner. I do like to switch it up though depending on my hair needs and just started using the Kerastase Nutritive Line and my hair looks so much better and feels amazing. I tend to forget in the hot summer months my hair tends to get dried out from the sun, heat and pool. They have different options depending on hair type (ie fine or thick) but I've been loving the Bain Satin Shampoo for Fine to Medium Hair + Hydrating Conditioner. They're hydrating but rinse well so they don't leave a heavy film on the hair.
The biggest game changers for me though are the Heat Protectant Styling Cream and Heat Protecting Leave-In Spray. Both are great leave-in products that help hydrate and reduce frizz without being too heavy.
If I had to pick one I really love the Heat Protectant Styling Cream (best for medium hair). If you have Fine to Medium Hair you might want to try the Leave-In Spray.
Mini Pouch
Last but not least is a new mini pouch. I ordered one of the the Stoney Clover Mini Pouches (available at Revolve, Saks, Stoney Clover). It's pretty spendy for a small pouch but I love the size and shape. There are lots of other options with a solid nylon material, patterened nylon, nylon + clear. On the Stoney Clover site you can customize your own with different patches which is cute. I do think with the material this will get dirty easily since it's fabric but I love the size and structure.
Stoney Clover is having a pretty good Labor Day Sale this weekend with 40% off a lot of items. My clear pouch is included in the sale.
Other pouches on sale for LABOR DAY
The mini one I have in action below
View this post on Instagram
That wraps up my August Favorites! Would love to hear about your favorites this month!