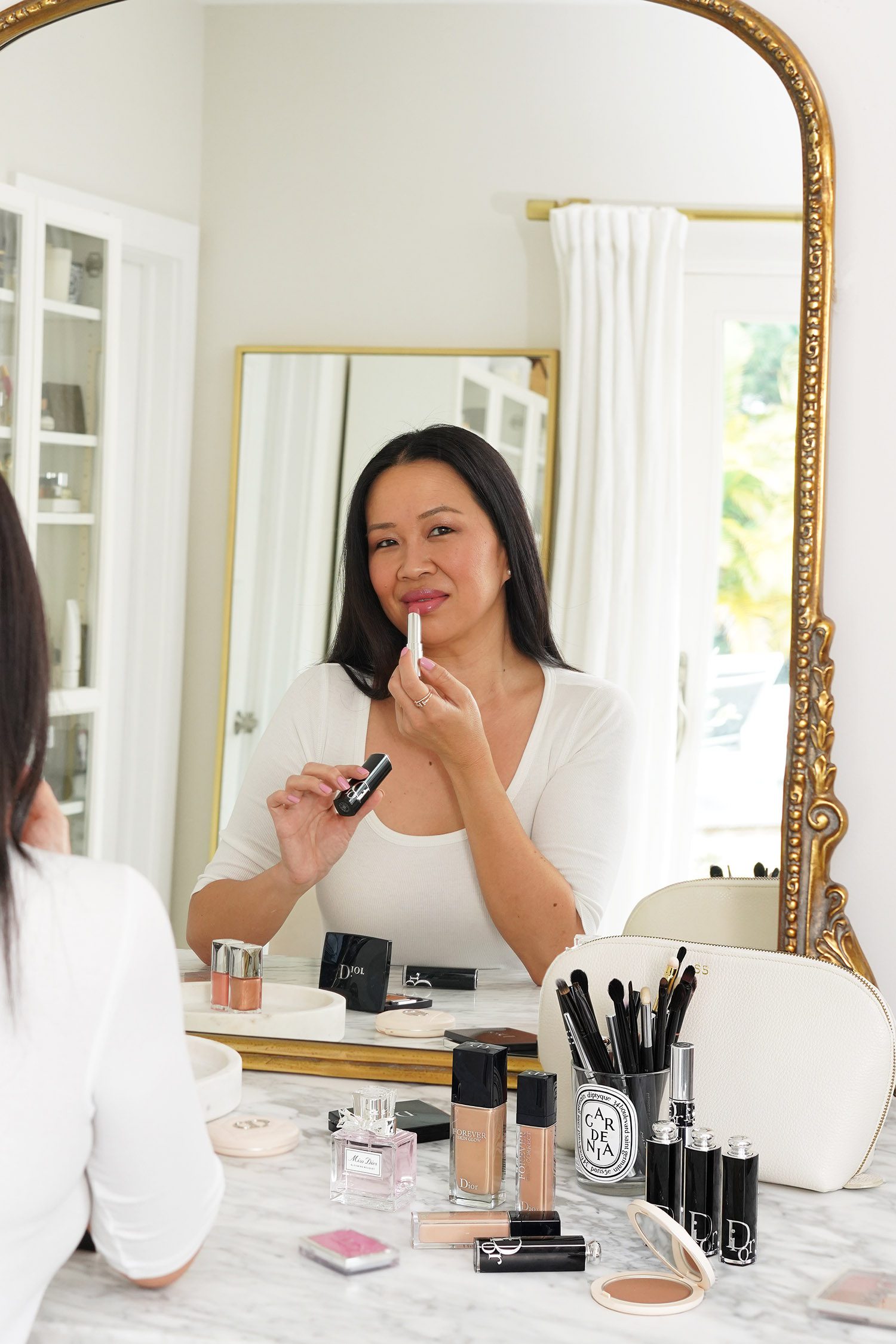 I put a few of the newly reformulated products from Dior Beauty to the test! They revamped their Addict Lipsticks and Forever Skin Glow + Matte Foundations and several of you have been asking for a review. I have a look + swatches at some of the new launches for you today.
Addict Lipstick (New)
The new Dior Addict Lipsticks are a shine formula that's refillable with added hydration and shine. They're available in a wide range of colors retailing at $39 and refills priced at $32.
The formula is described as offering 24 hours of hydration and 6 hours of wear. They do feel comfortable on the lips with a nice glossy finish and hydrating feel. They have natural medium coverage with medium lasting power. In terms of lasting power I don't think I could get 6 hours of wear with these. They do stay put as long as I don't touch my lips to anything but between drinking water, coffee, snacking I can't avoid contact and it does transfer. However it's a formula I don't mind re-applying. They have a sweet almost candy-like scent but it's not too strong or overpowering.
The Dior Addict Lipsticks are refillable and there are three different cases you can purchase separately to interchange your lipstick in a fun case. Cases retail for $28 each which I find a little steep but they're fun and I thought they were pretty so I splurged on the Pink and Denim one. They seem to be sold out everywhere right now but I hope they will restock soon.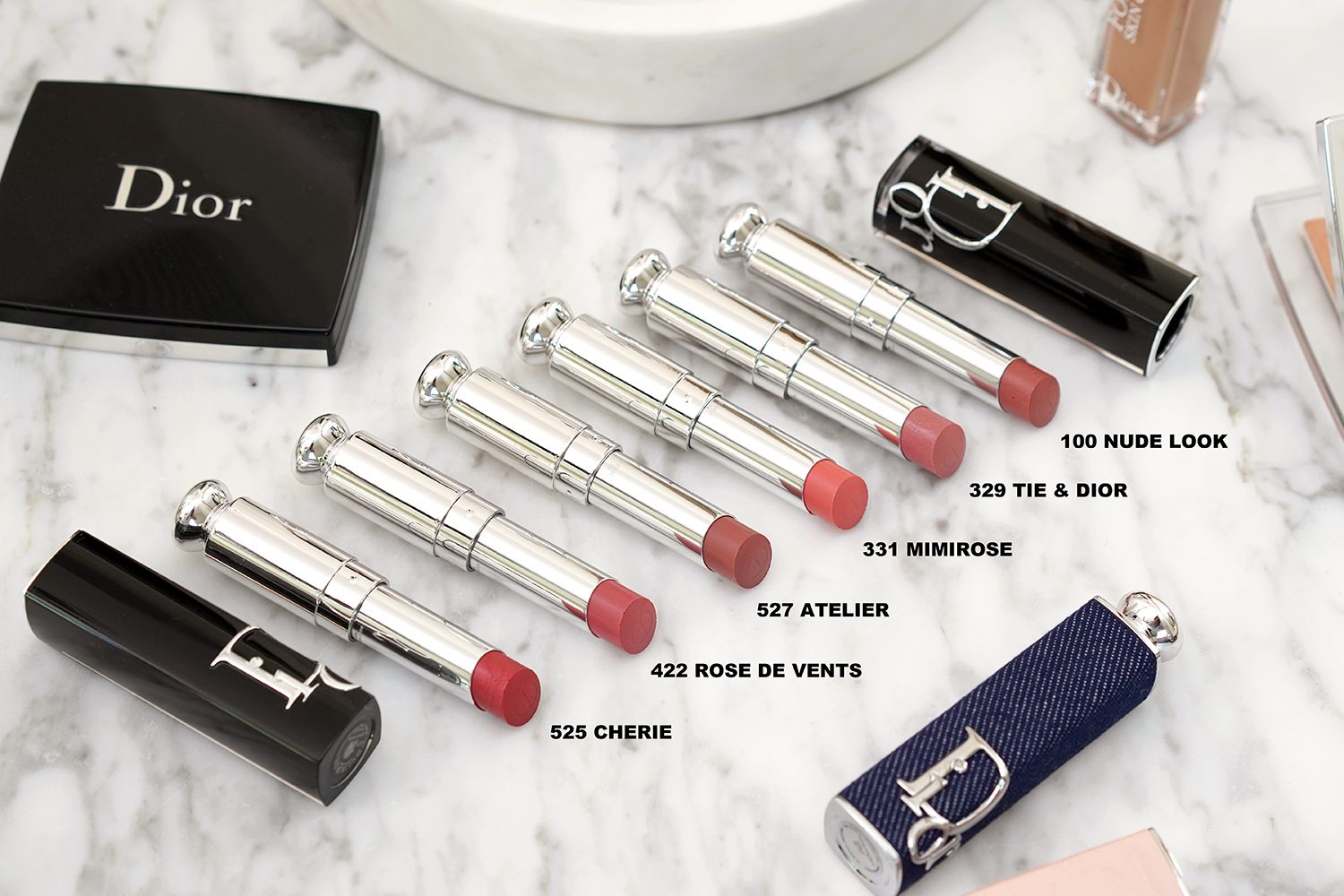 Lipstick shades I picked include:
100 Nude Look is my perfect everyday nude pink
329 Tie and Dior is a pale cool rose pink
331 Mimirose is a soft peachy nude
537 Atelier is my lips-but-better pink beige brown
422 Rose de Vents is a pretty rose pink
525 Cherie is a warmer deeper rose with some shimmer
On the lips below, also wearing: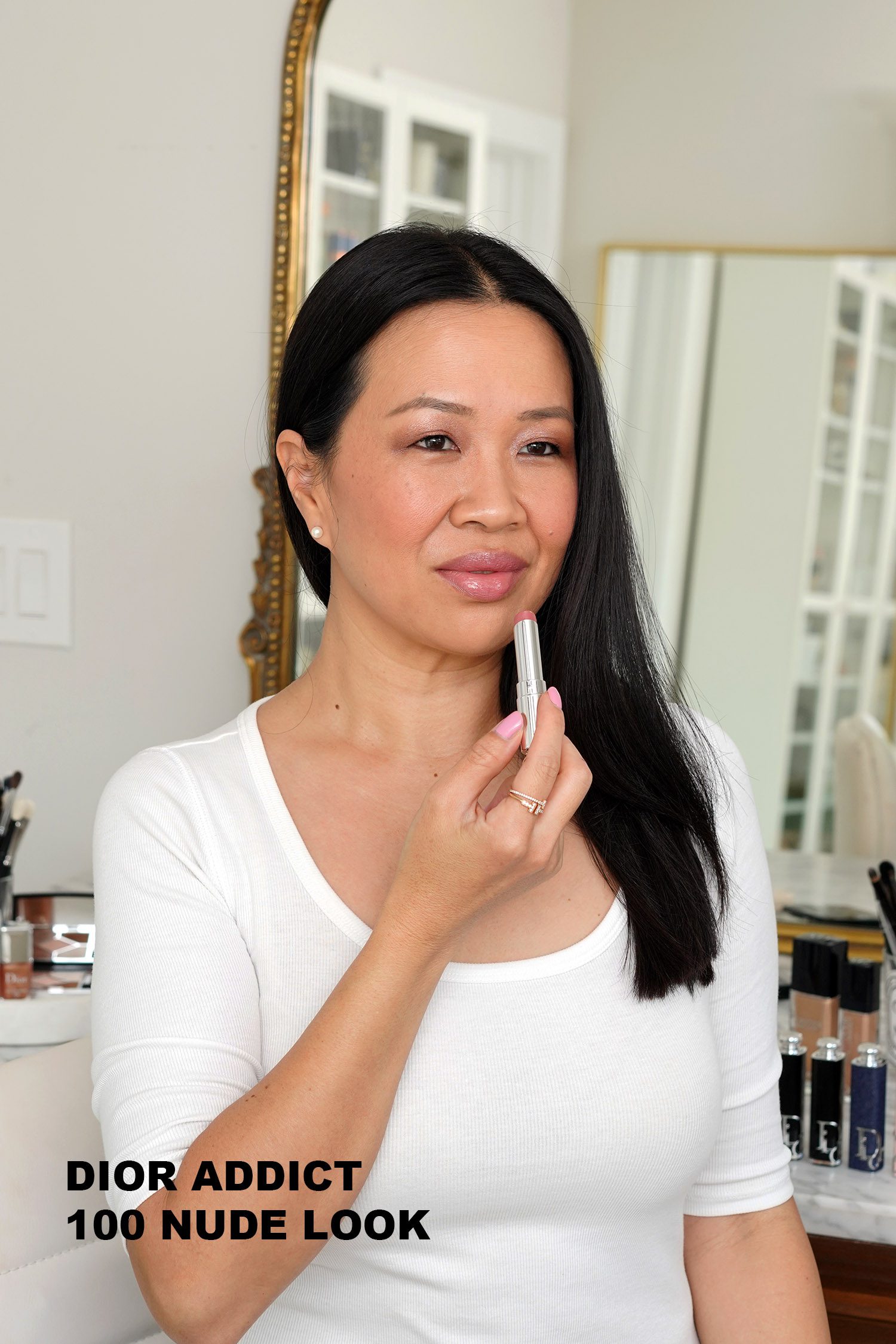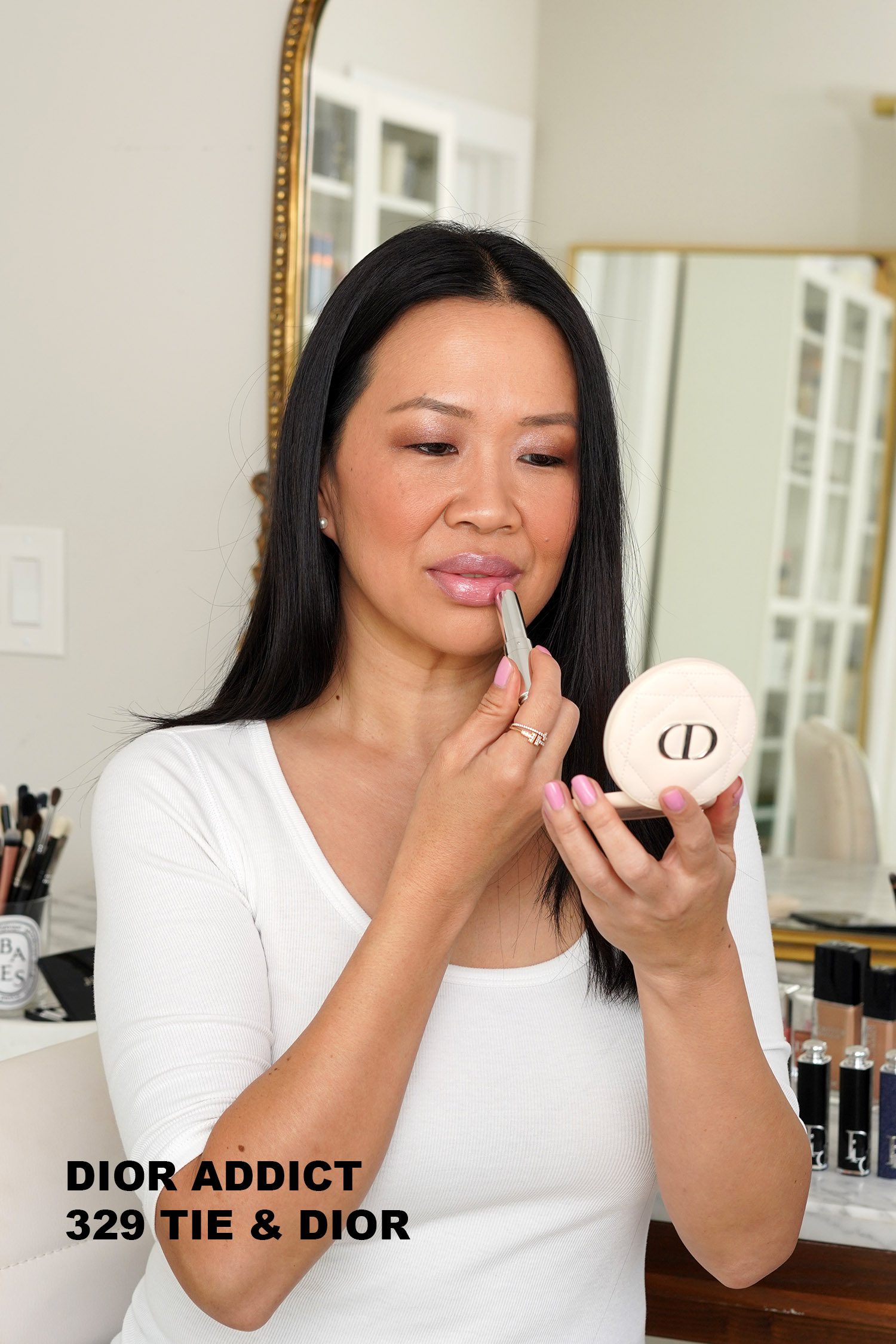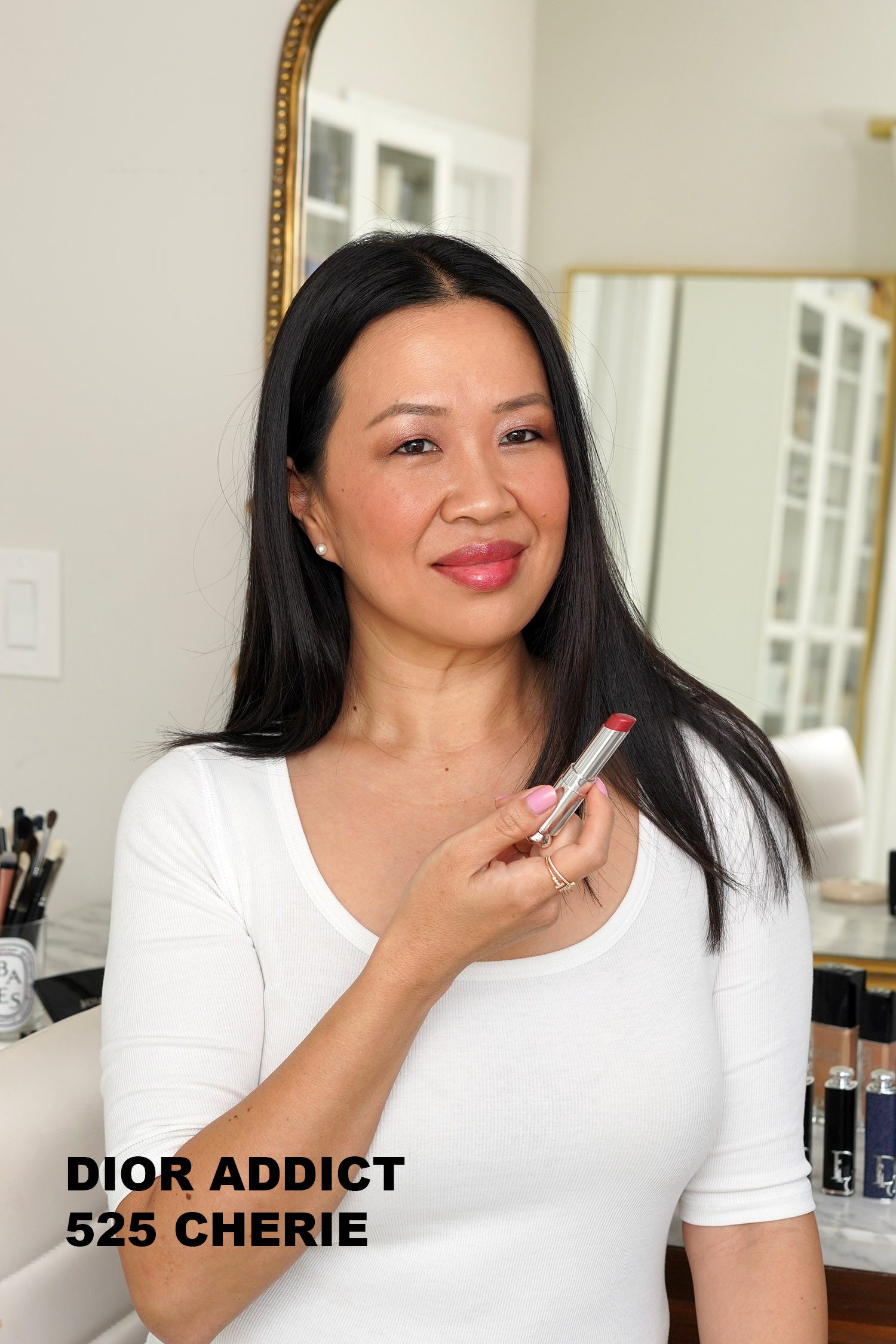 My favorites are Nude Look, Rose de Vents and Cherie. I ordered mine without testing them (they didn't have testers when I went to look). Now that I've had a chance to sample some I think I would have opted for some of the brighter fun shades like Rose Bobby, Rose Bagatelle or Dioriviera for more variation.
Overall really love these. If I could do it over would have picked a few different brighter colors!
Dior Forever Skin Glow Foundation
Dior reformulated their Forever Skin Glow Foundation and the Matte Foundation and the reviews out there have been mixed. I tried the Glow variation which has been revamped to contain 86% skincare with more hydration and improved lasting power. I really loved the original and I think the new one performs the same on me, but I would say your mileage may vary depending on your skin type and sensitivities to alcohol (it's high on the ingredient list). My skin is hit or miss with formulas that have alcohol and I was fortunate to find this worked for me.
The colors in my shade range are different in the original versus new version. I'm usually in the N neutral range for Dior foundations. In the original version I was a match to 2.5N because 3N oxidized and darkened once it set. The newer version seems to be more true neutral in undertone (see swatches below) and I had no oxidizing with the new formula. For the new version 3N is a good match. Feedback from a lot of you indicates many also experienced the same color-wise with the new formula (better undertone, no oxidation, good wear time).
The new Dior Forever Skin Glow has medium coverage with a glowy finish. Formula evens out skin tone enough that I don't need concealer. It makes the complexion glow and look radiant. For me it worked well on top of several different moisturizers like the Bobbi Brown Vitamin Enriched Face Base, Elemis Pro-Collagen Marine Cream and It Cosmetics Confidence in a Cream Hydrating Moisturizer. (I tried it over quite a few!) Overall I think it's a very good formula, but if you are sensitive to alcohol ingredients it probably will be irritating to your skin.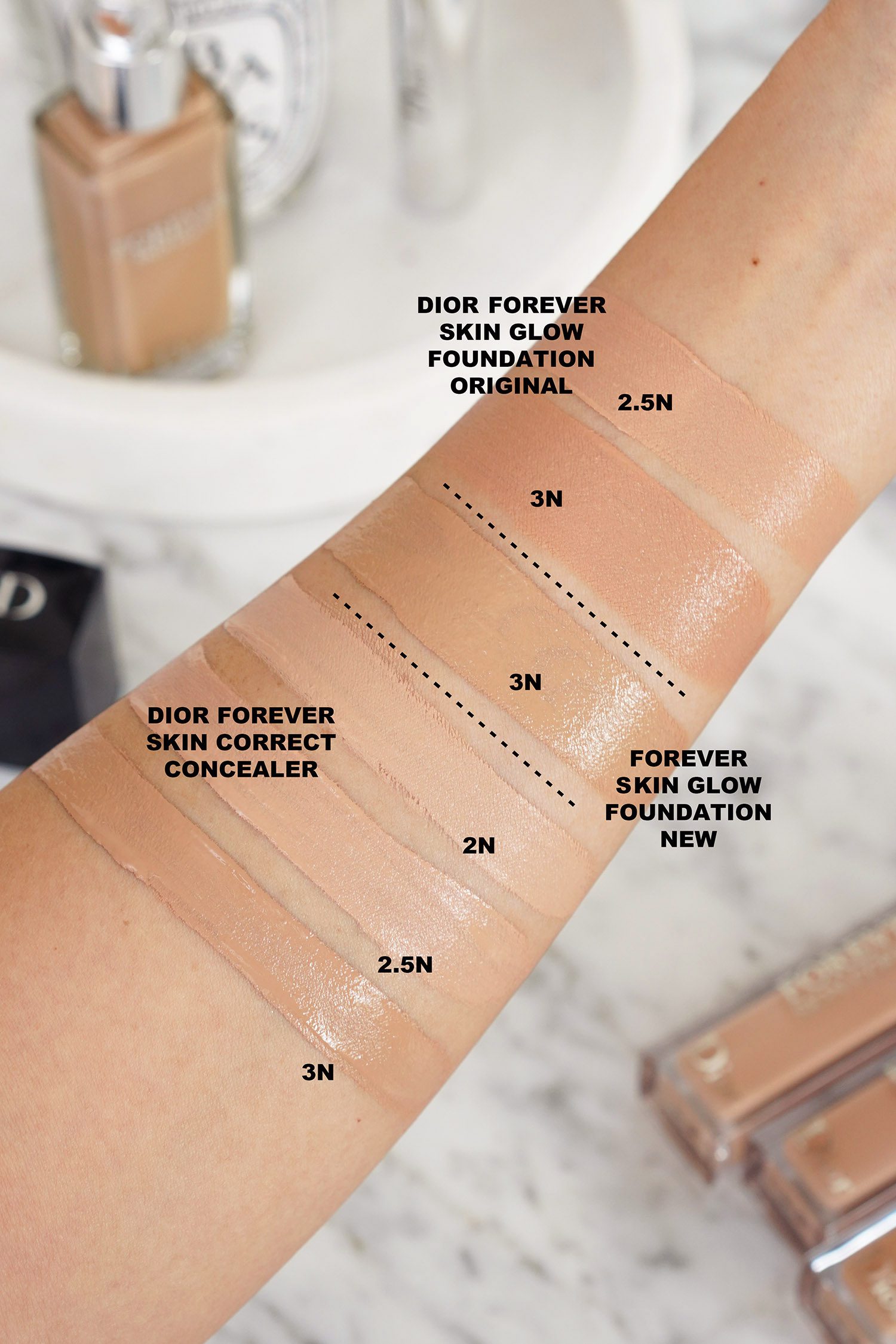 Dior Forever Bronzer and Backstage Blush
I recently partnered with Dior Beauty to share a makeup look in action with some of the new launches. You can see the video on Reels here. I know some of you still prefer blog posts with images as a reference guide so I thought I'd swatch everything and share some more thoughts here too.
View this post on Instagram
The Dior Forever Nautral Bronzer is one of the best matte bronzers I've tried. It's available in 8 shades (biggest shade selection is available online at Dior.com while other retailers seem to only carry a few shades) and I've tried Shade 03 Soft Bronze and 05 Warm Bronze and love both. It's a natural bronzer with a matte finish and doesn't look muddy. Shades range from ultra light to deep. For the Summer Dioriviera Collection they have Shade 04 and 05 with the limited-edition embossed texture which I think is beautiful!
The Backstage Blush is often sold out but pops back in stock every now and then. If you find it I do recommend it! The Pink shade gives the skin a very soft pink glow. The flush depends on how much you layer onto the skin. If you don't want to wait to track this down I find that NARS Blush in Thrill gives me a similar effect.
Eye Makeup
The Dior 5 Couleurs Eyeshadow palettes are some of the most under-rated palettes! If you're not into the trendy warm or red tones, Dior offers quite a few neutrals and neutral-cool options. The one I wear the most is Nude Dress. They still have a lot of more bold and trendy variations too. Formula this round has improved significantly in terms of better color payoff than older versions.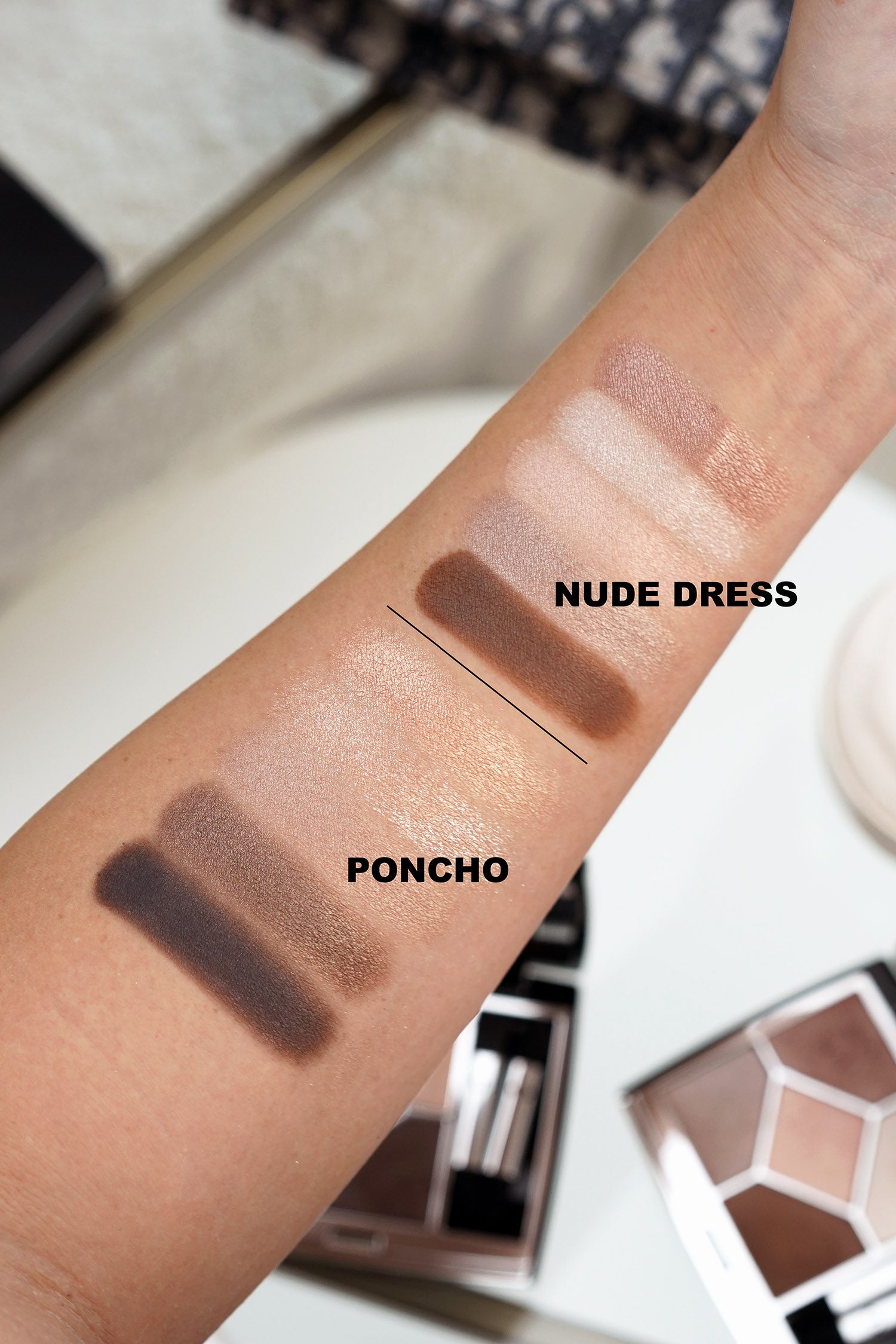 Last mention is yet another rave for the Diorshow Iconic Overcurl Mascara. It's been one of my favorites for nearly a year now. It's the best for volume and holding a curl on my super straight lashes. The brush can get some buildup after a while but I just wipe it clean with a piece of paper and it's like brand new again. I love it with their Diorshow Lash Primer which I've purchased and repurchased countless times.
If you've been curious about my thoughts on the new Lipsticks and Foundation I hope you found this review helpful!
Shop the Post
All items were purchased by me.