There are some new Pillow Talk launches from Charlotte Tilbury and I have a full haul + swatches for you! I have some hits and a couple partial misses in today's roundup. You can find all the items out now, I hauled my picks from Charlotte Tilbury and Nordstrom.
If you're shopping multiple items I highly recommend you check Charlotte Tilbury's website first to see if the colors you're looking for are still in stock. She has bundles available and most of them are customizable and have a price break.
Pillow Talk Multi-Glow Beautifying All Over Glow Highlighter
There are two new highlighters called the Pillow Talk Multi-Glow Beautifying All Over Glow Highlighter ($45 each). There are two variations in Romance Light and Dream Light. Both have four shades each for a glass-like glow. Each palette has a mix of finely milled shimmers and a couple sparkle shades. The sparkle is super fine so it's not chunky on the skin. Finish is smooth even though they're very metallic.
Romance Light is the lighter variation which I prefer for my skin tone. It surprised me how pretty the glow is! I don't know that I would call it a must-have since you can get a similar effect with other highlighters on the market.
Below wearing:
Dream Light is the deeper variation. It's a semi-miss for me, mainly because the color is a bit too deep for my skin tone as a highlighter. On my skin it pulls very copper, very warm and a bit too dramatic. It would probably work better on someone with very tan to deep skin tone. I do love it on the eyes though! I think the colors are stunning as an eyeshadow palette.
The product describes this as an "all over glow" highlighter. I found them too glowy to be used all over the face.
Quality wise these get a solid A+ for texture, packaging, lasting power and finish.
Pillow Talk Lip & Cheek Glow
The Pillow Talk Lip & Cheek Glow ($40) was relaunched in this collection. I bought both the last round but never used them so I gifted them away. I decided to give Colour of Dreams a try. The color is beautiful but I'm not a fan of the packaging style and it is too dewy for my cheeks. If you're a fan of the dewy cheek look (like the Chanel Baume Essentiel) then I think you will love this.
It's too dewy for my cheeks, a bit too sheer for the lips for my taste. It's not a bad product. Just not what I look for in a lip or cheek product. Colour of Dreams is a neutral rosebud shade.
Swatched next to the Pillow Talk lip lineup for reference below.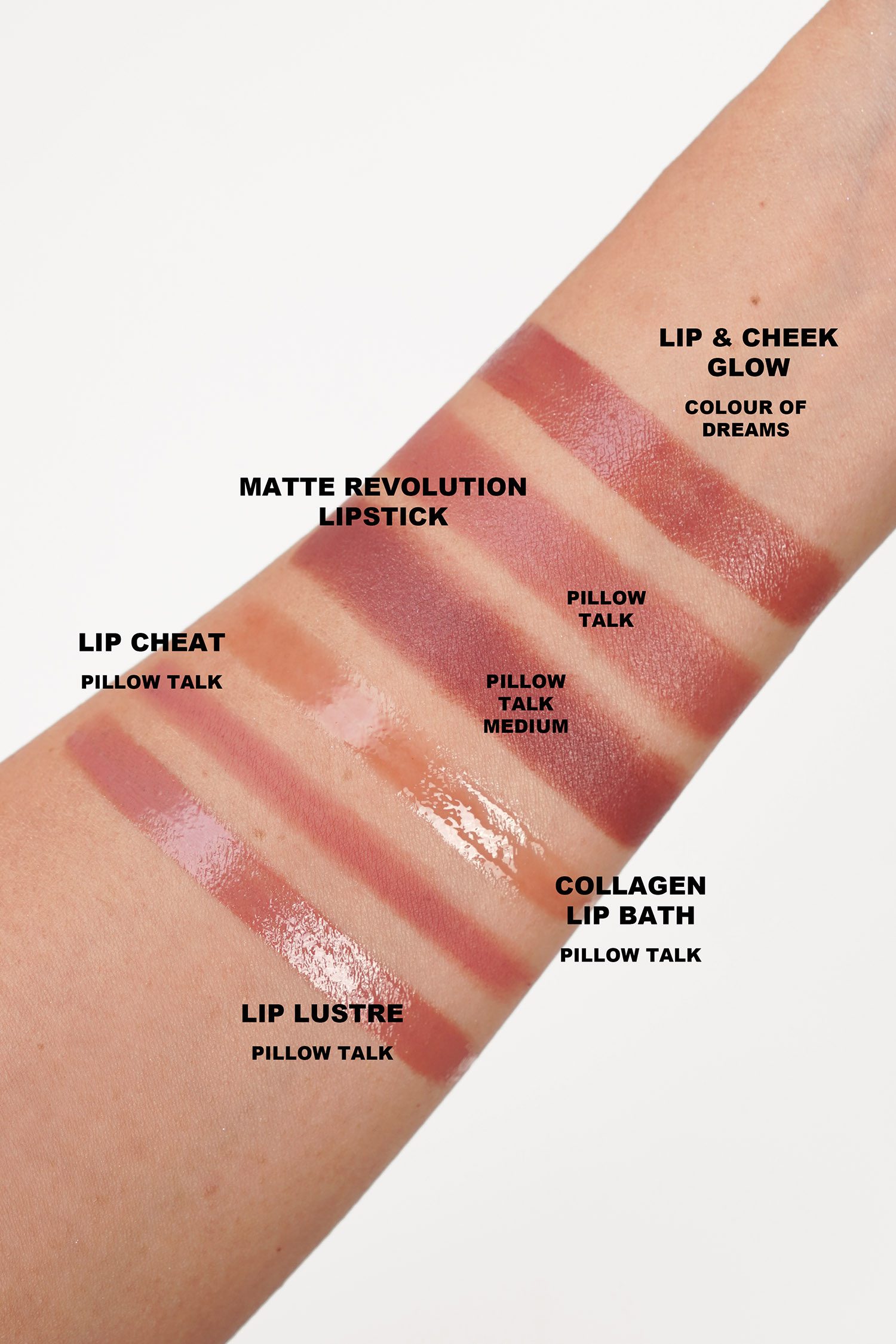 Luxury Eye Palette + Eyes to Mesmerise
Charlotte Tilbury added a new Luxury Eye Palette ($53) in Pillow Talk Dreams and I'm obsessed. It has two metallic shimmers with a fine texture and two soft pigmented mattes in a light rose and plum brown. I love the colors and color payoff. I think it's really stunning!
I also swatched the Eyes to Mesmerise ($34) in Pillow Talk which isn't new, but I hadn't swatched it yet. If you like mauves you will love this one. I think it's a really pretty shade, but I prefer Rose Gold for the pink tones.
Pillow Talk Beauty Light Wands
Last I have a quick look at the Pillow Talk Beauty Light Wands ($40 each) in Pillow Talk Light/Medium and Medium/Deep. These have been restocked so if you had your eye on these they're back! I'm reposting swatches I had from a previous review below.
Overall the quality and color payoff of everything in her new launch is great. The colors didn't all work out for me, but there are some solid new loves for me. If I had to pick one stand out it would be her new Pillow Talk Dreams Eyeshadow Palette. The highlighters are nice but not must-haves.
Shop the Post

Have you checked out her new Pillow Talk launches? Are you a fan of the color theme?