I'm back with a Sephora haul roundup! I've been trying a few new things over the past several weeks and have a comprehensive roundup on some new makeup, skincare and hair care tries. This is more of a combination of several hauls in one post. I feel like my testing process can take a while on some of the things!
Hair Care
My hair salon recently started carrying Kerastase and my stylist uses their line on my hair when I get a cut + toner treatment. She's used both the Kerastase Resistance Serum Therapiste for Severely Damaged Hair and Kerastase Resistance Ciment Themique Blow-Dry Primer for Damaged Hair when she blow dries my hair. I've used both in the past many years ago. I like them both for a leave-in heat protectant and sealant.
The Blow Dry Primer is a heat protectant and helps protect hair from breakage. The Serum from what I'm told is a heat protectant and also repairs damage and can also be used on the scalp. To me they both perform the same – I alternate between the two. By now my highlighted ends are almost all the way grown out and I feel like it's a lot healthier now. I don't get as much breakage and these two products definitely help on the ends.
I also picked up a mini of the Kerastase Elixir Ultime Oil Serum as a finishing product to add shine. I think it's a good one, but still prefer my Sisley Hair Rituel Precious Oil. Also Kerastase oils and serums are heavily fragranced, and I think it's hit or miss depending on your preferences.
The IGK Good Behavior Spirulina Protein Anti-Frizz Smoothing Spray was a mini from a beauty insider bonus. I also had this a few years ago but go through so much product to try and test out I don't often repurchase the smoothing or styling products. This is a nice smoothing spray that is supposed to mimic the results of a keratin treatment (which I've never had). You mist over damp hair evenly and then blow dry in sections to seal in the product with the heat. I'm still undecided about this. I like it but it's not 100% love. It looks like they recently added two other items the Good Behavior Smoothing Balm and Good Behavior 4-in-1 Prep Spray which look interesting.
I also ordered the T3 Clip Kit and extra Slip Scrunchies. I'm always losing my hair ties and hair clips as I am forever leaving them in random places around the house. The clips are similar to the ones from the Drybar Hold Me Hair Clips. I use these to hold up hair in sections while I dry out portions. I like them! They're easy to use, sturdy and functional.
Makeup Haul Picks
For makeup I hauled a bunch of lip products from Fenty including Fenty Lil Gloss Bombs Mini Lip Duo + Keychain Holder. Pink Dragonfly is a shimmery rose gold color I hope they make in a full size version. It also comes with Fenty Glow which is one of my favorite colors.
I picked up 3 of the Fenty Gloss Bomb Cream Color Drip Lip Cream in Fenty Glow (pretty soft pink), Mauve Wives (light purple), and Fruit Snackz (berry). They are all creams with a high shine. Pigment is medium to full and finish is semi thick but not sticky. I like Fenty Glow the best. I am forever hoping I can find a lilac purple lip I can pull off but have yet to find one. I think it's just not my color. Swatches of the newer ones next to a few others I have:
Dior added a new shade of the Addict Lip Maximizer Plumping Gloss in Ultra Pink. It's a pretty fresh pink with a hint of shimmer. I may purchase a backup of this one because it's limited edition and I like how fresh and pretty it looks on the lips.
The new Lancome Lash Idole Mascara was a total miss for me. Based on a poll I did on Instagram, 75% of you also did not like it. For me it didn't really do much for my lashes. It didn't hold the curl, it flaked, didn't add a lot of volume.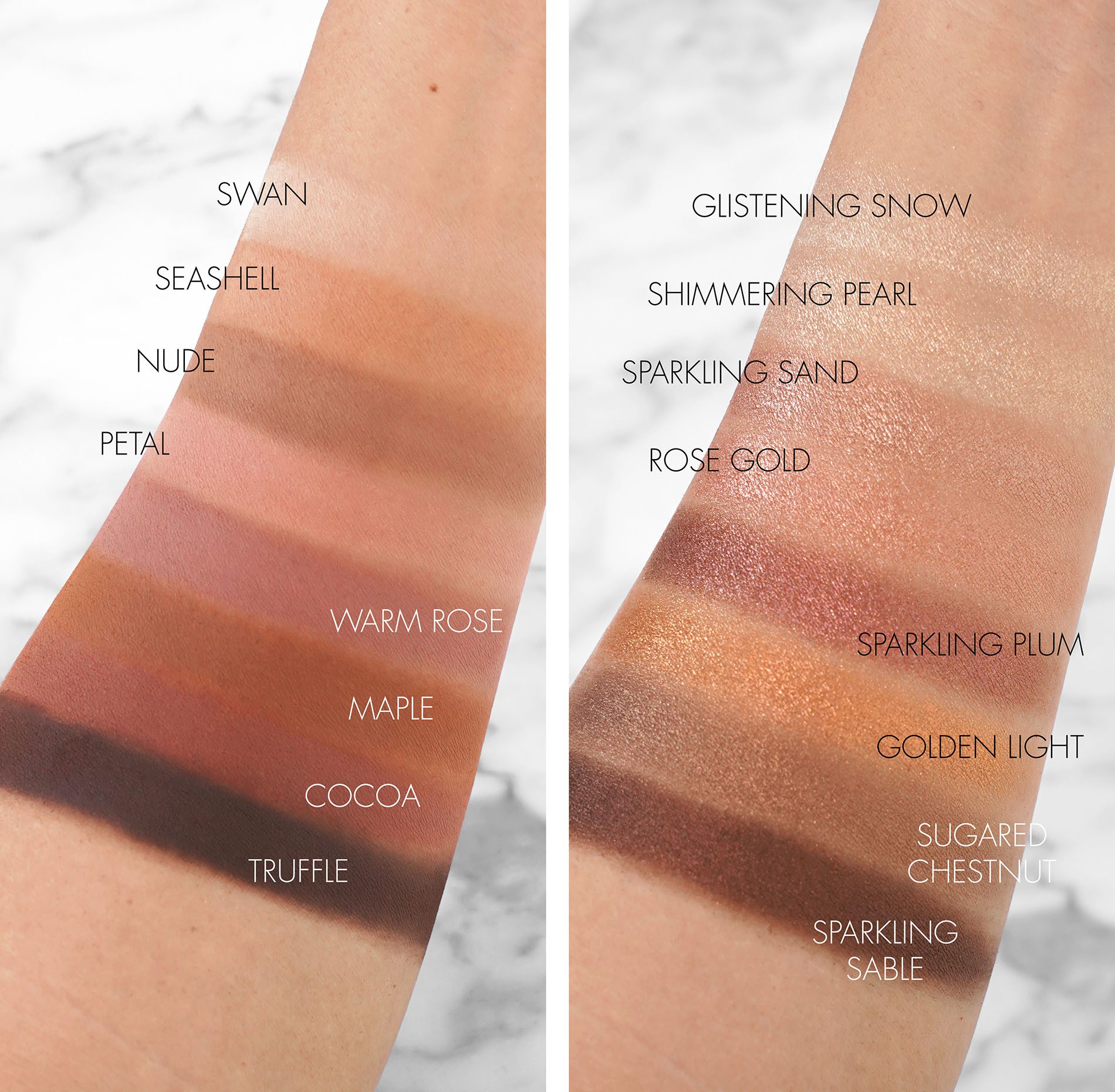 The Too Faced Born This Way The Natural Nudes Eyeshadow Palette is a new favorite. A lot of you wanted swatches so I've added them below. I like that it has a good mix of warms and neutrals. The colors for me are perfect everyday kind of shades. The shimmery colors are best as a topper for me to wear on top of the mattes to add a glimmer to the lids. I like to dab the lighter colors on the lids with fingers, the medium and deeper shimmers apply well with fingers or a brush. I think pigment and texture is pretty good! It's one I can see myself wearing the rest of the year if I had to stick with 1 palette for an entire year, this would be it.
A number of you had asked for my thoughts on Rare Beauty. When it launched I had zero interest in the line, but my bestie convinced me to try some things. I had high hopes for the Stay Vulnerable Glossy Lip Balms but found them so sheer they barely show up on my lips. Formula is nice and smooth and if you need just a hint of color they're nice. I can see these being better suited for those who don't wear a lot of makeup or people just getting into makeup. If you like to wear lip liners and then add a bit of gloss on top these are nice to add shine and hydration.
The Rare Beauty Stay Vulnerable Melting Cream Blushes exceeded my expectations. I tried two in Nearly Rose and Nearly Apricot. In general I am not a fan of cream products for my normal/combination skin. They rarely last and get greasy looking within an hour or so. These have a nice dry down so when they're blended they almost have a matte finish. Colors are easy to wear and naturally flattering. Lasting power is pretty good as we have mild climate right now. However since they are creams I don't really expect them to have good lasting power once the weather warms up here in Florida.
I think my favorite from the Rare Beauty line is the Positive Light Liquid Luminizer Highlight. These come with a sponge tip applicator you can dab onto the cheekbones or anywhere you want a highlight. I like that the finish blends out to a very thin finish and nice dry down so it's not emollient. Transcend is a pretty rose pink and Flaunt is a soft copper gold. They're glowy in a very nice way!
Below wearing the Nearly Rose Melting Cream Blush + Transcend Liquid Luminizer and Nearly Rose Glossy Lip Balm. Brush is the Real Techniques Brush 200 (available at Target, Ulta, Walmart).
Swatches of my Rare Beauty haul picks, top to bottom:
Stay Vulnerable Glossy Lip Balm
Stay Vulnerable Melting Cream Blush
Positive Light Liquid Luminizer Highlight
For bases I have been playing around with the Urban Decay Hydromaniac Glowy Tinted Hydrator Foundation in Shade 50 for a few weeks now. It's a creamy medium coverage base best suited for normal to dry skin. I love the color and finish! It looks very natural and gives the skin a healthy kind of glow. Unfortunately it's a bit too heavy and dewy for my skin type. If you have dry skin I think you will love this. For me I prefer the Chanel CC Cream for a similar finish/coverage (I wear Shade 40 in the Chanel). The Chanel has a similar texture in the sense it feels semi thick on the skin, but for me the Chanel lasts a lot longer.
Last thing for makeup is the Kosas Cloud Set Baked Setting & Smoothing Talc-Free Vegan Powder. This comes in a pretty decent range of colors. I have four to show you below. Two were sent as press samples and I thought they might be too light so I ordered the next two darker shades. The finish is sheer and very lightweight. I do think it's best for normal combination skin – if you have super dry skin it may be too matte for you unless you use a very dewy base underneath. My best match is either Feathery or Comfy. It sets foundation in a very lightweight and natural way with a sheer finish. I still prefer the Charlotte Tilbury Airbrush or MAC Mineralize Skinfinish Powder better for a pressed setting powder but this new Kosas formula is still very good.
Skin + Fragrance
To wrap up my haul I have a couple skincare items I wanted to talk about. Fresh launched their Kombucha 2-in-1 No-Rinse Cleanser & Prebiotic Treatment and I really like this as a cleansing water. I'll use this as a first step to remove face makeup before I workout and then follow with a regular cleanser. I also use this after I cleanse (almost like a toner) to make sure all my makeup is removed. Even with regular cleansing sometimes the long-wear makeup is still left on the skin. This is why I always double cleanse if I'm wearing sunscreen or makeup. I really like this one – it's soothing and hydrating without leaving a film on the skin.
Farmacy launched their new Whipped Greens Oil-free Foaming Cleanser a few months ago and as a huge fan of the Clean Bee Ultra Gentle Facial Cleanser and Green Clean Balm, I had to try this one. It's a nice foaming cleanser but I found it a little too drying for my skin right now. We are still in the dry season here and it's a little too stripping for my face. I have used up quite a bit of this though – I'll use it after a sweaty workout to clean out my pores. In general I think it's a good one – but one that will probably be better for my skin once the humidity and heat returns to Florida. For winter it's a bit too strong.
Last we have a look at two fragrances. I love a few of the REPLICA perfumes and when Bubble Bath launched I was super curious and ordered the travel size. Perfume is so personal so I hope you won't be offended if you love this one when I say that it's not for me. I found it too powdery and very soapy and it did not mix well with my skin. For a fresh scent I prefer their Lazy Sunday Morning or their Beach Walk for a summery scent. For me this was a miss although based on the online reviews it seems to be very popular.
One I do really love is the new Atelier Cologne Lemon Island. I have a number of their scents that I like to keep in my purse with me. I don't consider myself a lemon lover when it comes to perfumes but this one has a really interesting mix of lemon, jasmin and vanilla with a salty feel. I think it's a really nice scent to wear for warm weather and since I live in Florida I think it's perfect!
That wraps up my Sephora haul. Hope you enjoyed reading! If you've hauled anything new or restocked on anything fun let me know in the comments!
Shop the Post:
Press samples include the Fresh Kombucha No-Rinse Cleanser, Kosas Cloud Set in Breezy + Feathery, Atelier Cologne Lemon Island.