I have a look at the new Chantecaille Safari Collection today and it features one eyeshadow trio and three lip colors created to support Space for Giants. If you're looking for some nice fall transition colors nice for an everyday polished look I highly recommend giving this collection a look! You can find the collection at Chantecaille, Blue Mercury, Neiman Marcus and Nordstrom.
Safari Collection Eye Trio
The Safari Collection Eye Trio ($75) is a limited-edition palette and is a bit harder to find right now as it has sold out online at Chantecaille but still available at Nordstrom and Neiman Marcus. I was happy to be able to find it and am completely obsessed! The three shades include:
Nanu

a soft shimmering taupe

Red Earth

is a shimmery reddish copper plum

Selenkey

is a shimmery gold
Each shadow has a tiny bit of overspray on the embossed elephant pattern. The shadows have medium pigment, a super soft texture and a luminous finish. The palette is easy to wear for a wide range of skin tones and I think it will be flattering whether you are warm or cool toned. They work effortlessly to layer and blend – I think the texture and formula are beautiful! Lasting power is very good – they stay put with minimal fading until the end of the day. That being said, if you can't track this down don't worry – I think the colors are easy to replicate with other brands for a similar vibe.
I personally find the Luminescent Eye Shades more special and unique for their sparkling luster and pigment. I swatched Elephant, Lion and Giraffe next to the trio for comparison.
Lip Veil
I think this is my first time trying the Chantecaille Lip Veil formula and I'm head over heels in love. It has the comfortable feel of a balm but pigment of a lipstick. It's the perfect hybrid of shine and lipstick in one. I am definitely going to have to try other shades. These are very expensive but I think the formula is excellent. Since they are a shiny formula lasting power isn't going to be super long, but it's one of the formulas I don't mind reapplying. It stayed put for a few hours before I noticed the color showing signs of fading. UPDATE: Colors just popped up online at Nordstrom too! In the Safari Collection we have:
Plumeria a soft pink-plum
Acacia a gorgeous pink plum rose
Tamarind a medium brown cinnamon
I normally feel like I cannot wear browns on my lips but Tamarind has enough warmth to give it some life!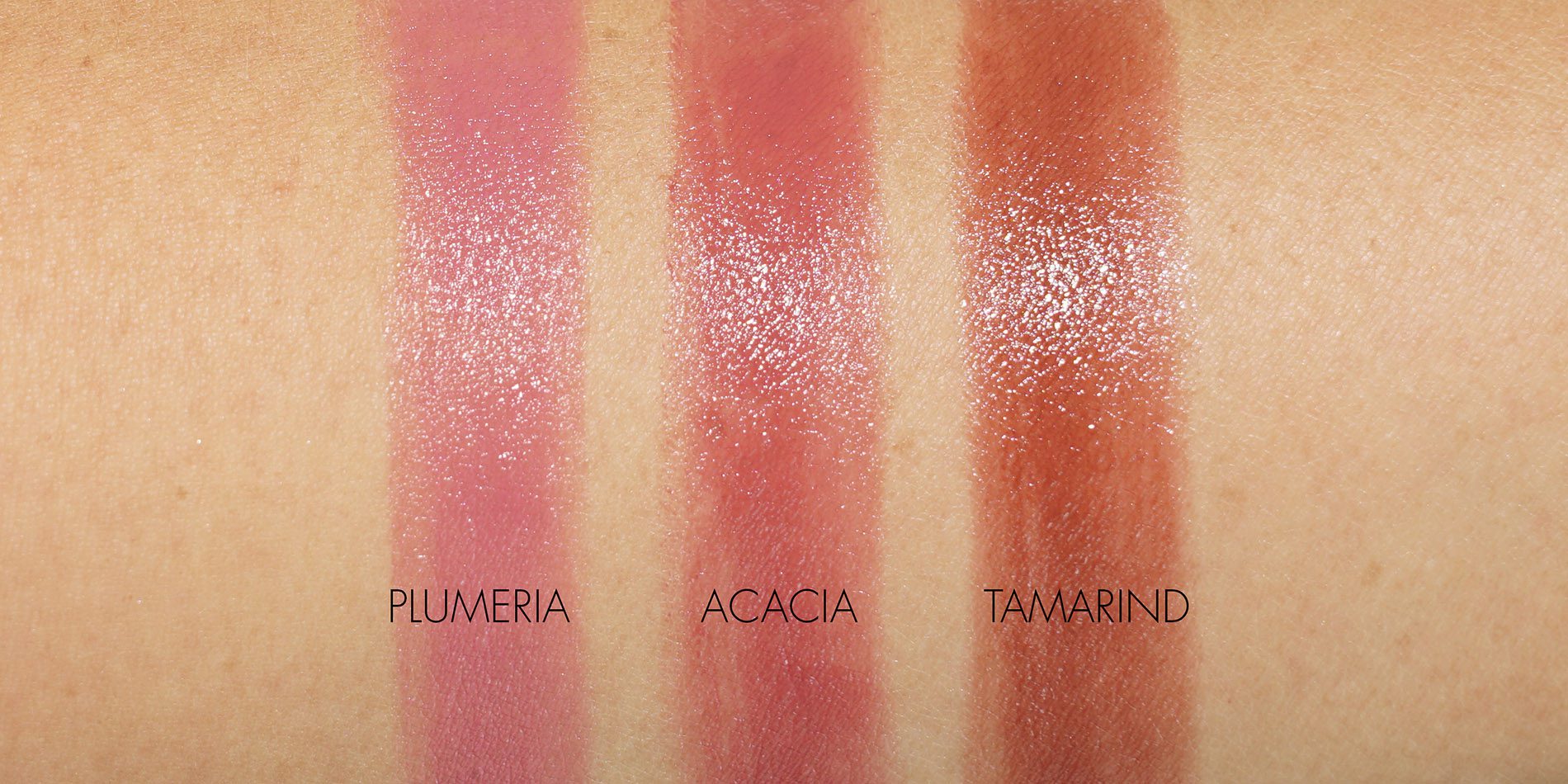 Looks with each lip color, first wearing Plumeria, also wearing:
________
Acacia, a soft plum
________
Tamarind, a cinnamon plum
I think the Lip Veils are the stand outs for me for both the color and formula. I find that most cool-toned mauves are too blue on my skin, but I really like how Plumeria looks. I think Acacia and Tamarind are perfect naturally flattering colors for the transition to the fall season, and I feel like they're classic enough I can wear them in Florida where summer weather lasts until November sometimes.
You can find the Chantecaille Safari Collection out now at Chantecaille, Blue Mercury, Neiman Marcus and Nordstrom.
Have you tried anything from this collection yet? What did you think?
Safari Lip Veils, Faux Cils and Luster Eyeliner provided for review.