Today I'm doing a best of roundup of one of my favorite makeup brands Laura Mercier. I have swatches of the new Caviar Stick Eye Colors and thought it might be a good time to do an updated round up of my favorite everyday makeup staples from the line. I get asked for my everyday makeup staples quite frequently and I've done several with a mix of brands. Some of you have asked for round ups by brand so I've decided to start with Laura Mercier. I've used them for years and even through numerous reformulations and revamps still find I use something from the brand almost daily.
If you like classic easy to wear looks and are in search of makeup staples I'm rounding up my favorites today.
Foundation Primers
I have a love/hate relationship with most primers. In my opinion there's no one-primer-fits all formula. While I do find many will smooth and prep skin and also extend the wear I think finding a good primer depends on your skin type and also what foundation formulas you wear. As a good starting point, I'd recommend sticking with the same brand of primer and foundation as they usually make formulas that are compatible with their entire brand. For example I do think if you use an oil-free primer it might not be compatible with an oil-based foundation. If you find your foundation is separating on your skin I'd suggest looking at the ingredients and taking a look at what moisturizer or primer you are using underneath.
All that said, I put all of the new Pure Canvas Primers from Laura Mercier to the test. Since I use the Flawless Fusion or Flawess Lumiere Radiance formulas most frequently, I felt the new primers would all be compatible. Out of all the new ones my top three are the Protecting SPF 30, Illuminating (when I want more glow) and the Perfecting. All three will smooth the skin to give you better foundation application and help extend the wear. I don't use them everyday as I think the foundations I have are quite good with lasting power and application, but I do think these are nice ones to try. They're unscented and silicone-free for those looking for options suitable for sensitive skin.
Foundation and Concealer
I've written about the Laura Mercier Foundations countless times. Brands often reformulate and revamp and I have been really happy with all of the bases I've tried from the brand. My top 4 favorites:
Setting Powders
I use the classic Laura Mercier Translucent Loose Powder on a regular basis with their Powder Puff or a Powder Brush. I also really like their Loose Glow Powders which I use more as a highlighter (lighter shade) or bronzer (for the deep color). The classic Translucent Loose doesn't add any color and is compatible with all of the foundations I use regardless of brand/formula. Even though it's white it doesn't add any white cast to my skin. If you're a long-time Laura Mercier fan you might remember she used to have tinted versions of the matte loose powder, I really wish they would bring those back!
Eyeshadows
For eyeshadows my absolute favorites are her Caviar Stick Eye Colors. I use Rosegold and Copper religiously for an all over wash or as a base for powder shadows. Rosegold is the best neutral shimmer – it looks good alone or with other shades. For her cream shadows I find they are creamy and easy to blend. Pigment ranges from sheer to full depending on how much you layer or blend (with fingers or a brush). Once they set they stay put on my eyes but they remain creamy long enough to work with.
She launched 12 new shades recently, I swatched and played with 10 of them (the ones I thought I would actually wear). They run warm and on the pink side. The fuchsia colors or pinks aren't really my vibe but I swatched them anyways. I was able to wear Raspberry and Magenta when layered/mixed with other shades though. My favorite of the new ones are the pinks in Sunrise and Nude Rose.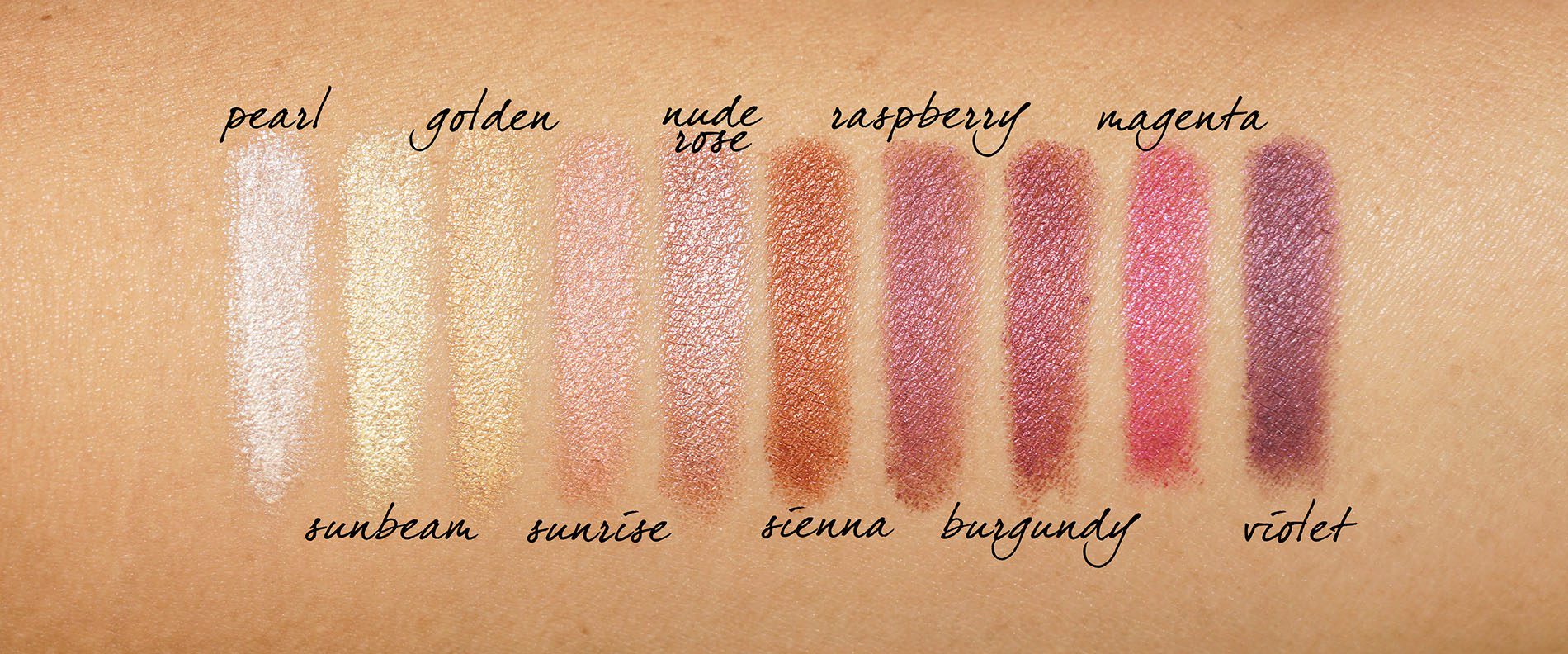 I swatched 10 of the 12 new colors (there are 2 blue shades I didn't swatch), new ones include:
Pearl is a pale cool white shimmer
Sunbeam is a pale yellow shimmer
Golden is a yellow gold shimmer
Sunrise is a satiny soft warm light pink with a slight sheen
Nude Rose is a shimmery rose pink
Sienna is a shimmery orange
Raspberry is a shimmery mauve rose
Burgundy is a slightly deeper plum shimmer
Magenta is a hot pink shimmer
Violet is a shimmery violet
I wear Rosegold, Copper and Sandglow the most frequently. In pulling the products for my roundup it occurred to me that it has been a while since I swatched the colors I have. These are the shimmer colors. There are also matte options but I find they pull a little dry on me. Colors swatched: Beam, Sugar Frost, Rosegold, Magnetic Pink, Moonlight, Grey Pearl, Intense Moonlight, Metallic Taupe, Sandglow and Copper.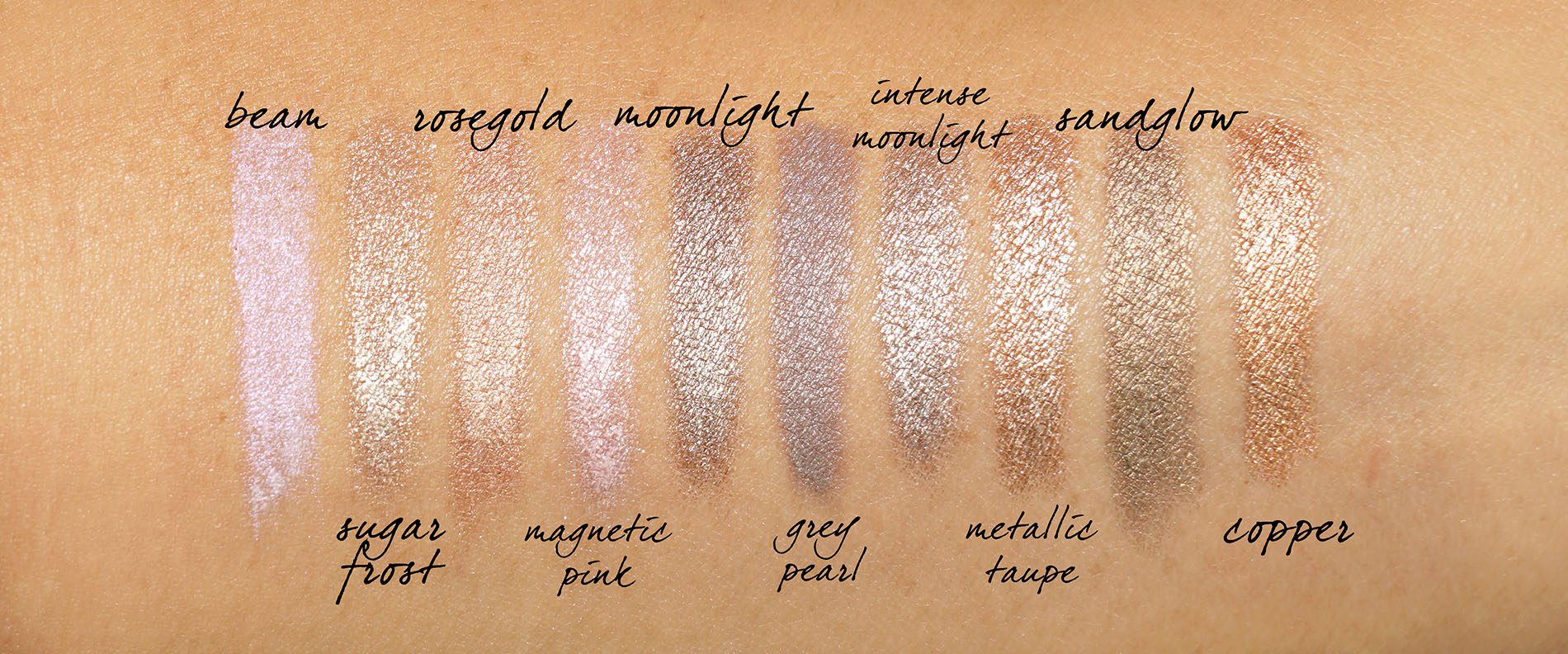 Purples and deeper shades: Rush, Orchid, Intense Amethyst, Violet, Burgundy, Amethyst, Burnished Bronze, Plum, Cocoa and Smoke. I use the last 3 colors swatched as liner, I'll apply them onto a detail brush and then smoke or smudge them along my lash line.
Highlighters
The world has gone highlighter crazy and the trend doesn't seem to be stopping anytime soon. Even with all the new launches I think the Laura Mercier Face Illuminator remains a good everyday staple. Indiscretion is the best neutral champagne in my opinion. It has enough warmth to not look overly frosty or pale on my skin. I ordered the two newest ones with the floral pattern from Nordstrom and think they're beautiful!
Affection

(new) is a light pale champagne shimmer, it has a good amount of shimmer in it but is smooth

Sensation

(new) is a shimmery copper, on me it pulls more like a shimmery blush/bronzer but isn't too orange

Devotion

is a pale pink shimmer

Addiction

is a pale yellow gold shimmer

Indiscretion

is the best neutral champagne highlighter

Inspiration

is a lovely pink mauve frost (detailed review + look here)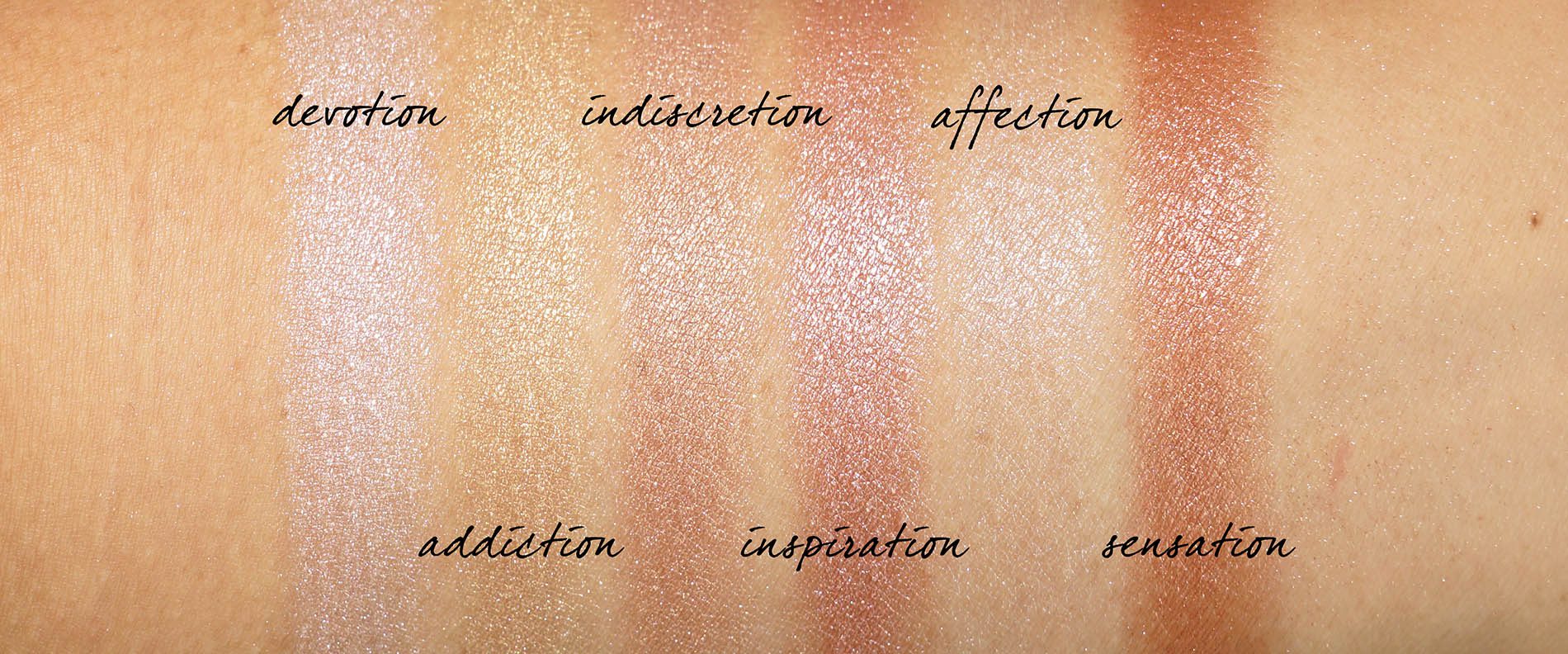 Color: Blush, Lipstick + Gloss
For color all the Laura Mercier products have gone through a reformulation at some point. I like what I've seen so far! The Blush Color Infusion in Fresco is a perfect everyday neutral blush. It has a tiny bit of shimmer so it's not flat. I like that it adds a bit of warmth and color without darkening or oxidizing like a lot of nude blushes can do. For the lips the Rouge Essential Silky Creme Lipsticks are the best no-fuss classic lip formula. They're creamy with full coverage but feel weightless. There's a bit of shine in the finish which gives them a more natural lush look. I love all the neutrals but find Brun Pale and Nu Prefere are my kind of everyday nudes. I've used the Lip Glace since my high school days long before the repackaging and reformulation. I actually really liked the original perfume scent these had back in the day. Right now they're vanilla scented and have a slightly sticky feel but it's not too thick. Opal is my favorite for layering on practically everything.
A couple close ups wearing:
That wraps up my favorites from Laura Mercier! I hope you found the favorites helpful. If you want any other brands featured in a Top 10 or Best Of post let me know in the comments.
You can find Laura Mercier available online at Laura Mercier, Nordstrom, Sephora, Saks Fifth Avenue, Neiman Marcus and all other Laura Mercier retailers.

Most Laura Mercier products featured are press samples. Items purchased by me include the Face Illuminators in Indiscretion (repurchase), Affection, Sensation, Lip Glace in Opal, Tinted Moisturizer in Sand 3N1.