I'm all about the easy everyday kind of makeup look and today I'm rounding up some of my daily luxury beauty staples from Nordstrom. Even though this blog focuses on featuring and reviewing new product launches, many of you ask what I use the most on a daily basis so I've been putting together more roundups of what I reach for. If you're a long-time reader you'll probably recognize from previous features! It's because I really do reach for these on a regular basis for my everyday makeup look and because they're classic enough to incorporate into more trendy looks throughout the year.
Above: Wearing Tom Ford Soleil Glow Foundation in Natural, Laura Mercier Flawless Fusion Concealer 3W, Charlotte Tilbury Airbrush Flawless Powder 2, Charlotte Tilbury Cream Eyeshadow in Rose Gold, The Dolce Vita Eyeshadow Palette, Hourglass Ambient Lighting Blush in Incandescent Electra, NARS Afterglow Lip Balm in Orgasm
Base and Powder
Foundation is one of the items I've had to change up in the last year because so many of my holy grails have been phased out, reformulated or discontinued. I have an updated foundation post coming up soon but in the past month I've been loving the new Tom Ford Flawless Glow Foundation with SPF 30. I use the shade Natural 6.0 and it's a great sheer coverage base that evens out the skin in a natural way. There's no flash back and it lasts all day on me. It comes with a dropper which I apply directly to the face, then I'll take a sponge or brush and blend/buff into the skin.
Other staples in rotation include the Charlotte Tilbury Airbrush Flawless Filter Powder in Shade 2 (I've hit pan probably a dozen times), Hourglass Veil Translucent Setting Powder for the best lightweight soft matte powder, concealer tie is between the Laura Mercier Flawless Fusion Concealer in 3W and NARS Radiant Creamy Concealer in Ginger. If I had to use one pressed powder the rest of my life it would be the one from Charlotte Tilbury!
Cheeks
For the cheeks I've really been loving the Charlotte Tilbury Lovegasm Palette (also reviewed here), it has everything I need for a full cheek look: blush, highlighter + bronzer. I picked up a new highlighter recently from Bobbi Brown in the Rosy Glow color which is limited-edition, it's a really pretty basic no-fuss opal champagne.
The two cheek products I use the most are the Hourglass Ambient Lighting Blush in Incandescent Electra (doubles as a highlighter for me too) and the Chanel Soleil Tan de Chanel cream bronzer. I cannot live without either one. I've used the Chanel bronzer for as long as I can remember being into makeup. One tub will last you a long time and as long as you close it after use it won't dry out like many cream products can.
Eyes
My most-used quad these days is the Charlotte Tilbury Dolce Vita eyeshadow palette. It's the perfect warm smokey eye palette and has everything I need for a complete eye look. I still love the Urban Decay Naked Reloaded as well, but many of you prefer the smaller palettes for easier wear.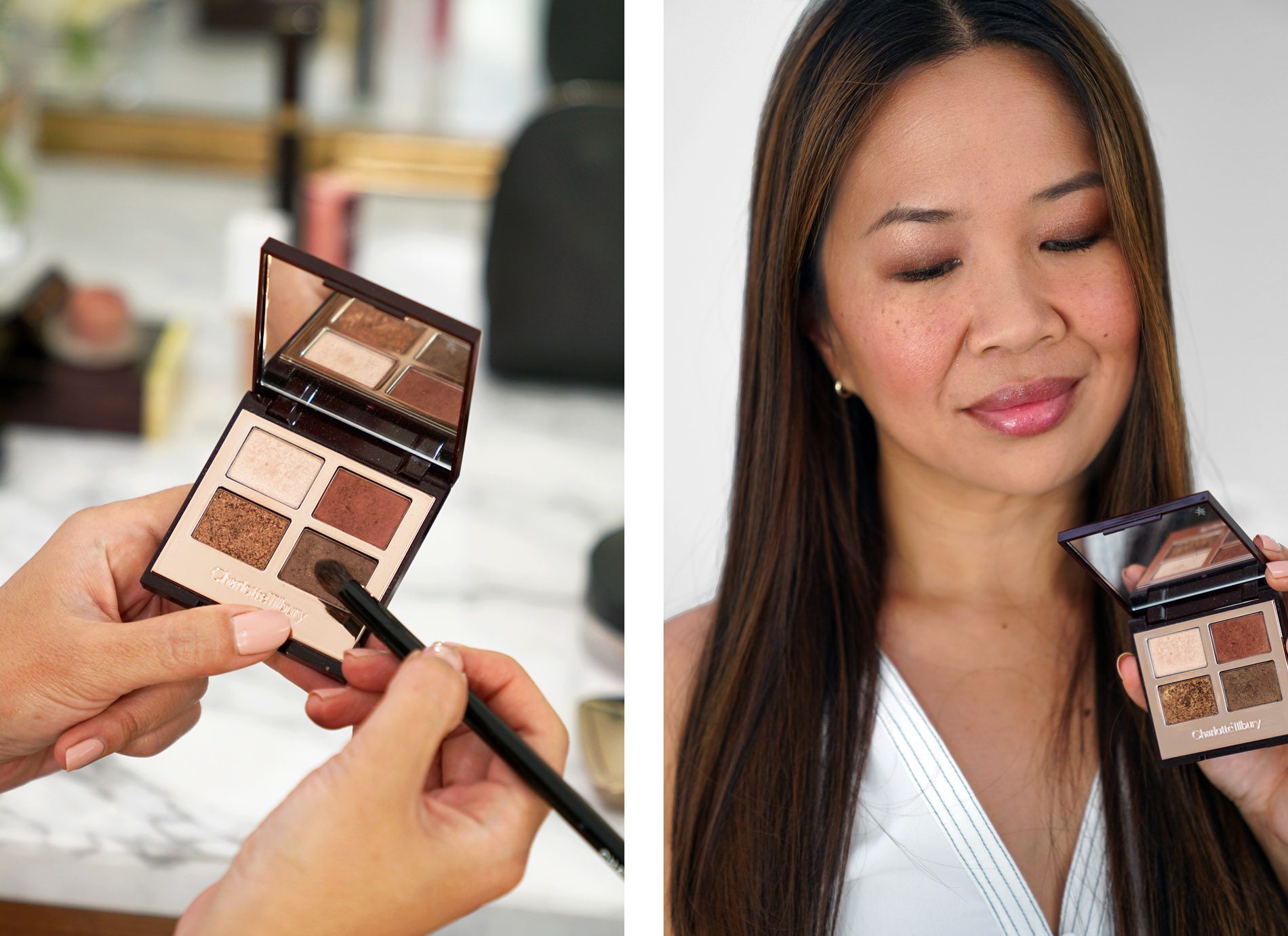 For the longest time I felt like I could not wear pink-toned shadows. Most had too much red in the undertone and looked a little off on me. I'm so happy to have found more options that I can pull off without having that pink-eye look. I love creams or liquids because they adhere well to the lids. My top three favorites are the Tom Ford Acqua Metal Shadow in Violet Argente, Charlotte Tilbury Eyes to Mesmerise in Rose Gold, Hourglass Scattered Light in Blaze (this is such a pretty topper). For liner my go-to is usually a bronze color, the Hourglass 1.5 MM Mechanical Gel Liner gives the most precise line for a pencil (it's a twist up and only twists one so I'd recommend being careful when you click-twist). For liquid liners my holy grail is the Tom Ford Eye Defining Liquid Pen. It's double sided with two sizes of tips. I've found a number of really good ones from other brands, but the Tom Ford is the only one that did not dry out on me within a few months.
Lips
Above left wearing the NARS Afterglow Lip Balm in Orgasm
You girls know that I've been obsessed with the NARS Afterglow Lip Balm and Oil-Infused Lip Tints in Orgasm. I still am! They're worn every week. Other good color changing balms are the Bobbi Brown Extra Lip Tint and Dior Addict Lip Glow (if you haven't tried these I'd suggest waiting for the upcoming anniversary sale, there are going to be really good sets available!). I also like the Dior Lip Maximizers for a nice lip plumping gloss that doesn't sting.
If you're a beauty junkie like me mark your calendars because their Anniversary Sale is this month. All Nordstrom cardmembers will have early access on July 12th, and if you're an Icon or Ambassador Level member you have access to their pre-shop in stores starting July 9th. All the details and dates are on their Anniversary Sale Page.
I highly recommend signing up for their Nordy Club Program if you haven't already – it will give you early access to the sale, events throughout the year and bonus point days. It's one of the few programs that I've stayed a member of. As usual I also recommend checking out their Gift With Purchase page as well, the gifts are updated frequently and some are online exclusives.
I hope you enjoyed this round up! I'd love to hear what your easy everyday makeup favorites are in the comments.
Sponsored by Nordstrom. As always all opinions are my own.