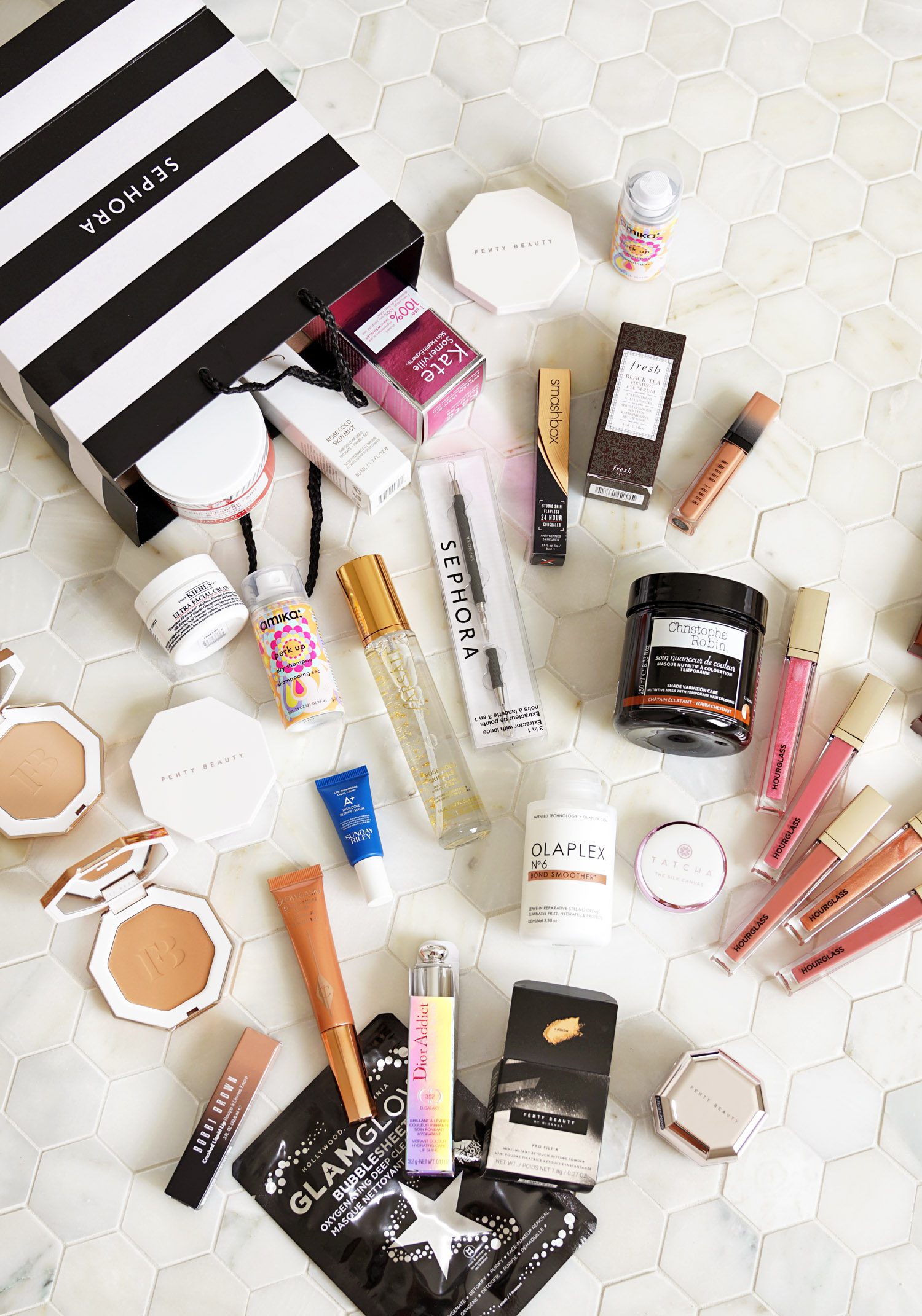 I have a quick haul post for what I picked up from Sephora! I still have some things in my online cart for products we could not find in our store but these are the skincare, hair care and other beauty picks both Andrew and I bought during the spring bonus event. It ends today Monday May 6th so there's still time to shop! Details for the tiers on their Beauty Insider page for details on how to join. Discounts as follows:
Rouge Members get 20% off, 4/26 through 5/6 with code HEYROUGE
VIB Members get 15% off, 5/2 through 5/6 with code HEYVIB
BI Members get 10% off, 5/2 through 5/6 with code HEYINSIDER
With the exception of our restocks I haven't been able to test most of the makeup products. Reviews to follow as soon as I can but I have a lot already pre-planned to post for this week so the swatches for the lip products most likely won't be up until sometime next week.
_______________
Skin + Hair Picks: Sabrina's and Andrew's
I still remember distinctly when Andrew refused to go into Sephora with me. Anytime we were shopping together he would see me walk towards the store and say, "meet me at (x place) when you're done." He's always been a well-groomed person but I can't express how happy it makes me that in the past couple of years he has taken a bigger interest in skincare and taking care of our health and wellness. These days he goes in the store with me to shop the skincare areas and wanders off to do his own browsing.
Above left are my picks which includes restock on Supergoop! Everyday Sunscreen, Christophe Robin Shade Variation Hair Mask in Warm Chestnut (love love love this!), Olaplex No 6 Bond Smoother and Tatcha Silk Canvas mini. I bought the Glamglow Bubble Sheet Mask because I had one before but lost it and never tried it. I also picked up the Smashbox Studio Flawless Concealer in Light Medium Warm and the Farsali Rose Gold 24K Skin Mist – it has gold flecks inside! I used some points for an Amika Perk Up Mini Dry Shampoo.
Above right are what Andrew picked out including the Kiehl's Ultra Facial Cream (mini), First Aid Beauty Acne Clearing Pads, Farmacy Clean Bee Cleanser (this one is for both of us), Kate Somerville Wrinkle Warrior Serum (his second bottle because it's one of the few serums that doesn't have a thick or sticky finish), Fresh Black Tea Eye Serum, Sephora Collection 3-in-1 Extractor and Kiehl's Blue Herbal Spot Treatment (another restock for him).
_______________
Fenty Beauty Picks
I've been really loving Fenty Beauty the more and more I try from the line. I bought two highlighters in the Killawatt Freestyle in Afternoon Snack/Mo Hunny and Foil Freestyle Highlighter in Penny4uthots. I tried the duo today and think it's so so pretty. I also picked up the two lightest matte Sun Stalk'r Bronzers in Inda Sun and Shady Bix. I haven't had a chance to try them yet but took a quick peek at them in store. I've been really interested in the Pro Filter Powder but the testers look so chalky in store on my hand. I opted for a mini in Cashew which I have on my face right now and it's too dark but could possibly work in the summer for me. I'm not sure if I'll go back for the lighter shades. From Charlotte Tilbury I bought one of the Glowgasm Highlighters in Peach (ordered the rest online).
_______________
Lip Haul Picks
I spotted two new Bobbi Brown Crushed Liquid Lips and picked the lighter shade East Coast Slay. It's a pale nude yellowish beige cream. I also saw the new Hourglass Unreal Lip Glosses and wanted every single color. I bought 5 in Ignite, Truth, Prose, Canvas and Cosmic. I tested Truth yesterday and really like it – it's smooth and not sticky with good coverage. Has a minty scent to it but not really plumping on me (no tingle). I'll keep you posted! I also opted for one of the Dior Stellar Shine in D-Galaxy. I had high hopes for these but none of the other colors really spoke to me. If you think there are any that I should check out let me know in the comments!
My haul picks:
Still in my cart:
_______________
That wraps up my Sephora haul! I think I might order a few more of the Hourglass Lip Glosses even though I don't need anymore. The Sephora Beauty Insider Event ends tonight – what did you end up hauling?