I'm back from a mini vacation! We took a few days off to visit the other side of Florida and drove to Miami for some good food, more sunshine, more beaches and shopping. Several of my readers let me know about the Glossier Pop Up Store in Miami so we stopped by to check it out. It is one of the cutest pop up installations I've ever seen! It's located in Wynwood on 222 NW 26th Street, open until April 28th. Hours are listed on the Glossier website. There are a lot of testers for you to play with, helpful staff and it's basically an Instagram dream come true. Cute displays, mirrors for makeup application and selfies, postcards and the entire Glossier + Glossier Play line. Weekends can get pretty crowded and busy with a line but they move fairly quickly. We went to the pop up on two separate days because our first time there it was so crowded I didn't want to wait to check out and purchase product.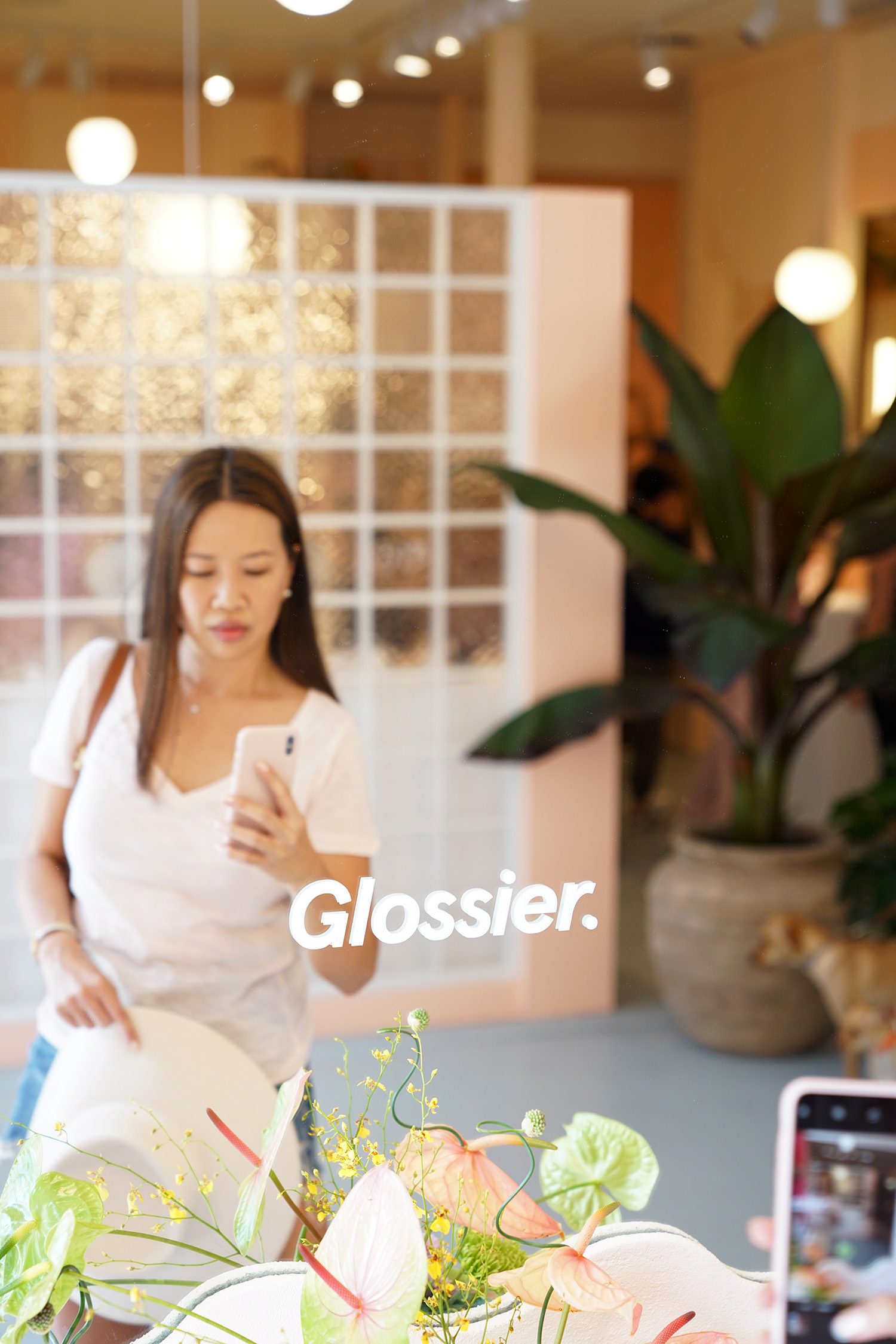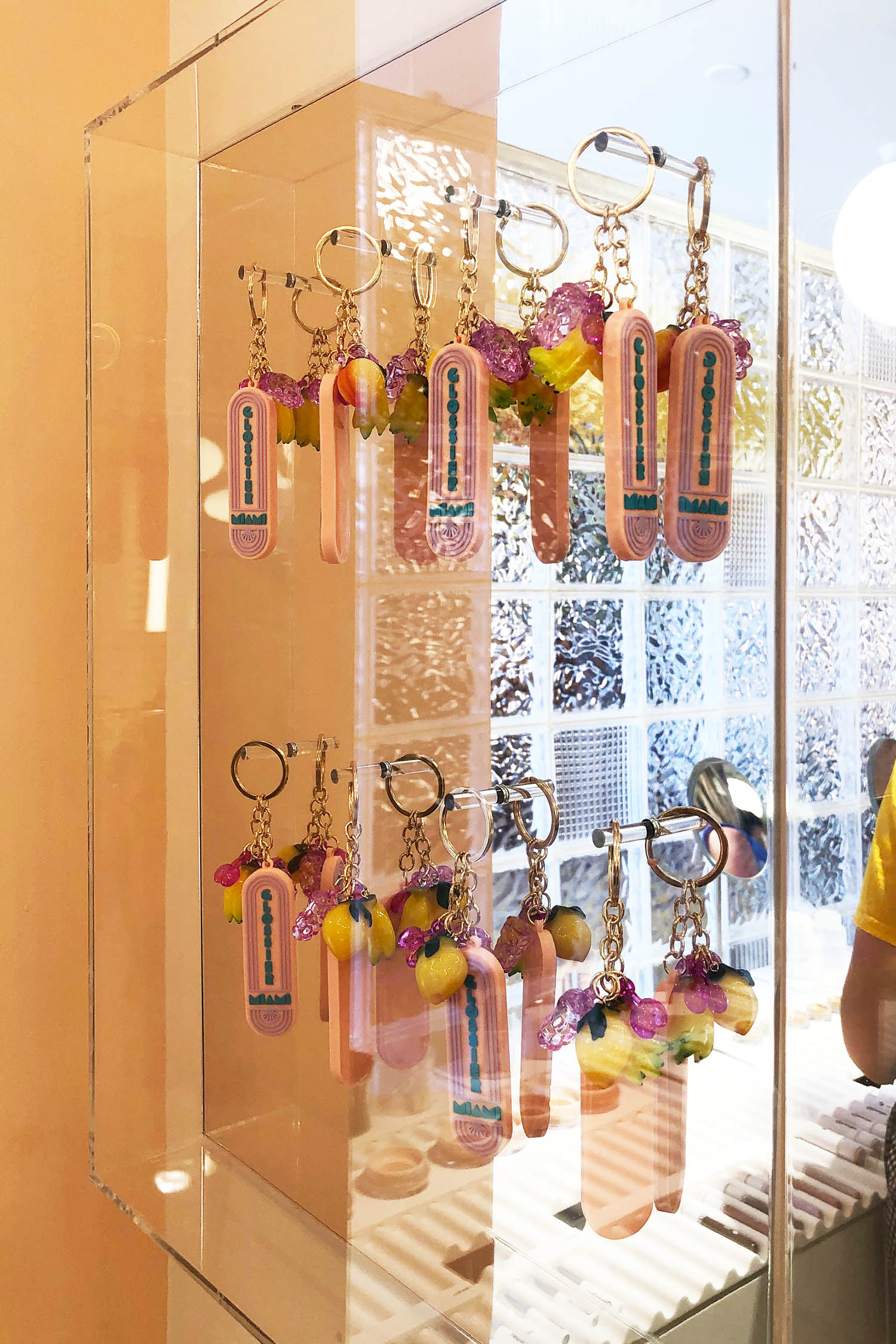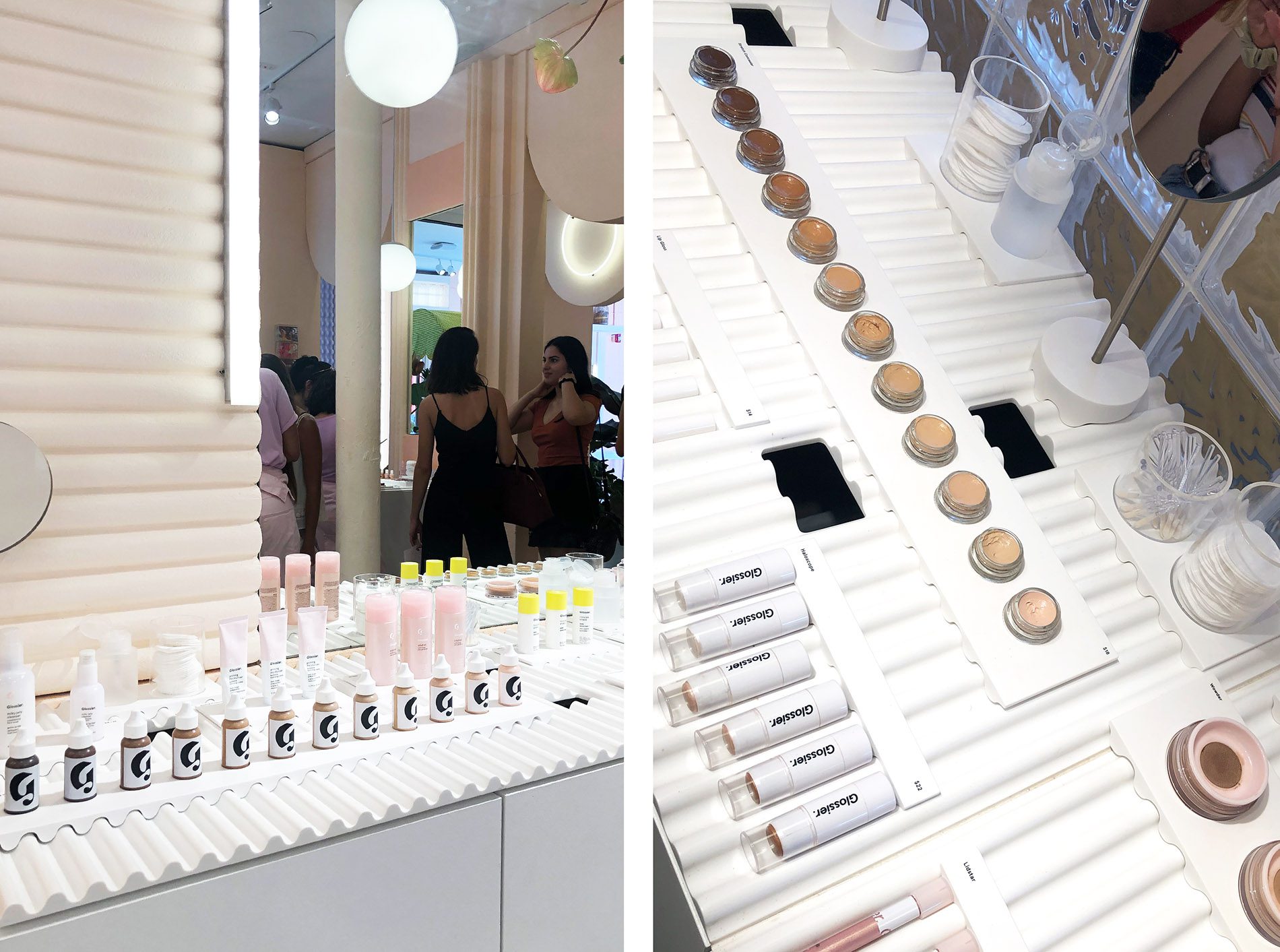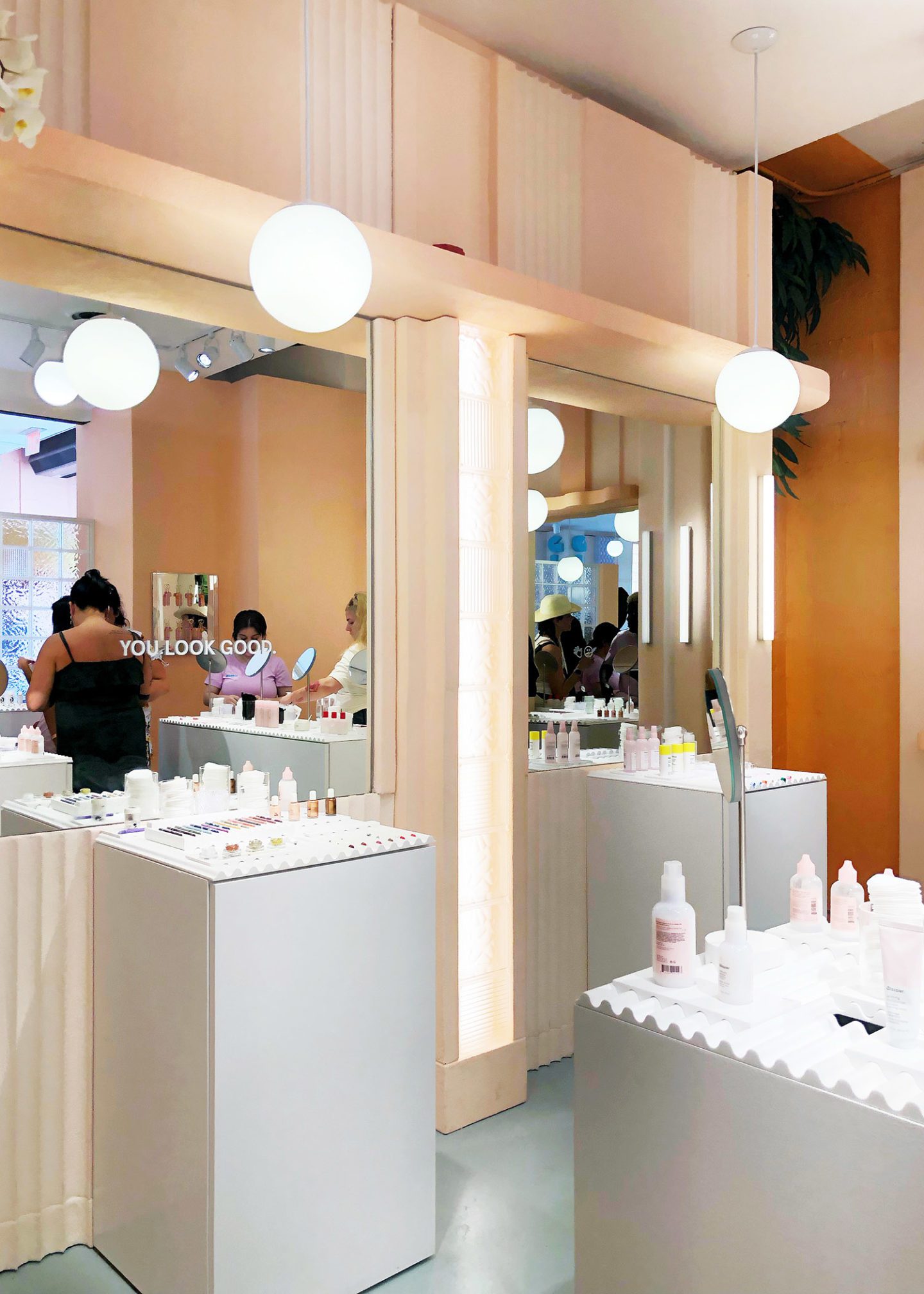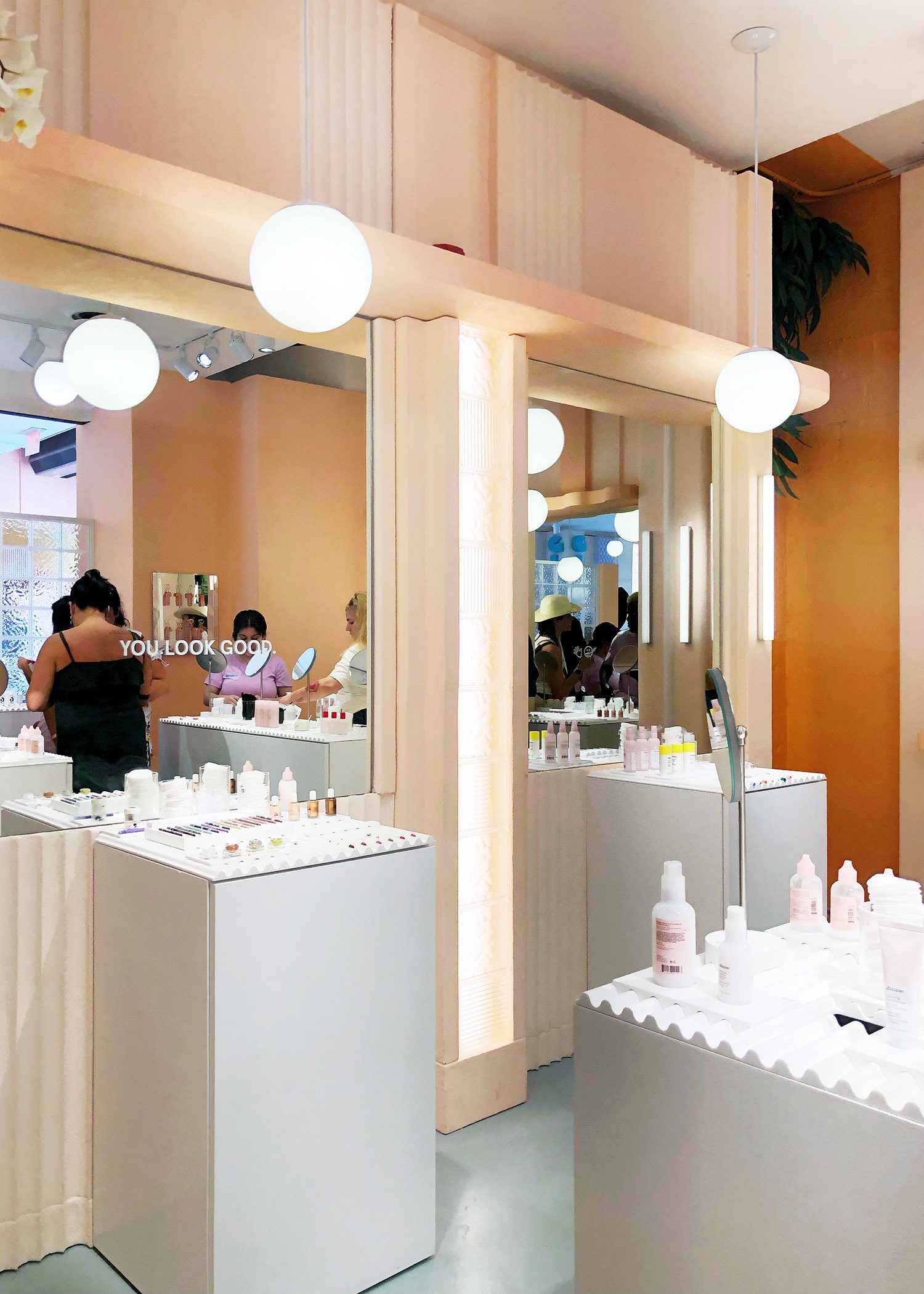 Mini haul below including the Glossier Zit Stick, new Mango Balm Dot Com, Lash Slick, Glossier Play Niteshine in Pale Rose and Deep Copper, High Shine Lip Lacquers in Pony and Blow Up. I also tested their Milky Oil which seemed pretty impressive in taking off the eyeliners from the back of my hand. Unfortunately they were sold out so I ordered it online. I haven't had a chance to test the makeup but the highlighters are tiny – they girls at the store explained they are dab and blend kind of highlighters and that does seem the best way to apply. A little goes a long way. I did try the new Mango Balm Dot Com and it has the most delicious sweet mango scent to it. I didn't think I would like it because it's really sweet, but I actually really love it.
Swatches of the makeup items I bought. I actually had a third highlighter on my list but they accidentally gave me two of the same shade. I'm giving away my extra (details in the widget at the end of the post).
We also saw the cute Mango Pop Up cart in the Miami Design District! You can check their Instagram to see where it's going to show up next. On our second trip to the Pop Up we saw they had moved these to the actual store in the hallways but they might move again.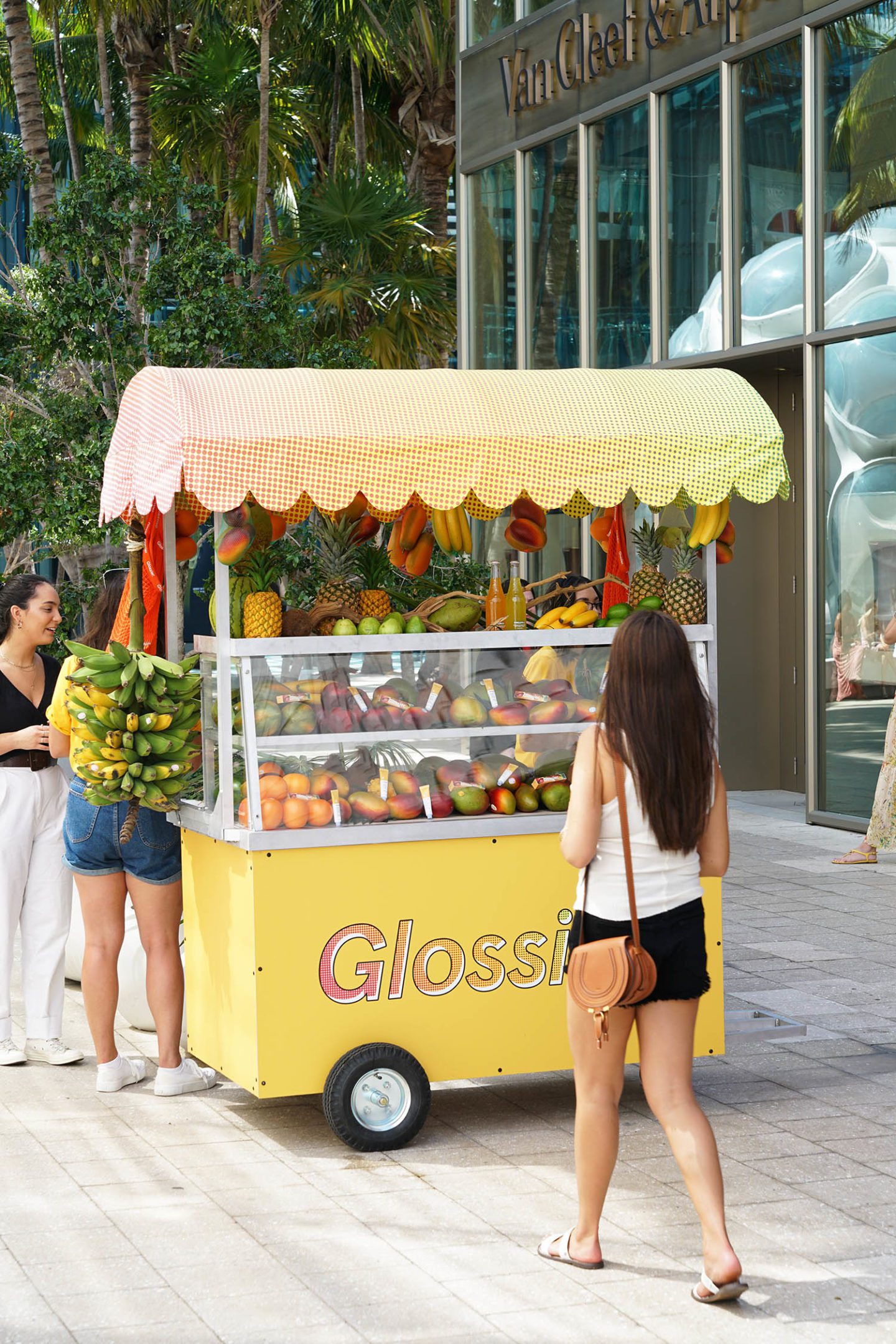 Definitely worth checking out! It's super cute and fun to see all the items in person. If you're not near a store you can always order online (that's how I've always bought their products). If you want to use my referral link you can save 10% off your first order. I have some extras that I picked up so I'm giving away some goodies to 1 lucky reader. Open internationally but you must be 18 years or older to enter. Enter through the widget below. Giveaway entries are going to run through April 7th, 2019 11:59 PM EST. ONE winner will be selected within 72 hours after giveaway ends and emailed by me. Prizes ship within one week. Not sponsored or affiliated.
Giveaway items:
Glossier Mango Balm
Glossier Lash Slick Mascara
Glossier Play Niteshine in Pure Copper
Assorted Miami Pop Up Post Cards
Zip Pink Pouch
Stickers I got at the store
To recap, the Glossier Miami Pop Up is going to be open in Miami through April 28th. Hours are on their website. Have you been to any of the Glossier Pop Ups before? If yes which ones?
More on our Miami trip, packing + outfits to follow! Lots of you have been asking about all the sandals I've been wearing and I've promised to share everything I wore with size info soon.