I have some quick first impressions on two of Bobbi Brown x Nordstrom Anniversary Sale sets. I picked up the Deluxe Eye + Cheek Set ($98) and Nude Lip Color Trio ($84). Both offer classic everyday colors for the conservative beauty lover. The sale ends on August 5th so I wanted to swatch these for you quickly in case they were on your radar.
The Bobbi Brown Deluxe Eye + Cheek Set has an impressive offering for eyes and cheeks. It's priced at $98 but they value it at $380. I'm not exactly sure how they came up with that value but it is still a good deal since you get 12 eyeshadows and four cheek products in a sturdy mirrored compact. There is a small eyeshadow brush I think is pretty worthless (to be frank) but to be fair when is the last time we got a decent brush in a palette anyways? It's not a deal breaker for me, it usually isn't plus I prefer my full size individual brushes anyways.
The eyeshadows run neutral to cool toned. Textures and finishes range from matte, to shimmer to sparkle but none have glittery chunks. There are some colors that are in the individual line you can buy full sizes of but there are also some shades that appear to be exclusive to the palette.
There are two matte blushes in Nectar (peach pink) and Desert Pink (cool muted dusty mauve) which are medium in tone. They can darken a little on oily skin but they are soft and easy to blend. There's a Medium Bronzing Powder which is a matte as well – it's a cool-toned brown. They've added a pretty Golden Pink highlighting powder which is a light golden pink frost. This is my favorite color in the entire palette.
Quality-wise everything applied smoothly and flawlessly. It definitely has a fall vibe for conservative everyday wear. Cheek colors have to be applied with a soft hand for me since they do darken a little but mixing the highlighter in helps soften the color. Eye-color wise I prefer the MAC Nordy Girl Metallic Palette but the option from Bobbi Brown will give you more options.
For the lips I picked up the Nude Lip Color Trio which to be seems to have a 90's-ish vibe but slightly softer. It has Beige Lip Pencil (pale beige), Bare Crushed Lip Color (medium warm beige pink) and Sandy Beige Lip Gloss (sheer gold champagne shimmer). The Lip Pencil and Crushed Lip Color are items you can purchase individually. The Lip Gloss is exclusive to the set but the name seems familiar to me – it may have been launched in the past. Colors are fairly standard basics but when layered together it gives the perfect everyday nude lip. It's been a while since I layered liner + lipstick + gloss but I love the look it gives.
It comes in a cute flat zip pouch, one side is clear and I'm the biggest sucker for clear pouches:
The Bobbi Brown Beige Lip Pencil, Bare Crushed Lip Color and Sandy Beige swatches on bare lips below. I did two sets of swatches where colors were layered. The lipstick alone is very warm on me, but when you layer it on top of the pencil or add the gloss it's toned down a lot. The MAC Nude Lip Trio I reviewed yesterday has more neutral options.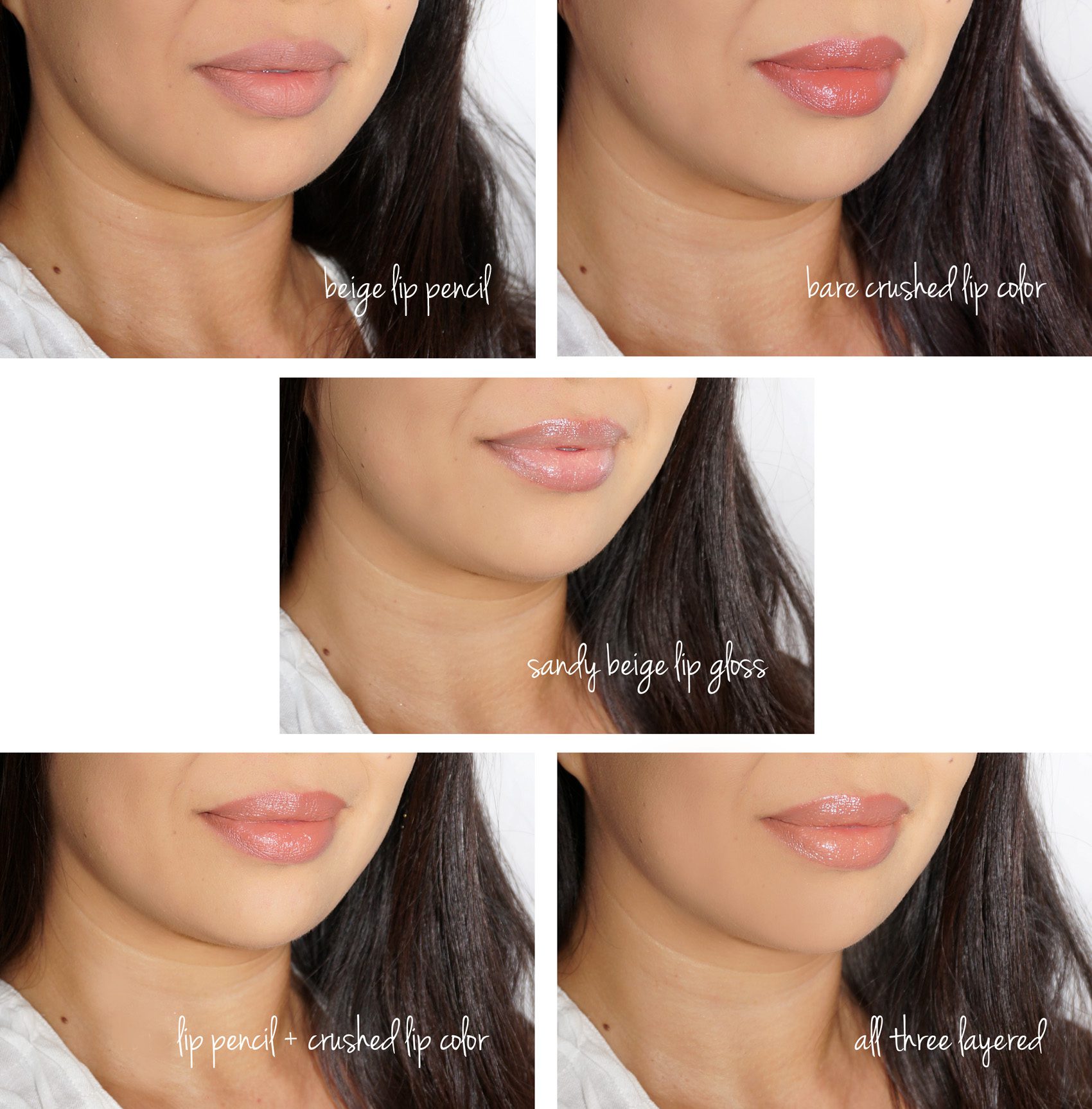 Overall classic staples that have excellent quality and wear. I personally don't think either set is a must-have for me since I already own a lot of other colors that are similar. I really like the look of the lip colors layered but Bare Crushed Lip Color pulls very warm on my complexion and it's a shade that will definitely need to be layered for me. For the eyeshadows I adore these kinds of shades but from the Nordstrom Sale Beauty Exclusives this year I found the MAC options better suited for my taste and skin tone. That being said I do think the Eye and Cheek set is as complete as it gets for giving you everything you need for a day to night look, it's sturdy, has a nice large mirror and will last you a long time.
With fall beauty trickling out now and holiday launches in the future there are bound to be more palette and set options. So depending on what you already own or what you're looking for you may want to wait and see what launches later in the year.
You can find both the Bobbi Brown Deluxe Eye and Cheek Set and Nude Lip Color Trio available exclusively at Nordstrom. Both are limited-edition. There are a few more options available that I didn't pick up. You might want to browse them if you love her line.
Don't forget to check the Gift With Purchase options if you're shopping online. On multiple occasions I shopped in store I was told they didn't have them available.
Did you check out the Bobbi Brown sets? What did you think? If you passed what are your favorite Bobbi Brown items? I used to be the biggest die hard fan of her line!