Charlotte Tilbury has a special Nordstrom beauty exclusive called the Filmstar Bronze and Glow Blush Set ($75). This is a limited-edition set that's part of the 2017 Nordstrom Anniversary Sale which opens up to everyone today! Out of all the makeup items I purchased this one is by far my favorite. My local Nordstrom didn't have this so I ordered it online and think it's the best cheek duo she's launched to date. I've been a long time fan of her original Filmstar Bronze and Glow because it's an effortless contour and highlight palette I find really versatile. She's released a few other variations but this is the first that has a blush color. The set comes with a mini Artistry Blush brush which didn't look like it would be the best quality from the cut but I was pleasantly surprised by how soft it felt and also how well it performed.
The bronze shade in this duo is the lightest out of all the Filmstar duo palettes but still has enough color to add warmth to my medium tan skin. If you're super fair or light and want a natural looking bronzer I think this is an excellent option. The blush shade is a soft shimmering soft coral pink with a soft peach/gold sheen. To me it's like a pink less frosted version of NARS Orgasm Blush. On me it looks medium but on lighter skins it will be more pigmented/brighter.
Texture of both sides is soft and luminous without any frost. This is perfect for summer to add a soft sheen. I found it perfectly soft – I was able to layer for more pigment by putting a tiny bit of cream blush or highlighter underneath to pick up more color. I feel like if I could only buy one makeup item from the sale, this would be it.
Close ups of each side and swatches, bronze side:
Blush side:
Swatches: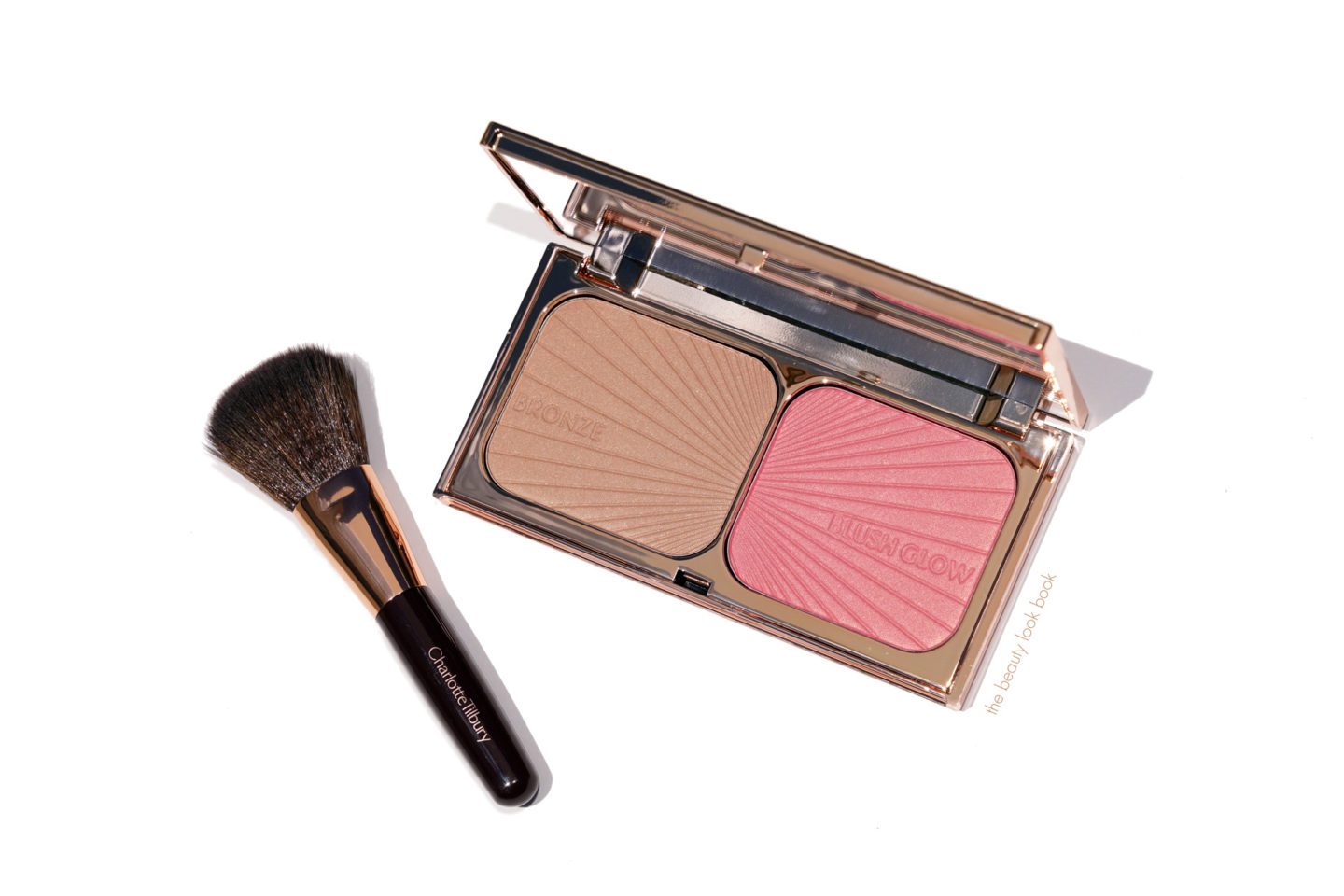 Look wearing:
A few sets of comparisons, first a look at the Powder and Sculpt brush in the full size compared to the mini in this set. As you can see the mini seems to have a different cut on the brush – something I thought would be scratchy or harsh. It's actually surprisingly smooth and easy to use.
Next a look at the three Filmstar Bronze and Glow Duos, the Light-Medium, Medium-Dark and Bronze and Blush Glow. As you can see the Nordstrom exclusive has the lightest/softest looking bronzer.

For a blush comparison, long-time readers know I'm a huge fan of her Cheek to Chic blushes for their soft luminous glow. They each have two colors to swirl and pop for depth but I really just swirl a brush in the pan and mix before applying to the face. The Filmstar Bronze and Blush Glow shade resembles Love is the Drug the most, but it still has a slight hint of warmth to it while the blush is clearly pink.
Bottom line a solid winner and for me I call it a definite must-have. It's naturally pretty, soft, luminous and easy to wear. I found it easy to control pigment by blending for a soft wash or layering for a more visible glow with color. I do think if you have dry skin this might not show up well on a bare face – it is powdery and with the soft texture it can feel a tad bit powdery. Make sure you have a well prepped face with some kind of tinted moisturizer or base. I found the duo performed well over a liquid base + powder, but it can look a bit powdery on bare or dry skin. Sometimes this can be fixed by spritzing a tiny bit of face mist like MAC Fix+ before applying powders or simply add a bit of a cream blush, luminizer or bronzer underneath to help the color adhere better.
For me it's pure love and I think it's 100% worth the splurge. I love these so much I'm going to giveaway 5 Charlotte Tilbury Filmstar Palettes. Five distinct winners will be selected at random to pick their choice of 1 palette: Filmstar Bronze and Glow Light-Medium, Medium-Dark or Bronze and Blush Glow via the widget below. Simply enter by following one of the steps in the Rafflecopter widget. Open internationally but you must be 18 years or older to qualify. Giveaway runs through July 29th 11:45 EST. I'll select and email the winners within 48 hours after the giveaway ends. Prizes will be mailed within 1 week after I receive a response. Please refer to terms and conditions in the widget for all the details.
You can find the Charlotte Tilbury Filmstar Bronze and Blush Glow set exclusively at Nordstrom for the Anniversary Sale. There's a GWP going on online as well – check their Gift With Purchase Page as it gets updated regularly. All the other Beauty Exclusives here.
Are you shopping the sale today? What's on your list?