NARS has some new launches for the summer including a new cheek product called Liquid Blush ($30 for 0.5 fl 0z/15 ml) and a three-piece Orgasm Collection which features the new liquid blush formula, a special edition packaging Orgasm Powder Blush ($30 for 0.16 oz/4.8 g) and an Orgasm Lipstick ($28 for 0.12 oz/3.4 g). The Orgasm powder blush was one of my first high-end purchases many years ago and I used that blush with the Laguna Bronzer religiously (before my blogging days). Any extension of either colors always gets me excited. Something about a peachy pink gold shimmer just gets me. Up first is the NARS Orgasm Collection features three items: two cheek items and one lipstick.
For some reason I thought the Orgasm Lipstick already existed but perhaps I got this confused with the lip gloss version. The lipstick is a pretty peachy pink gold shimmer with a sheer finish. It gives the lips a pink peach gold tinge for a gorgeous summery look. It's shimmery but not overly frosted and I like the look of it. It has a moisturizing feel without having too much slip. The Powder Blush has a special-edition packaging on the exterior with pink lettering and on the mirror there's a little hashtag phrase embossed onto the surface adding a fun touch. The Orgasm Liquid Blush is a new formula of super pigmented but blendable liquid. It has a thin texture and this one appears more pink than the powder version. There is shimmer in the product but on my face I don't see any – it just gives the skin a very soft pink glow in the most natural way I've ever seen.
I don't have the lip gloss version of Orgasm, but I do have the Illuminator. Here they are swatched side by side. For the most part the Orgasm Powder blush has looked like a blush on me. Now that I'm a few shades darker it feels more like a highlighter on my medium tan skin. For more of a blush version right now I prefer Luster or Torrid for that peachy look.
The Liquid Blush comes in four shades: Orgasm is the lightest, a soft pink with gold shimmer, Luster is a soft peach apricot with gold shimmer, Torrid is a warmer/deeper coral peach, Dolce Vita is a matte rose. The finish of these is somewhere in between glowy and satiny. They have a very fluid pigmented texture and look almost scary pigmented straight out of the pump but they blend out easily. The bottles are on the small/tiny side but a little goes a long way so I really only need 1 pump for the face. Application-wise I used my fingers to dab and blend. You can use a brush or a sponge. I like that they blend but don't disappear on the skin once you swipe to blend. The pigment is truly easy to control depending on how much color you want. There's no detectable scent. Lasting power is very good for a non-powder formula – they don't slide off and color-wise they don't darken or oxidize (yay!). My favorite is Torrid.
It has moisturizing ingredients to give the skin a healthy looking natural glow without being too dewy. At the same time these have a satiny finish. The swatches look scary but I promise they can be blended out to a natural finish. Left to right below is Orgasm, Luster, Torrid and Dolce Vita. These come in a frosted small glass bottle with a pump.
Below I swatched them with a heavy hand but they will blend out for a sheerer finish. You can also layer powder blush on top for more intensity without the color looking too heavy. Definitely check out Karen's post on Makeup and Beauty Blog to see how these compare to their powder versions (her post is super helpful!).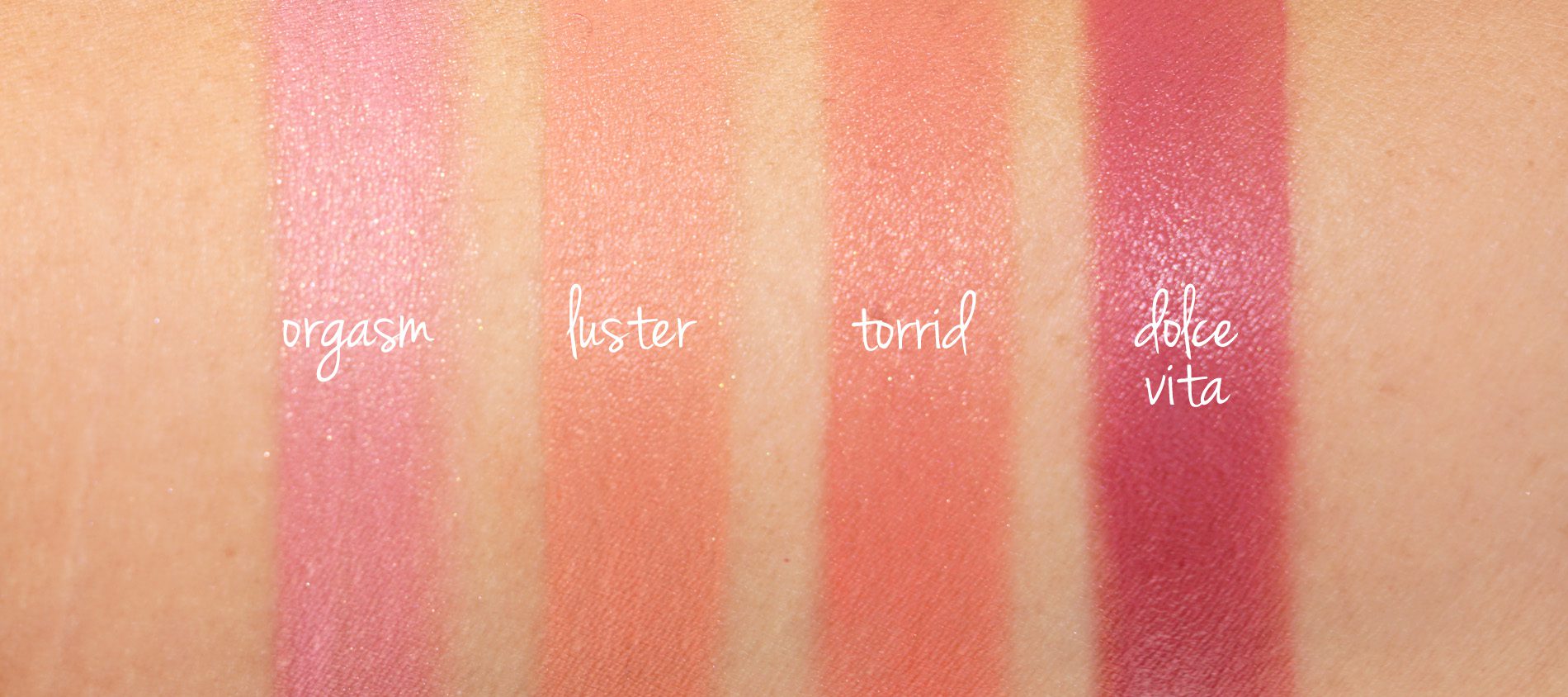 Swatches below, top left is Orgasm, top right is Luster (Orgasm Lipstick on both sides)
Bottom left is Torrid (Orgasm Lipstick), bottom right is Dolce Vita (with Dolce Vita Lip Gloss)
Foundation worn is Tom Ford Waterproof Foundation in Sable
One last look:
Bottom line the liquid blush is a win. I find that both Luster and Torrid are great colors for me right now. Blended out they look similar on my skintone, but one is clearly lighter than the other. Dolce Vita has always been a tricky one for me as dusty rose colors tend to look dark against my olive skintone. The liquid version looks more rosy than brown which is workable, I just prefer peachy shades or bronzey colors. Orgasm Liquid blush is more pink than a peachy-pink-gold but I actually like it better than the powder blush version.
For the Orgasm Collection I was pleasantly surprised by the lipstick. It's a nice peachy-pink-gold shimmer that I want to wear all summer long. It is on the sheer side though so if you want more color than shine you may have to add a liner underneath and blend it out. The blush is a nice addition with the added details on the packaging but if you already own it, no need to get another one. A number of you have asked if I'll be reviewing the NARSissist Loaded Eyeshadow Palette and I'm still undecided. I don't need another eyeshadow palette and have this one from Kat Von D Beauty and this one from Tom Ford on my radar so I'm trying to hold out. The reviews on the NARS one are overwhelmingly positive though so perhaps I need to take a trip to Sephora this weekend to look at it again. If you have any thoughts on it let me know.
You can find the Liquid Blush and Orgasm Collection online and in stores at Sephora and NARS Cosmetics. The Liquid Blush launches today! Have you tried these yet? What did you think?
Items in this post provided courtesy of NARS for review consideration.