Glossier's latest makeup launch is the a gel-cream blush called Cloud Paint ($18 each for 0.33 fl oz/10 ml, save 10% off your first order by using this referral link). These come in small squeeze tubes and have a very lightweight texture. There are four colors to choose from in Puff, Beam, Haze and Dusk. For me the packaging and product name are what spoke to me – how could I resist trying cloud paint on my face? I ordered them to try and after testing, I have mixed feelings.
These cream-gel blushes come in the cutest little squeeze tubes. As usual my order arrived in the cute pink bubble zip pouch. The four colors include Puff which is a super pale pink, Beam which is a soft peach, Haze a berry pink and Dusk a nude pink brown. Glossier recommends applying these with fingers and I tried both with my fingertips and a foundation brush. Using the fingers is probably the best way to apply so you waste as little product as possible, but I really prefer the brush method. Brushes are just easier for me and less messy for the hands. Finish is really sheer on these for a natural blush but you can build them without it caking or streaking. Dry down is a matte but in a natural looking way. They almost have a stain-like quality to them – on my arms and hands, removing with cleansing water does the trick but one swipe still left some color on the arm. On the face I found they lasted around 5 hours before starting to fade, the exception is with Haze which is the darkest color and lasted significantly longer.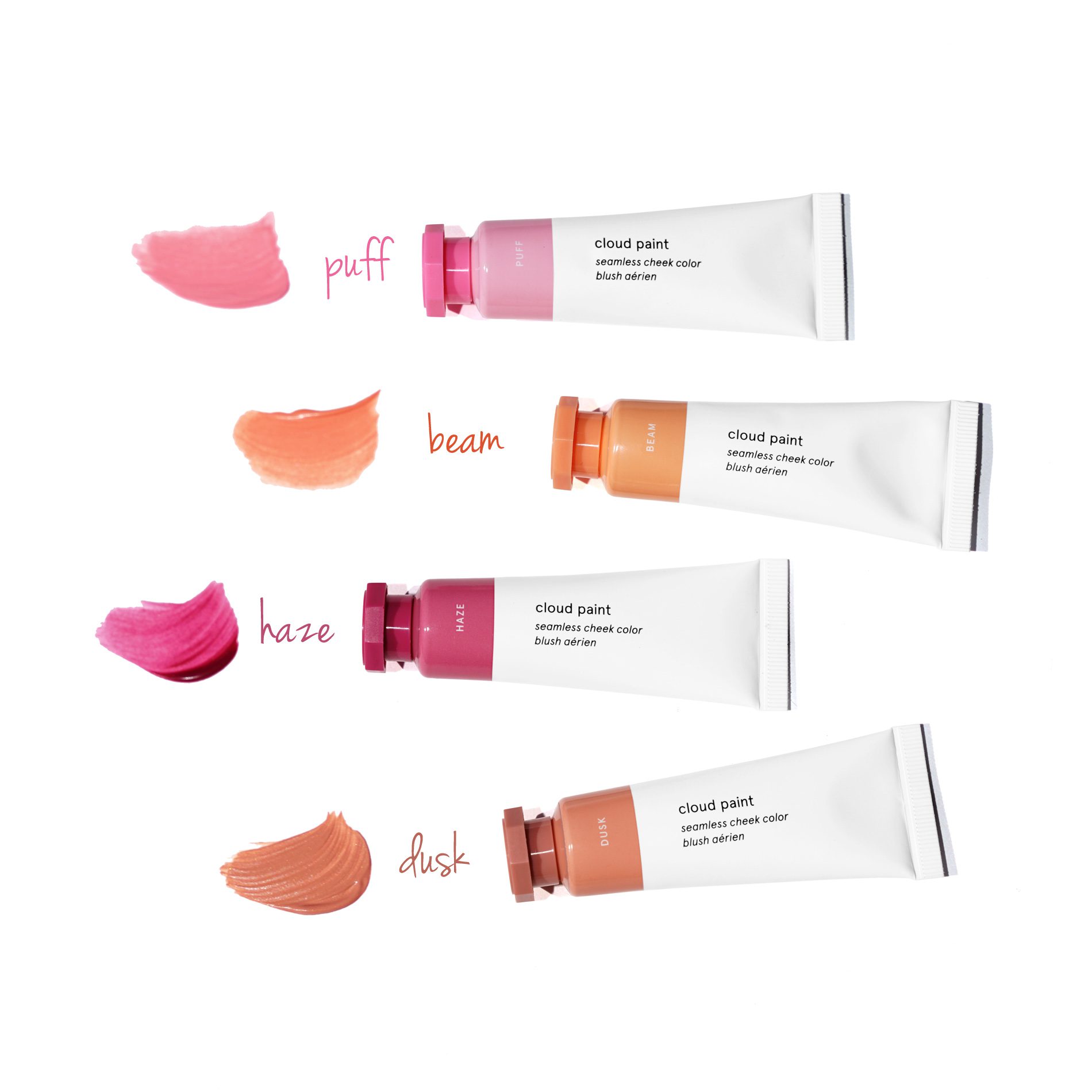 Swatches with a heavy hand and then blended out: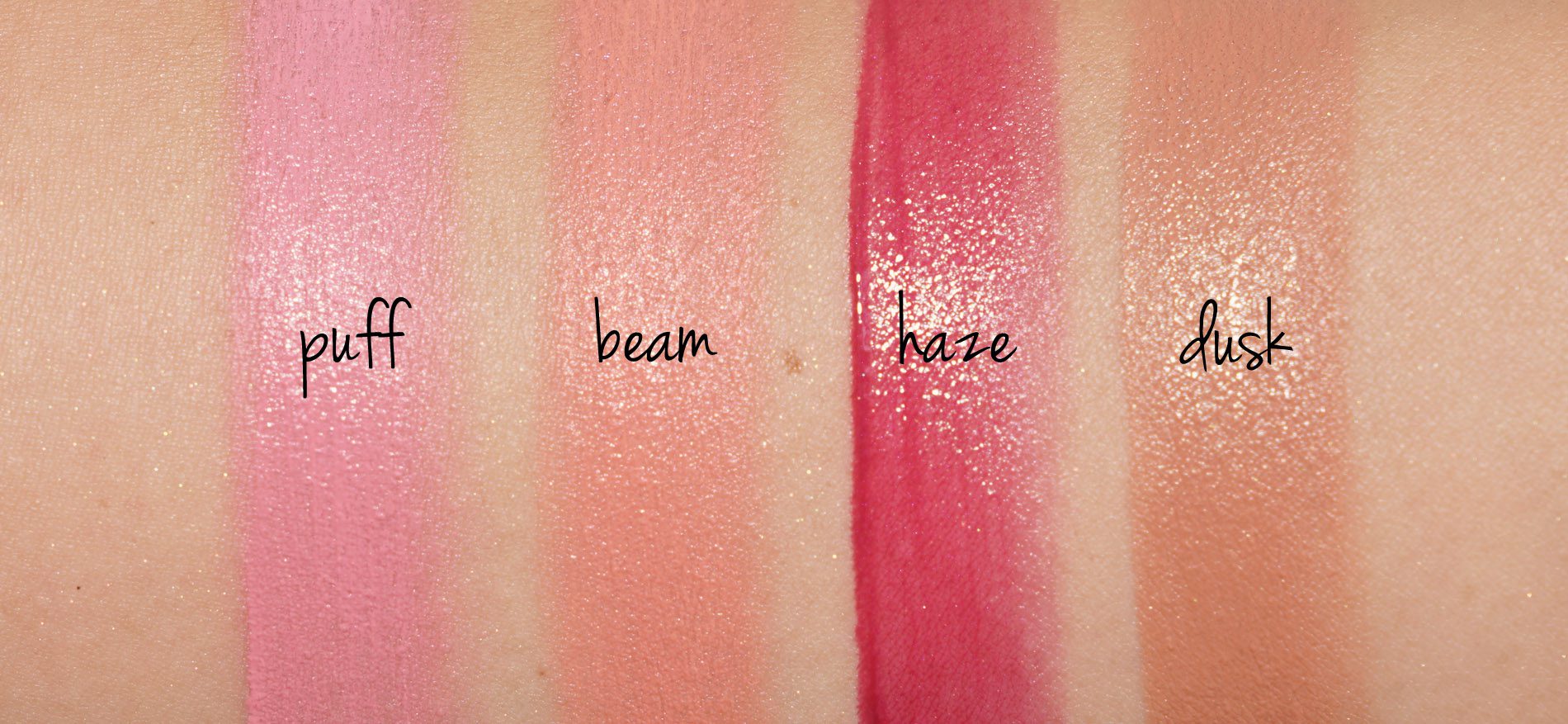 Blended: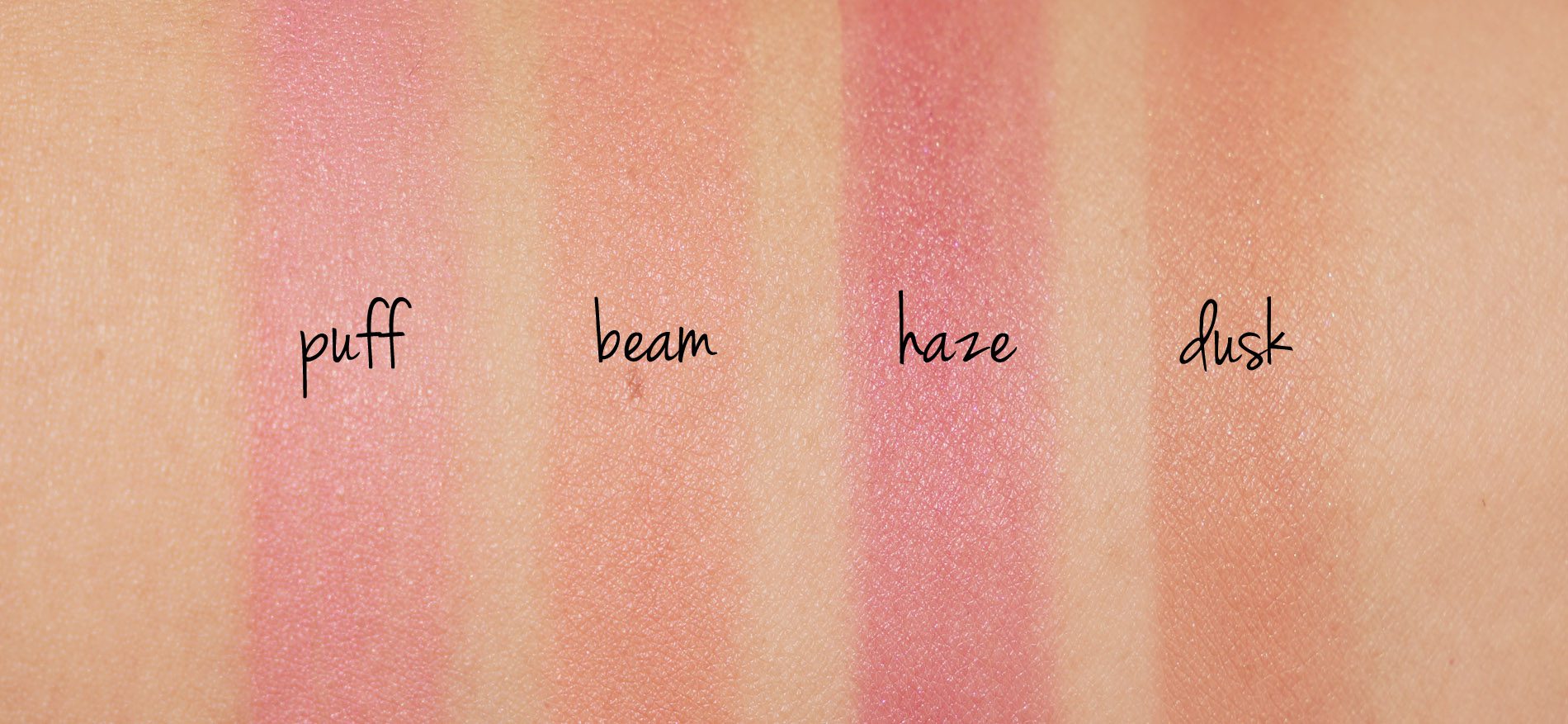 On the face with different coordinating lip colors, foundation worn is Tom Ford Waterproof Foundation in Sable (reviewed and compared to a few MAC colors here):
I have mixed feelings due to the sheerness and product size. I do think the sheerness was to be expected based on the product description as "seamless, sheer and buildable." As one who finds that many blushes are easy to overdo – these are a nice change as they really give a natural look. For the face swatches above I had to layer at least 2 layers of product to get them to show up, and with some layering they do. I really like that on the Glossier website they show video application of all the colors on three skintones: light, medium and deep and you can see that they do indeed show up on darker skintones even though they are on the sheer side. I think all the colors are wearable and versatile – Haze is the only one I wasn't crazy about because it gives a stained flush that I found a bit hard to blend.
Product size of these is really tiny – after just a few uses a significant portion of the tube was used up. The good thing is that they will be easy to use up before they go bad or dry up (I find some tube cream products are prone to drying up).
Pros are that these are indeed very natural and seamless. They blend nicely on the skin even on top of a powdered face. I had some concerns that the gel formula might cause my base to come off or that it might look streaky on top – I am happy to report that it blended well. I also like that there's no detectable scent, they caused zero irritation or clogging, they are shimmer-free but don't look flat. They have a youthful natural vibe to them that makes me feel like they'd be suitable for a wide range of ages. If you're shopping for teens who are just starting to get into makeup but want something natural this is a great option. If these had been around in the early 2000's I could see my college-age self wearing these. I'm in my mid-30s now and can see myself wearing them on a regular basis for an effortless natural look. I think anyone who wants a very natural blush will like these.
For me the pros outweigh the cons. As one who really doesn't like gel blush because I simply don't like the texture, I think these are great. They do take a bit of extra effort to layer for noticeable color but the extra time it takes isn't a deal breaker. I don't regret my purchase but I definitely don't feel like these are must-haves. My favorites are Beam and Dusk.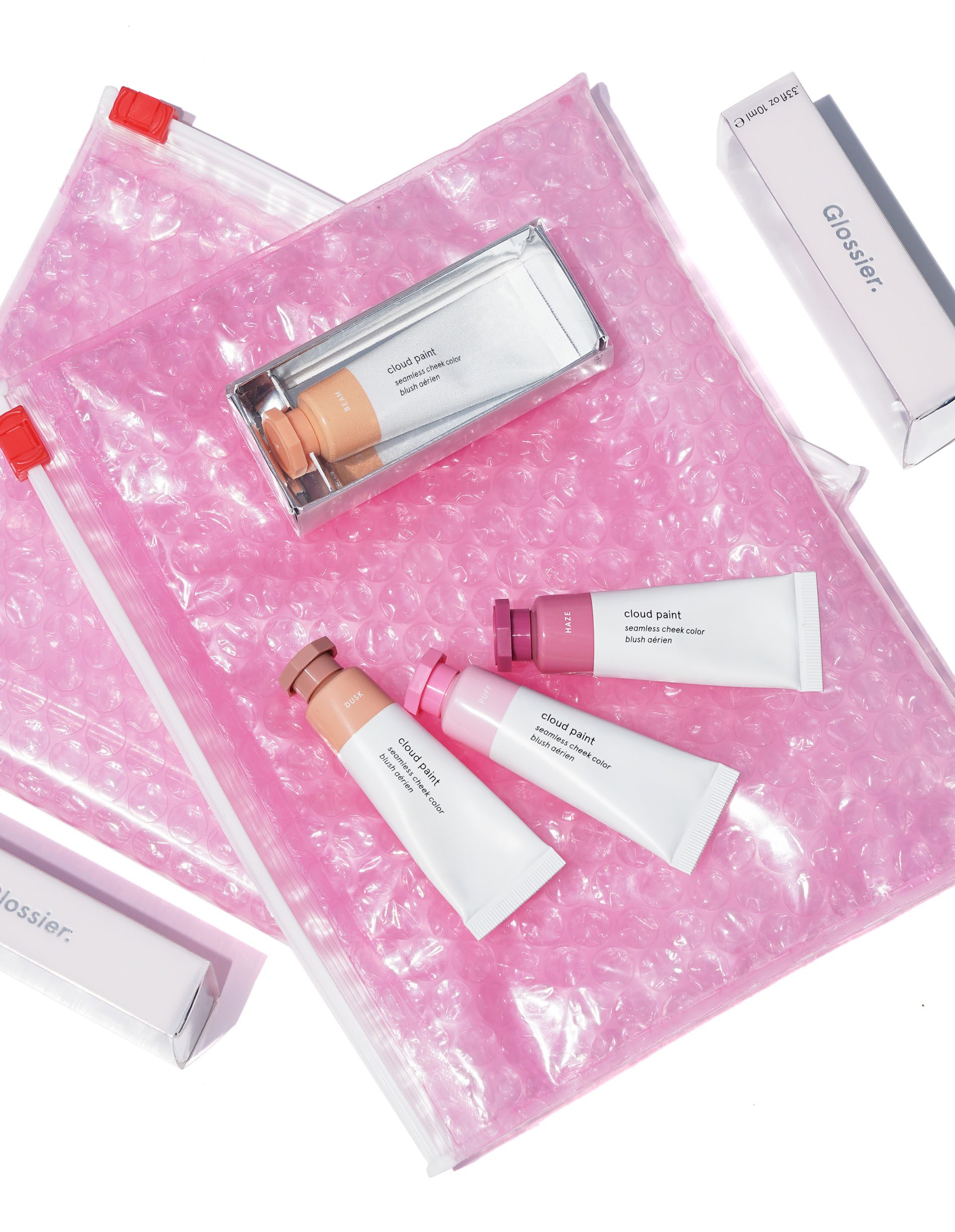 If you've tried these I'd love to hear your thoughts! You can find them at Glossier for $18 each. You can save 10% off your first order by using this referral link.