With all the different candle variations and holiday set offerings, a few have found it a bit challenging to make sense of the different Diptyque candle sizes (myself included). A few have asked for a breakdown comparison of the various Diptyque candles. I've pulled the three sizes for the regular clear glass candles to show you today and photographed some ideas for how to re-use the jars after they finish burning. For the standard clear jars with white and black sticker labels, there are three sizes: mini 1.2 oz, small 2.4 oz and regular 6.5 oz.
________________________
Mini Size is 1.2 oz/35 g
2″ height
12-hour burn time
these aren't sold individually – Diptyque sometimes gives these away
in promotional gift with purchases, right now they are available in
various holiday sets such as the 10 Piece Set $130 at Nordstrom and 5 Piece Sets for $75 at SpaceNK and Barneys
the 10 piece $130 set breaks down to a cost of $10.83/oz
after burning the emptied baby candles will fit large paperclips, I haven't found any other ideas of what to store in them yet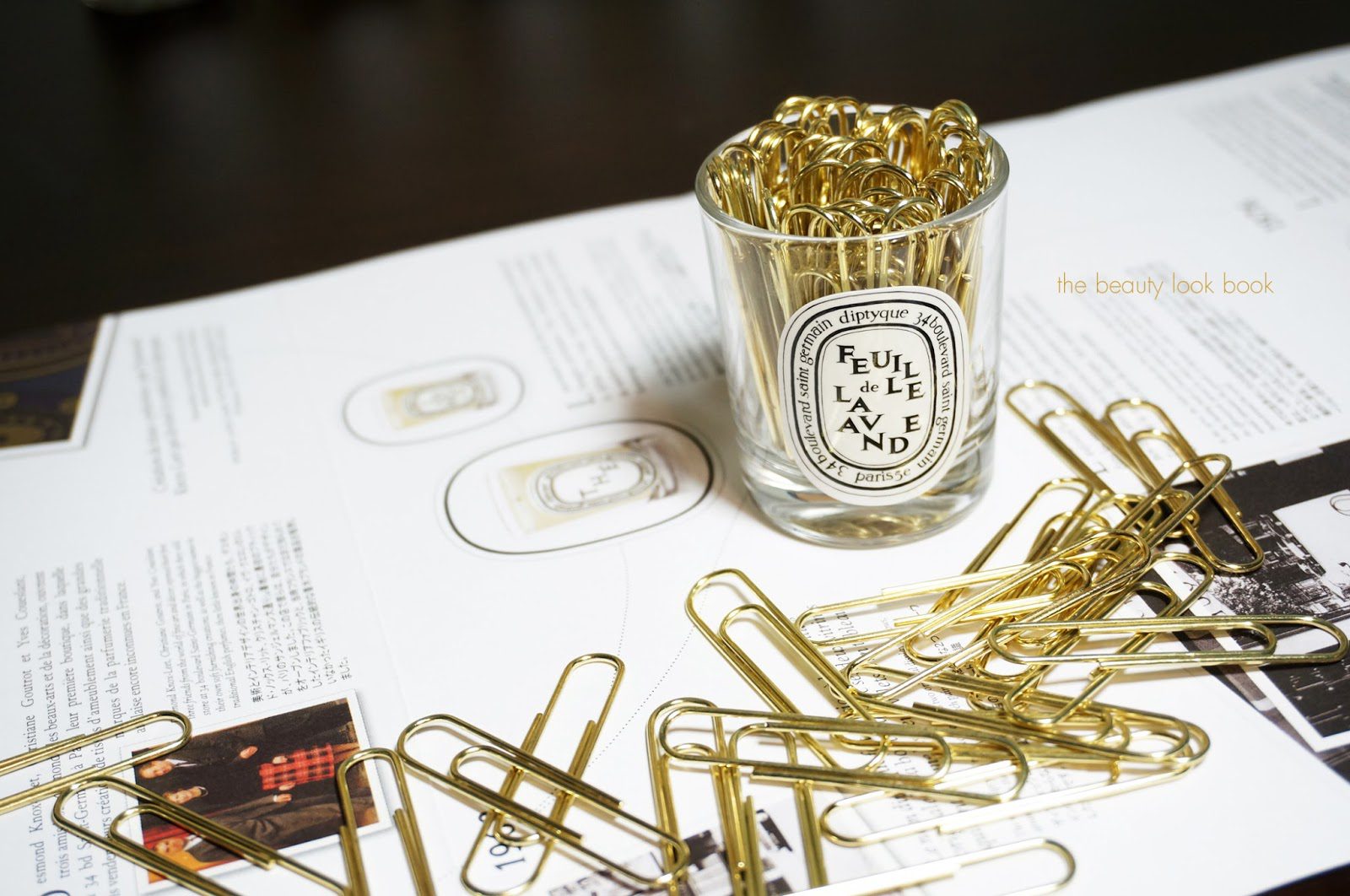 ________________________
Small Size is 2.4 oz/70 g
2 3/4″ height
30 hour burn time
retail for $28 each or sometimes combined into trios for $84 here
not all scents are available in the small size, free standing boutiques and DiptyqueParis.com have a larger selection for the small sizes individually compared to department stores
the small sizes at $28 each break down to a cost of $11.76/oz
recycle ideas include storing Q-tips
________________________
Regular Size is 6.5 oz/190 g
3 1/2″ height
60 hours burn time
retail for $60 each (special edition jars are sometimes a bit more expensive)
cost breakdown is $9.23/oz
recycle ideas are endless for storing pens, brushes, makeup pencils, chubby sticks, mascaras, flowers, scissors etc.
________________________
A few more size comparisons side by side:
One more shot of the baby mini 1.2 oz:
For more Diptyque reference and styling ideas:
See my features of the boutiques in San Francisco and South Coast Plaza
How to clean the jars and remove excess wax without breaking the glass or ruining the stickers here
I hope this helps clarify the different sizes and options! I know it can be hard to tell the differences online for those who don't have access to Diptyque easily. I'm really thrilled they released the baby mini sizes in sets this year for the holiday. They make a good introduction into the brand allowing anyone to try a variety of scents for at a more affordable price rather than buying each one individually to test them out.