We are so excited to introduce the newest addition to our family Ollie! He's a Cavapoo and we've had him for a full month now. Ollie has brought so much happiness to our home and we are soaking up every minute of this puppy phase. We created an Instagram page for him @olliemclovin in case you want to follow along on his puppy adventures!
Our pups Jake and Lucy have been missed. Jake lived 14 years and passed away the summer of 2019. Lucy lived a few more years until age 17 and passed away this last Christmas. It was so heartbreaking to lose them. Both Jack Russells gave us so much love and happiness. After Lucy passed away I never thought I'd get another dog – saying goodbye was so terribly sad, I didn't think my heart could go through it again.
This year however just hasn't been the same without them. Even our ragdoll cat Calvin noticed Lucy wasn't around and he just hasn't been himself. In early March Andrew told me had been researching dog breeds on his own for several weeks and said, "I think we should get a Cavapoo. They have a good temperament, they're friendly, super cute and don't shed." As soon as he showed me pictures I immediately said yes!
We picked up Ollie when he was 9 weeks old (5 pounds). He's a mix of a Toy Poodle and Cavalier King Charles Spaniel. Today he's 13 weeks and weighed in at 7 pounds. He's growing so fast and has so much energy. It's estimated he will be 14-20 pounds full grown.
Here's a video we made with him!
View this post on Instagram
A number of you asked for a roundup of what we bought for him and what he likes. Since he's still young and hasn't had all his vaccines he's stayed at home with us or gone on short walks. He's very friendly and loves it when any new people come over to our home.
Crate, Bed and Gates
We've crate trained Ollie and he has a Wood and Wire Medium sized crate from Wayfair. It's in the corner in between two sofas we have gated but we leave the crate doors + gate open for him during the day. Andrew also ordered two Ortho Pet Bed Pillows to put inside the crate but Ollie prefers sleeping on the tile floor, a Top Paw Donut Bed or his Barefoot Dreams Pet Bed.
He has another sleeping corner in our bedroom where it's quiet so he can sleep undisturbed during his daytime naps.
To section off areas in the home Andrew ordered some Freestanding Wooden Pet Gates from Amazon. They're foldable and sturdy and they're exactly what we were looking for. You can also buy Support Feet which we have and really like.
So far our setup works well for Ollie. He's a jumper and likes to bounce around a lot but he's nowhere near the jumping capacity of our Jack Russells. Jake was able to jump all the way to my shoulder height even as a little puppy.
Favorite Toys & Organization
We've tried so many toys with Ollie. His favorites are his Barefoot Dreams Fox and anything that has a crinkle noise. He loves this Stuffless Crinkle Squirrel, Baby Yoda Toy (the ears crinkle), Stuffed Chewbacca and also the Top Paw Easter Crinkle Toys. By now he knows how to play catch and fetch and loves anything he can chew and carry. Even though he's in the teething phase and likes to bite and chew he doesn't tear into or rip toys like our Jack Russells did. Nothing lasted more than 5 minutes with Jake and Lucy!
Andrew found quite a few entertaining toys that Ollie ended up liking. The Snuffle Dog Mat Snail has pockets to hide treats and keeps him entertained for a while. This Suction Cup Chew Toy attaches to our sliding glass doors. We put peanut butter on the outside and it keeps Ollie occupied until it's all gone.
The Hyper Pet Dog Tail is another winner. It wiggles, vibrates and barks. It's interactive so it keeps Ollie pretty entertained. He also like his Hide-a-Squirrel! He has a lot of toys but we limit what we expose him to at any given time so he can stay more focused.
To keep his toy situation under control I bought a couple Woven Felt Baskets (available in Large and Small sizes) and Rectangular Wire Baskets (available in multiple sizes and in black or white) from Target. I liked them so much I bought a few more for around the home.
Treats
We waited to get the ok from the vet before giving Ollie treats and we're easing him in with a few for training and teething. He seems to be picky with the treats but likes Milk-Bone Trail Mix and a Nylabone Healthy Edibles. The Jack and Pup Bully Sticks help with his teething and don't make a mess.
Cleaning & Grooming
Pee pads were on everyone's puppy essential list and we bought a pack but we didn't really need to use them for Ollie. He's been pretty good with the potty training and learned quickly.
To clean up accidents the Bissell Pawsitively Clean with Febreze is great. It's a stain remover and smells pretty good for an Enzyme Cleaner. They make one for cats too but out cat Calvin doesn't usually mark anything so we haven't tried it.
For baths we used Earth Bath for Jake and Lucy and still had some in our cabinets (it also works for our cat). They work well for Ollie too! Right now we use the Hypo-Allergenic Shampoo and the Oatmeal Aloe Conditioner on him.
For grooming we're still learning. He thinks brushing is play time so I try to give him gentle brushes while he's sleeping. We use a brush we had for our Jack Russells but Ollie's Cavapoo fur is different so we will need to order different combs.
He will need professional trims and grooming in the future. The fur around his eyes has grown the fastest and has covered his eyes. Since he's so wiggly and energized I've only attempted a tiny trim (tiny as in 2 snips) when he's fast asleep.
Training will start soon. He's still pretty young and knows basic commands like sit, stay (sometimes) and come here. He understands words like "potty" and "treat." They say Cavapoos are quick learners so we are keeping our fingers crossed!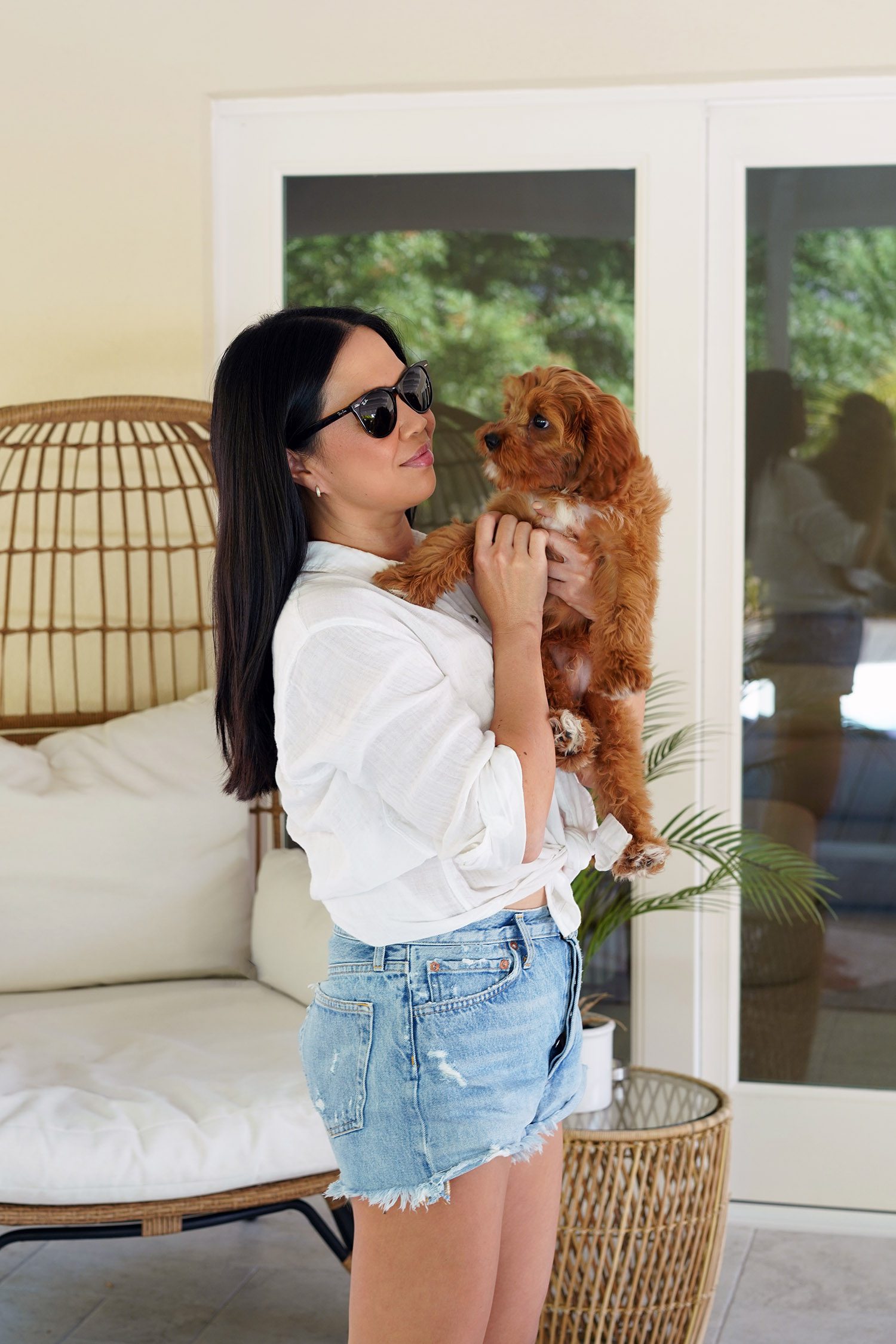 9 weeks vs 12 weeks
I've linked all the things we've bought for him. A number of you asked about his harness and leash but we got it from our breeder who buys them from a third party vendor. Since Ollie is growing we need to get him a bigger size already. Once I find one that works I'll share that with you too!
Everything from Amazon is on my Amazon Page under Ollie's Favorites.
Other items linked below:

A very special thank you to each and everyone of you who have sent heartfelt messages to me about Ollie. We love him so much and I love seeing pictures of all your doodles! I had no idea there were so many of you with poodle mix dogs and I LOVE IT! Keep sending me the photos and accounts, I love seeing them and hearing about your dog stories.