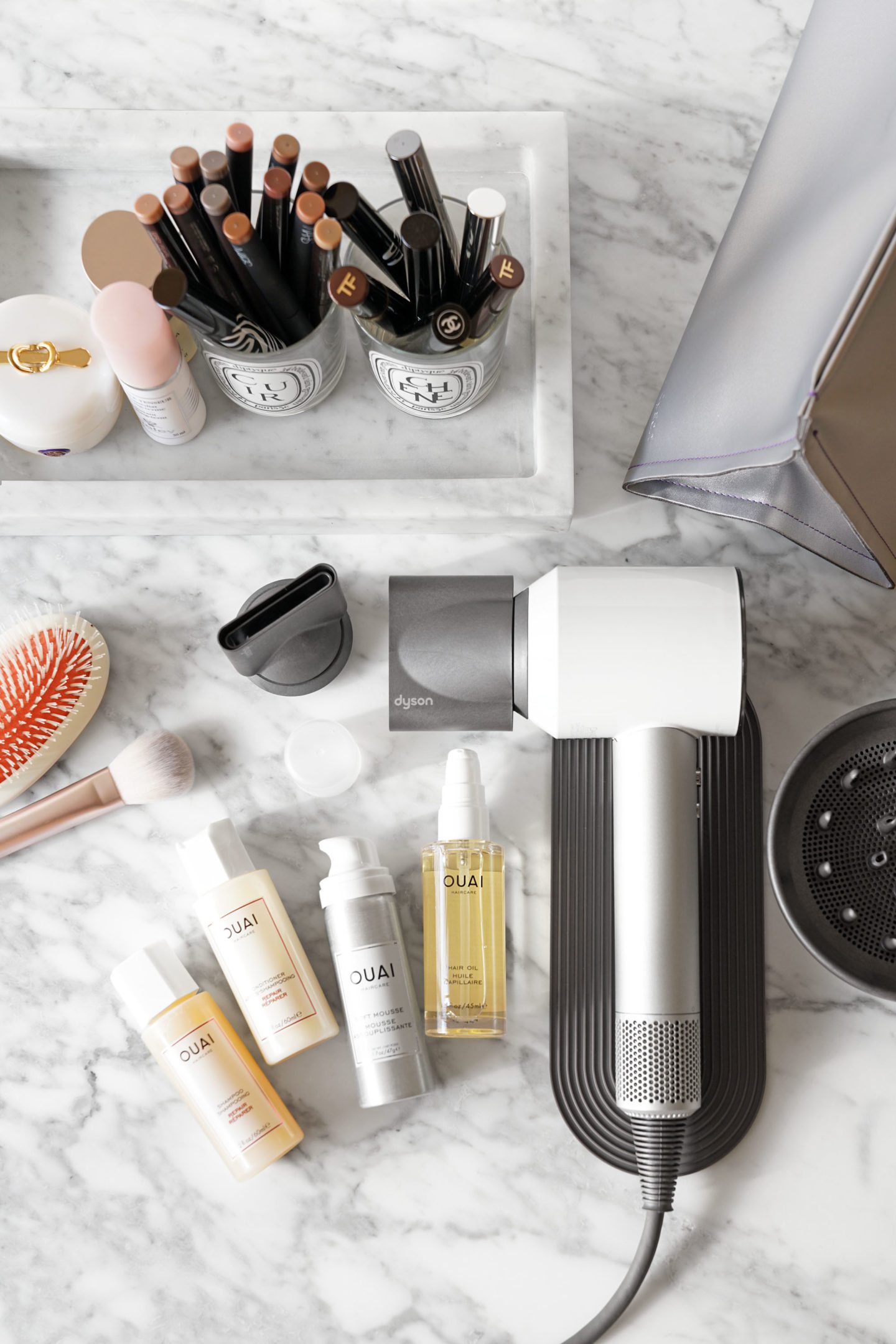 I finally splurged on the Dyson Supersonic Hair Dryer because Sephora has a Dyson x Blown-A-Ouai Set this season. It's one of the most expensive beauty tools I've purchased and based on my testing I think it 100% lives up to the hype. After reviewing the new Harry Josh Ultra Light Pro Dryer I was thrilled to see how many of you love haircare posts and especially surprised many expressed interest in a review of the Dyson Supersonic. This dryer has been out on the market for quite some time now and it has caught my eye on numerous occasions but I could not bring myself to splurge as I already own and love several other dryers. The Sephora set pushed me over the edge and for those who have been contemplating it for the Beauty Insider Sale I hope this review helps you make your decision either way. This dryer comes with an ultra-hefty price tag but it 100% exceeded my expectations and to me I think it lives up to the hype.
The Dyson Supersonic Hair Dryer currently runs at $399 which includes the dryer, smoothing nozzle, styling concentrator, diffuser, non-slip mat and storage hanger. There are a few value sets available at various retailers that come with a case or other accessories. The Sephora Blown-A-Ouai Set caught my eye because it comes with all the nozzles, diffuser, mat and hanger but also has a travel bag and four Ouai haircare products including the Repair Shampoo (2 fl oz), Repair Conditioner (2 fl oz), Soft Mousse (1.7 oz) and the Hair Oil (1.5 fl oz). Because of the mousse do note this must ship ground so it may take a little longer to get to you if you order it. Also it appears that this is an online exclusive at Sephora. Note the one I've reviewed is limited-edition for 2017. Current 2018 version Dyson Blown Ouai Set comes with the matte black dryer and slight variation of products.
I didn't take pictures of the boxes but the entire set comes beautifully boxed in three separate boxes. The dryer + attachments come in its own box. The bag has it's own box. The Ouai products also come in their own box. Everything is packaged in a way that even in transit nothing moves around and all pieces are held securely in place. It may seem excessive but I really appreciate when items are carefully packed (especially liquids) and to me this is super important especially at the price.
I must admit I thought there was a chance this dryer was going to be a high-tech gimmick but we've owned a few Dyson products for the home and found them 100% worth the splurge. We also own a Dyson Cord-Free Vacuum
that we bought four years ago and it's held up remarkably well even with daily use. We find it essential as we own 3 pets with white fur and they shed constantly. We are always vacuuming, using swiffers and washing the pets. When Andrew first saw this dryer out of the box he did not think it was going to be anything special. Then I turned it on and we did a side by side performance comparison to the Harry Josh Ultra Light and T3 PROi and we both saw that the Dyson Supersonic has a lot more power, more control options, and although it is odd-shaped for a dryer, very ergonomic and easy to hold and maneuver. The air flow is a lot more controlled and for some reason the way it's designed makes for a less frizzy blow out. I've experienced a lot of hair breakage from hair ties over the past few months and as parts of my hair have grown out I find my hair is prone to a lot of static or flyaways that stick up. This of course can be fixed with a bit of pomade, gel or shine product. The Dyson dryer seemed to reduce all frizz for me.
Dyson Supersonic Dryer in White/Nickel
This is one of the fanciest products I beauty tools own. It has what Dyson calls Intelligent Heat Control technology because it measures temperature 20 times a second and transmits data to the microprocessor. This in turn controls temperature to prevent heat damage. Power-wise- it has a Dyson Digital Motor V9 which is supposedly on average 6 times faster and a third of the weight of other dryer motors. The motor is actually in the handle which is why it feels different in your hands compared to a traditional one. It is so powerful it nearly knocked off all the things on my counter as I didn't pay attention where I was pointing it when I turned it on.
For the features:
There are four heat settings and a constant cold mode
There are three airflow power settings
The nozzles and diffuser are magnetic and easy to rotate
There is a removable filter cage at the base you can remove for easy cleaning
One of the best things to me is the mat which helps prevent it from slipping or getting scratched once you set it down
I don't have the hanger cord shown below as I'm always losing little things like hair ties and I've already misplaced the little hanging device
Due to the high power it does indeed give me a super fast blow out. I like the lightest or medium heat setting for my hair type. It isn't the quietest I own or the lightest but it's easy to hold and use. The only con I see is the extra long cord. This could be seen as a pro or con depending on your preference and needs. I find it long and cumbersome and it takes up a lot of space. The bag it comes with doesn't quite fold over at the top like the stock photo shows but it's not a deal breaker. It holds the dryer, it's super long cord + two nozzles which is perfect for travel. The cord takes up most of the space. I don't usually use a diffuser so I did not test it out, but both nozzles provide precise control.
Dyson Travel Storage Bag
For the Ouai products that come in this set I have already tried and fell in love with the Repair Shampoo and Repair Conditioner. I have been meaning to restock on the full sizes but just bought the Verb Ghost Shampoo and Conditioner which I also really like. The Hair Oil is something I wasn't a fan of originally because of the scent but it has grown on me over the past year. I gifted several partially used bottles away to friends who were dying to try it but didn't want to buy the full size without trying it first. I'm glad I have another one now. The Soft Mousse is new to me. I'm not a mousse fan simply because I don't like the texture and find them sticky. This one is exceptionally soft like the name implies and has a very nice dry down.
Ouai Haircare Products in the Set
A quick hair demo. Since I just got this I haven't been able to put weeks of testing into this. I have tried it 8 times so far and used this multiple times in a single day. My hair has held up just fine to the heat and power. I do find the highest heat setting too strong for me right now (just for scalp sensitivity) but it did not scorch or dry out my hair. Do note the components will get hot so after you dry your hair I recommend you don't touch it. I used the Ouai Hair Oil to prep my towel dried hair. Hair was dried very quickly within 5-6 minutes. The result was perfect evenly dried hair with a lightweight feel and airy feel without any signs of frizz. My ends needed a bit of work but I haven't had a haircut in months.
Quick Demo with the highest airflow and middle heat setting and highest heat setting
Because I know you all love the comparisons here is a side by side look at the Harry Josh Ultra Light and T3 PROi. I really cannot pick a favorite. All three perform exceptionally well. The Harry Josh and T3 are both lighter in weight than the Dyson. The Harry Josh is the most gentle on the hair – if you have sensitivity to heat, this one has the softest (but still powerful) heat settings so you don't get that crispy feeling on the scalp after drying your hair. The T3 gives me shinier hair after a blow out but doesn't cut down the dry time. The Dyson is by far the most powerful. When you look at the Dyson it doesn't look like it would be travel friendly but when I compare it to the other two, based on the shape and design I think it is.
If I were forced to pick one to keep right now I'd say I would keep the Dyson. Harry Josh comes in very close second. Why? Simply because the Dyson packs in more power and the fact that it leaves my hair with zero frizz is really impressive. That being said I did read some of the negative reviews online and if you have very dry hair or a sensitive scalp, I'd recommend opting for the Harry Josh instead. While the Dyson did not dry out my hair I think the sheer strength and power could be too much for some.
I have a couple upcoming trips before the end of the year. I'll be sure to let you know which one I end up packing with me as I know many of you like my packing posts as much as I love sharing them 🙂
Dyson vs Harry Josh vs T3
Bottom line a winner for me. I wholeheartedly recommend it and for me it 100% lived up to the hype. Definitely worth the splurge for me and I still can't believe I spent $400 on this (I ordered it before the sale started). While I love it, I don't think you need to spend this much to get a good quality dryer. There are definitely other more affordable tools that will get the job done well.
You can find the Dyson Blown-A-Ouai Set exclusively at Sephora for $399. One shown is 2017 version. New version here.
There are a few other sets available right now and as the holiday season approaches I suspect more could pop up. You can find the Iron/Fuchsia win a special limited-edition Dyson Your Blowout Set at Nordstrom for $399. There is the Iron/Fuchsia with a Light Pink Case at QVC for $399. Also three variations of the Supersonic + Living Proof at QVC for $399 as well.
Have you tried the Dyson Supersonic before? What did you think?