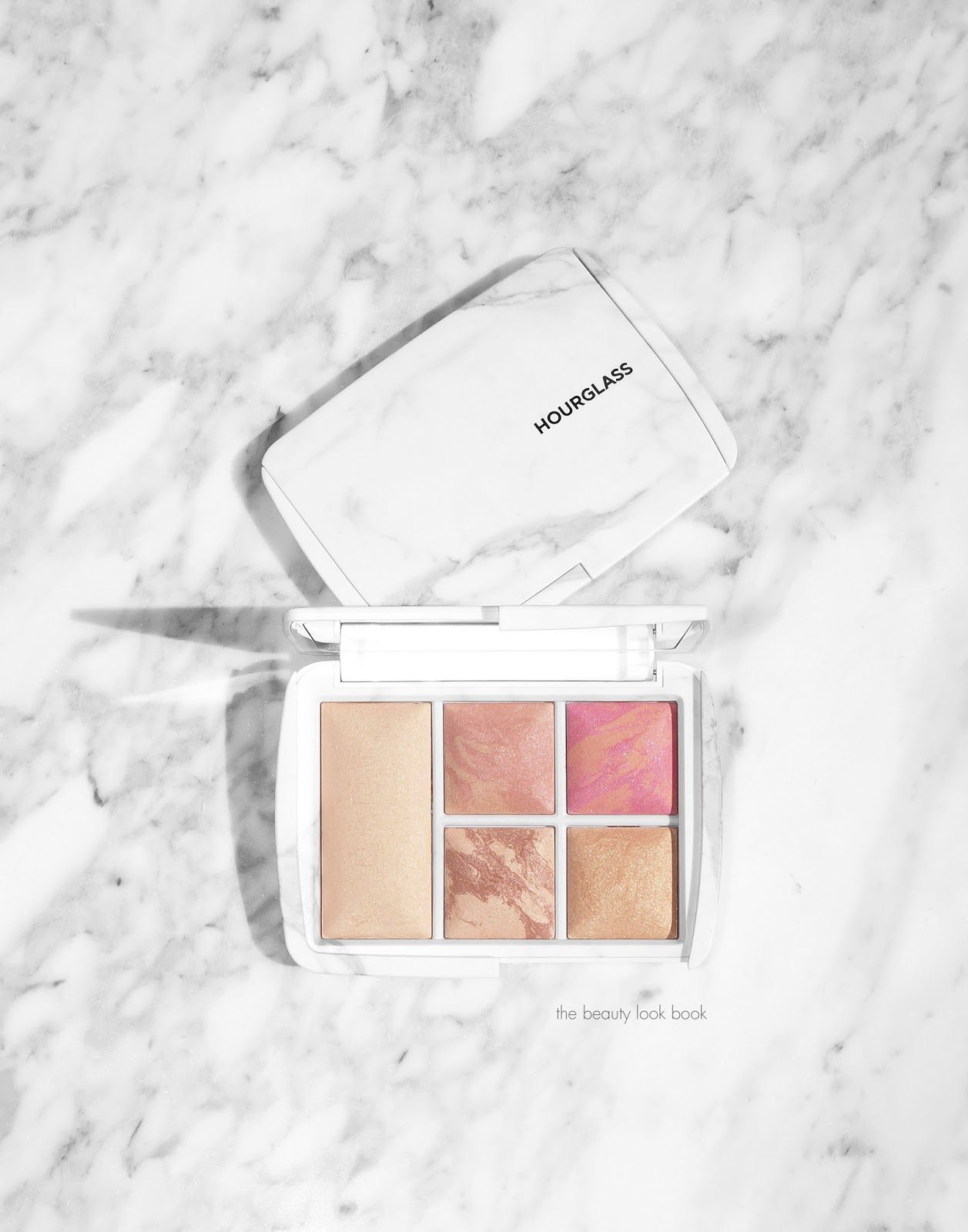 I've been playing with something very exciting which is the new
Hourglass Ambient Lighting Edit Palette
in Surreal Light ($80 for 9.6 g). It's a limited-edition for this season a part of their holiday launch. Right now you can find it at
Sephora
,
Nordstrom
and
Hourglass
but it will be available at all other counters soon. The colors have good pigment and enough color to show up on medium to tan skin. I'd consider myself to be medium bordering on light-medium now and the colors show up very well on me.
I've been a long-time fan of Hourglass Cosmetics especially when it comes to their entire Ambient Lighting Powder line. The Ambient Lighting Powder in Luminous Light (originally reviewed
here
) is one of my top picks for powder highlighters for my skintone. It gives that glow from within kind of effect, melds beautifully with the skin, looks glowy but natural, doesn't emphasize pores and lasts forever! (Well almost … mine has lasted years!) Since the initial launch back in 2013 I've looked forward to each new year's launch. They've added something special to the line with new products and variations. Last year's palette was the first launch I skipped because of the repeated shades. This year's palette is cased in marble pattern packaging (gorgeous!) and has shades that are different from existing colors.
You have five shades of powder. All are finely milled with a soft touch. There will be some powdery kick up if you dip your brush in the palette but there isn't any fallout once it's on your face. The colors and product sizes:
Colors:
Finishing Powder in Surreal Light (4 g / 0.14 oz) is a sheer nude warm shimmer, I thought this would be too shimmery to use as an all over setting powder but it actually works well without making me look like a statue, it has a yellow undertone
Bronzer in Surreal Bronze Light (1.4 g / 0.04 oz) is a neutral bronzer shade, it's lighter than the two existing Hourglass bronzers by a little bit making it more natural looking
Blush in Surreal Glow (1.4 g / 0.04 oz) is a what Hourglass calls a "pale peony blush pink" it's a nude pink on my skin and it shows up
Blush in Surreal Effect (1.4 g / 0.04 oz) is a cooler-toned rose pink compared to the other shades in the palette, there is a soft warm peachy shimmer mixed throughout which makes the color itself more on the neutral warm side
Strobe Powder in Surreal Strobe Light (1.4 g / 0.04 oz) is a golden peach yellow shimmer highlight
Below are close ups of the palette in different lighting. I did order two (by accident) and as you can see the swirl patterns are unique in every palette similar to that of the Ambient Lighting Blushes and Ambient Lighting Bronzers. If you're new to the Ambient Lighting collection the powders brighten and highlight the skin. Their powders have what Hourglass calls "… Photoluminescent Technology to capture, diffuse and soften surrounding light to refine the appearance of skin." These powders do indeed smooth the skin.
I've been able to use all five colors on the face at once. I'll use the Finishing Powder to set my foundation all over the face (it's not too glowy for me). I'll mix both shades of blush and apply them on the cheeks, although you can definitely just use one. Bronzer is added to warm up the face. The strobe powder is used to highlight temples, cheekbones or eyes. You can use it however you feel comfortable using it though – no need to use all the colors at once.
Close ups:
Swatched with numbers labeled according to the chart on the back of the box and what's on the Hourglass website:
Swatch comparisons below:
Thoughts on comparisons:
Ambient Strobe Lighting Powder in Brilliant Strobe Light (review here) is paler and brighter than Surreal Light
Ambient Lighting Powder in Luminous Light (review here) is almost pink by comparison to Surreal Light
Ambient Lighting Blush in Mood Exposure (review here) is cooler-toned and more mauve than either of the Surreal Blushes
Ambient Lighting Blush in Luminous Flush (review here) is brighter, deeper and warmer than Surreal Effect
Ambient Lighting Bronzers in Luminous Bronze Light and Radiant Bronze Light (review here) are both more golden and bronzey compared to the palette
I didn't swatch compare the Surreal Strobe Light because it's one of the darker more yellow/gold highlighters in the Hourglass line and I could not find anything similar
The powders perform really well and I like that it has enough color to show up even though the overall feel is neutral. Sometimes those neutral palettes can be a bit too neutral but this one has visible color. The pans are small – I remember from last year's reviews many had done comparisons on the pan sizes in the palette to individual full sized products. I think the biggest complaint about this one is the price for the size and product amounts but this year's palette does contain more product in grams and ounces compared to last year's. I do think the $80 price tag is extremely steep but I don't feel as though it's outrageous. Here's a comparison break down in price per grams:
Palette $80 for 9.6 g is $8.33/g
Powders are $46 for 10 g which is $4.60/g
Blushes are $38 for 4.2 g which is $9.05/g
Bronzers are $50 for 11 g which is $4.55/g
Strobe Powders are $38 for 4.6 g which is $8.26/g
I personally feel this was worth the splurge. I love all things glowy and this is one of the most natural highlighter palettes I've tested. There are a number of highlighter palettes I've seen pop up online (in particular at Sephora) so you may want to do some browsing or swatching in stores if you can before deciding which one to buy. I've taken a quick peek online and this is the only one I've bought so far and I'm very happy with that decision. The packaging is so pretty, colors work really well for my medium olive toned skin. Many of you keep asking what MAC shade I am for reference and I've been severely allergic to MAC Studio Fix for many years so I stopped using it. I've always been in between NC30 and NC35 but it's been a long time since I last tested any of their foundations so out of curiosity I went and got shade matched. For
MAC Studio Fix Fluid Foundation
I can go with either NC35 or NC37 (for some reason NC37 is a bit lighter than NC35) and for
Matchmaster
I'm a 3.0 (but it runs slightly less yellow than I like). In the
Hourglass Vanish Seamless Foundation
I'm in between Warm Ivory and
Nude. In NARS I'm in between Groenland and St. Moritz for the
Velvet Matte Skin Tint.
One quick note on brush testing. There is an Ambient Lighting Edit Brush ($46) which is a double-sided brush designed and sized for this palette. In my experience Hourglass brushes are very well made and perform well. They're synthetic and PETA-approved. I did not buy it but have been using my
Wayne Goss Brush #2
for the smaller pans and
MAC #187 Duo Fibre brush
for the finishing powder.
Bottom line spendy but worth it for me. It exceeded my expectations. I knew I would like it but didn't know if I could "love" it at the $80 price. After testing it I can say that I do love it. It will be a great one for travel and it's a palette I can see myself using every single shade. It's an exquisite well-executed palette. I'm not sure if the shades will show up on deeper skintones but if you're about 3-4 shades darker than me I do think it will still show up. Now that you know what MAC shade I am if you have tested it any have any thoughts let me know in the comments.